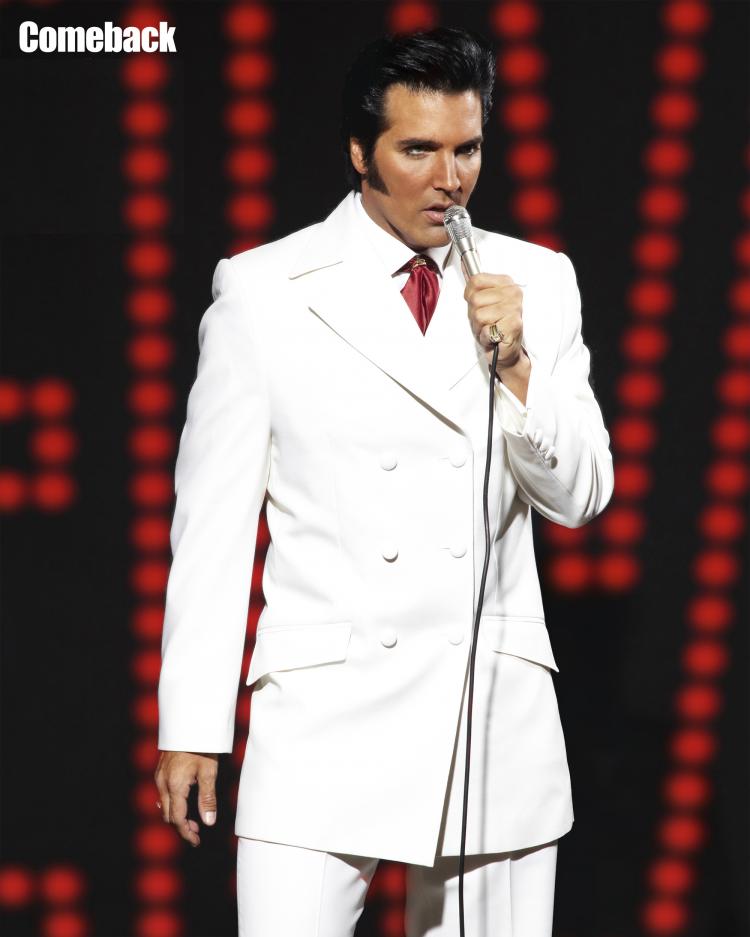 Thirty three years after his death, Elvis Presley lives on through the impersonators who bring "The King of Rock and Roll" back to life. Thanks to them, Elvis's voice, costumes, and movements come to life on stages and at private parties all over the world.
Both during his life and after his death in 1977, many of Elvis's fans started to dress like him and mimic his moves and mannerisms. Andy Kaufman, a New York comedian, was one of the first people to imitate Presley. According to the late comedian's homepage, his impersonation was Elvis' favourite.
It is estimated there are 38,000 Elvis impersonators worldwide who love his music and pay tribute to him through their performances.
"By paying tribute you don't lose yourself, you keep your own identity," says Stephen Kabakos, an international award winning Elvis tribute artist from Toronto.
"What makes him appealing to me is that he had an awesome career in music," Kabakos adds.
"His music always changed, I can't get bored with it. He had a beautiful angelic voice and vocal dexterity that would make the greatest singers jealous. His music and the way he sang words—you can feel the meaning behind it."
Kabakos's mother was an Elvis fan and he started to listen to Elvis's music when he was very young. By age 6 he owned an Elvis record and was performing Elvis songs for his relatives.
"I have been working pretty much my whole life on this tribute," he says.
It was in 1996 at age 24, after participating in the Collingwood Elvis Festival in Ontario, that Kabakos put together a band and became a full time Elvis tribute artist. He now has a 14-piece ensemble and has performed all over Canada and abroad, winning many awards.
"When I first started in the 1990s the fans were a lot older, they were the demographic that would have grown up with Elvis," recalls Kabakos.
But now he notices that the fans are sometimes as young as 4 or 5. Today, Elvis is once again at the forefront of the media, being portrayed in a positive light and being featured in animated films like Lilo and Stitch. American Idol even has an Elvis week.
"What is happening is that he is now appealing to fans who will be listening to contemporary music," says Kabakos.
International Fame
Elvis's immense popularity has given birth to many Elvis impersonators around the world. In India, his CDs have been consistent sellers over the years.
"His No. 1 Hits album has sold over 1,000,000 copies, which is a lot as far as English music in India is concerned" says Zahir Chinoy, president of the Official Elvis Presley Fan Club of India, whose main goal is to keep Elvis's memory alive in India.
"Elvis was a very versatile singer with a great voice who could sing any type of song" says Chinoy. "Other newer singers may sell more for a short period but are not as consistent as Elvis."
Like many other fans in India, Chinoy grew up listening to Elvis on the radio in the 1950s. According to the fan clubs' website, Chinoy is known to have the most Elvis memorabilia in Asia.
One well known impersonator in India is Siddharth Meghani, a 32-year-old from Mumbai who is a photographer by day and a hip-swivelling Elvis by night.
Meghani's mother was an Elvis fan and she taught him the songs when he was young. Though he was a fan from a young age, he became an Elvis tribute artist by chance when a friend asked him to perform at a show.
"Besides the look, I focused on the moves, Elvis's characteristic hip swivel and his engagement with the audience," Meghani says on the website of Mint newspaper in India.
"I personally feel that impersonators are good to keep the flame burning as long as they do not emphasize negative aspects which Elvis went through after 1973," says Vajira Fernando, an ardent fan from Sri Lanka.
Fernando became a fan when his mother encouraged him to listen to Elvis's music when he was young. "It was as if it was the beat and the sound I was waiting for all that time," he says.
Thanks to a FaceBook website, he has connected with like minded Elvis fans from all over the world.
Elvis had a huge impact on the artists that came after him. John Lennon once commented, "Nothing really affected me until I heard Elvis on the radio back in 1956. If there hadn't been an Elvis Presley, there wouldn't have been the Beatles."