My work as a composer has taken me with some regularity to New York City, and each time I've had a bucket list of things I've either always wanted to do or wanted to do again during my free time there. One of those "do agains" has been to visit the huge Metropolitan Museum of Art at 1000 Fifth Ave., on the east side of the Great Lawn in Central Park.
Over the years, especially when my time was limited, upon entering the museum, I always made a beeline up the grand staircase to the second floor and hung a left, straight to the wing housing great European masterworks of painting. That includes the biggest collection of French art to be found outside of Paris. Many of those famous paintings I had seen only on coffee mugs and coasters. I can happily sit on a bench for a good while, just absorbing one great painting before forcing myself to move on to another.
Thus, it took me a few visits to stumble upon a little-advertised wing of the museum and discover, to my utter delight, the historic musical instrument collection. When I meet people who have visited The Met on their trips to the Big Apple, no one seems to know about this wing. Like me, they've completely missed it. Yet anyone might enjoy this menagerie of 5,000 instruments, dating from 300 B.C., but musicians and music lovers may find it thrilling!
I say "menagerie" of instruments because some of them look like they came straight out of a Dr. Seuss book. Bathed in mysterious lighting and haunting silence are displayed all manner of bizarre experimental instruments that became largely obsolete, like the ones called the serpent and the sea dragon. You will also see the forerunners and earliest models of our modern standard instruments, including the priceless, oldest-known piano in existence (1720) and the "Francesca" violin by Antonio Stradivari (1694).
Meet Some Instruments
The serpent, a distant forerunner of the tuba, is thought to have been invented by a priest named Edmé Guillaume in 1590 in Auxerre, France, in order to support the singing of chant in churches that could not afford an organ. It managed to survive a good while and even appear in a score or two by composers like Mozart and Wagner before largely dying out. We would call it a hybrid, because it has the mouthpiece of a brass instrument but is made of wood and has keys and holes on the tubing, like a woodwind.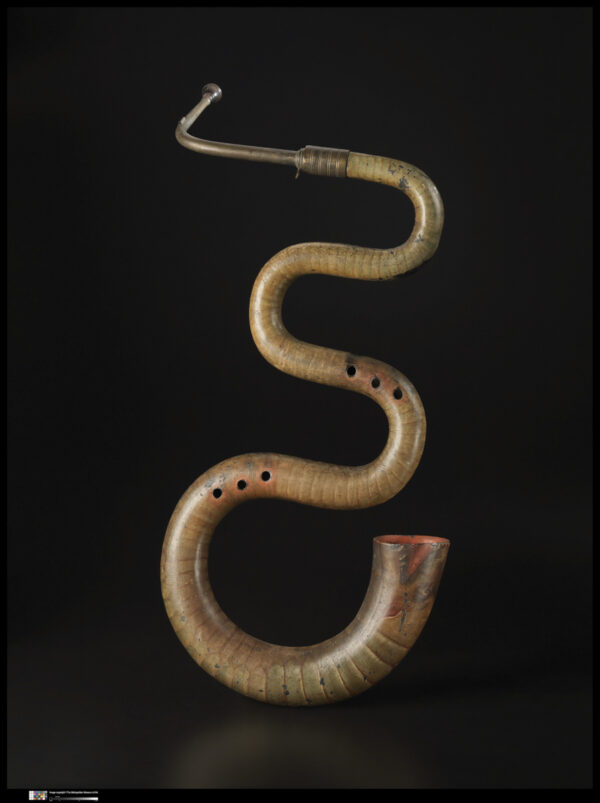 There are still aficionados and players of the instrument.
As a stepping stone from the serpent to the modern tuba, the ophicleide was invented in 1817 in France. The name also means serpent, and it was essentially an improved serpent made of brass, with keys instead of holes, and in various sizes and pitch ranges. It rather gives the appearance of a saxophone (which is a reed instrument) but with a brass mouthpiece. It so happens that one of the makers (but not an inventor) of the ophicleide was Adolphe Sax, who later invented the saxophone. I wonder where he got the idea.
The exotic sea dragon in The Met, quite large—measuring four and a half feet long and eight inches wide—is essentially a bassoon, but little is actually known about it. Being rather lacking in producing a pleasing musical sound, its primary historical appearance was believed to be as a prop in Baroque Italian stage plays that depicted Hades or the underworld.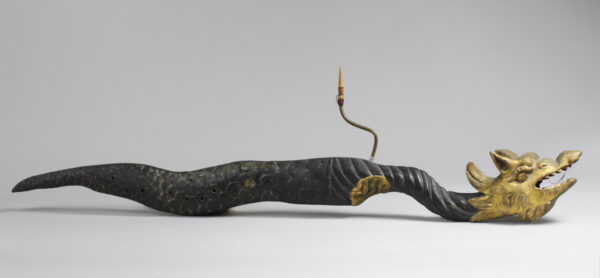 The glass harmonica will fascinate anyone who has ever produced a tone on a wine goblet by rubbing a moistened finger around the rim. In 1761, the prodigious Benjamin Franklin invented this instrument based upon that principle. He mounted a series of crystal bowls nested in increasing size, each tuned to a pitch of the scale, on a horizontal axle, with the bottom edges of the bowls dipping into a trough of water. By spinning the bowls by means of a handle or foot pedal to keep them constantly wet, the fingers can touch the edges of the bowls to play haunting, ethereal melodies and chords.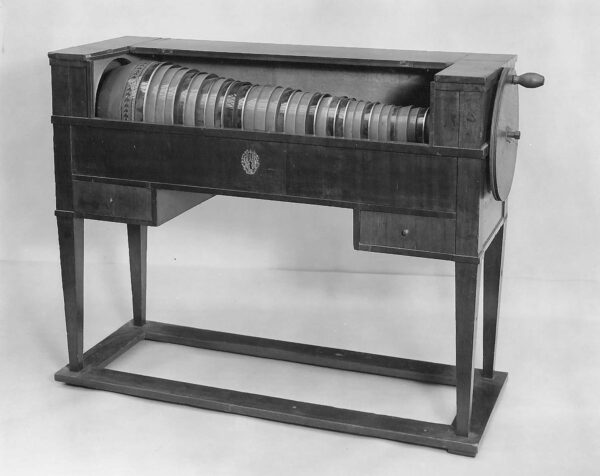 The instrument was used in chamber music and operas by Mozart, Beethoven, Donizetti, and notably by Camille Saint-Saëns in the "Aquarium" movement of "Carnival of the Animals." That part is played today on the glockenspiel, but you can also hear it played on the glass harmonica.
There are really too many fantastic instruments to discuss in detail here, but they include a "Dizzie Gillespie trumpet" (1959) with the bell bent upward, like his. There is a French horn made entirely of ceramic, as pretty as a teapot with blue flowers on white (French, late 18th century), and a Slovakian combination walking stick and flute (1820).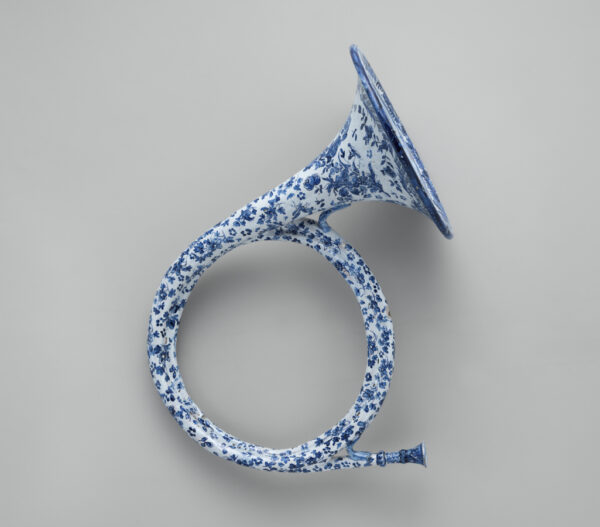 There are all manner of Asian and world instruments, like the Da Tongjiao, a Chinese trumpet (late 19th century), and there are various instruments that combine two instruments into one, like a combination flügelhorn with cornet in C (Italy, 1890).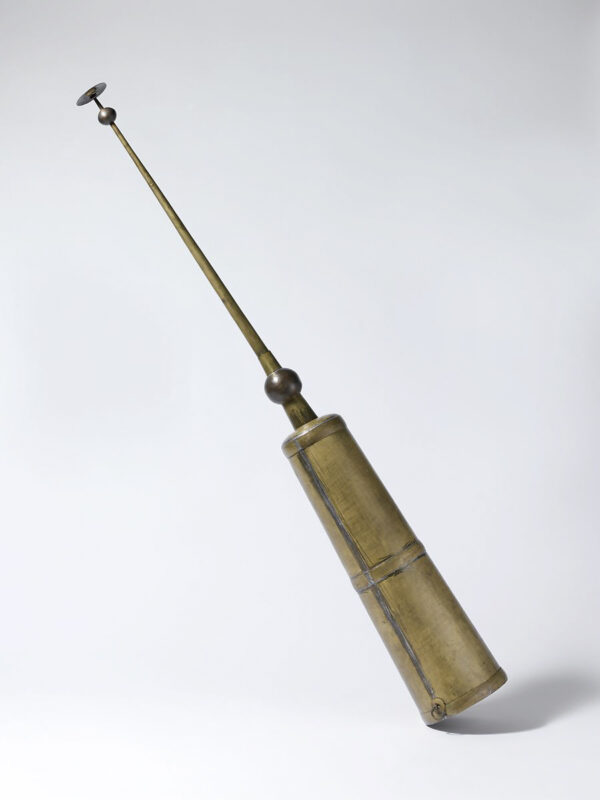 As much as we hear about music history, usually in terms of the musical style itself, it would seem appropriate also to remember that there is a long history of the development of musical instruments, too. Some of them were creative acts in themselves, born of a person imagining a whole new sound or tone color and experimenting with ways to produce it.
While a good deal of mass production can be involved in manufacturing today's standard instruments, with only a few still made one at a time by hand, most of the instruments I've mentioned were one-of-a-kind models, both in production and design. Even if they were a standard kind of wind, string, or keyboard instrument in sound, they were often uniquely decorated and are now admired as works of art in themselves.
To see other exotic and beautiful instruments, visit The Metropolitan Museum of Art.