New Year's Eve is associated with noisy parties and excessive drinking, but the beginning of a new year is a great time for quiet reflection. As we replace our calendars, many take the opportunity to make resolutions about changing our lives in the coming year. Especially in difficult times, the new year offers the hope of better days.
"I'll Be Seeing You" from 1944 is an obscure holiday film that celebrates new beginnings. This movie takes place over Christmas and New Year's Day, but it is about more than these holidays. This World War II era film is a touching romance about two people from very different backgrounds.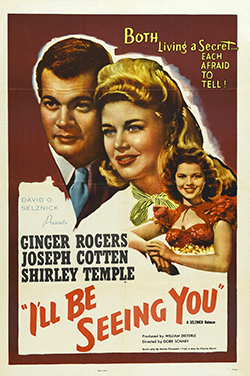 The couple have one thing in common: Both are desperately trying to overcome past hardships, which haunt them and make them wonder whether they'll have any chance for future happiness. Brought together by fate, the shell-shocked soldier and wrongly imprisoned female convict give each other the hope they thought they could never find again.
A New Film Company
The first film made by David O. Selznick's production company Vanguard Film, it was directed by William Dieterle and produced by Dore Schary. The story comes from a radio play called "Double Furlough" by Charles Martin.
Selznick initially wanted to name the film "I'll See You Again" after Noel Coward's 1929 song of the same name, which he hoped to use as the theme song. Dore Schary instead suggested the more economical choice of using Sammy Fain and Irving Kahal's 1938 ballad "I'll Be Seeing You," which had become a hit that year because of its wartime relevance.
With that heart-wrenching song as its title and theme, starring Ginger Rogers and Joseph Cotten plus a great supporting cast of Shirley Temple, Spring Byington, and Tom Tully, this film was destined for critical and box office success.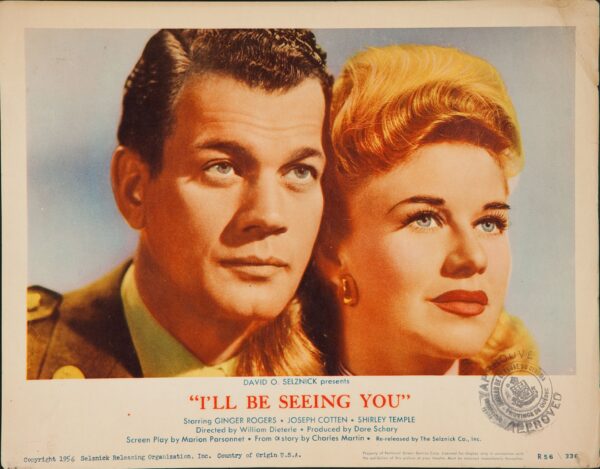 A Dramatic Story
Mary Marshall (Rogers) is going to stay with her aunt (Byington) and uncle (Tully) in their small-town home for Christmas. It's obvious that Mary is haunted by some secret; she also is surprisingly unaware of wartime conditions. She ends up sitting on the train with three servicemen. Two of them are very outgoing and talkative, quickly trying to make friends with their fellow passengers. However, Mary is drawn to the third man, Zachary Morgan (Cotten), a quiet sergeant with stinted speech and an obvious reluctance to discuss his war experiences.
Mary tells Zach that she is a traveling saleslady, and he declares that he is also stopping in Pine Hill, her destination, to spend Christmas with his sister. They part ways at the station, but not before Mary gives Zach permission to call her.
As Mary and Zach reach their respective destinations, we see that each has lied. Mary is not a traveling saleslady on a Christmas holiday, but a convict who has been granted an eight-day furlough in the middle of her six-year sentence. Zach is a shell-shocked soldier who has been given a 10-day furlough from the military hospital so he can try to resume normal life. With no family and no idea of where to go, he made up the story about his sister so that he could stay at the YMCA at Mary's stop.
At first, this double furlough seems more like a punishment than a gift for both, as Mary faces discrimination from her 17-year-old cousin, Barbara (Temple), and Zach is constantly reminded of his compromised reflexes.
Zach loses no time in calling Mary, who invites him over for dinner. He is delighted by the Marshalls' warm hospitality, since he has never had a home of his own. After dinner, Mary accompanies him to a movie. As they discuss the film's war theme afterward, Zach freely recounts some of his battle experiences for the first time.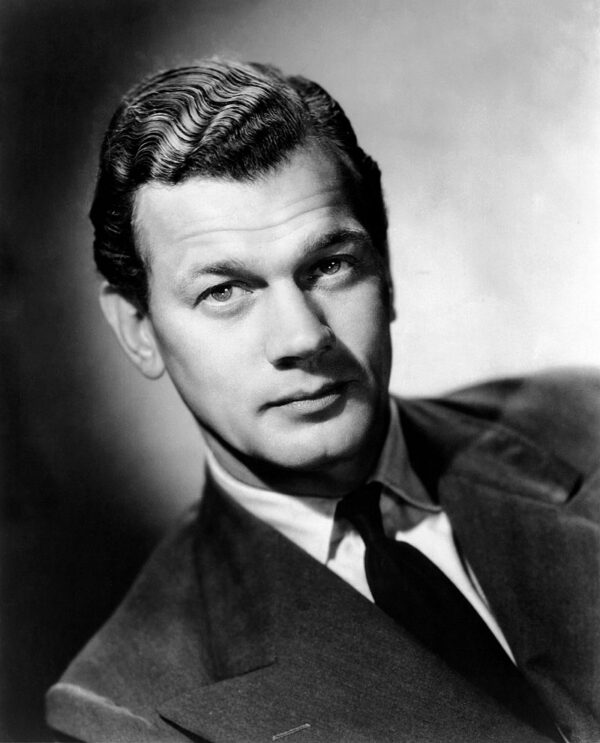 However, it's far from smooth sailing for the young couple. Little incidents later in the evening, like a conversation with a shell-shocked World War I veteran, and Zach's inability to hit a lamppost with a rock, send Zach rushing away in a panic. Nevertheless, while he eventually tells his new friend about his medical condition, Mary can't bear to tell him about her secret. As she finds herself falling in love with Zach, she is afraid to tell him about her imprisonment, perhaps losing her last chance at happiness. Can these two troubled souls find a new beginning in the new year together?
Haunted by the Past
This film paints an unflinching portrait of a soldier suffering from the traumas of war. In World War I, they called such soldiers "shell-shocked." In this film, the new term given is "neuropsychiatric." Today, this illness is called "Post Traumatic Stress Disorder," or PTSD. Regardless of what you call it, the scene of Zach's panic attack is intense. The combat is thousands of miles away, but a small stumble is enough to bring his memories flooding back. This sequence is a truly brilliant bit of filmography. Few special effects are used, but the combination of Joseph Cotten's overdubbed voice and the sounds of war that he hears in his head create a disturbingly real glimpse into the traumatic memories that haunt Zachary Morgan.
Mary is also haunted by memories of a traumatic event that changed her life forever. Although her aunt and uncle think their 17-year-old daughter is too young to learn the details of her cousin's crime, Mary decides to tell Barbara why she was sent to prison. As a 21-year-old secretary, she was invited up to her boss's apartment to a party one evening. It turned out that there was no party and that the drunken cad had lecherous intentions. In trying to escape his advances, Mary accidentally pushed him out of his 14th-floor window. Although his death was purely accidental, she was sentenced to six years for manslaughter.
Although very different experiences brought them to this point, Mary and Zach feel the same way about themselves and their futures. Each feels like a fraud and can't understand the other's belief in him or her. It doesn't take much to trigger an onset of war memories for Zach, and Mary is similarly reminded of her troubled past by thoughtless comments from her family and Zach, who has no clue about her background.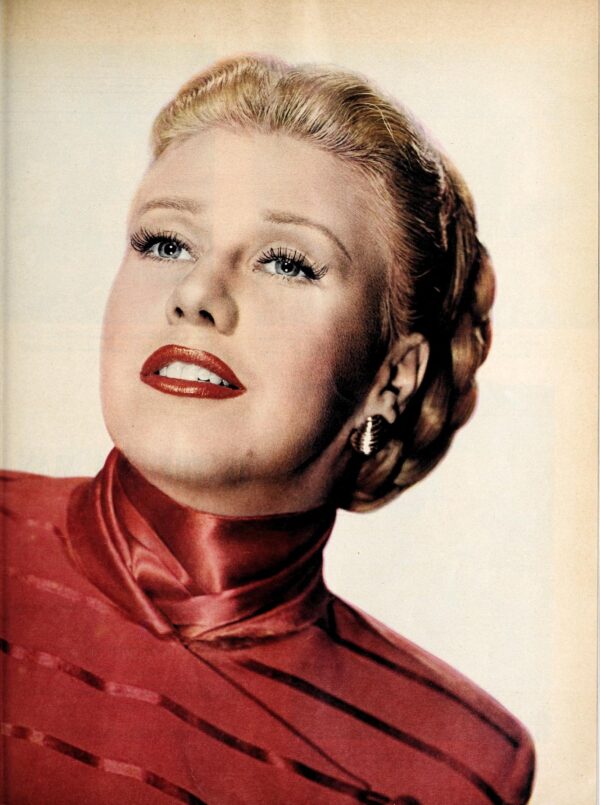 As Mary grows fonder of the young sergeant, she is tortured by fears that he will discover her secret. However, as they grow closer, both Mary and Zach realize that they can't escape their past by ignoring it or lying about it. They must face their fears and memories to conquer them and find a new beginning.
New Beginnings in the New Year
This film features a beautiful New Year's Eve scene. In honor of the occasion, Zach invites the Marshalls to a dance being given at the YMCA. The ladies wear beautiful gowns, and the gentlemen who aren't in uniform wear tuxedos. A live big band plays jazz hits, which any 1940s music fan will recognize, including the title song. It looks like a truly wholesome and fun way to ring in the New Year.
As Mrs. Marshall dances with Zach, she expresses her excitement about the holiday: "I don't know how it is, but every year at New Year's, I get so excited and sort of upset."
Zach confesses, "I know what you mean. It's like being in on something big, something important."
"That's it exactly!" she cries, delighted.
That new year, likely 1945, was indeed an exciting one. It was a time of new beginnings, a sentiment that the lead characters in this story shared with society at large. The United States, as well as the rest of the world, cherished the hope that the new year would bring victory, peace, and a better world than the one before the war.
However, it also was a time of uncertainty and fear. Zach shares the fear of all veterans returning from the war: Will he be able to find his place in society, in his hometown, and among his friends? He also wonders if he can ever conquer the injuries that his mind and reflexes sustained in the war. Similarly, Mary wonders if she can ever move past her imprisonment and have a normal, happy life with a husband, home, and family.
As we enter 2022, I think we as a country can relate to this film. Like Americans of the World War II era, we are engaged in a struggle that is shaking our nation to its core. We can't help wondering if the world will ever be the same again, and like Zach and Mary, we may find ourselves doubting whether we'll ever be truly happy again.
"I'll Be Seeing You" reminds us to find hope in new beginnings. Like the trials of the past, this too will pass if we embrace honesty, love, and compassion.
Tiffany Brannan is a 20-year-old opera singer, Hollywood history/vintage beauty copywriter, film reviewer, fashion historian, travel writer, and ballet writer. In 2016, she and her sister founded the Pure Entertainment Preservation Society, an organization dedicated to reforming the arts by reinstating the Motion Picture Production Code.