Il Tesoro: Chef AJ Black Masters the Art of Food
April 11, 2014 11:25 am Last Updated: April 13, 2014 6:37 am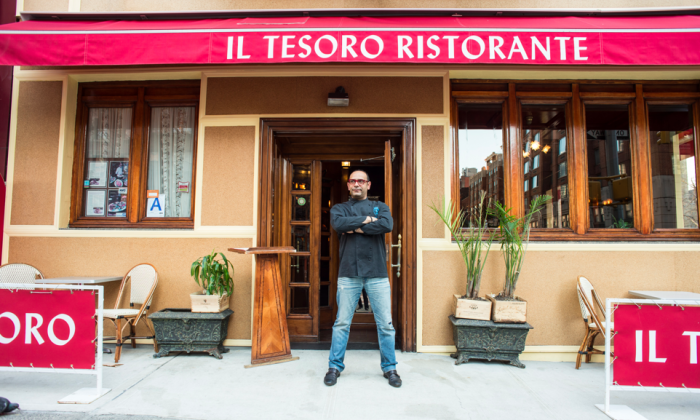 Il Tesoro is just that: a treasure, and worth seeking out. Chef and owner AJ Black serves Italian cuisine on the Upper East Side that's bold yet delicate, and manages to surprise. 
Born in a small seaside town in Sicily, chef AJ Black has been immersed in the world of food since the tender age of 6, washing dishes at his family restaurant and fishing with his grandparents. 
A passion for food led him to the Italian Culinary Institute, and at age 19, he opened his first restaurant in the Laterno District in Rome. He also honed his skills at Le Cordon Bleu under renowned chef Paul Bocuse. Many of his recipes are featured in the Relais & Châteaux cookbooks "85 Inspirational Chefs" and "Chefs at Home." 
Wonderful hospitality and great service await diners. Il Tesoro, in the space occupied previously by Primavera, has been given a complete facelift. It is now airier, with mirrors and warm lighting giving a cozy feel.
A Feast
I was recently invited to a large dinner to preview the spring menu. When I got there, a large table, in one section of the restaurant, was elegantly set for our group of about 30. It turned out dinner lasted almost six hours, reminding me of happy memories—suppers in the old days, growing up. Only they weren't Sunday suppers, they were everyday suppers. 
It was a tradition in our family to have all three meals together with our friends and relatives joining us telling tales and discussing world events and other important happenings as we savored the hearty and delicious meals my mother had prepared. Miraculously, there was always enough to feed us all and the unexpected guests. 
That evening at Tesoro, the chef and his team had turned out a feast worth savoring. More than a dozen different dishes were served, fortunately in tasting portions, with an excellent selection of wine pairings. 
Everything is made in-house and there are many gluten-free options, including pastas made fresh daily, from chickpea flour, pistachios, and pecans.
Surprising Dishes
I can still taste the earthy roasted red beets topped with the very tender and sweet scallops, and an equally tender and flavorful octopus, served between paper-thin layers of green apples. Timing and temperature are key for perfect execution of these dishes. 
The gluten-free raviolo con sorpresa, a signature dish, was creative and indeed a surprise. Cut through it, and you will find and over easy egg inside this big ravioli. I'm still wondering how it was made. It was served with smoked porcini mushrooms in brown butter and sage. 
There was also a typical Sardinian pasta, fregola sarda, with calamari, and a Sicilian pesto that incorporated jalapeños. This handmade pasta, the size of pearls, originated from Tabarka, a coastal town in the northwestern part of Tunisia, which was once part of the Republic of Genoa. It is labor-intensive and time-consuming to prepare. It has to be roasted first and then boiled. It is definitely one of those foods that grandmothers would prepare, and that my friend's mother, an excellent cook from Sicily, would make.
Among the meat dishes, the grilled lamb chops served with butternut squash purée was a favorite at the table—tender and fabulously flavored. Everybody loved the anatra con funghi, the roasted duck breast stuffed with fontina cheese and spinach. I thought it was an unusual combination and for my taste a bit gamey. 
The flaky, meaty, and rich halibut Livornese in crosta di pesto (halibut with tomatoes, black olives, and capers) was a piece of art—like most of the other dishes. It had a beautiful contrast, between black and white, with the thin black crust of olives and tomatoes over the white fish. It was very delicate with balanced flavors. This was definitely a hit.
Dessert was a beautiful tiramisu accompanied by an amazing dessert wine. Il Tesoro's wine list has a reasonably priced and good selection of Italian and California wines.
Prices
Small plates: $8–$14
Anti Pasti: $10–$16
Primi Piati: $9–$28
Meat: $22–$38
Fish: $25–$32
Il Tesoro Ristorante
1578 First Ave. 
212-861-9620
iltesoro.com
Hours
Sunday–Thursday noon–10 p.m.
Friday and Saturday noon–11 p.m.