Nashville being synonymous with country music, it's no surprise that locals and tourists alike are unabashed in proclaiming their love for this genre. While most are familiar with the downtown live music scene, where many country music legends of yesteryear (and today) jump-started their careers by singing in bars and music clubs, fewer know about the print shop that catapulted musicians to fame through poster advertisements. From Elvis Presley to Johnny Cash and Dolly Parton, "Hatch Show Print" shop has produced iconic concert tour posters for America's most beloved music stars.
Today, the shop still designs all its posters by hand (no computers involved) with the same wood types that have been used for decades, giving the posters a vintage look. The shop designs and prints posters, not only for today's biggest stars, but also for major events, such as a 2020 presidential debate that took place at Belmont University in Nashville.

Hatch Show Print was established in 1879 by Charles and Herbert Hatch, who grew up learning the craft of letterpress printing—the earliest form of printing, done by pressing carved wood and metal letters, called type, onto paper with ink—from their father, William. The shop's first job was to print handbills for a lecture series by minister Henry Ward Beecher, brother of Harriet Beecher Stowe, the 19th century abolitionist.
Over time, the shop became known for its simple yet sharp designs, and soon, many wanted to use Hatch Show Print's posters to get their messages out. In the 1920s, with the advent of radio, music stars were born; and for the first time, Hatch began printing photos of popular names on tour date announcement posters. It was innovative at the time.
Such a poster was designed to promote Elvis's first concert. As Nashville's Ryman Auditorium became a pivotal performance space for country music singers—earning it the nickname "Carnegie Hall of the South"—the shop began printing posters for its musical acts. Eventually, Hatch Show Print became the go-to printer for entertainers touring in the South.
Today, Hatch Show Print is the second oldest print shop still operating in the United States. Presses from the same era as when the shop first opened are still in use, dating back to the late 1800s. The machines previously ran on steam power, but now they are connected to electricity. The shop no longer adds new letter blocks to its collection: all are stored in the shop's shelves and type cabinets. And the shop's printers, who are also its designers, insist on mixing their own inks in-house.
Custom wood or linoleum block carvings can also be created for the shop's clients. One poster featuring TV journalist Anderson Cooper, which even depicted the lines of his nicely coiffed hair, took the carver just two-and-a half hours to complete.
Hatch likes to hold on to its history. During a recent tour of the shop—which is now located on an historic property within the Country Music Hall of Fame and Museum—the guide pointed to an old wood block depicting Franklin Delano Roosevelt and Herbert Hoover, who ran against each other during the presidential election of 1932. The block had broken in half, but the shop still kept it, for memory's sake.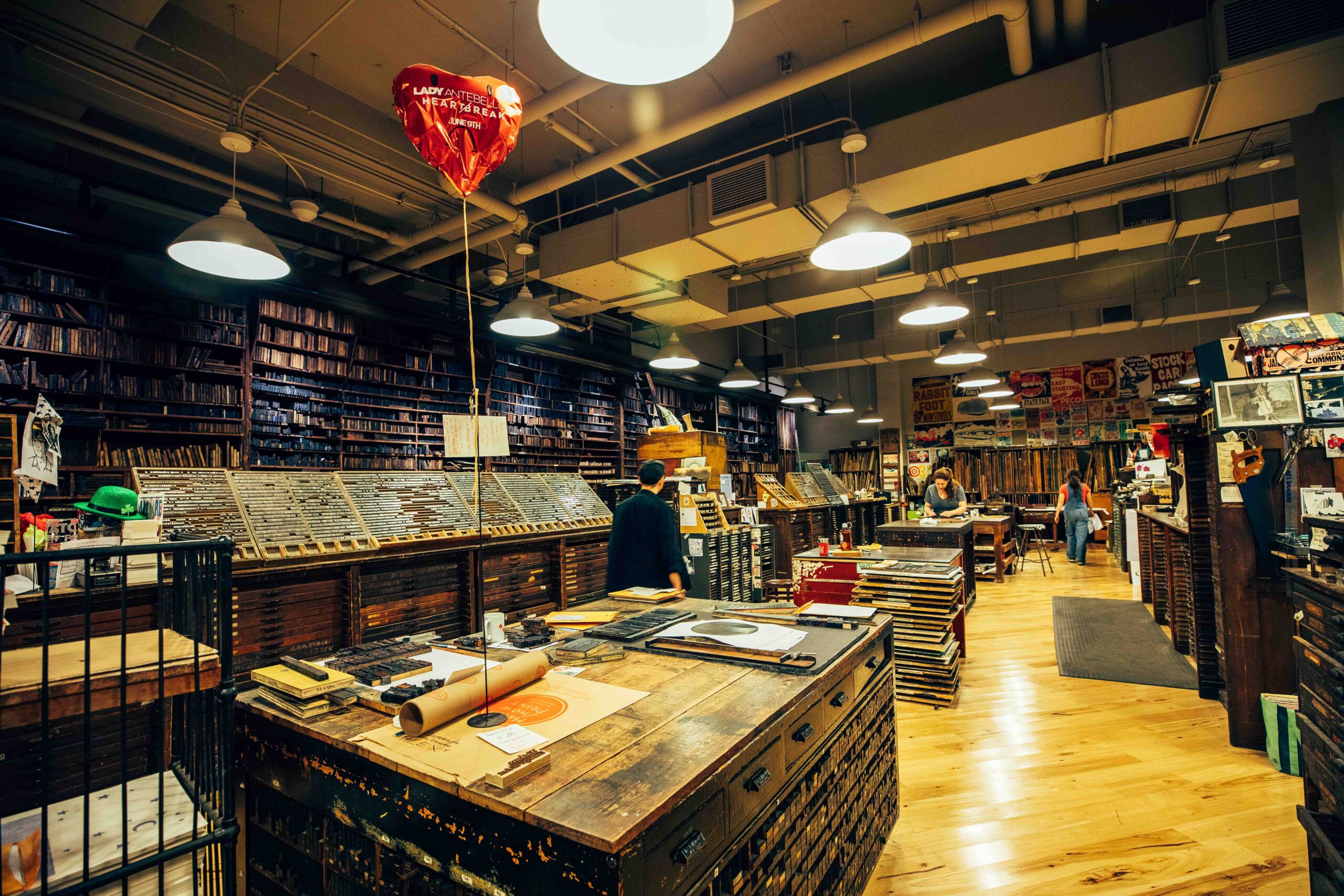 This article was originally published in American Essence magazine.