International Falls, Minnesota may be known as "Icebox of the Nation" for its record-breaking cold temperatures, excellent fishing, and beautiful Voyageurs National Park, but when it comes to Icebox Days, which took place this year Jan. 13 to 16, a little fellowship and friendly competition warms up even the most frigid souls.
Coordinated by the city, the International Falls Area Chamber of Commerce, and numerous sponsors and volunteers, 2022 marked the 40th anniversary of the "wacky and wonderful winter festival."
"There are so many activates for all ages," explained the Chamber president Tricia Heibel. "It is a family-friendly event and even if you don't want to compete, it is fun to cheer and support those who do."
Activities included frozen turkey bowling where spray paint is used to mark the lanes; locally invented "smoosh" races, where teams of four nail their shoes to a 2 x 4 and race for half a city block, turn around a cone, and sprint back; toilet seat toss; moonlight skiing course in Voyageurs National Park; a golfing event and a Longest Drive Competition teeing off from the docks at Thunderbird Lodge; 5K and 10K Freeze Yer Gizzard Blizzard Run; snowman and snow sculptures, and many more activities throughout "The Falls" and neighboring Ranier.
Golfing at Thunderbird Lodge is one of Heibel's favorite events. Nine holes are augured into the ice and pine trees line the route to shape the course. "People use hockey sticks, golf clubs, or tennis rackets to play a nine-hole game— they use tennis balls so that they float when they make it into a hole—the whole event is quite an experience," she shared. Toboggans, shopping carts, and homemade sleds are decorated to carry extra balls, cocktails, and other necessities to assist golfers. Last year, one cart even had pyrotechnics.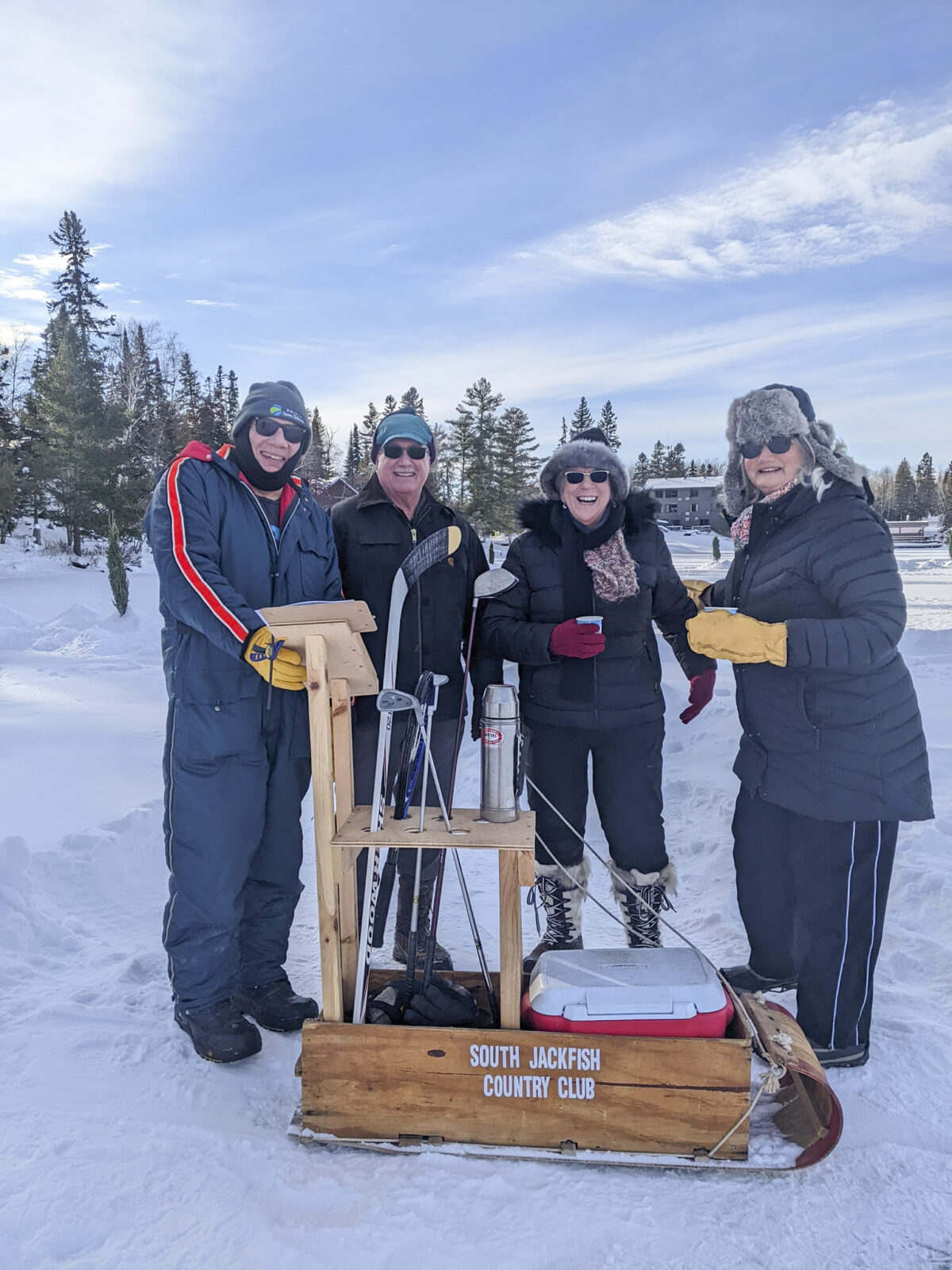 Icebox Days was created in 1980 by the Chamber to celebrate winter activities and to have an occasion for people to socialize and exercise. In the '80s and '90s, the event lasted 10 days.
"The winters can be quite long and if people are not exercising or socializing, they can become quite depressed," shared Heibel. The third week of January was chosen because it is usually the coldest time of the year.
Participating for the first time as owners of On the Rocks, Terry Wood and partner Tony Cole said it could not have happened without volunteers.
"Without our staff, the city crew for dumping the snow, and the groomer, we couldn't have pulled this off," said Wood. "I just hope next year is non-COVID and even a bigger success." On the Rocks was responsible for the Smoosh and Toilet Toss events.
Another winter activity in January is the Arrowhead Ultra 135, where extreme athletes from around the world brave temperatures as low as -68 (including wind chill 2014) to run, bike, or ski, 135 miles from The Falls to Fortune Bay in Tower, Minnesota. Serbian ultra-runner Jovica Spajic was among the winners at the 2019 event.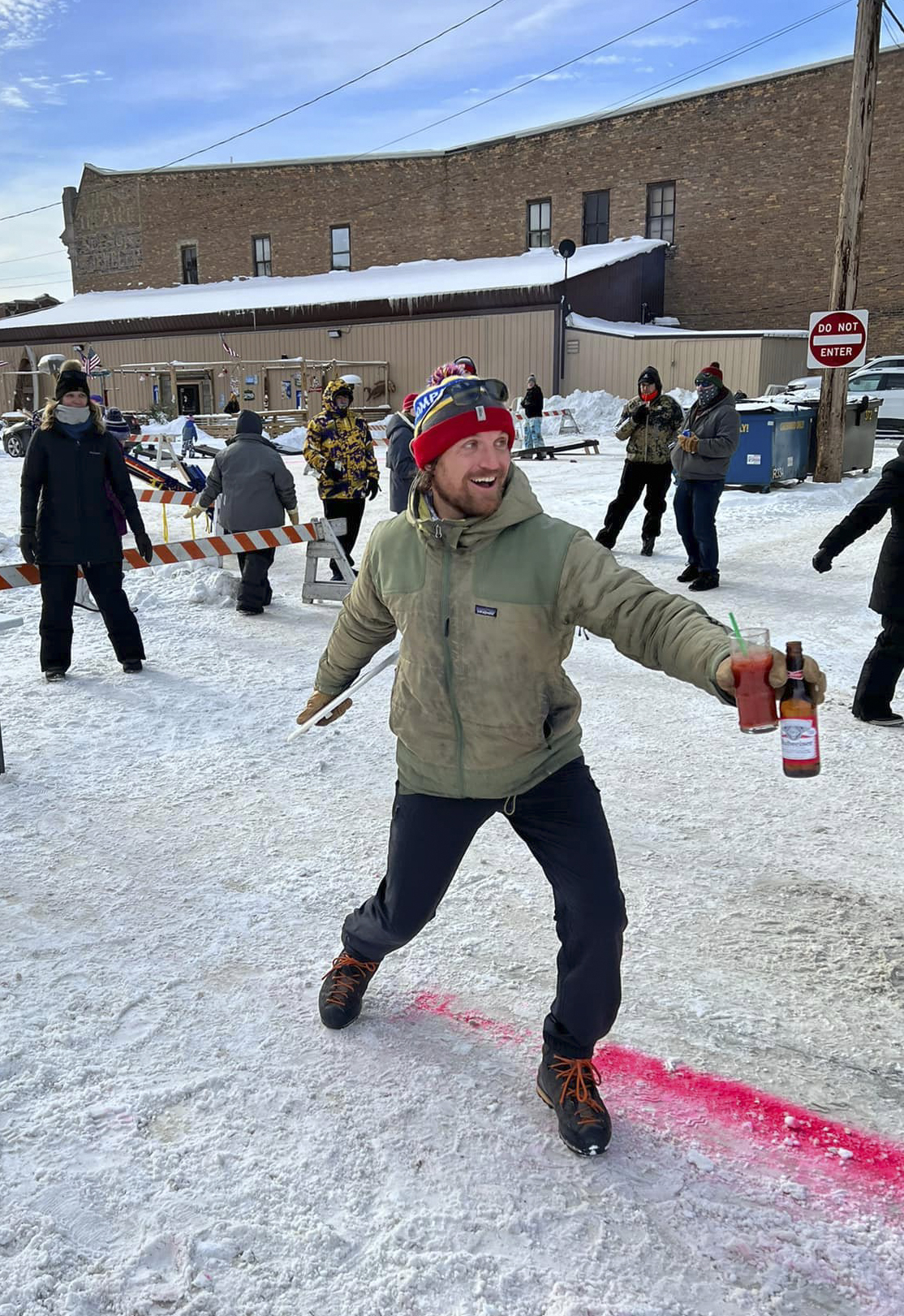 Taking place on a remote snowmobile trail with only three checkpoints along the way, athletes must have mandatory survival gear including a minus-20-degree-below rated sleeping bag, 3,000 extra emergency calories, sleeping pads, insulated water containers, stove fuel, blinking lights, and a reflective vest. Less than half finish the demanding race. Volunteers on snowmobiles patrol the area in case of an emergency.
"I think about the race at least once a day every day, all year long," said race director Ken Krueger, who has completed the race nine times—seven by bike, one by foot, and one skiing. "When you compete in all three categories, you get a special trophy and serious bragging rights."
His wife Jackie is also a race director but has never competed. Ken's friend, Pierre, used to go to Alaska to attend a similar race and then decided to do it here in the Falls, and that is how the Arrowhead 135 came about.
Ranked as one of the top 50 most grueling in the world, participants have 60 hours to cross the finish line and must have competed in the Ironman or similar competitions to register. Registration begins in September and all proceeds of the $225 registration fee support three local charities: The Special Operations Warrior Foundation, Together for Good, and the Falls Hunger Coalition.
For those who prefer a more relaxing event, Rainy Lake Sportfishing Club will be hosting its annual Family Ice Fishing Derby and Raffle, Saturday, Feb. 26, 1 to 4 p.m. in Sand Bay. The catch and release event has numerous prizes including, a $5,000 top prize drawing. Attendance can be from anywhere from 500 to 1000 people, depending on the weather.  Fish are caught, registered, released and a ticket is given to the fisherman and entered into a drawing.
Categories are: Walleye/Sauger; Northern; Perch and other species.
"This is very much a community and family event.  It is so much fun to see all ages come out," said Ronna MacKay, treasurer for the organization. "This year we are asking people to bring kites for some random fun."
Proceeds help to improve local fishing areas. "We partner with the local community including the Minnesota Department of Natural Resources and Koochiching County Soil and Water Conservation District to manage local lakes and rivers," explained board member, Tim Shuff.  In the past few years they have removed logs and growth for easier access and to help Walleye spawning areas in the Rat Root River.  "We do our best to keep our fish population safe and help the fisherman enjoy their experience."
Rain or shine, hot or cold, there is always something to do in Minnesota, especially in The Icebox of the Nation.