"Don't cut the noodles," my mom tells me, as she piles a large, grey-ish mound of thin, stretchy strings into a bowl. "It is good luck to keep them long."
She smiles, and then pours in the half-frozen, vinegary beef broth, creating a slushy moat around the island of noodles. She gently places half of a hard-boiled egg, a few slices of beef, julienned pear, and cucumber on top. She lovingly places the bowl in front of me, then finishes it off with a touch of roasted sesame oil and a dollop of Korean mustard, thus completing my bowl of naengmyeon, or "cold noodles."
I grab my chopsticks, swish the mustard into the broth, and slurp up my first bite. The broth, a tangy, punchy mixture of fragrant beef broth and dongchimimul, the pickling brine from dongchimi (radish water kimchi), is compellingly refreshing, particularly on a hot day. It feels entirely cleansing.
Meanwhile, the noodles, made from buckwheat, have a uniquely springy, toothsome bite. I wrestle a bit with the length of the chewy threads, having trouble gnawing through them, but eventually manage. In true Korean style, I then pick up the bowl and suck the frosty broth down in large gulps. I practically wash my face in the basin; it's the most satisfying, rejuvenating meal to fight off the heat.  
Noodle History
Nowadays, naengmyeon is mostly eaten in the summertime. But in Korea, it was originally enjoyed in the winter, after the buckwheat harvest and when kimchi is traditionally made. My father remembers eating the dish on special occasions during snowy months, shivering as he devoured every mouthful in spite of the cold. He laughs as he recollects feeling absolutely chilled to the bone, but still enjoying the taste so much. His mother usually made her naengmyeon with chicken stock, as beef was expensive back then and a luxury.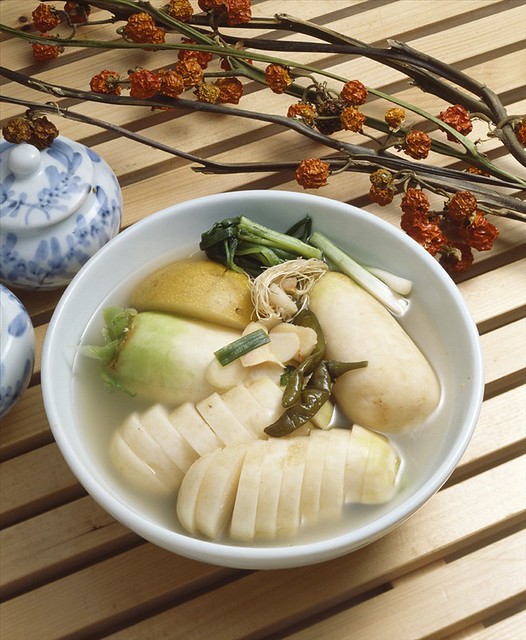 My father was born near Pyongyang, North Korea, the capital city famous for its naengmyeon, or "raengmyon," as the North Koreans call it. In fact, this dish is often simply called "Pyongyang noodles." 
According to North Korean expert and journalist Jean Lee, raengmyon dates back to the Koryo Dynasty (918–1392), and most notably comes from either Pyongyang or Hamhung. Hamhung specializes in potato noodles, which boast a much denser and chewier texture than Pyongyang's buckwheat ones.  
Pyongyang raengmyon was originally made using pheasant, but these days, North Korean cookbooks call for using beef, pork, or chicken, along with radish, to be simmered together to create the broth. Some also call for dongchimimul, and the most popular restaurants guard secret recipes for this zippy stock. 
Lee further explains that raengmyon in Pyongyang is very much considered a special treat. My father's memories followed this celebratory tradition, as he remembers really only eating this dish a few times a year. Lee also notes that in the north, they harbor a more purist approach and serve the noodles and broth separately, to be mixed at the table by the diner. 
On the contrary, in the south, naengmyeon is a popular common dish served sans any pomp or circumstance. It is eaten year-round, with many restaurants specializing in the glacial dish alone. 
Variations
Across recipes, artisan broths prevail, but the quality of the noodles also matters greatly. They can be made from potato, sweet potato, or arrowroot, and must have a good stretchy quality. Many restaurants make their own noodles, and in recent times, green tea and seaweed noodles have become popular variations as well.  
Other styles of naengmyeon have developed over the years, too. South Koreans have a taste for spice that the north does not, and serve up a fiery version called bibim naengmyeon. In lieu of the icy soup, bibim naengmyeon calls for a gochujang-based sauce to be mixed in with the noodles. The dish is also served cold but offers up a red-hot, chile-filled bite.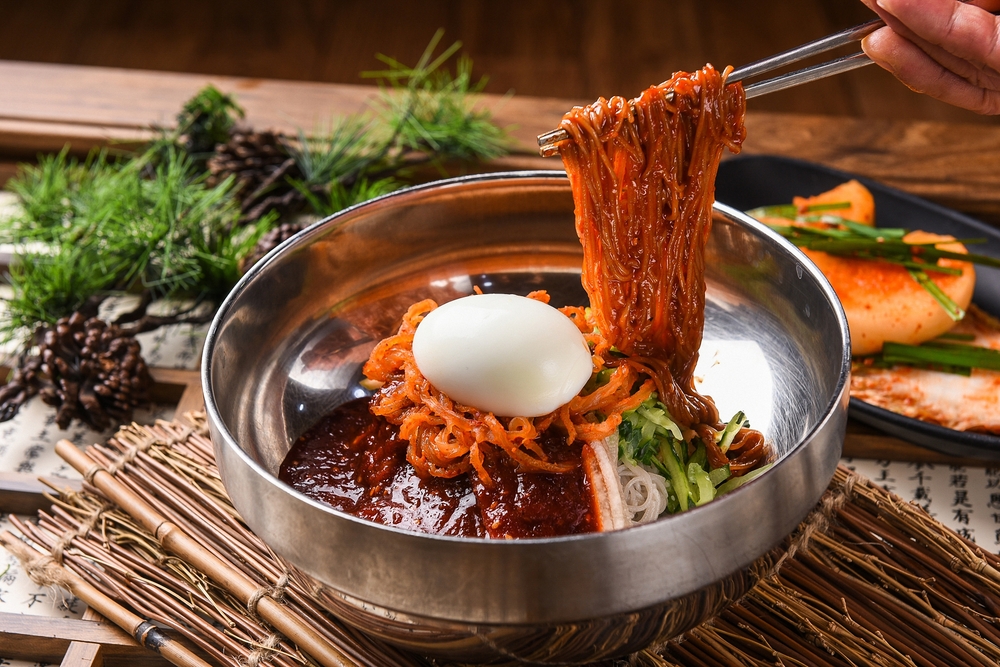 Other regions mix in raw seafood or spice into the broth, and the recent trend is to present the dish in half of a carved-out watermelon. There are so many choices, but I still favor the original version: mul naengmyeon, or "water cold noodles."
I make a simple version of this classic naengmyeon, using vinegar to mock the sour taste of the dongchimimul, which can be quite time consuming to make. The vinegar does the trick, and the broth tastes just as refreshing. 
A cool and crisp pear, cucumber, and red onion salad tossed in a strong Korean mustard dressing complements the broth, bringing a bit of welcome texture and kick. I toss in ice cubes to keep everything cold, and serve it alongside a frosty beer.  
And still, I never cut the noodles.  
Ice-Cold Noodles (Naengmyeon)
Serves 2
For the noodles:
2 cups beef stock
1/4 teaspoon superfine sugar
1 to 2 tablespoons rice vinegar
Pinch of kosher salt or sea salt
7 ounces Korean buckwheat-sweet potato noodles (naengmyeon)
For the salad:
1/4 cup julienned unpeeled Asian pear, or other firm but ripe pear
2 tablespoons julienned unpeeled cucumber
2 tablespoons julienned red onion, soaked in ice water for 10 minutes and
then drained
1 tablespoon rice vinegar
1/2 teaspoon superfine sugar
1/2 teaspoon prepared Korean mustard (gyeoja) or English mustard
Pinch of kosher salt or sea salt
For serving:
2 ounces sliced cooked roast beef, cut into 1 1/2-inch-wide pieces
2 large eggs, hard-boiled, peeled, and halved or quartered lengthwise
Freshly ground black pepper
Roasted sesame seeds
Roasted seaweed (gim) julienned
For the noodles: Prepare an ice water bath.
In a medium saucepan, heat the stock with the sugar over low heat, stirring until the sugar has dissolved.
Stir in 1 tablespoon of the vinegar and the salt, adding more vinegar to taste.
Remove from the heat, pour into a heatproof container, and chill over the ice water bath.
While the soup is chilling, make the noodles according to the instructions on the package. Rinse well with cold water, massaging to remove excess starch. Drain and set aside.
For the salad: In a small bowl, toss together all the salad ingredients.
To serve: Divide the noodles between two bowls. (Add some crushed ice to the bottom
of the bowls to keep the noodles well chilled, if you like.)
Pour the cold broth over the noodles. Top the noodles with the salad. Divide the roast beef and eggs between the bowls. Grind pepper over each egg and sprinkle with sesame seeds and seaweed.
Recipe by Judy Joo
Judy Joo is a chef, restaurateur, author, and TV personality. Her new book, "Judy Joo's Korean Soul Food," debuts in October.