GREENSBORO, N.C.—Recently engaged couple Ann Shuey and John Eaves had a special experience as they enjoyed the world's foremost Chinese classical dance and music company, Shen Yun Performing Arts, playing at the Steven Tanger Center for the Performing Arts in Greensboro, North Carolina.
It was the first time that Ann, a painter, had seen Shen Yun. "Fantastic. I have never seen something so beautiful and colorful," she said.
Shen Yun's repertoire of classical, folk, and ethnic dances date back thousands of years to the beginning of Chinese civilization, some 5,000 years ago. The dances portray legends and moral tales from ancient times, together with a snapshot of China's colorful ethnic cultures.
Shuey was particularly touched by the dance "Plum Blossom in Spring," where the dancers depict the plum blossom's pink and white petals swirling in the breeze, creating a scene of a garden in full bloom.
Shen Yun also features solo performances and Shuey was enchanted by the vocalist who sang 'To Heaven in This Lifetime,' the story of man's descent to Earth to await the Creator.
"It's very touching," she said.
Eaves was equally high in his praise for Shen Yun, complimenting the coordination of the performers, the music, and the colors. "They are doing a great job," he said.
"I liked ['Plum Blossom in Spring']. And of course, I'm from Kentucky so I'm a horse person," he said, indicating that he also enjoyed the dance, "The Men of Jurchen," the predecessors of the Manchurians who were elite archers and horsemen.
Shen Yun left the couple feeling uplifted. "It makes you really feel good. If you are down and out and depressed, [it] will bring you around, no matter what. I have been looking forward to [Shen Yun] for a month and a half," Eaves said.
Shen Yun's mission is the revival of China's traditional culture, which has nearly been destroyed by the ruling communist regime.
"I just worry that the same thing could happen in this country. You know, it's very scary, but it's wonderful that Shen Yun [wants] to revive it," Shuey said.
No matter the culture, no matter the country, the good Lord put us here and everybody has a mission.
Shen Yun also portrays the current persecution of the spiritual group Falun Gong, whose adherents follow the tenets of truthfulness, compassion, and tolerance to bring goodness and spiritual healing into their lives.
"The world all over is in such a bad shape. We got to get it turned around," Eaves said. "We all are put here for a reason. No matter the culture, no matter the country, the good Lord put us here and everybody has a mission. And I hope everybody will eventually [understand]," he said.
Shen Yun Is 'So Joyful'
Mrs. Shapiro and her husband Mark, an ophthalmologist, also enjoyed their experience of Shen Yun.
Mrs. Shapiro was lost for words. "I'm overwhelmed at the discipline of all of them …  everything is in step. The dancers look like they're really enjoying themselves, they're smiling, and it looks like it's effortless. It's so joyful."
Mrs. Shapiro, a retired teacher, has also been a dancer.  The movements of the dancers were unique, she said. She loved "A Restaurant Tale," an amusing dance that depicts restaurant owners vying for customers.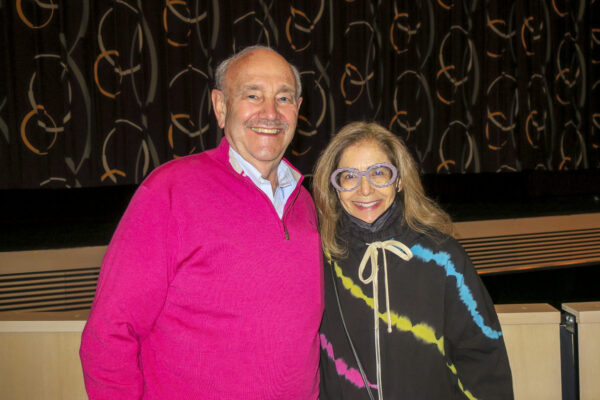 The Shapiro's appreciation of the dances was enhanced by Shen Yun's emcees, who presented a brief overview of the themes in each piece.
Mrs. Shapiro was very impressed with Shen Yun's patented animation technology. The digital projection creates a seamless interaction between the stage and the performers.
"I have the chills, really, I have the chills in expressing that—when they drop down and then it becomes 3-D projection. It's the most incredible sight," she said.
Mrs. Shapiro expressed how hurt she felt to learn that Shen Yun's performers were unable to celebrate true Chinese culture with the people in China.
Reporting by Yawen Hung, Maggie Xie and Diane Cordemans.
The Epoch Times is a proud sponsor of Shen Yun Performing Arts. We have covered audience reactions since Shen Yun's inception in 2006.