Shen Yun Shines Light on Chinese Culture, Human Rights
April 5, 2009 4:58 am Last Updated: October 1, 2015 9:57 pm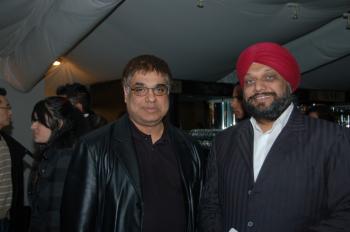 VANCOUVER, British Columbia—Among the enthusiastic full-house audience at Saturday night's Shen Yun Performing Arts show in Vancouver's Queen Elizabeth Theatre were Mr. Flora and Mr. Jaswal, two business owners and friends, who were both greatly impressed by the show.
"I really enjoyed it. All the costumes were nice. … Everything was good," said Mr. Flora, who owns a furniture wholesale business.
The dancing was "really marvellous," he said, adding that "music was great, very great."
This was his first time attending a Shen Yun performance, and Mr. Flora said he enjoyed every piece.
With him was friend and fellow businessman Mr. Jaswal, who owns a retail furniture store in Vancouver.
Mr. Jaswal echoed Mr. Flora's sentiments about the show.
"I think it was very good, very great," he said. He praised the high level of performance by the dancers, and noted: "The costumes were absolutely fabulous. The music was great."
For him, the Mongolian Chopsticks performance particularly stood out. It is a charming, distinctive ethnic dance that brings to life the joy and vivacity of the women of the Mongolian plains as they warmly greet their guests.
Mr. Jaswal praised the dancers for their skill as they clapped their bundles of chopsticks in the welcome dance. "The chopsticks were so synchronized," he said.
He also noted that the show not only celebrates the rich Chinese cultural heritage, but also brings awareness to the human rights crisis in China by portraying "some of the persecution that the everyday Chinese men and women face in China from the communist party."
Shen Yun is dedicated to showcasing the best of classical Chinese dance and music, reclaiming these cultural treasures of ancient China that have tragically eroded under decades of communist rule.
It also highlights the courage and faith of those who are being oppressed in modern-day China by the ruling regime.
Mr. Jawal, like his friend, enjoyed every aspect of the show. "I think everything was great," he said.
After completing its seven-show run in Vancouver from April 3 to April 8, Shen Yun Performing Arts will perform in Calgary, Edmonton, and Regina.
For more information, please visit ShenYunPerformingArts.org