How to Train a Dog: Tips from NYC's Top Dog Trainers, part 3/6
March 22, 2013 11:51 am Last Updated: April 8, 2013 11:16 am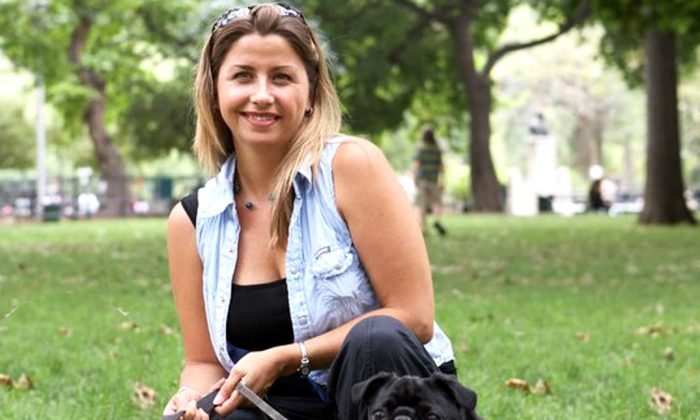 How to Train a Dog: Tricks of the trade from New York City's top rated dog trainers.
New Yorkers love their dogs, but life in any major metropolis offers up some serious challenges to dog owners.  In this series The Epoch Times interviewed six of New York City's top rated dog trainers to find out how to train a dog for happy city living.  
Each of these certified trainers has a unique approach. Some are near celebrities in their field, and others just broke out on their own, but all have great advice and long line of satisfied customers behind them. Check out the whole How to Train a Dog series here.
Kate Perry — Kate Perry Dog Training
For Kate Perry training dogs is really about training people. "I call it lifestyle specific dog training. We are training owners to become the best trainer for their dog," Perry said.
Perry has been training dogs for 13 years and recently put all that experience, along with quizzes and funny stories, into a book called Training for Both Ends of the Leash with co-author Yvonne Conza.
In the book, Perry lays down four "personality types" that can apply to both the owner and the dog.  She encourages owners to think about how their lifestyle and personality compares to their dogs "canine-ality".  
"The training techniques that I use are based on what kinds of personality you have at both ends of the leash.  Then it becomes fun for the owner and the dog starts cooperating.  It's all about relationships," Perry said.
The four types outlined in the book are:  The party animal, the workaholic, the sensitive artist, and the methodical thinker. It's fun, and most importantly, it works.
"When owners are able to identify the character traits of their dog it helps them understand how they are going to train the dog. It helps them either soften-up on the dog or toughen-up on the dog," Perry said.
Having a great relationship with your dog is all about getting to know yourself and know your dog. For puppy owners its about giving your dog the environment it needs during the most important developmental period, according to Perry.
"The most impressionable age is between 6 and 16 weeks, and that is the window of opportunity." Perry said.
Perry emphasizes how important it is for dogs to get  of lot social exposure to many different environments during this time.  She encourages owners to take their puppies to puppy socialization classes while they are still in their series of vaccinations. "There are a lot of vets that support this," Perry said.
"The saddest thing for me, as a trainer, is to see a dog not getting out, not getting socialized and not getting to be the dog that that it can be," Perry said.
Getting your puppy properly socialized can prevent all kinds of behavior issues down the road.  But not everyone brings home a puppy. Many people adopt shelter dogs out of a big compassionate heart, but according to Perry shelter dogs can come with their share of behavior problems.
"That's a whole other question—how do we keep shelter dogs in the home." Perry said. "People are calling us in when things are not going so well."  
That is where professional training can help. From Perry's point of view it is about compassion, it is about helping your dog be himself.
As a trainer, Perry works closely with groups like Rock and Rawhide which was started by former clients and aims to increase adoptions and quality of life for dogs and cats in shelters.  As a part of the bigger picture, Perry does her best to offer low, or no cost training for dogs adopted from certain New York area shelters.
"It's amazing, the ripple effect of all of this is huge," Perry said.
 Check out the whole How to Train a Dog series here.