SAN FRANCISCO—Making a gingerbread house is a holiday tradition, but the hotel Fairmont San Francisco takes it to a new level by creating a life-size, two-story-high Victorian gingerbread house.
Professionals working on it told NTD Television that planning for it starts early on.
"We had to start several months ago, back in July," said Michael Quigley, executive chef at Fairmont San Francisco. "And I had one person assigned to baking all the bricks, because I wanted them all to look the same. If I had several different people baking them, you know, they may not all look the same. This way, they're all the same color, same size."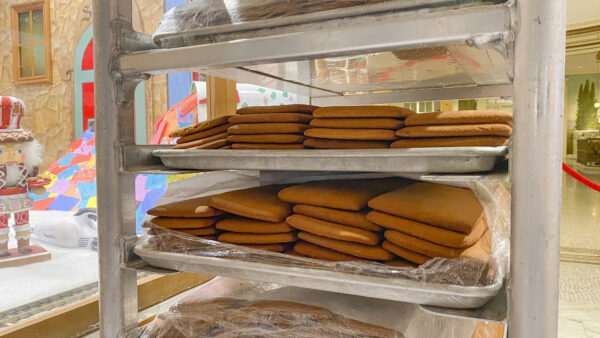 The house is 22 feet high, 23 feet wide, and 10.5 feet deep. There are 7,750 pieces of gingerbread and 1,500 pounds of royal icing. The culinary team baked 3,300 gingerbread bricks for the house.
This year, all of the candies were donated by See's Candies for its 100th anniversary. The iconic lollipops, sour candies, and chocolate confections are glued on with royal icing that dries hard.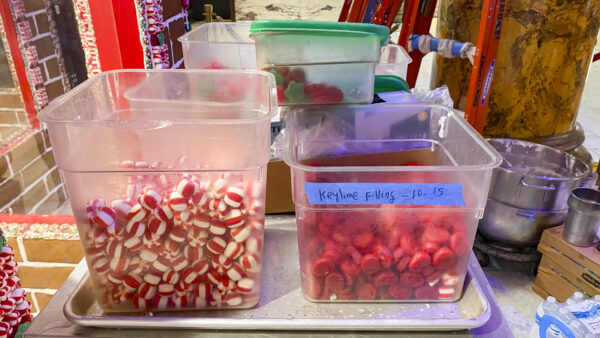 There are times when young children come up to pick off the candy.
"So I do have a little crew of elves that come through in the middle of the night to check and see if any candy has been taken off, and then we replace it as needed," Quigley said.
Engineers started building the wooden frame, which gets reused, as a base so that the house is structurally sound. Then they paint and put up an animated decoration.
"It's actually a 12-month process, really, for us, as far as making repairs to any of the wood that might … not last the next year, procuring all the materials, all the wood, and all the new decorations that we're thinking about," said Joshua Taylor, engineering director at Fairmont San Francisco. "Setting up and then taking down several times to make sure that everything's going to come up, so when we do come up and put it in the lobby, that it can be pretty seamless and a pretty quick process."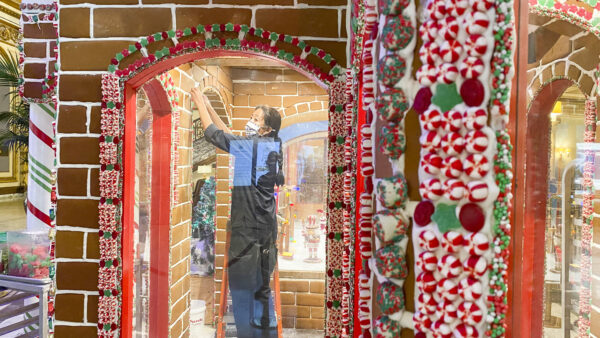 Official assembly started in the main lobby on Nov. 1.
The Culinary Team spends about 375 hours creating the house. The Engineering Department spends 520 hours constructing the framework.
"I have one of my most skilled engineers that really takes time to do all the painting and all the little intricate details, and he's basically up here for three whole weeks. And so it means I can't use him for other places throughout the hotel," Taylor said. "But it's a great thing for us to do and for him to be doing. His name is Larry, and he's very, very talented."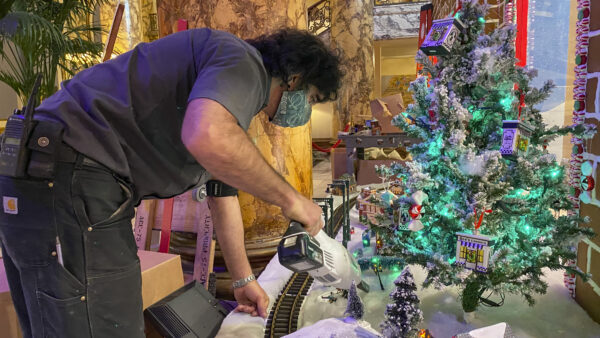 "I do like the original device that I made. It's the little elf that pops out of the floor," said Larry Walton, an engineer and painter at Fairmont San Francisco. "We were trying to add some animation to it. That was on the second year. They asked me if I could make something, and I was like, yeah, sure, I can make something. So I designed this little thing, and it pops up out of the floor and pops back down, and we've been using it for many years."
Walton has been working on the sweet adobe house since the tradition first started 11 years ago. Seeing kids' smiles keeps him going.
"A lot of the snow is very fluffy. [Kids] like to grab the snow from underneath the fences, and they'll make little balls, and then they'll try to throw it at the train as it's going by, and it gets stuck in the tracks. And it takes me hours to fix that, constantly," Walton said with a chuckle. "But it is amusing."
Throughout the holiday season, the train runs a total of about 115 miles circling around the village display—like the distance to Tahoe, he said.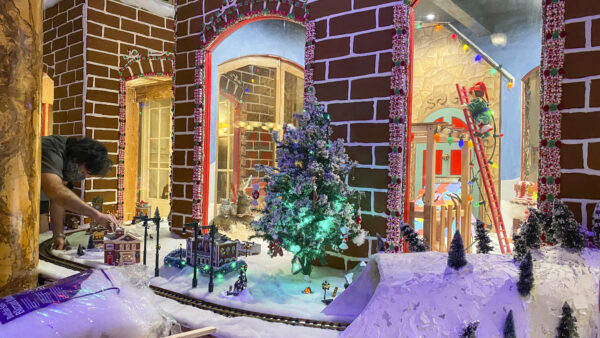 Due to the COVID-19 lockdowns last year, the hotel did not build the Gingerbread House. The annual tradition has resumed this year, along with a 23-foot-tall Christmas tree.
"It gets you something to do, especially this year. Finding something to go to do. It's really going to be difficult. And this will be a highlight for a lot of people," Walton said.
"You know, I love Christmas. And I think this just ties into me and how much I love Christmas. This just puts a bow on it for me," Quigley said.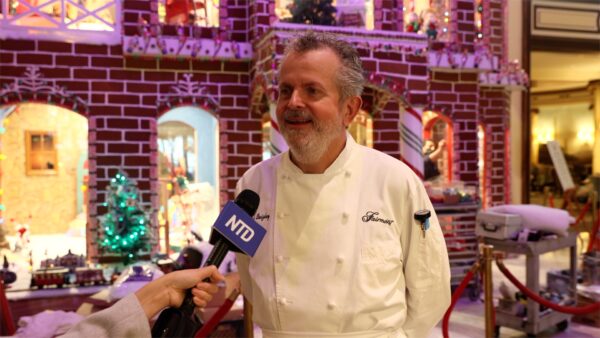 "We are delighted to once again celebrate the holiday season in true Fairmont style. The unmatched Victorian Gingerbread House resplendent in See's Candies, the festive Moët Champagne Bar and the ever-popular traditional holiday tea offerings truly define the magic of the holiday season in San Francisco," Markus Treppenhauer, general manager of Fairmont San Francisco, said in a press release.
The hotel also offers Gingerbread Private Dining, the Santa Suite Package, holiday tea, and buffet dining.
"I remember visiting the Gingerbread House when I was young, so being able to include our candies in this iconic tradition is extra sweet for me," Pat Egan, president and CEO of See's Candies, said in a press release. "Two companies that have been serving the Bay Area for a century or more celebrating the season together is truly special!"
The Gingerbread House will debut on Nov. 27 at 11:00 a.m. and remain on display throughout the holiday season.