NEW YORK—Magical moments are even more special when they take us by surprise.  In my 30 years teaching at Juilliard, I savored countless classical music concerts with stars of all ages on the platform of Paul Hall with its elegant ambiance.  And yet, it was a tribute to saxophonist Joe Temperley on Monday, March 6 by his students Peter and Will Anderson that reminded me that the gift teachers give lives well beyond them.
Joe Temperley passed away last May at the age of 89. Throughout his long career, he played baritone sax with Woody Herman, Buddy Rich, Thad Jones, the Duke Ellington orchestra, and was an original member of the Jazz at Lincoln center orchestra. 
To honor their beloved teacher, the Anderson twins rounded up a corral of alumni and stellar players, including Juilliard faculty Vincent Gardner, Andy Farber, and James Burton. (Take a look below at the playlist and roster to see what you missed.)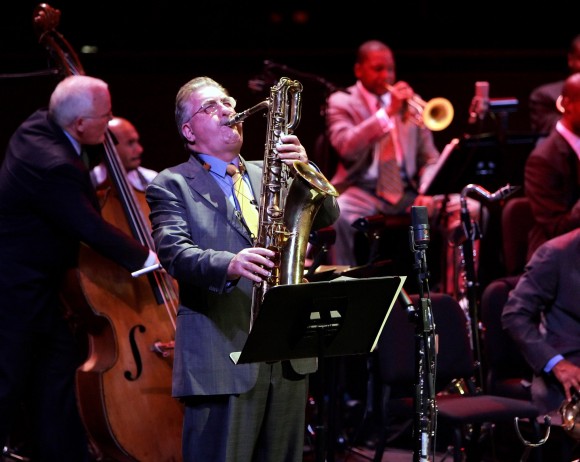 More importantly, the twins have initiated a $20,000 "all or nothing funding" for their "Blues for Joe" CD to kick-off the Joe Temperley Scholarship at Juilliard.  They hope to grow the scholarship to an impressive $100,000, an endowed fund for current and future jazz students. The deadline for the initial sum is March 20.
To celebrate the release of "Blues for Joe," the Peter and Will Anderson Quintet, with two Juilliard faculty: drummer Kenny Washington and guitarist Peter Bernstein, as well as Hammond B3 organist Pat Bianchi, will appear at Dizzy's Club Coca-Cola on Tuesday June 13, 7:30 p.m. and 9:30 p.m.
From the Heart
Through their contrasting timbre and tone, the twins celebrated their teacher. Surely Temperley was in their ears, still projecting his musical mantra, as Will quoted his master teacher and inspiration, "When you play, sing through your horn; get your nose out of the sound."
We learn from our teachers and mentors much more than how to play and perform particular repertoire. Teachers take us on a journey that lasts a lifetime, as we relive their lessons when we change up and color each performance. The inspiration from this shared tradition allows students to offer these treasures through their own performances or to their own students in private teaching studios.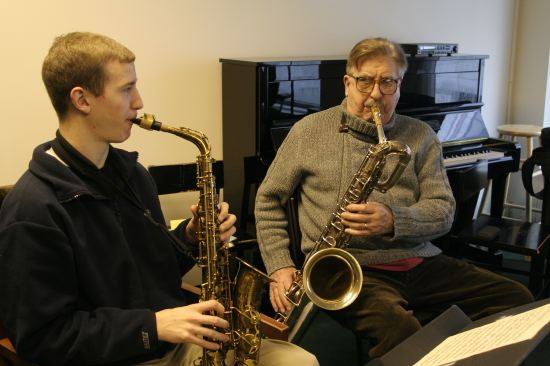 Temperley's lineage line-up was personal and up-close at the concert. As the jazz idiom freely allows the generous "sharing of the ball," the handing over of solos, each member of this special ensemble comprised of alums, faculty, and students, contributed a wide swing, covering instrumentation, sound, and personality, and was deeply heartfelt. 
The audience followed in irresistible toe tapping the perfect coordination and infectious heartbeat in standards like Jimmy McHugh's "I Can't Give You Anything But Love," and Duke Ellington's "In a Mellow Tone."
As this generous gesture from Peter and Will Anderson, '11 Juilliard alumni, attest, there is no greater love shown than to honor one's teacher. It comes purely from the heart and speaks volumes in the universal language of musicians.
All inquiries on the scholarships for saxophone students in Joe Temperley's name can email peterandwillanderson@gmail.com or give directly to The Juilliard School Joe Temperley Scholarship for current students.
Ensemble
Saxophones: Will Anderson, Peter Anderson, Andy Farber, Carl Maraghi, Andy Gutauskas, Dean Tsur
Trombones: James Burton, Willie Applewhite, Vincent Gardner
Drums: Marion Felder, Luca Santaniello
Piano: John Chin, Dan Kauffman
Bass: Matthew Rybicki, Clovis Nicolas
Playlist for March 6
#1: I Can't Give You Anything But Love (Jimmy McHugh)
#2: In a Mellow Tone (Duke Ellington)
#3: It's You Or No One (Jule Styne)
#4: Sophisticated Lady (Duke Ellington)
       Danny Boy
       Chelsea Bridge (Billy Strayhorn)
#5: Just Friends (John Klenner)
#6: Bernie's Tune (Bernie Miller)
#7: The Very Thought of You (Ray Noble)
       Darn that Dream (Jimmy van Heusen)
       Ask Me Now (Thelonious Monk)
#8: Cottontail (Duke Ellington)
#9: Things Ain't What They Used To Be (Duke Ellington)
Julie Jordan, Steinway Artist, celebrated 30 years teaching at The Juilliard School in 2015 and is the Artistic Director/Founder of the New York Concerti Sinfonietta, with upcoming concerts May 12, 2017 at Carnegie Hall, 2017-18 Shining Star debut auditions: March 27-30 at Dublin University College, Royal Irish Academy of Music, Steinway Masterclasses: April 14-16 in Fort Worth, Plano, Dallas; NYCS debuts at Stanford University: May 25, 2017. All  inquiries: dr.juliejordan1@gmail.com  newyorkconcertisinfonietta.com