Falun Gong practitioners from Hong Kong and other areas of Asia held a rally and march in Hong Kong on July 22, calling attention to 19 years of ongoing persecution of the spiritual discipline Falun Gong by the Chinese communist regime.
On July 20, 1999, the Chinese Communist Party launched an unprecedented persecution against Falun Gong, a traditional Chinese practice with moral teachings based the principles of truthfulness, compassion, and tolerance. Since then, hundreds of thousands have been arrested and detained in forced labor camps and prisons, where they are often tortured if they refuse to renounce their beliefs.
At least 4,000 practitioners are confirmed to have died while in police custody, according to data collected by Minghui.org, a U.S.-based website that tracks the persecution of Falun Gong in China—though the true number is likely to be much higher.
At the rally on July 22, politicians and activists from Hong Kong, Taiwan, and other countries gave speeches voicing their support of Falun Gong's 19-year-long peaceful protest, while condemning the Chinese regime's persecution of innocent citizens.
Hong Kong is run by a separate government than mainland China's, and thus Falun Gong adherents are free to practice their faith.
Hong Kong Falun Dafa Association spokesman Kan Hung-Cheung spoke about the rising civic movement in China to withdraw from the Chinese Communist Party (CCP)—with more than 310 million Chinese already having declared their withdrawal—in addition to growing numbers of Chinese citizens calling for former Party leader Jiang Zemin to be brought to justice for his initiation of the persecution.
"[We should] abandon and eliminate the evil … with people around the world who choose kindness, and create a peaceful, flourishing world for the entire humankind," Kan said.
Several local politicians also voiced strong opposition to the Chinese regime's state-sanctioned organ transplant industry, which, according to investigators, relies on forcibly removing organs from Falun Gong practitioners and other prisoners of conscience in order to perform for-profit transplant surgeries.
Wu Chi-wai, chairman of the Democratic Party in Hong Kong, called on the international community to investigate China's organ harvesting crimes and stop the human rights atrocity.
"I hope the CCP's culprits who are responsible for forced organ harvesting will one day be punished by law—to give justice to all the victims," he said.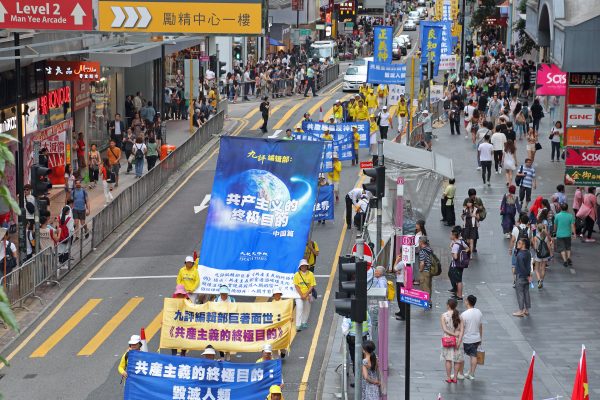 Teresa Chu, a human rights lawyer and spokeswoman for the Falun Gong Human Rights Lawyer Group in Taiwan, who spoke via a submitted audio recording, discussed the worrying trend of Beijing exporting its persecution overseas—and to Hong Kong in particular.
In an annual report on religious freedom around the world, released by the U.S. State Department this May, Falun Gong is the most elaborated topic in the section about Hong Kong. "[The report mentions] certain groups that are organized by the CCP behind the scenes, including the Hong Kong Youth Care Association, who specifically target and intimidate Falun Gong practitioners in public," Chu said.
She noted that the report also cites an Epoch Times article about an incident in July 2017 when the Hong Kong government denied entry to 43 Falun Gong practitioners from Taiwan who planned to visit the city for the annual July 20 protests. The government gave no official explanation for their decision.
After the rally, a march attended by more than 1,000 participants traveled from King's Road Playground to the Liaison Office, the representative office for the Beijing regime in Hong Kong.
Mr. Huang, a tourist from Shenzhen, the mainland Chinese city that borders Hong Kong, was surprised to see Falun Gong practitioners openly protesting the Chinese regime's persecution. "This is my first time ever seeing [a Falun Gong parade]. I was so surprised to see the banner that said 'Bring Jiang Zemin to justice,'" he said. "It would be impossible to see anything like this in the mainland!"