Eldad Hagar got a call about a "very nervous" homeless dog hiding out in an industrial park in Orange County, California. When Hagar arrived, the fearful black German shepherd "told" him she meant business by showing her teeth.
He showed up at a construction company compound with fellow canine rescuer Loreta Frankonyte. This was going to be a "seriously dangerous" rescue, Hagar said. "[The dog] told me and Loreta to leave her alone, but we didn't listen!" They were prepared for what came next.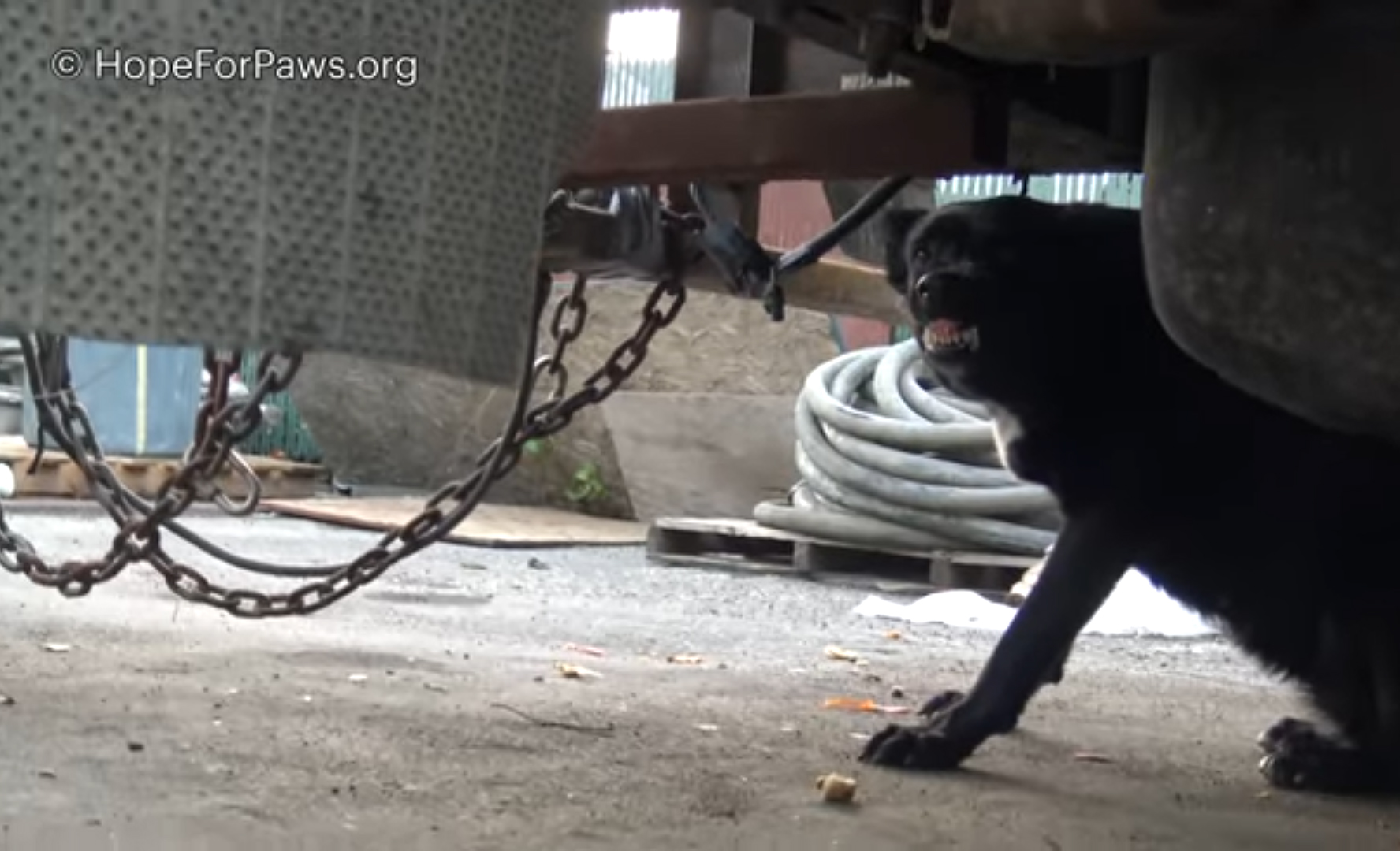 Hagar had always gravitated towards the most challenging rescues ever since his days as a volunteer rescuer for other organizations. His passion led him to found Los Angeles-based rescue Hope For Paws, which he is responsible for funding. Recording his rescues and producing highly popular YouTube videos has been one of the avenues to fund the cause.
Some of his rescue videos have garnered viral fame on social media, such as the rescue of a blind dog named Fiona, and the story of Jordan, the poor dog with a broken leg that was rescued from a river in Los Angeles.
Hagar has rescued dogs in some of the roughest, most destitute parts of the city. He's also saved fearful canines that have threatened his safety—which was the case that day in Orange County. Fortunately, all would end well.
"Loreta, just be careful … it can be dangerous," Hagar said as they entered the compound with the dog inside. "She already showed me teeth. Hey! Hey! Come here!" The pair had the dog cornered in the compound with fences on all sides. She could only hide under a few concrete trailers and work trucks.
"Do you have food?" Hagar asked Loreta. Appealing to a starving animal's stomach has been a proven strategy for the rescuers to lure animals and gain their trust. Maddy, as the German shepherd was later named, was stubborn, however, sneaking under the vehicles, barking, growling, and baring her fangs.
The two would-be rescuers were also armed with snares, which could be extended under the vehicle and, with some considerable dexterity, looped around Maddy's neck. Avoiding getting mauled was the real trick, though.
"Give her a piece of the food," Hagar told Loreta. "Do you have something to hide behind to protect yourself?" All the while, Hagar video recorded the scene: the black silhouette of a dog under the truck, in the shadows, growling, with white teeth showing—not for the faint of heart.
Hagar had to employ considerable discipline: giving her time to calm down and get used to their presence, firmly shouting "no! no!" whenever Maddy showed her teeth menacingly, and attempting to reach out with positive reinforcement, saying "good girl!" and with food and then snares.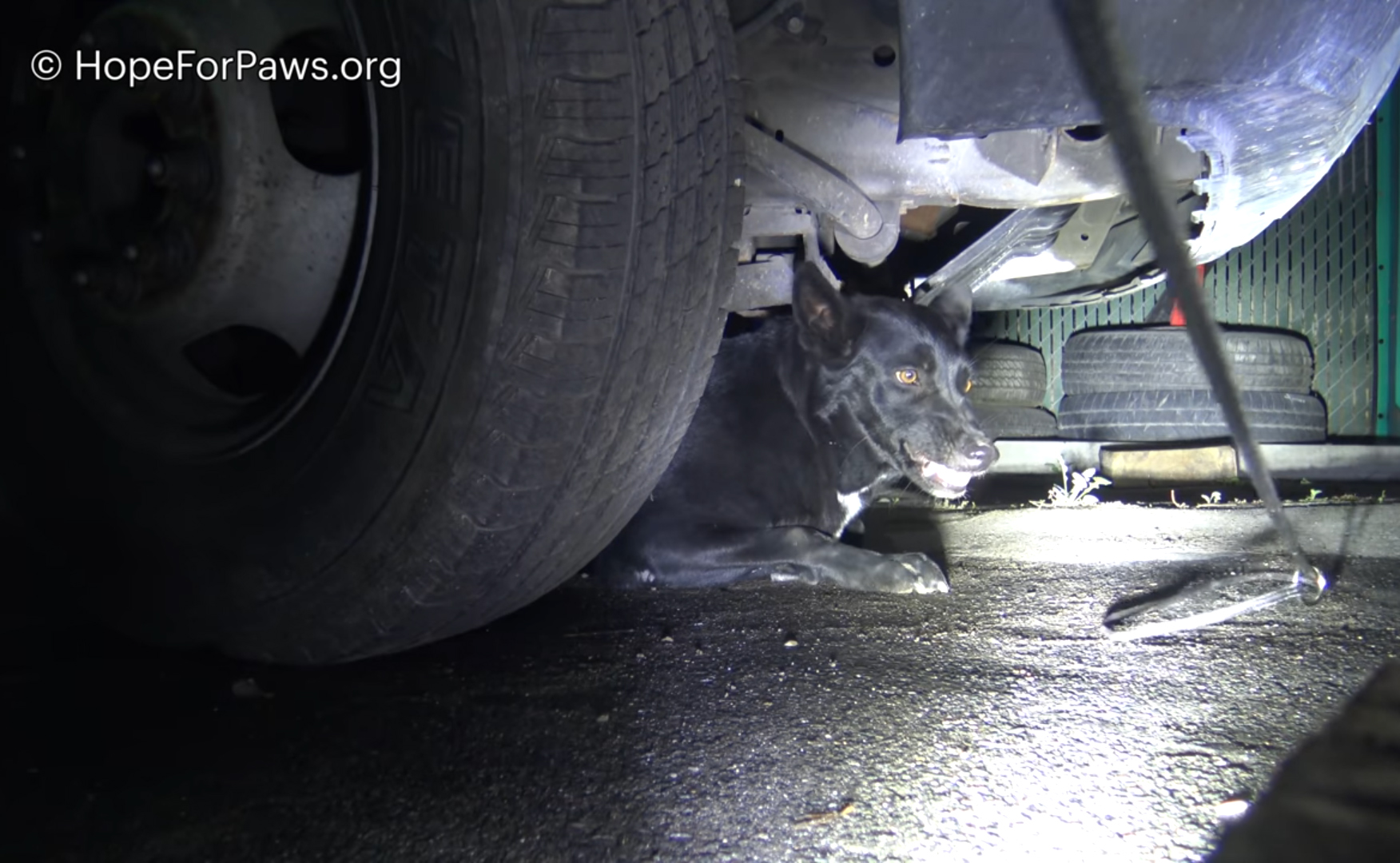 "This situation was extremely dangerous," Hagar later recounted, "so we had to take our time and go slow."
And it took several hours on Maddy. Soon, evening turned into twilight and then night. They were able to distract her eating bits of food and got close enough to loop her with three different snares without her knowing.
"Let's call Kyle (who made the call on Maddy) and ask him to bring the trap here," Hagar said. Soon, they had Maddy safely caged for transport to the animal hospital, where they would still face the daunting task of coaxing out the fearful, hungry dog to be spayed and bathed.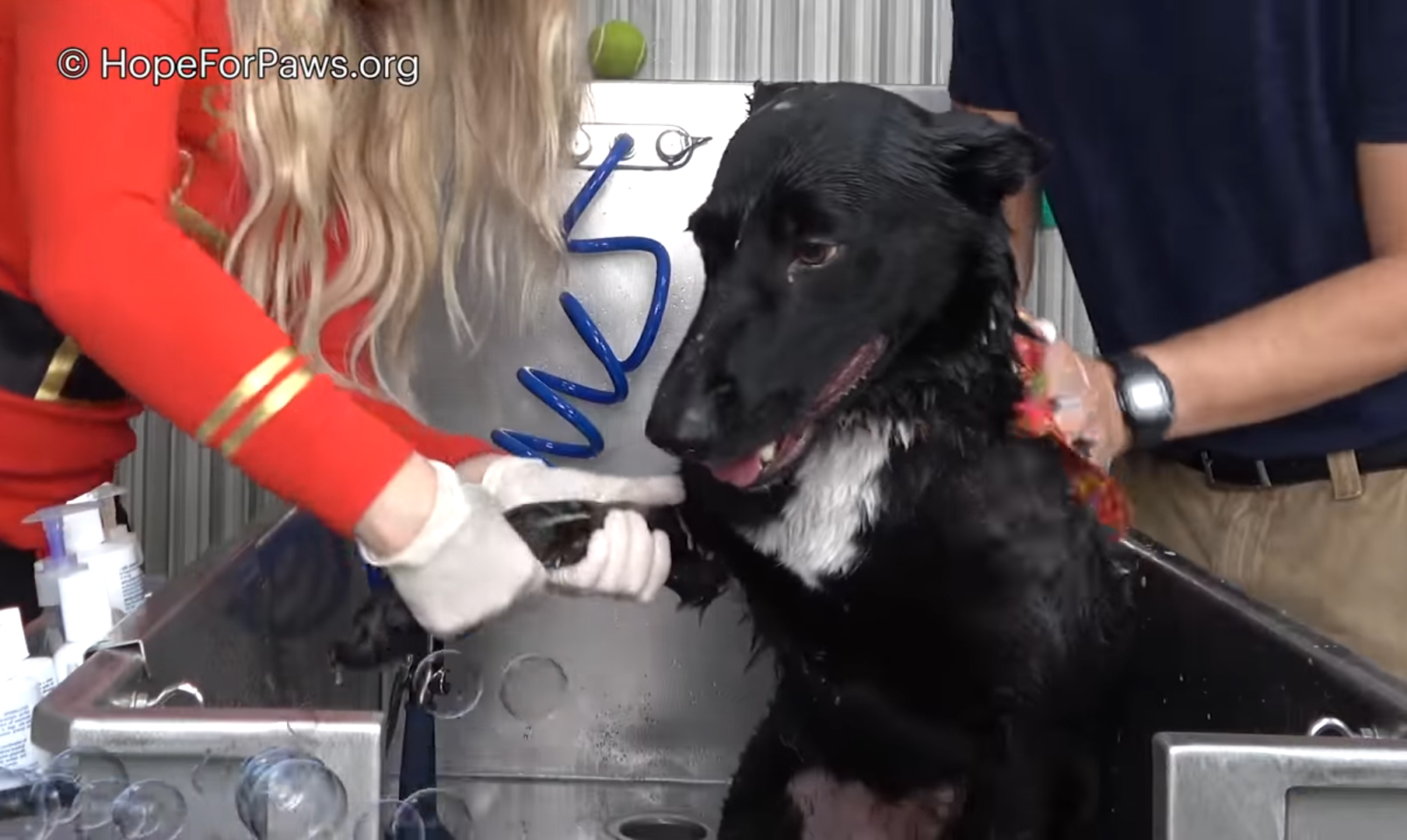 "I think she's in heat, that's why she's acting like this," said Hagar. "If the shelter would have gotten her, that's death." Fortunately, the dog shelter didn't get her; Hope for Paws saved the day. They brought her to the dog hospital and, after treating her, would see to it that she found a new, loving human family.
And in the course of all that, Maddy "forgave" her saviors. She was brought to German Shepherd Safe Haven to be trained, and when Hagar paid her a visit, she was only too happy to oblige him in a friendly game of fetch. Maddy has since been adopted into her forever home with the Bristol family, and their forever family photo with Maddy was posted on the GSSH website on April 12.
Video courtesy of Hope for Paws (Website | Instagram | Facebook | YouTube)