Sitting on my bed, I watch Germany float by. From my guestroom on the ms River Splendor, a 176-passenger Vantage river cruise ship, I watch ancient castles on towering overlooks glide past. Hills covered in sleeping vineyards soon follow, along with an endless parade of picturesque towns, their cobblestone streets worn smooth from centuries of life by the river.

Of all the ways that I have traveled in Germany, from road trips through Bavaria, boats to the northern islands, and train treks to small towns and pulsating cities, exploring Germany by river cruise ship is the most relaxing.

Rivers are an integral part of life in Germany. Since ancient times, the Rhine, the Danube, and many other rivers have been used for commerce, transporting goods and products. Today, the rivers also bring travelers who want to see Germany at a slower pace. 
Our Vantage river cruise is an eight-day journey through the heart of Germany during the Christmas season. It's an excellent time to visit the country. Each town has a Christmas market, where rows of wooden stalls sell local goods and tasty treats, and the streets are decorated for the season. 
While Vantage offers longer Christmas cruises that visit Germany, Hungary, Austria, and Slovakia, this cruise itinerary stops at six unique destinations in Germany. An eight-day Heart of Germany river cruise starts at $3,299 per person. (Vantage offers specially built cabins for solo travelers on some cruises, so solo travelers don't have to pay the single supplement.) 
Aboard the ms River Splendor
The beauty of river cruising is that you can check in once, and then visit a different destination each day. River cruises are all-inclusive, with meals (including most drinks) and shore excursions included. The River Splendor has two restaurants onboard, as well as a spa, gym, and lounge. When the weather is nice, there's nothing like sitting on the top deck soaking in the scenery.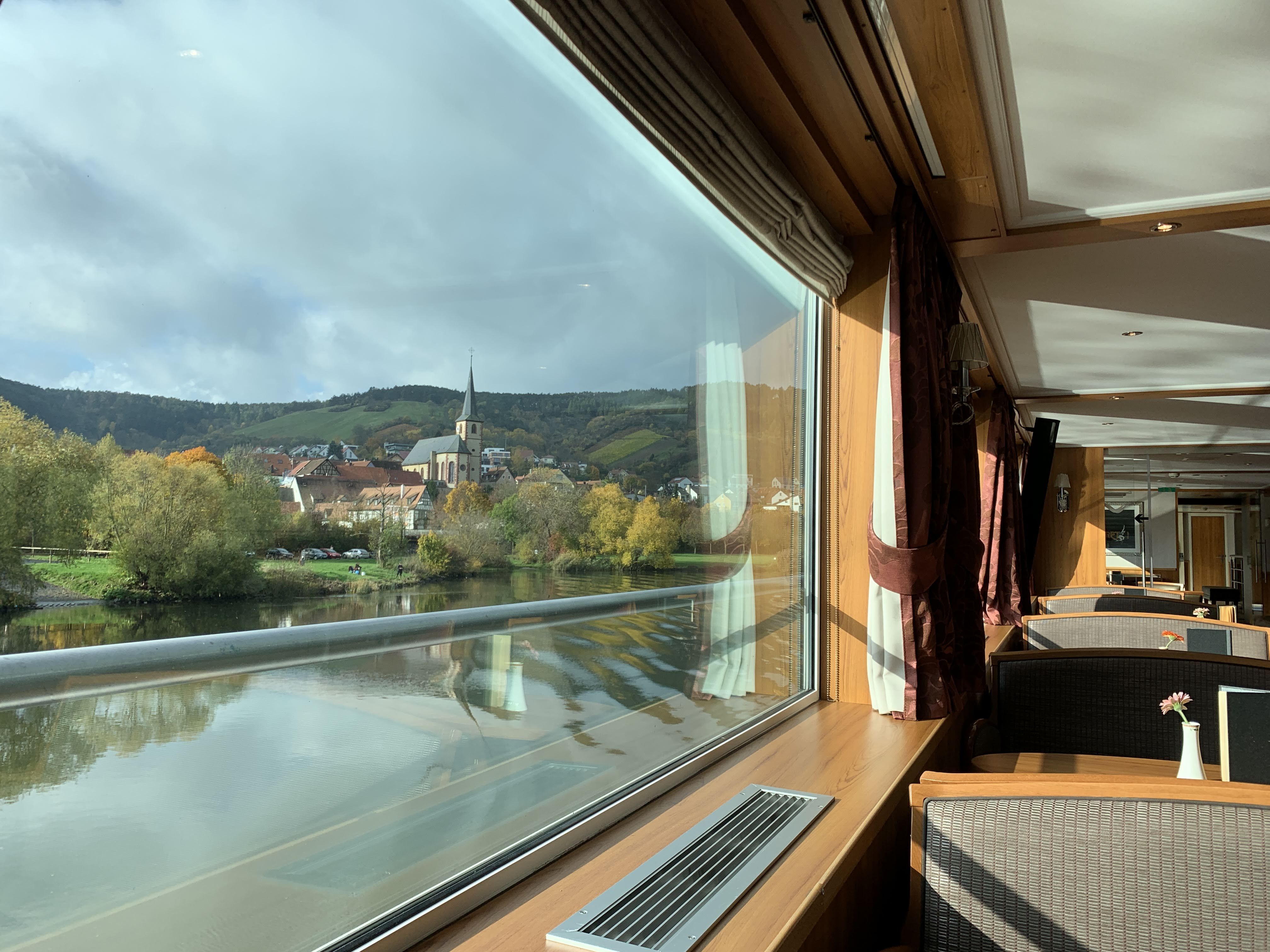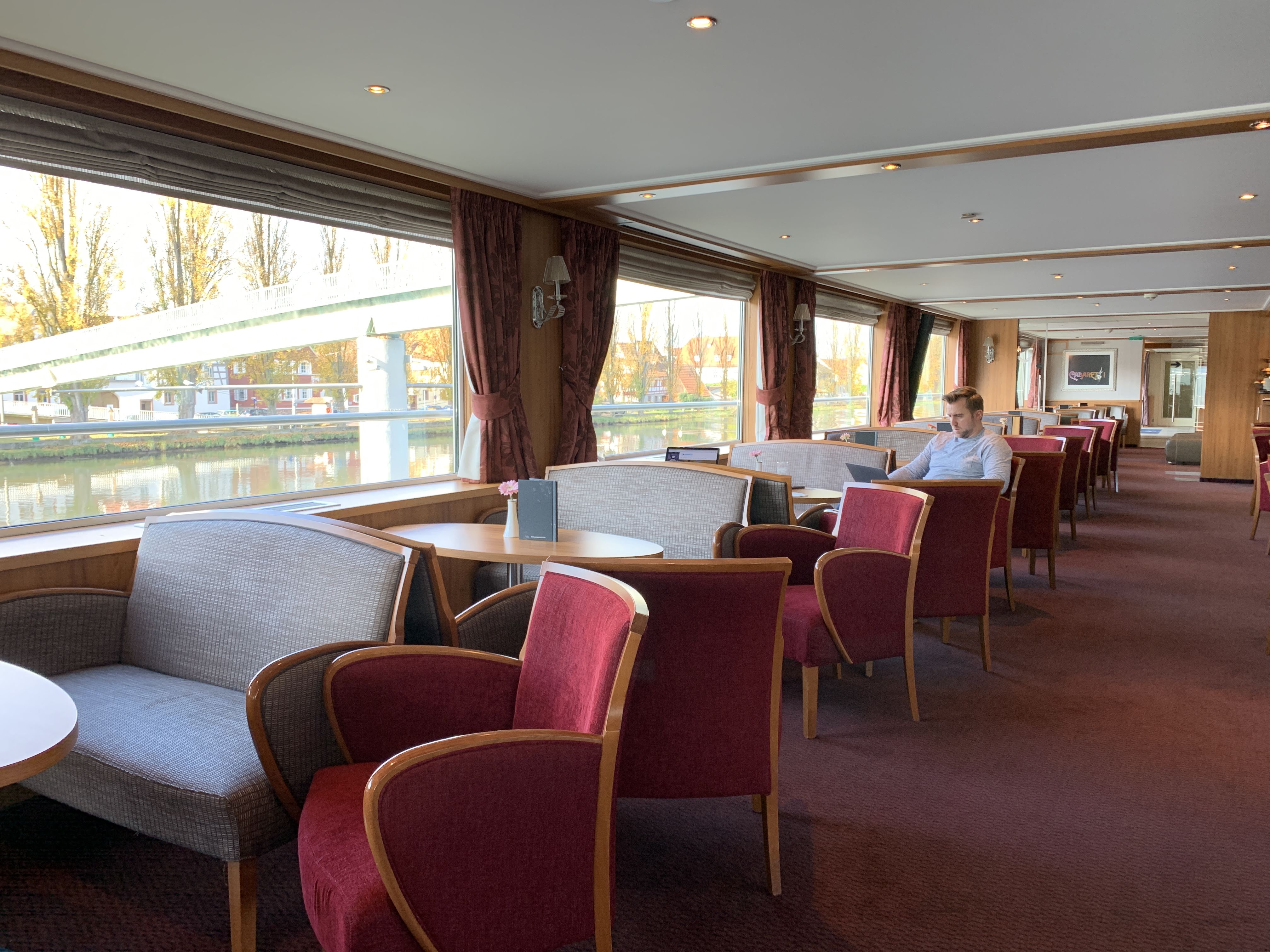 Navigating a river on a long narrow cruise ship is no simple feat. While you rarely feel any ship movement and the river is not deep, the ship does have to navigate a series of locks. Locks are found in areas where the water level changes. Locks raise or lower boats to a different water level. As one guest put it, it's almost like a "river elevator" for boats. Regardless, watching the ship go through the locks is fascinating.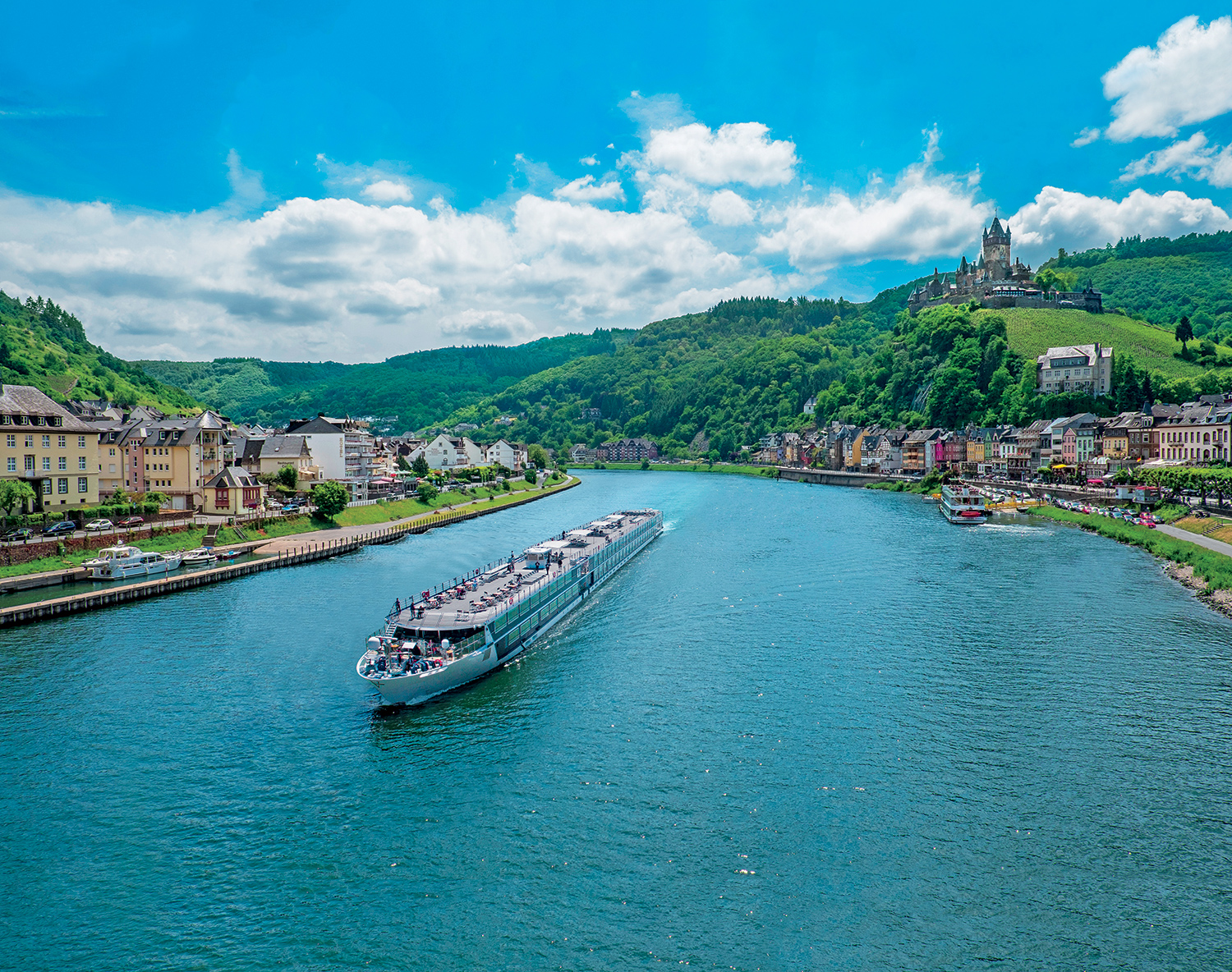 My favorite part of river cruising, though, is the sense of camaraderie that develops among the passengers. 
"River cruising is like a floating home away from home," says Renate Lovrovic, our cruise director on the ms River Splendor. "While you may start the week as strangers, by the end of the week, you're talking and chatting with others." 
That camaraderie is already evident during a guided walking tour at our first port stop in Koblenz. Situated at a confluence of the Rhine and Moselle Rivers, Koblenz is one of Germany's oldest towns. Drawing on more than 2,000 years of history, the town once belonged to France. That French "joie de vivre" can still be felt in its cozy wine taverns and restaurants. 

The Koblenz Christmas market is one of the largest in the wine-growing region of Rhineland-Palatinate and has more than 130 festively decorated wood stalls. My favorite find is the life-size Advent calendar on the roof of the town's baroque town hall. Exactly 24 windows line the roof; one is opened each day of the Advent season. 
Christmas in Heidelberg
The next morning, we open our stateroom door to discover Heidelberg. Within minutes of walking ashore, I'm drawn in by its charm. Situated on hills along the river, Heidelberg is stunning. This morning, it looks even more magical. A mist of clouds sits low on the city, giving a fairy tale look to this red-roofed town on the Neckar River. An ancient gate leads from a bridge over the river into the city, which is home to Germany's oldest university.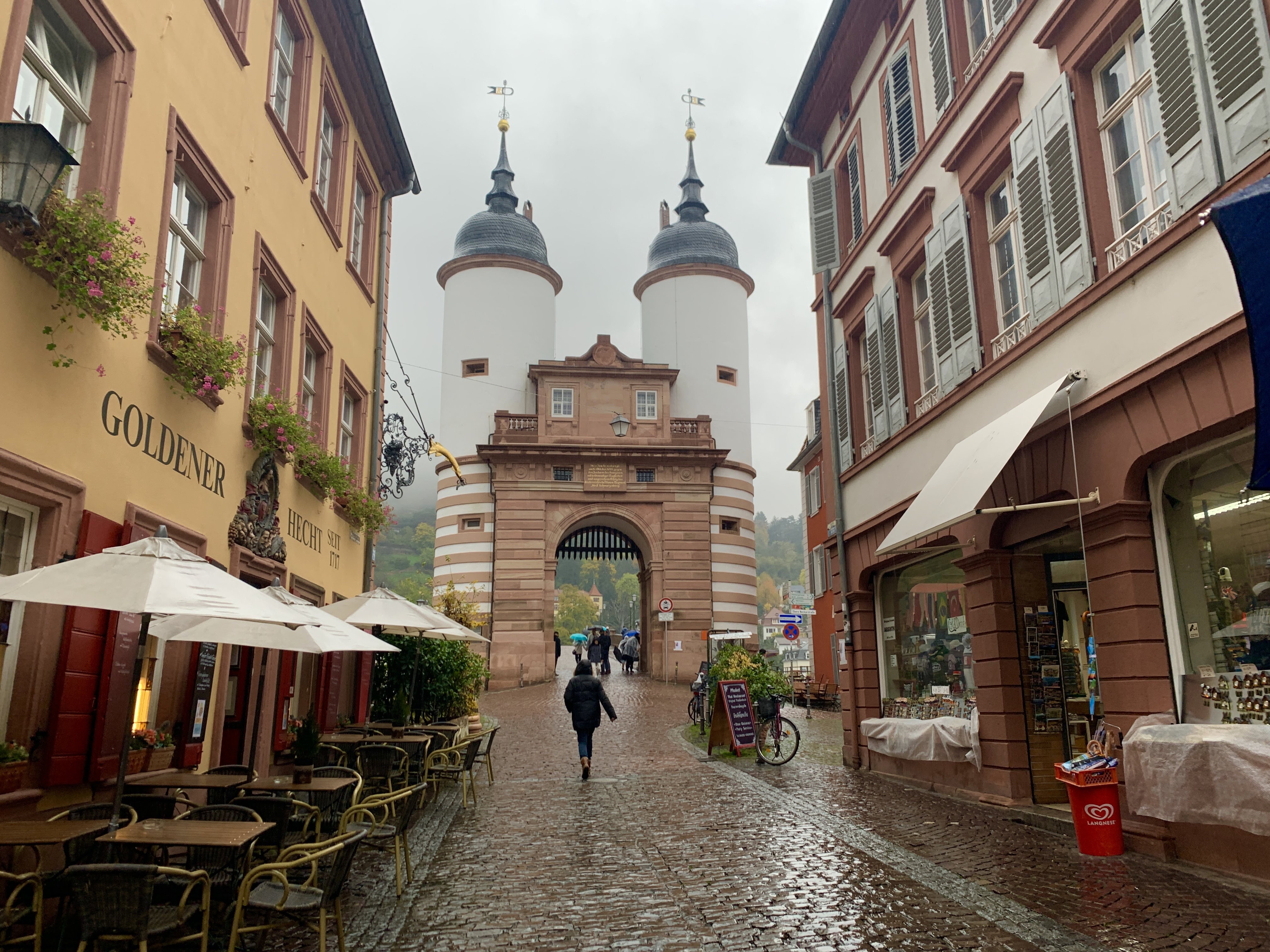 Heidelberg Castle is the top attraction. Although you can explore the castle ruins on your own, we've joined the guided tour by Vantage Travel. Our guide does a good job of condensing more than 700 years' worth of turbulent history into an engaging story.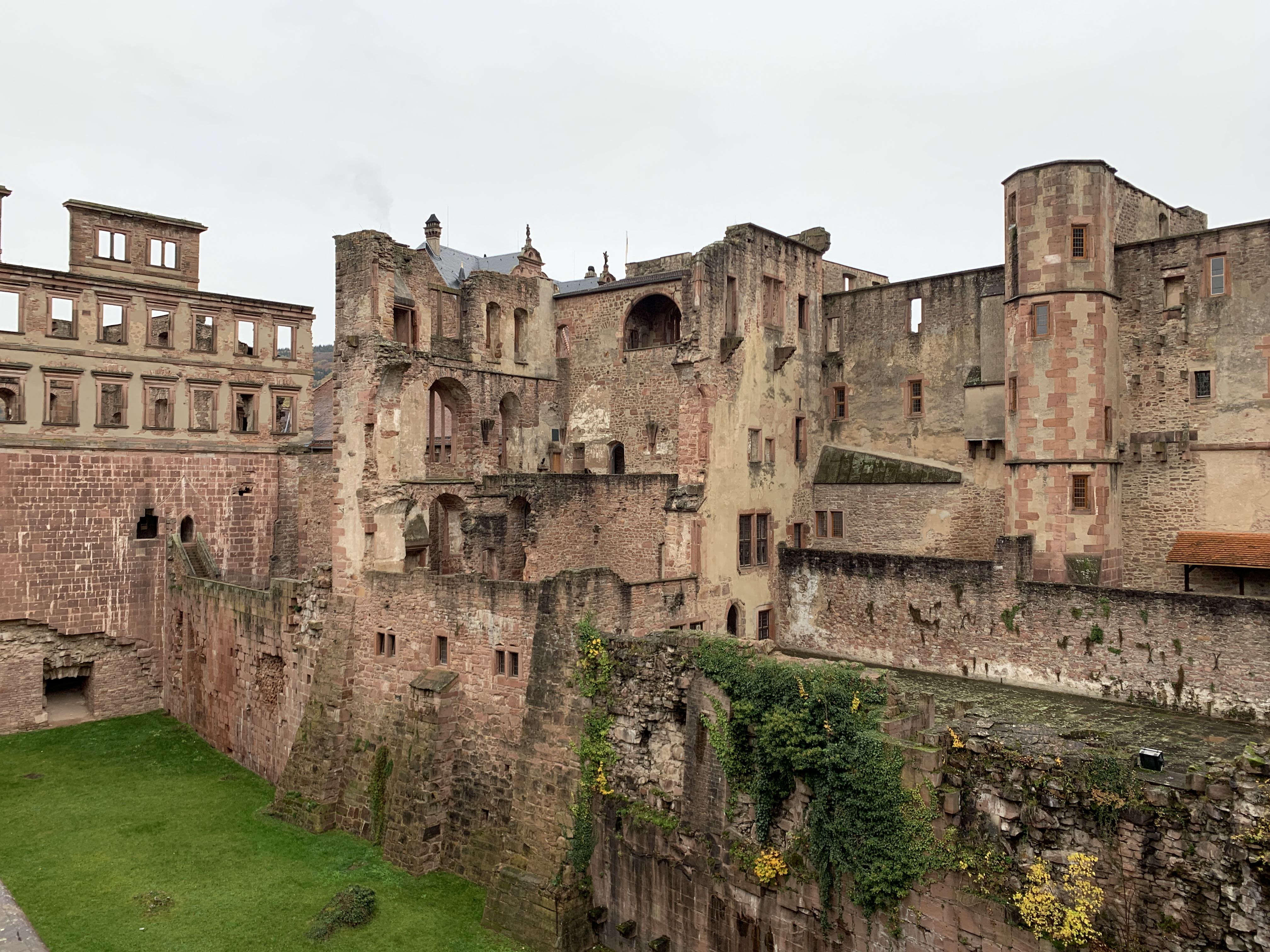 Later we stop to see the world's largest wine barrel. Made from 130 oak trees and holding up to 221,727 liters (58,574 gallons) of wine, it's an unusual sight. I climb the stairs that go up to the top of the barrel, imagining all the parties this barrel has supplied.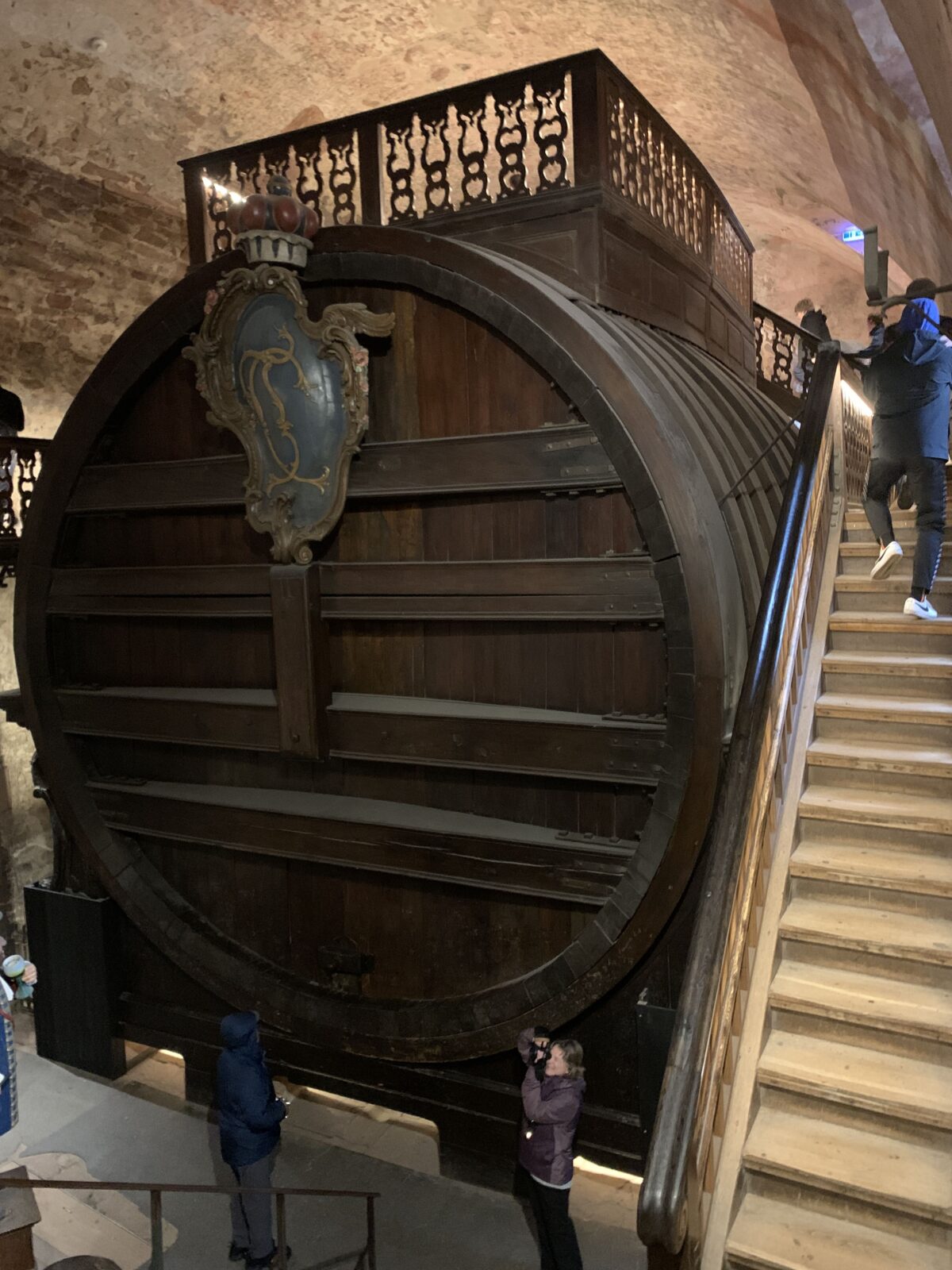 Heidelberg's stunning Christmas market is spread across the old quarter, from the pedestrian area to Bismarckplatz, Anatomiegarten, Universitätsplatz, Marktplatz, and the beautiful Kornmarkt. Although I don't have time to linger, I purchase a sweet snowball pastry to take back onboard.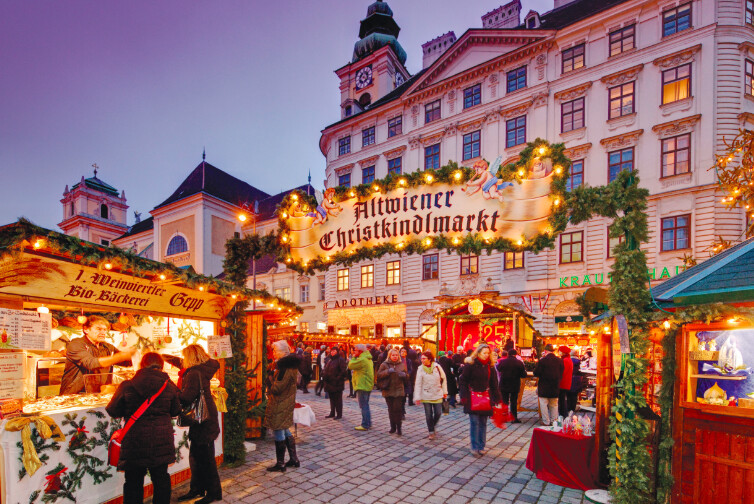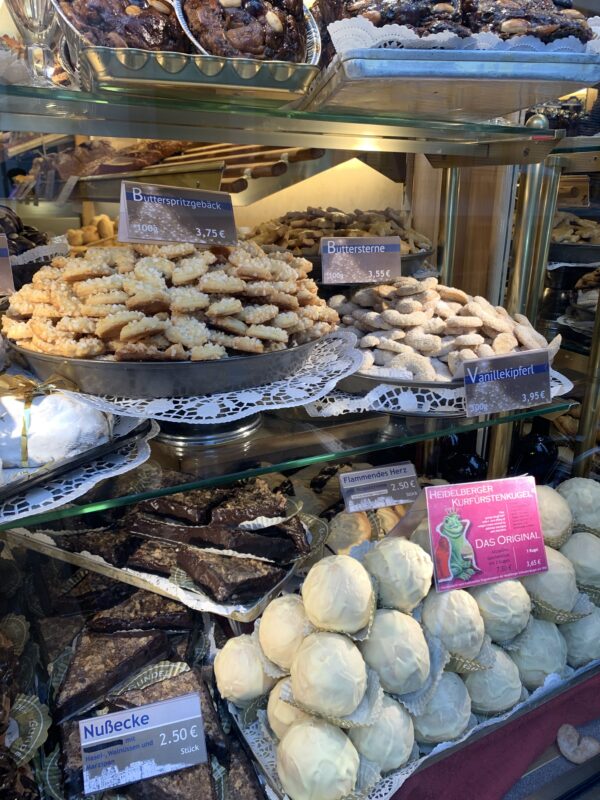 Würzburg Holiday Tradition
Arriving in Würzburg, I can almost imagine what it must have been like hundreds of years ago. The impressive Marienberg Citadel sits high on the hill overlooking the city, and the surrounding slopes are covered in vineyards.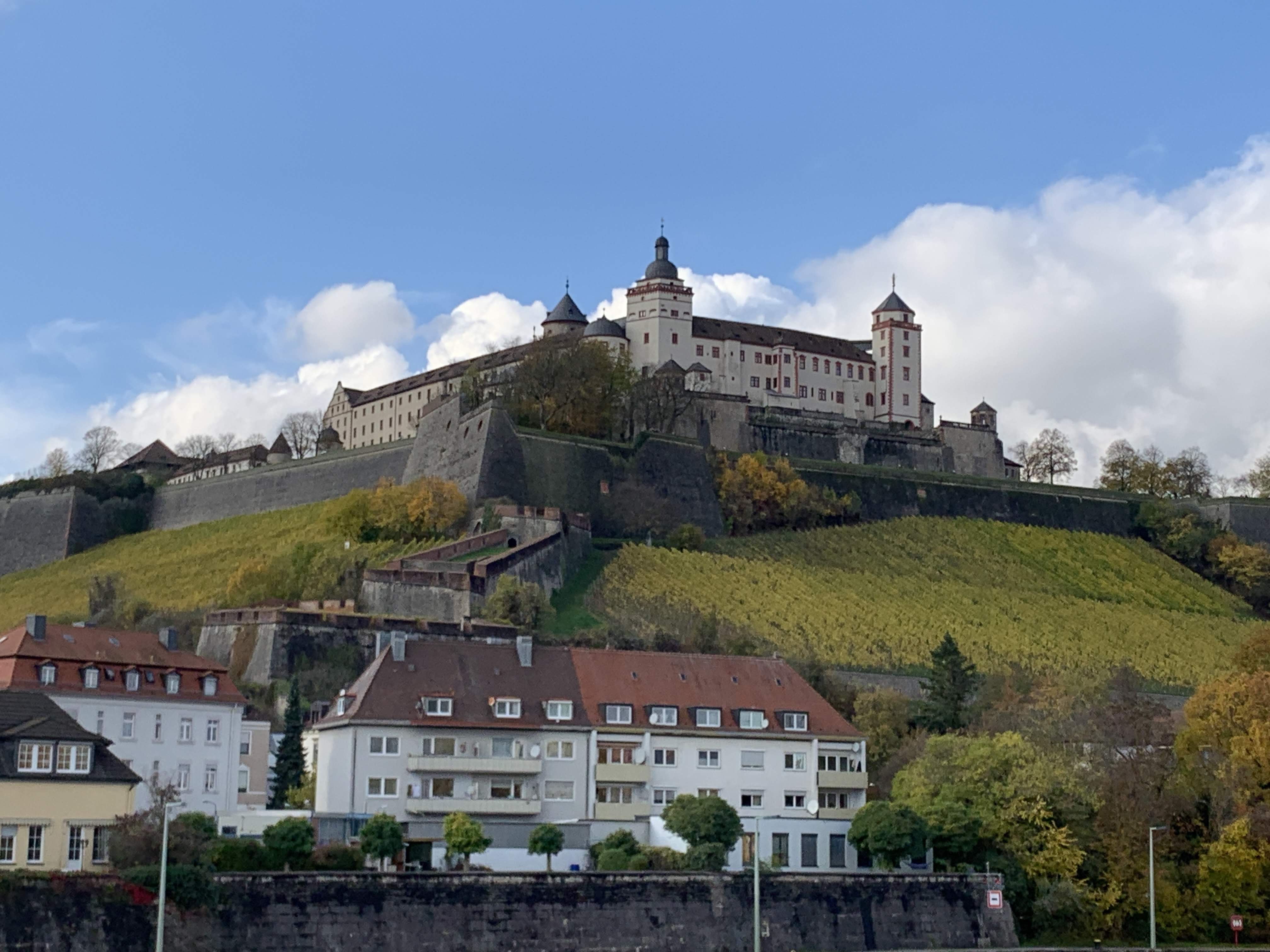 The town was once the seat of mighty prince-bishops. You can visit the Würzburg Residence, a stunning baroque masterpiece and UNESCO World Heritage site, and learn about those heady days.  
Würzburg's Christmas market dates back several hundred years, and it's a central part of the holidays here. We have an afternoon free to explore, so my husband and I head straight to the Christmas market in the heart of Würzburg's Old Town.
We sample Franconian Christmas cookies, eat local sausage, and drink glühwein, a hot red wine infused with spices such as cinnamon, cloves, and orange peel. Although I'm not big on purchasing souvenirs, I collect Christmas ornaments from around the world. They're small and easily packed, and each Christmas, I can pull them out to remember our journeys. The Würzburg market offers several enticing hand-made ornaments to choose from, including wooden carvings and even tiny hanging nativities.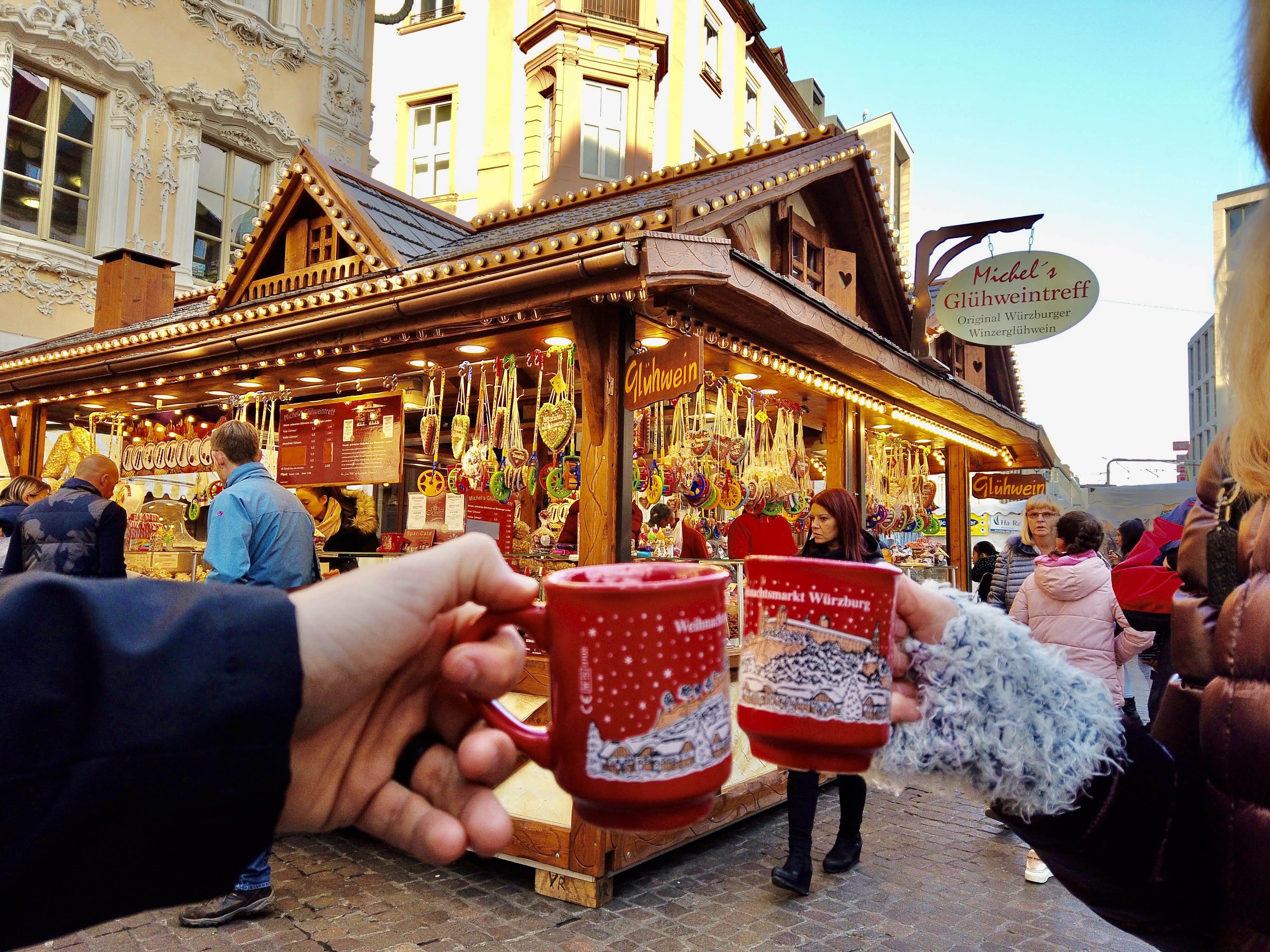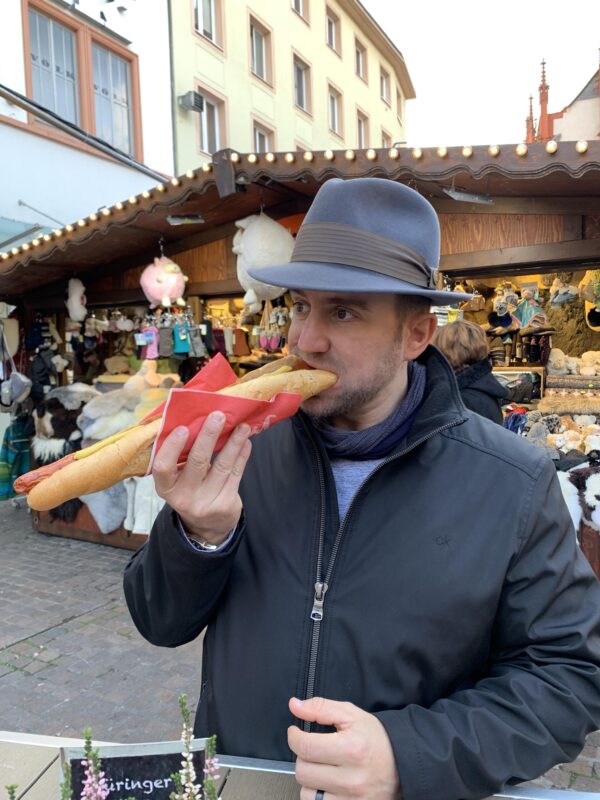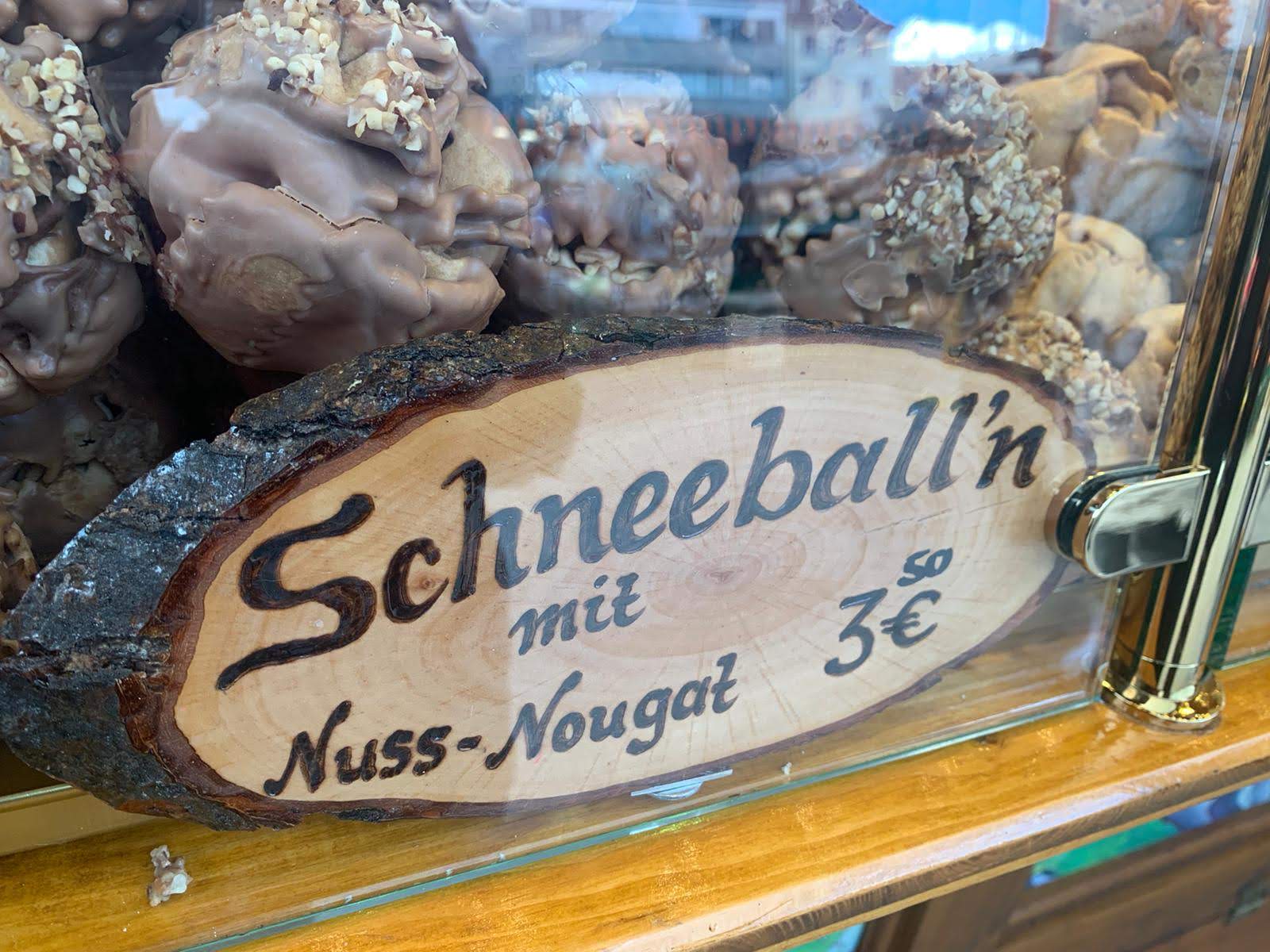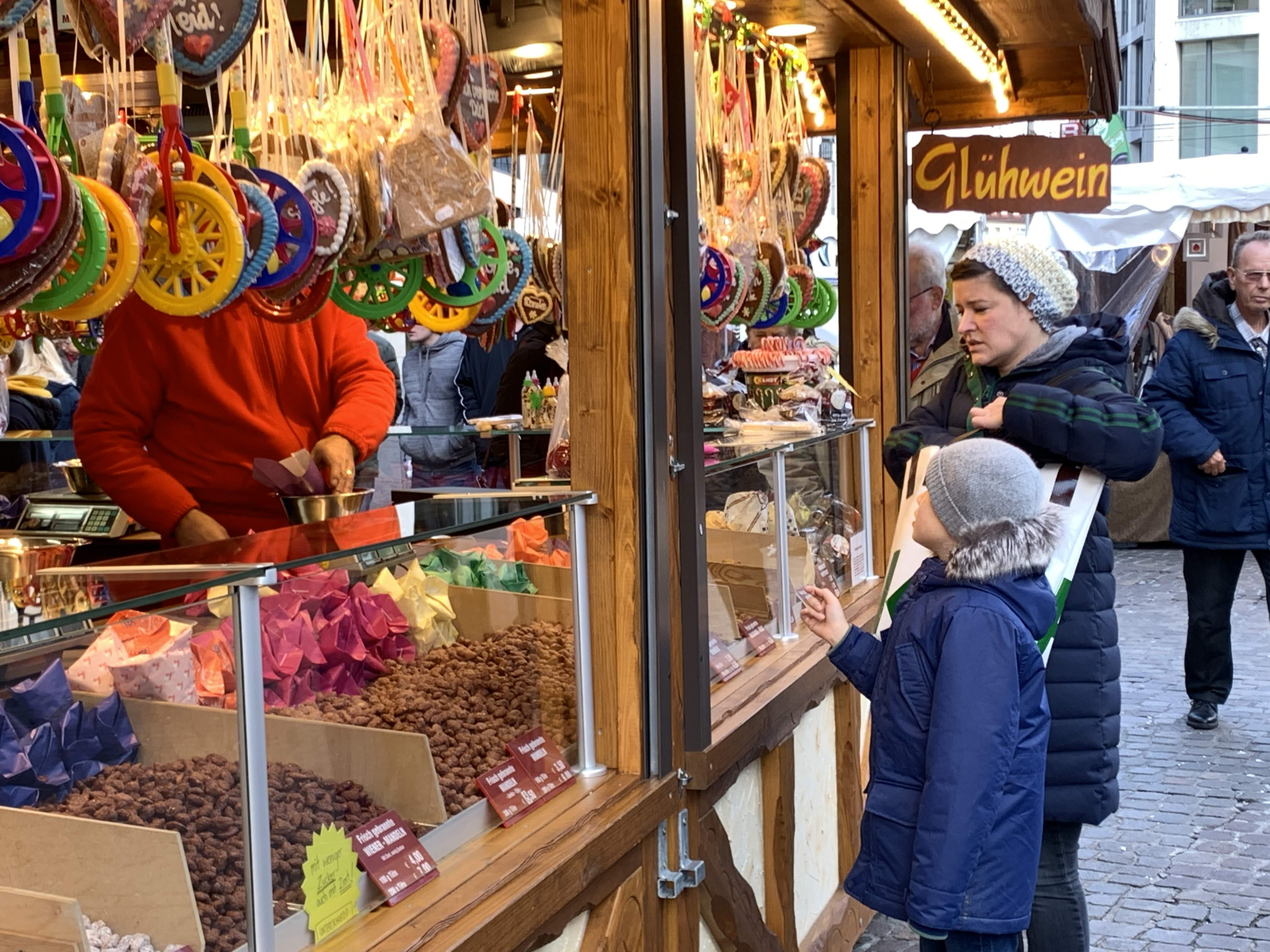 Bamberg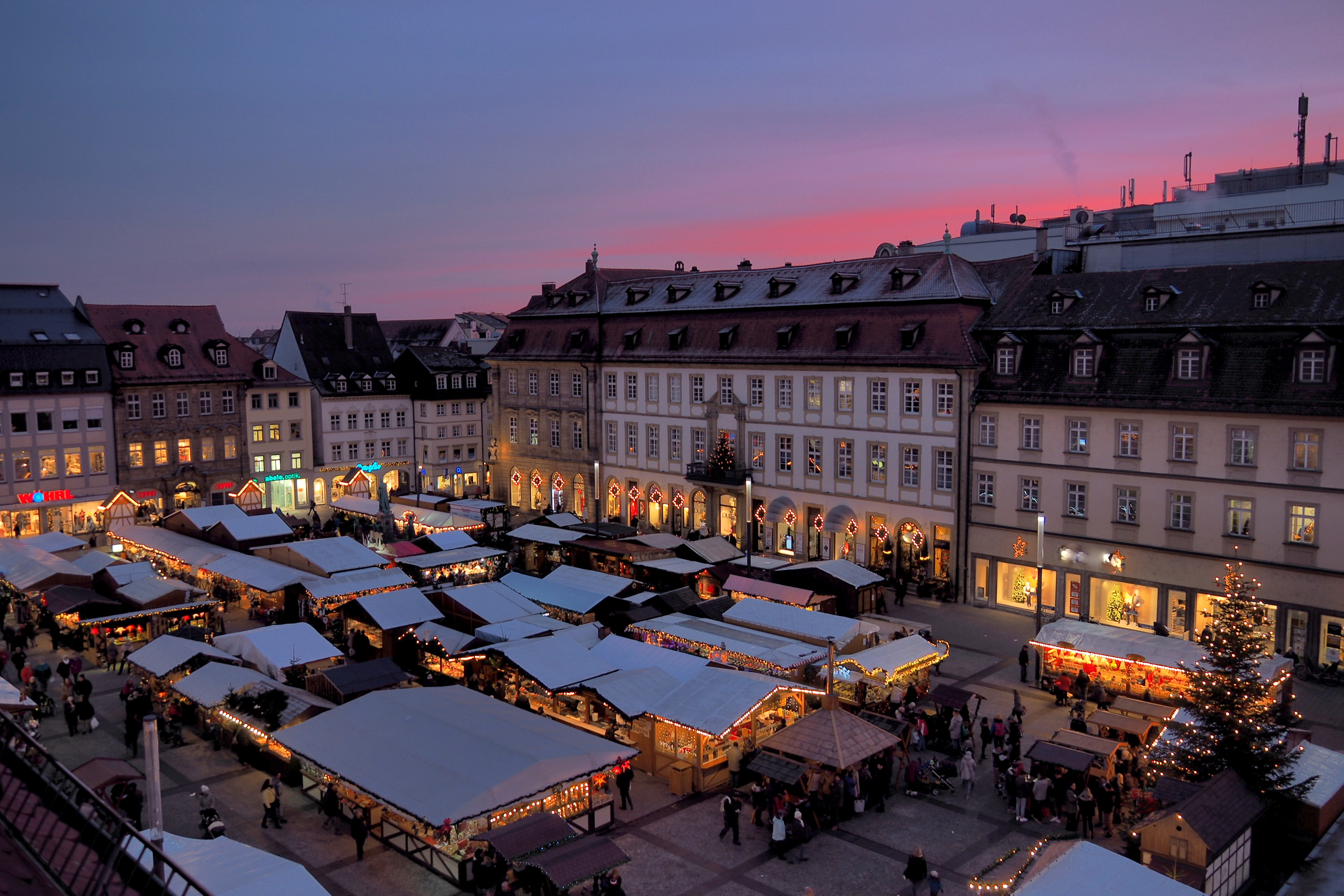 Bamberg is a quieter town than Würzburg, but no less compelling. At the Bamberg Christmas market at Maximiliansplatz in the pedestrian zone, we warm ourselves with hot glühwein, followed by a snack of grilled bratwurst.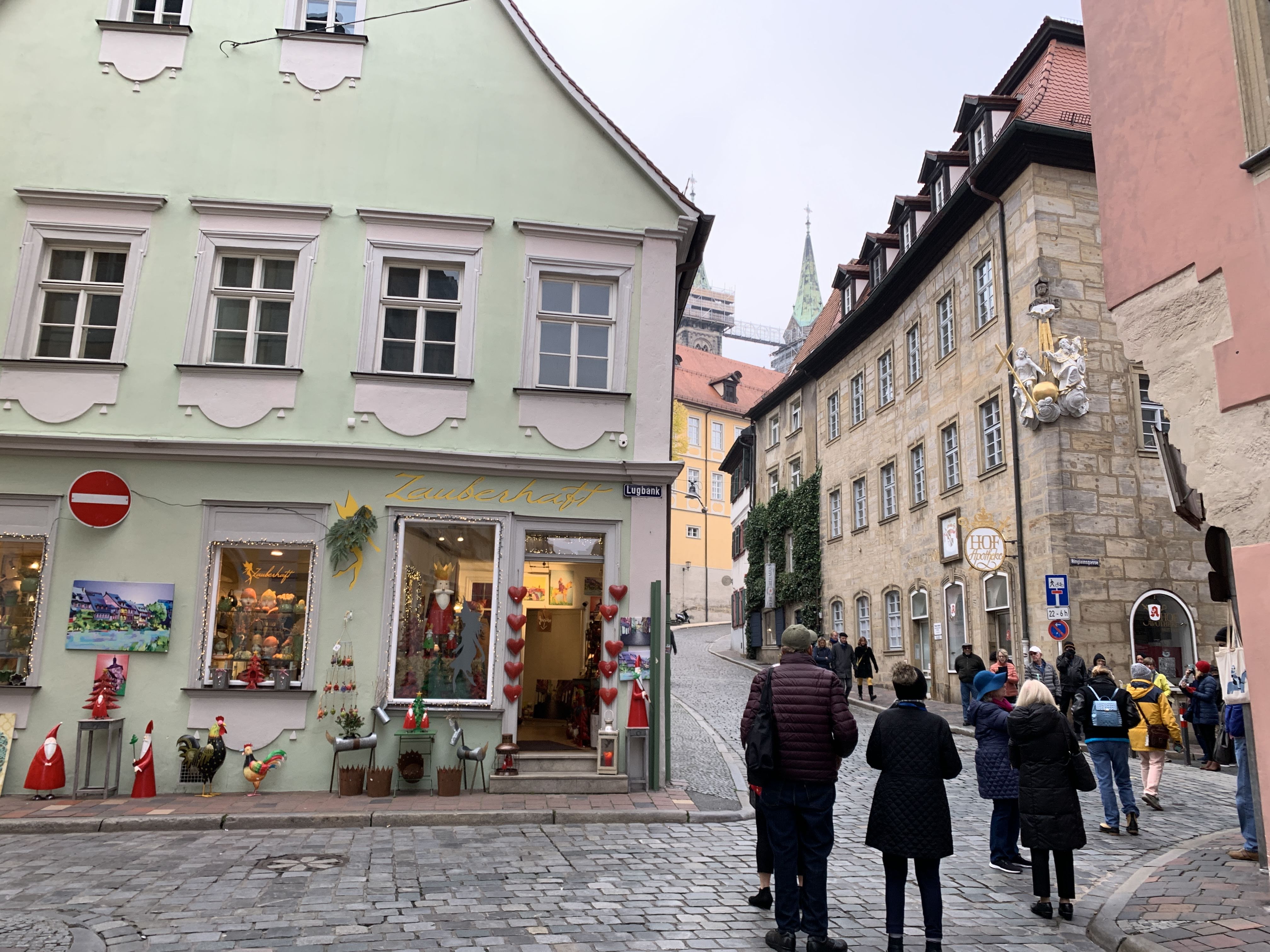 Bamberg is famous for its Schlenkerla Smokebeer. The historic brew has a smoky aroma that comes when the malt is smoked over beech wood. Today, the Schlenkerla Brewery is run by the 6th generation of the Trum family, and the beer is still tapped from wooden barrels in the local tradition. Although my husband, Ben, likes the taste, it's a little too unusual for me. 
My favorite part of Bamberg is the beautiful Old Town Hall. The unique building is situated on an island, in the middle of a river. According to legend, the bishop would not give the townspeople land for their town hall, so they rammed stakes into the river and created an artificial island to build their town hall.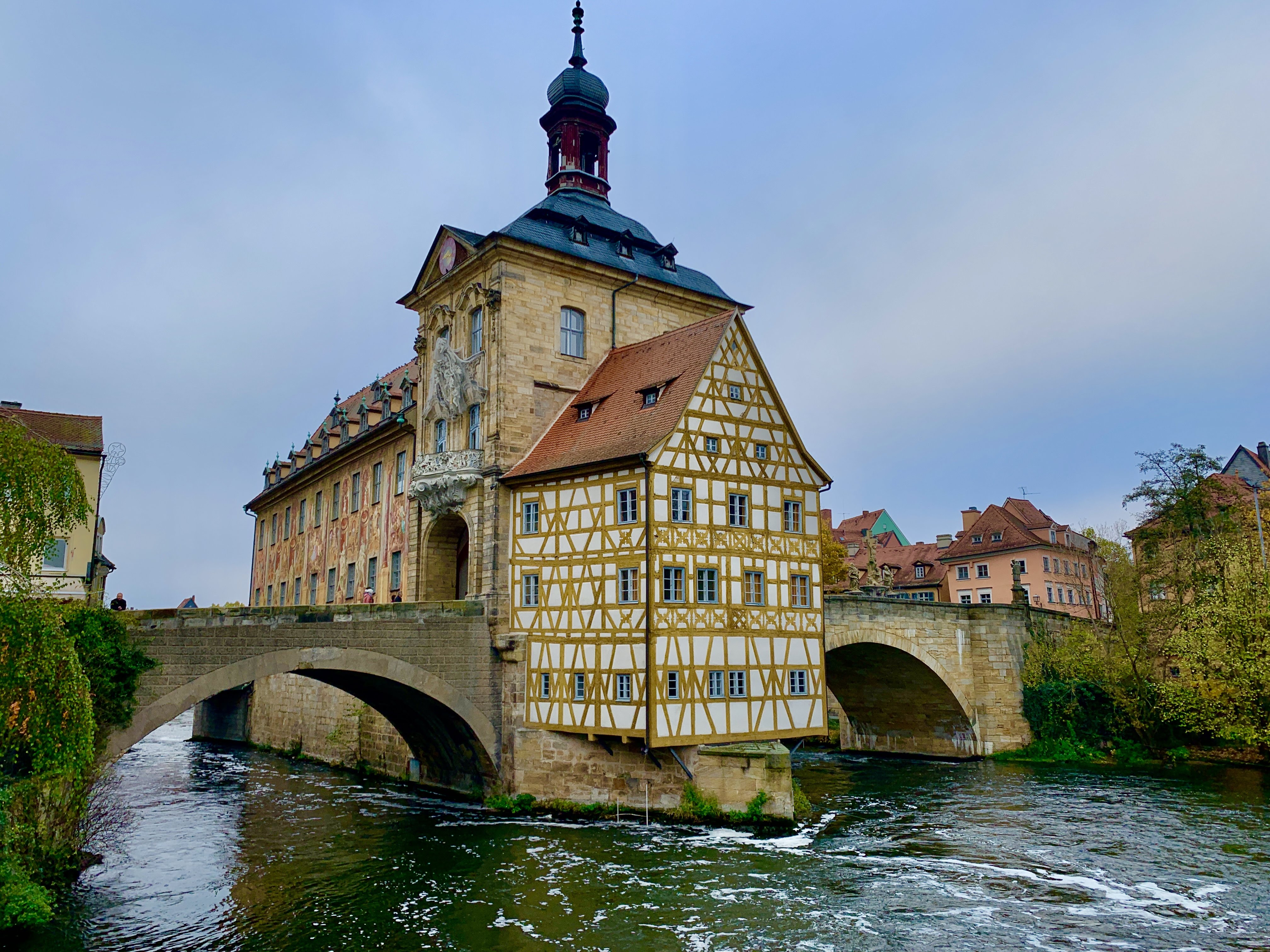 Nuremberg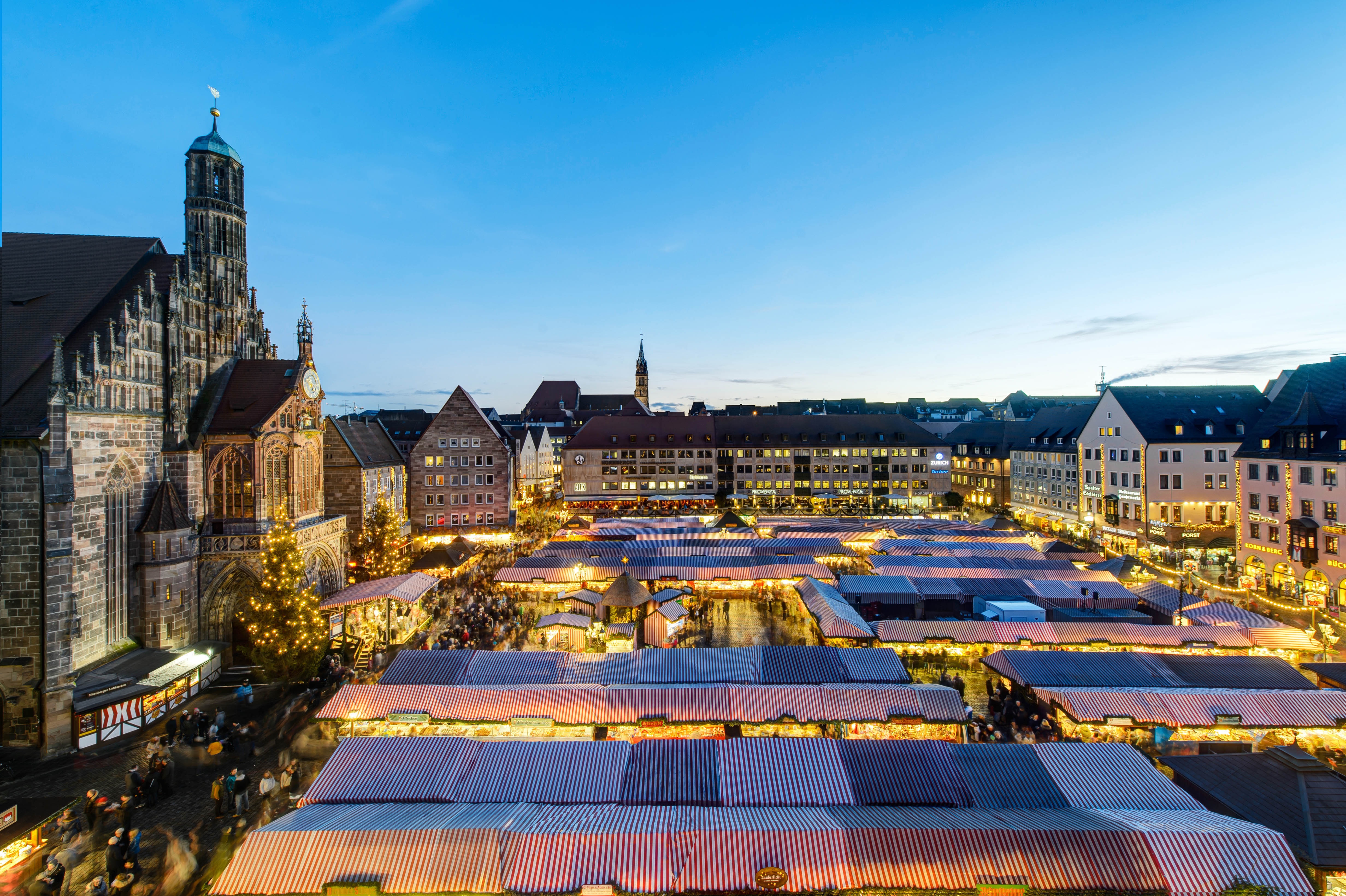 Nuremberg, our next stop, has one of the biggest Christmas markets in Germany. Situated on the Hauptmarkt in the historic Old Town, it has a bustling, medieval atmosphere. Nuremberg was located on the historic Spice Route, where merchants transported spices like cinnamon and ginger from afar.

Perhaps that's why Nuremberg gingerbread became a treasured delicacy in the region. This sweet confection uses an unusual mix of spices and nuts to create cookies sold around the world. We stop in at Wicklein Lebkuchen, a bakery in the heart of Nuremberg that has been around since 1615, to enjoy a large gingerbread cookie with a rich cup of hot cocoa.  
Regensburg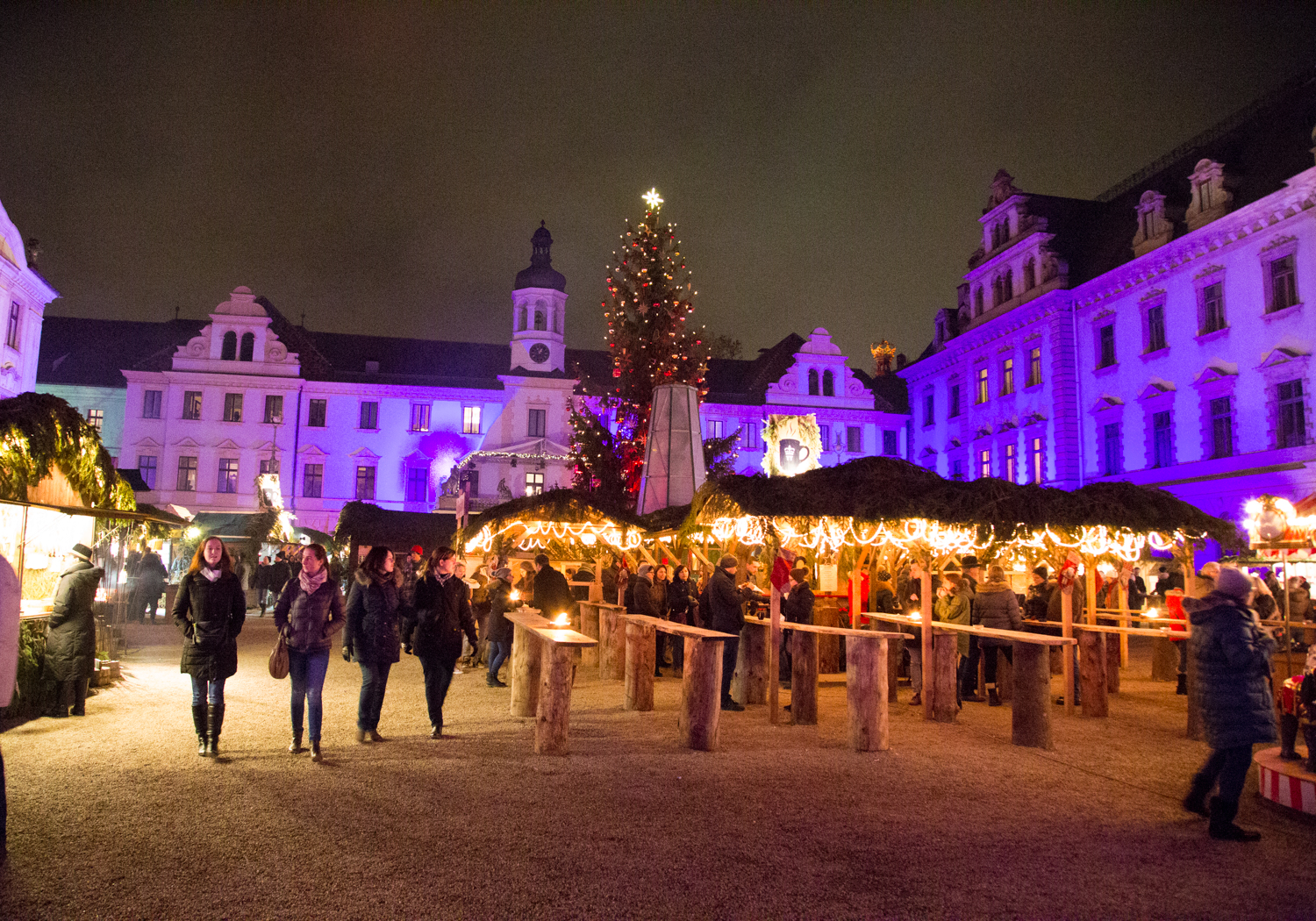 In Regensburg, we visit perhaps my favorite Christmas market of all. The Romantic Christmas Market at the Thurn and Taxis Palace seems like it stepped straight from a fairy tale. It's especially beautiful at night. Twinkling white and purple lights add a magical glow to the rows of stalls in the palace courtyard. Groups of friends gather around firepits, drinking glühwein and eating gingerbread and sausages, while children run through the stalls with delight.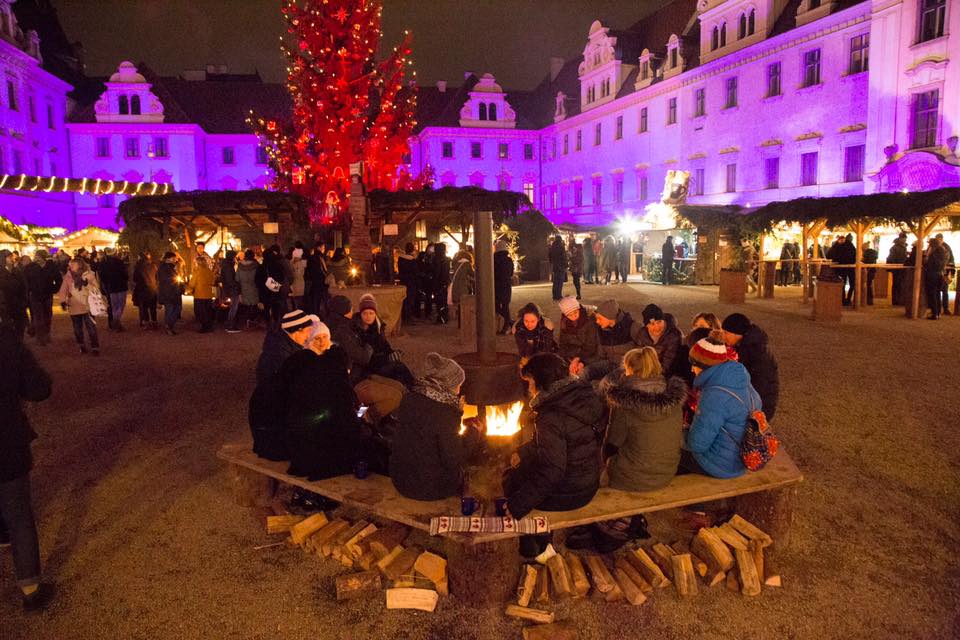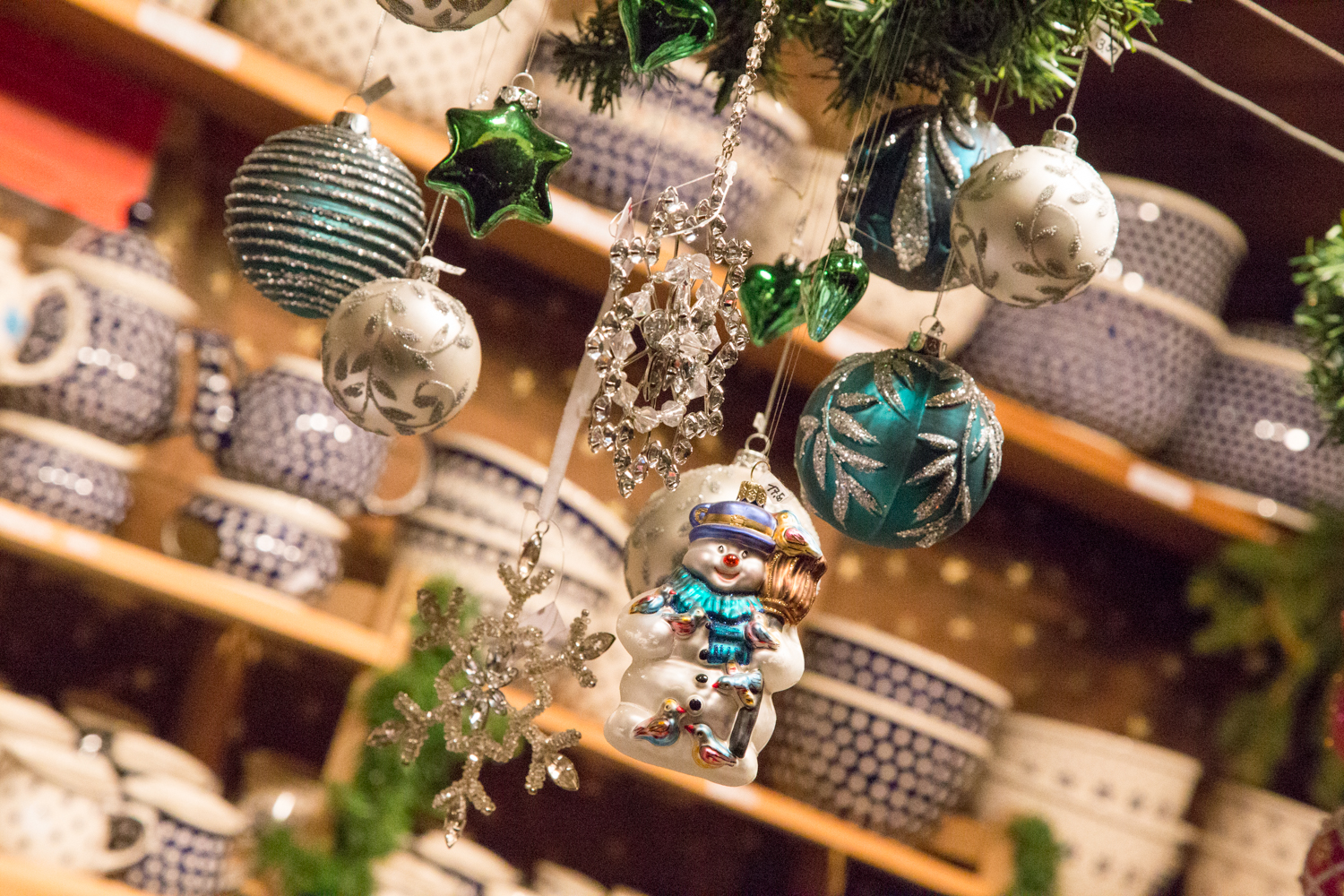 Ben and I try a Feuerzangenbowle, a warm drink with a punch. To make it, rum is poured over a sugar cube that is set above a glass of mulled wine, then the sugar cube is set on fire. The burning sugar slowing drips into the cup, creating a sweet, warm drink. 
Later, we walk through the palace gardens, which are lit by soft lights in the cool German night. For me, the holidays are made up of treasured memories like this. Enjoying the company of family and loved ones and savoring the simple pleasures of life. 

Janna Graber has covered travel in more than 45 countries. She is the editor of three travel anthologies, including "A Pink Suitcase: 22 Tales of Women's Travel," and is the managing editor of Go World Travel Magazine.
The author was a guest of Vantage Travel.