I'm an avid baker, and the holidays are a time when I get to shine the spotlight on recipes that celebrate my Norwegian ancestry.
Norwegians love their sweets, especially during the holidays, when they celebrate with syv slags kaker, or "seven types of cookies," a Christmas tradition that dates back to the Middle Ages.
I cherish the recipes I have with my grandmother's handwritten, sparsely detailed instructions, and feel a deep connection to my heritage as I continue our baking traditions. These are traditional Norwegian specialties that have been in my family for generations, that I made with my mother and now make with my son, as well as recipes that I've added over the years to keep my Nordic repertoire growing.
Some, such as krumkake, rosettes, and kransekake, require special equipment and skills to master. Others, such as spritz and pepperkaker, are affordable, big-batch cookies that are so easy to make that even a novice baker can enjoy success. Both of these traditional cookies are often made early in the holiday season, as they can be stored in airtight tins at room temperature for several weeks and even longer if frozen.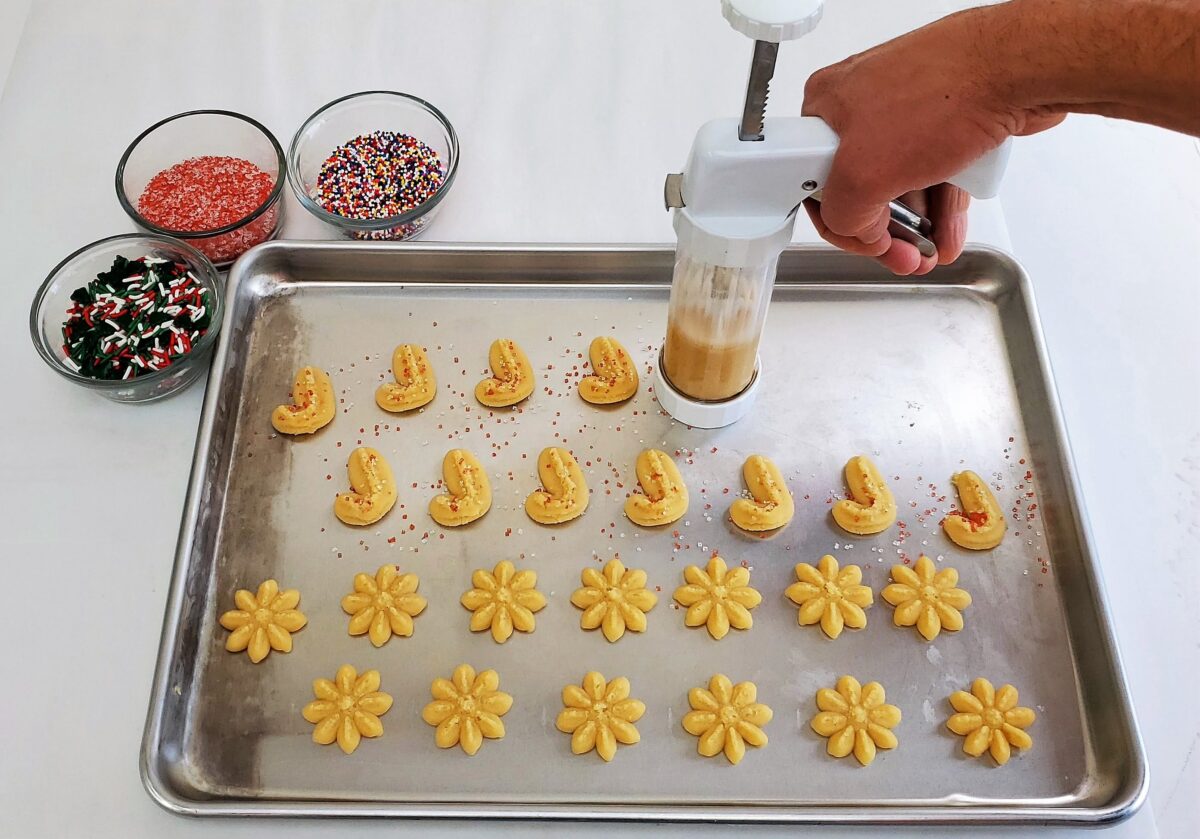 A Holiday Spritz Blitz
Spritz—known as sprut in Norway—is a popular holiday cookie throughout Scandinavia and northern Europe and one of my favorite cookies to bake, no matter the season. Made with common pantry staples, this simple recipe yields a cookie that's rich and buttery, with crisp edges and a melt-in-your-mouth texture.
The word "spritz" comes from the German verb "spritzen," meaning "to squirt," as the cookies are traditionally shaped by using a cookie press. In Norway, the custom was to press the spritz into s's and o's, but today you'll find a variety of festive shapes, including Christmas trees, wreaths, snowflakes, and more. You can buy a cookie press for about $10 at most big-box and home stores. You can also use a piping bag fitted with a large open star tip or even just two spoons to drop the dough onto a baking sheet.
Spritz dough can be somewhat fickle when pressing, and I've modified my family's recipe over the years to resolve this issue. Instead of using a whole egg in the dough, I use two egg yolks to create a richer and more pliable texture. I also add two teaspoons of milk to keep the dough smooth. And I never, ever chill the dough before pressing. These simple corrections have made my holiday spritz blitz easy and enjoyable, with nearly every cookie being perfectly formed.
Spritz are delicious all on their own, but they can also be decorated with holiday sprinkles before baking or a drizzle of melted chocolate or glaze once they've cooled.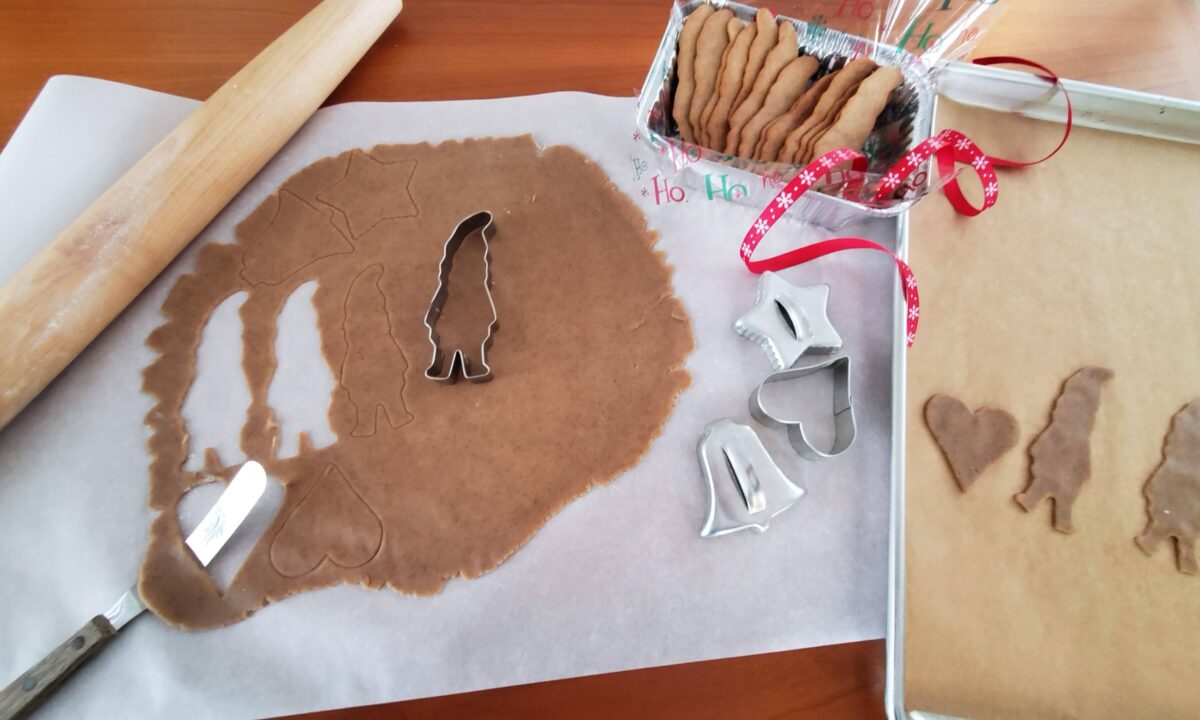 Gingerbread, Norwegian-Style
Every year, I choose a new Norwegian treat to add to my holiday repertoire, and pepperkaker has become a permanent member of my baking roster since I discovered it 10 years ago. In Norway, the tradition of making pepperkaker dates back to the 15th century. Today, it remains one of the country's most popular Christmas cookies. In fact, each holiday season since the 1990s, whole gingerbread villages, known as pepperkakebyen, are built by schoolchildren throughout Norway to celebrate this beloved cookie.
Pepperkaker, literally "pepper cookies" in English, are fragrant and wonderfully spiced, with a thin and crisp texture. Like most gingerbread recipes, the dough features a generous blend of warm spices, including cinnamon, cardamom, ginger, and cloves. But the difference with pepperkaker, as its name implies, is the addition of freshly ground black pepper, which adds even more warmth and depth of flavor.
While some cut-out cookie doughs can be difficult to work with, pepperkaker dough is easy to make, pliable, and forgiving. I chill the dough overnight before rolling it out, which helps to hydrate the flour so that the dough won't crack under my rolling pin. I roll the dough out until it is just about 1/8 inch thick, or even just a tad under, to get the cookie as crisp as possible. The cookies bake quickly in a moderate oven and are traditionally served plain or with a dusting of powdered sugar.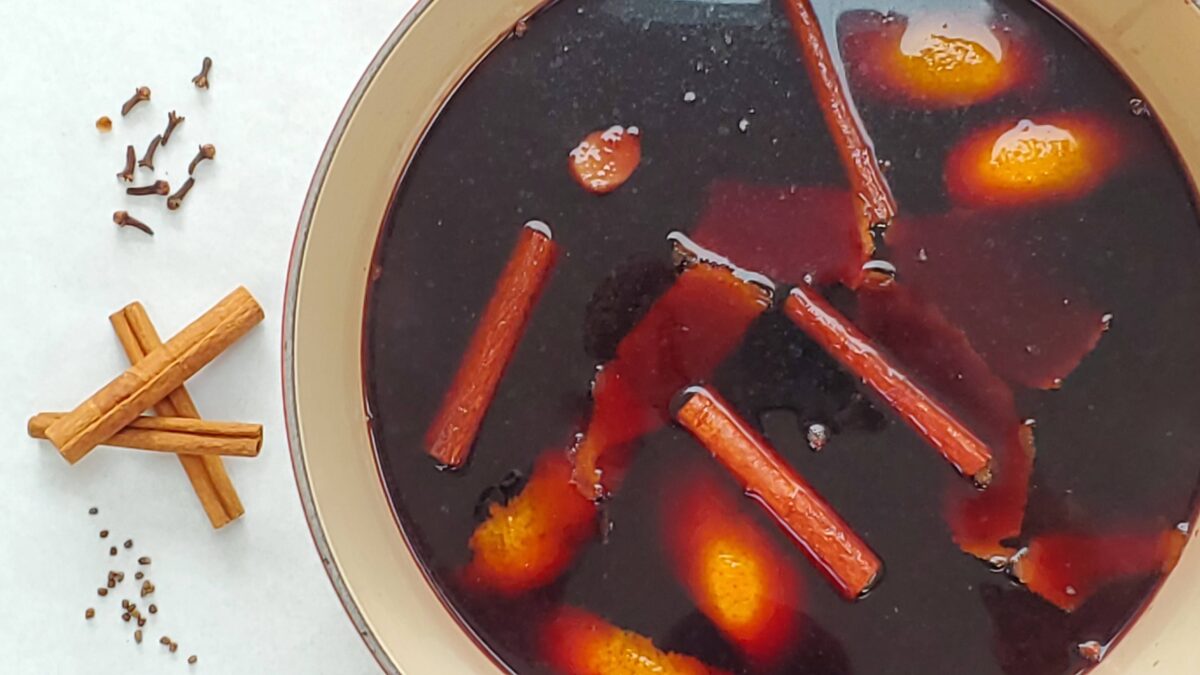 To Wash It Down
A warm glass of Norwegian glogg is the perfect partner for Christmas cookies (and holiday baking). This mulled wine beverage is traditionally made with a dry red wine that's cooked with an orange peel and spices such as cardamom, cinnamon, anise, whole cloves, and ginger. Some recipes also include brandy, vodka, or aquavit.
For a non-alcoholic version, you can swap the wine for apple cider or other robust juices, such as pure grape juice, pomegranate juice, or cranberry juice. I serve the drink warm, garnished with brandy-soaked (or water-soaked) raisins and slivers of toasted almonds. Both versions will fill your kitchen with the warm fragrance of the holidays.
Back in my former life as a cruise director aboard luxury expedition ships, I had the amazing experience of spending a full season in the Norwegian High Arctic. After a long day of hiking and exploring the frozen wilderness, we would welcome our guests back aboard with steaming mugs of hot Norwegian glogg. Their response was always the same: utter delight at this lovely gesture of warmth and hospitality.
RECIPE: Norwegian Spritz Cookies
RECIPE: Pepperkaker (Norwegian Gingerbread Cookies)