For more than a year, recalls of Losartan and similar blood pressure drugs have been recalled due to carcinogenic impurities. However, that's not why Sandoz recalled about 636,000 bottles of Losartan Potassium and Ezetimibe, a drug to treat cholesterol.
The U.S. Consumer Product Safety Commission (CPSC) said the recall was initiated because "the prescription drug packaging is not child-resistant as required by the Poison Prevention Packaging Act, posing a poisoning risk if swallowed by children."
Sandoz said that there have been no reports of injuries related to the recalled products, the agency said.
Sandoz wants consumers to contact them at 800-525-8747 from 8:30 a.m. to 5 p.m. for a free replacement.
The recall covers 30-count bottles of 10mg Ezetimibe tablets with expiration dates August 2020, September 2020 or October 2020 and lot Nos. JE4491-93, JE4495, JG0308, JG0310-12, JG5061, JG5063, JK8921-24, JL5535, JM2253-55, JM2257-59 and JM5986-87.
It also covers 90-count bottles of 10mg Ezetimibe tablets with lot No. JE4481, expiration date August 2020; No. JG0249, expiration date September 2020; No. JK8989, expiration date October 2020; and No. JN0764, expiration date January 2021.
And it covers 30-count bottles of 50mg Losartan Potassium with lot No. HV9471 and expiration date of February 2020.
The agency also warned that "consumers should immediately secure the medications to keep them out of the sight and reach of children."
"Once the medication is secured, consumers can continue to use the medication as directed," it added.
FDA Update
Several months ago, the FDA released a list of blood pressure medications that are safe to use, meaning they're free of nitrosamine.
On April 5, the agency 
posted a list
 of about 40 blood pressure and heart medicines where nitrosamine, which has been linked to cancer, is "not present."
The issue came to light in July 2018, when the FDA said it recalled several medicines with valsartan after impurities were found. Those medications were manufactured by a drugmaker in China.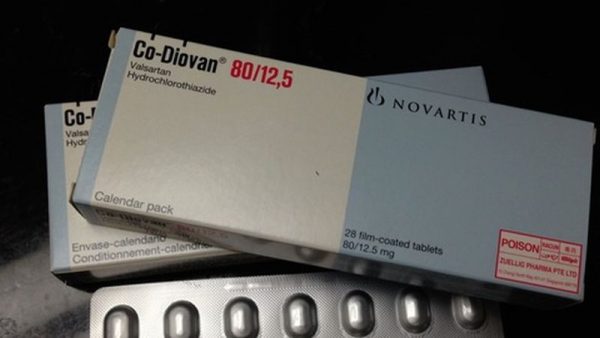 Since then, the FDA has "been working to thoroughly understand how this issue arose, how we could address and mitigate exposure to this unnecessary risk to patients, and what we could do to prevent these types of impurities from reoccurring in future medications," according to a press release on April 4.
The health agency's statement added that the presence of nitrosamines is "not acceptable" in drug products.
"We're also continuing to work with manufacturers to swiftly remove medications from the market if they contain a nitrosamine impurity at levels higher than the interim acceptable intake limits. Removing the affected medications from the market has led to shortages, and since then we've been working to mitigate and prevent shortages as often as possible," the agency also said.
Common nitrosamines include N,N-dimethylnitrosamine (NDMA), N,N-diethylnitrosamine (NDEA), 4-(methylnitrosamino)-1-(3-pyridyl)-1-butanone (NNK).
The list of 40 "safe" medications can be accessed via the FDA's website.
For drugs marked "not present," it means the FDA "has completed the comprehensive assessment noted above."