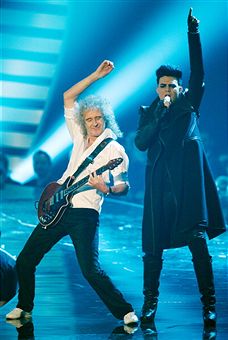 Hard rock festival Sonisphere has become the first major UK music festival to be cancelled in 2012, amid what the organisers called a "very challenging year".
The festival was due to run from July 6-8 at Knebworth Park in southern England, with headline acts including Queen, Kiss, Marilyn Manson, and Faith No More.
Rock band Queen was to perform with "American Idol" singer Adam Lambert.
Roger Taylor and Brian May of Queen expressed their disappointment in a statement: "We were very much looking forward to performing with Adam Lambert and particularly as the venue was Knebworth, our last stand with Freddie. We apologise for the disappointment to all those who were looking forward to seeing us. We are working to see if we can redress the situation at some other venue."
It is unclear the reasons the festival has been cancelled, but organisers said that they had "spent the last few months fighting hard to keep Sonisphere in the calendar".
"Unfortunately circumstances have dictated that we would be unable to run the festival to a standard that both the artists and that Sonisphere's audience would rightly expect," they said in a statement on the festival's website.
Ticket holders have been promised a full refund from their ticket agents.
According to music news website CMU, rumours of the cancellation began to circulate earlier this week, with many agents angry that, having agreed to exclusivity deals with the festival, their artists are now without UK festival dates this year.
CMU also speculated as to the reasons for the festival's demise, saying that it could be to do with the lineup, which last year boasted the "big four" of metal: Metallica, Slayer, Megadeth, and Anthrax.
"Assuming poor ticket sales did play their part in this week's decision to cancel, perhaps a more generic metal line up – which is what the other Sonisphere dates around Europe are offering this summer – would have been a safer bet," CMU said.