At age 28, Sunny Jacobs was sentenced to death for a crime she didn't commit and spent five of her 17 years on death row in solitary confinement. Her life was completely upended, her children were put into the foster care system, and it would take nearly two decades to appeal her wrongfully convicted case. Yet somehow, she managed to unlock the key to healing and forgiveness, and found joy even while she was in solitary.
When other exonerees look at Jacobs, who now lives a contented life with her husband Peter Pringle and their pets in the idyllic Ireland countryside, it sparks a kind of hope.
It didn't take long for people to begin reaching out to Jacobs, asking how they too could attain what she has.
"They want what we have. They see that we've been able to overcome all that and find happiness and healing and love," Jacobs said. But forgiveness is the last thing on their minds.
"We have to ease into that conversation," she said with a laugh. "Forgiveness?" they'll ask in a tone of incredulous disgust. "It's like the f-word."
So she tells them this: "Forgiveness is a selfish act you do for yourself because no one else can do it for you. They can't free you from what's inside yourself."
In fact, forgiveness is probably what most of us in the world need today, Jacobs said, as the pandemic has turned the world on its head and people are filled with anger, fear, confusion, and want someone to blame.
Sunny's Story
Jacobs was a peace-loving mother of two young children who rescued and cared for animals, and didn't know how anyone could imagine she could be capable of violent crime. Yet she found herself convicted of killing two police officers, and was put in a women's maximum-security prison.
Her husband was likewise sentenced to death, and unlike Jacobs, his sentence never changed; he was executed in 1990. Their daughter was so young that she had no idea Jacobs was her mother, beyond being shown photos of her by her grandparents.
Yet Jacobs began her journey to forgiveness perhaps surprisingly early during her sentence, when she realized her life belonged to her.
"I got sick of myself. I was never an angry, fearful, confused person until I was stuck in a concrete rock, and I thought, 'This is going to be the end of my life,'" she said. Then she thought, "I don't have to let them make me miserable."
Jacobs said that first, she realized she had a choice between hope and hopelessness, and then she consciously chose hope. Her belief in God had dwindled upon her sentencing but she revisited that choice, too, "because without God it really is pretty hopeless," she said.
She decided that, since she was for once without housework to do and had plenty of time, she was going to use this time to work on her spiritual self. She read her Bible, and when she had 30 minutes of television time, she turned to a yoga program.
"There was a process, and it begins with, I'm a spirit here on my journey. That was the only way I could come to terms with my circumstances. I was a spirit here on my journey, and this was part of what I was here to learn," she said. "And I had to get out of my own way in order to do that. And if I started to see myself as a spirit here on my journey I had to also see the jailers as a spirit on their journey, that was their journey for some reason, and the judge, and the prosecutor and the people in my trial, and the killer. All here on our journeys, to learn whatever it is we're here to learn."
"And so, I was able to what I now call forgive them, it was basically just a willingness to let go of all the other stuff, the anger, the resentment, and all the rest, because I now saw them as spirits here on their journey. And that was also the path to self-forgiveness as well."
Jacobs's routine of yoga, meditation, and prayer allowed her to clear her mind, body, and spirit and connect to something greater. And in that process, she discovered more freedom than she ever had. It's a process that she's discovered can serve nearly anyone well, anywhere.
Finding Forgiveness
After five years in solitary on death row, Jacobs had her first appeal, and her sentence was changed from death to life, and she subsequently moved to the general population of the prison, where she was the happiest prisoner in prison. But finding forgiveness isn't a one-time cure-all. While Jacobs was imprisoned, her parents died in a plane crash. It was the worst day of her life; she was orphaned, and her children were effectively orphaned and sent to foster care after which visits with them ended. Forgiveness is a process and it is ongoing, especially when something as large as a wrongful conviction has such ripple effects.
After Jacobs's exoneration, she eventually got involved with humans rights advocacy and became an activist against the death penalty. Speaking on this topic brought her to Ireland, where people kept asking her, "Have you met Peter Pringle?"
She knew nothing about him but reached out and invited him to her talk, after which she found out he had been wrongfully convicted and sentenced to death before being exonerated.
Jacobs asked how he got through it, and he said, "yoga, meditation, and prayer."
During that first meeting, they had a three-hour conversation about forgiveness, and when they met again the next time Jacobs visited Ireland, they started to date. The couple is now married and split their time between Ireland and the United States, and together run the Sunny Center Foundation, where they teach other exonerees to heal, house them, and help connect them with services.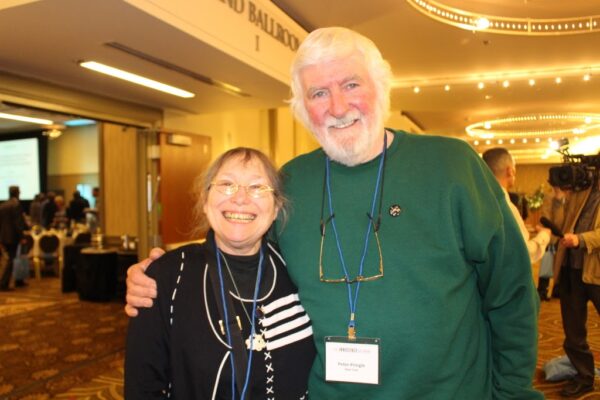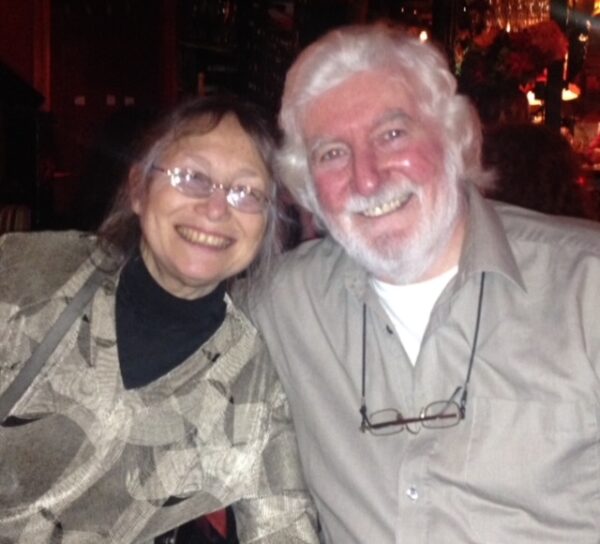 New Set of Troubles
There are organizations that help free wrongfully convicted prisoners, but the help most often ends with freedom, whereas the problems don't. "It just opens up a whole other set of problems for which you are not prepared," she said.
Jacobs adds that exonerees for good reason feel like they can't tell anyone about what they suffered, because no one else would truly understand. It is truly a unique combination of bad circumstances.
For instance, Jacobs went into prison in her 20s; she was a mother, a wife, and a daughter. When she left, she was 45 years old, a widow, an orphan, and a grandmother to a little girl she had never met, and incapable of getting hired with her work record. And technologically, the world had changed drastically. She didn't relate to anyone.
And, unlike people who are released after completing their sentences, exonerees are not entitled to the same housing, jobs, mental health, and other services meant for released prisoners.
"That just seems upside-down," said Jacobs, who has done advocacy in this area as well as started to expand her foundation to provide some of these services, including through the Sunny Living Center in Tampa, Florida.
Fortunately, Jacobs left prison with a drive to share with the world the techniques that got her through her ordeal. Since no one would hire her, she started teaching yoga; it got her through prison and it would get her by outside of prison.
She also started speaking about her story, and realized people anywhere and everywhere could face injustice too, and needed forgiveness in their lives—even her own children, whose lives were upended with Jacobs's sentencing.
"There's the wrongness that has been done to yourself, there is this spillover effect on your entire family, your mother, your father; if one is fortunate enough to have children before it happened, the effect on the children is devastating," she said.
"It requires forgiveness of the people in the system that participated in your wrongful conviction, it requires forgiveness of your friends or family who maybe didn't believe in you or just didn't stay in touch with you because they were ashamed or whatever, it requires forgiveness of the people in prison while you were there who made life difficult, guards, prisoners. It requires forgiveness for the loss of your health, physical health, mental health."
There is also the forgiveness of yourself, Jacobs said, which sometimes comes last because people don't realize it's needed yet, and because it can be so much harder to forgive yourself sometimes.
"But forgiveness is key," Jacobs said. "You can get compensation, you can finally end up with money, you can finally end up with services … but still in all, if you don't find a way to forgive, that is going to underlie and eventually overshadow your whole life, because it's like a dark shadow that you carry around."
A Beautiful Transformation
A few years ago, a lawyer connected Jacobs and Pringle with an exoneree who, though free, wasn't doing well, Jacobs said. They invited him to stay with them at their two-bedroom cottage in Ireland, out in the rural countryside, for one month. It was cathartic; they could relate to him and he could speak freely, and they helped him discover a sense of identity beyond his past, beyond "exoneree."
That became the beginning of the Sunny Center Foundation. Over the years, many exonerees from all around the world have stayed with the couple and found healing, identity, and forgiveness, a space of empathy, sharing, and grace.
When they stay with Jacobs and Pringle, they become part of the family for the month. "We ask them to choose some sort of contribution on a daily basis that they could make," she said. It could be walking the dog, or doing the dishes, or feeding the chickens.
"You have to become part of the family, because a lot of people, they came so young they really had no kind of idea what it was like to really be part of a family, as a child but not as a grownup. And a lot of their family experience wasn't great anyway, which was what made them vulnerable in the first place."
The first week, all Jacobs and Pringle do is listen.
"It's finally a chance, an opportunity, for people to unburden themselves," she said. "You don't have to pretend everything is OK, you don't have to pretend that you're not scared to go into a building with a lot of people in it."
"Things you wouldn't tell anyone else—and why would you tell them? They wouldn't understand."
"You can say, 'I have a panic attack when I go into a public place,' you can say 'I'm not comfortable using the stove because I'm afraid I'm going to burn the house down,' you can say 'I'm not comfortable around women because my case revolved around something that happened to women,'" she said. "You can say these things to us, because they know that we know—we've been there. "
"There's nothing to be ashamed of, you don't have to hide," she said. "They just start talking and things will come out."
During the course of the stay, Jacobs says they also work with volunteers, typically young women, who teach people how to socialize all over again. This is a crucial step and a lifeline.
"When people first get out, they are isolated," she said. "They're isolated by their financial situation—you can't afford to go anywhere, you can't even afford to go to a movie. You are isolated also by your social standing." She says Pringle puts it this way: when you first get out, you don't have anything in common with people on the outside.
"You have nothing to talk about with them. They're talking about their job and their home and their vacation and their kids, if you've just got out of prison you don't have anything to talk about, and all they want to know is, 'How was it in prison?' that separates you further, it doesn't connect you," she said. "And gosh, how are you going to date? You don't have any money, you don't have any nice clothes, you can't take anybody anywhere, how are you going to meet anybody? Where are you going to go?"
"So we first let them talk, and that's where we find out the areas where they need our guidance," she said.
The second week, they start to share. Jacobs and Pringle tell their own stories and share what worked for them because no one else can really give that advice, such as reconnecting with adult children who might have felt betrayed when they were left as young children, how to build relationships again, how to feel comfortable in the world again. They learn how to work together by working with Pringle and how to cook by preparing meals with Jacobs.
"And always with animals," Jacobs said. They have a dog, cat, chickens, geese, and they used to have goats when they had the space. "That's a chance to experience unconditional love, you know? Love, to be able to open yourself up to that without fear of being let down or hurt, and that was a huge thing."
Then, when they've eased into it, they share their own processes of forgiveness, because though the end goal may be the same, the process is uniquely individual.
"Things don't always work out the way you want, and you have to be OK with that," she said.
With forgiveness, healing, identity, and connection, they are different people when they leave than who they were when they arrived. They hold themselves straighter, they smile, they look people in the eye, have hobbies, friends, and hopes and dreams. They've realized they choose how they live, and have chosen forgiveness over victimhood, and hope over hopelessness.
"It has been beautiful to see the transformations," Jacobs said. "We've never had anybody who didn't change."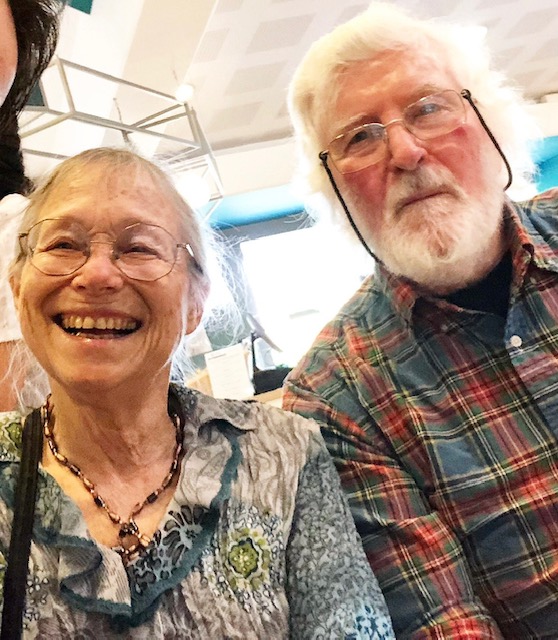 Within Your Control
After their first guest, Jacobs said they realized that despite all the healing he had done while staying with them, months after going home "the pixie dust wore off," because these people were still living poverty-stricken lives where no one would hire them, they could not access services, and were socially isolated. At the beginning, Jacobs tried to follow up with each person regularly by phone herself, but when the number of alumni grew to 10, 20, then dozens, it was no longer feasible.
A supporter of the couple's work suggested they create a foundation, and after that they hired an outreach coordinator to follow up with people in the United States.
The foundation continues to grow, and it has all been a learning process, Jacobs said, especially since in the past year they have only been doing remote video calls with people because traveling has been difficult.
Recently, Jacobs has been making videos to share online, answering questions and sharing advice, because forgiveness and healing is something everyone needs during this pandemic, she said.
"A lot of times people think forgiveness means it's OK, that what they did was OK, that you even have to let the person know," Jacobs said. "Let me tell you, the people who are forgiven, they have no idea. they don't know. It has nothing to do with them. That's the part about forgiveness that I think people don't understand."
"It's all about you and what you want for yourself, because they've succeeded in messing up your life up until then, but now it's you. You are screwing up your own life. They're not doing it, they probably don't even remember you," she said. "You are doing it, and you are doing it to yourself."
"And that is something you can change. You can't change what happened in your past … you can't control your outside circumstances, you can't control what's coming next, you can't control the future, but right now, today, you can control what goes on inside of you," she said. "You can decide you are going to have a nice day. And I don't even care if you are on death row, you can decide you are going to have a nice day."
"You can choose, and once you know that, you can do it," Jacobs said. "It's something you do for yourself so you can have love and joy and happiness again."
This doesn't mean that when bad things happen we do nothing, or that we don't fight against injustice, preventing it from happening to other people ever again, she added. Jacobs herself is still an outspoken advocate against the death penalty, for instance, and with her foundation is helping exonerees, step by step, obtain services that other former prisoners are entitled to.
"But I don't need to carry anger and hatred within me to do that," she said.
And frankly, she added, the anger doesn't go away. Every once in a while something will happen—such as her grandchildren being affected by the ripple effects of her wrongful conviction—and Jacobs gets angry. But then she does her yoga, her meditation, and prays, and only then does she take action to right a wrong.
"I will do something about the situation, but first I'm going to deal with this anger," she said. "That's what worried me about what's happening today."
"The anger and fear going around every single day … I see a lot of people making decisions like 'That's it, I'm just not going to put up with having this person in my life,' or becoming so depressed or people becoming suicidal. I find that very troublesome because these decisions are being made out of anger and fear, and in my experience, those are usually not good decisions," she said.
"We have whole societies now that need forgiveness."