Guimarães, settled in the ninth century, was Portugal's first capital, shortly before the capital city was moved to Coimbra. In addition, as the birthplace of the nation's first king, Afonso Henriques, Guimarães is often referred to as the birthplace of the Portuguese nation.
An optional tour to Guimarães, located northeast of Porto, was offered as part of my Viking river cruise on Portugal's Douro River, so I decided to take this four-hour scenic drive and walking tour. Guimarães is well worth the visit; its beautifully preserved labyrinth of medieval streets, half-timbered houses, historic monuments, stunning plazas, and fascinating old buildings made me think that I'd somehow stepped back in time.

Historic Guimarães
This feeling was especially evident as I stood in the historic hub of Old Guimarães, in Largo da Oliveira (Olive Square), for it still seemed to exude a medieval atmosphere, with its well-worn cobblestone streets, winding alleyways, historic buildings, and antique arches. The square was named after a centuries-old olive tree that's actually still there.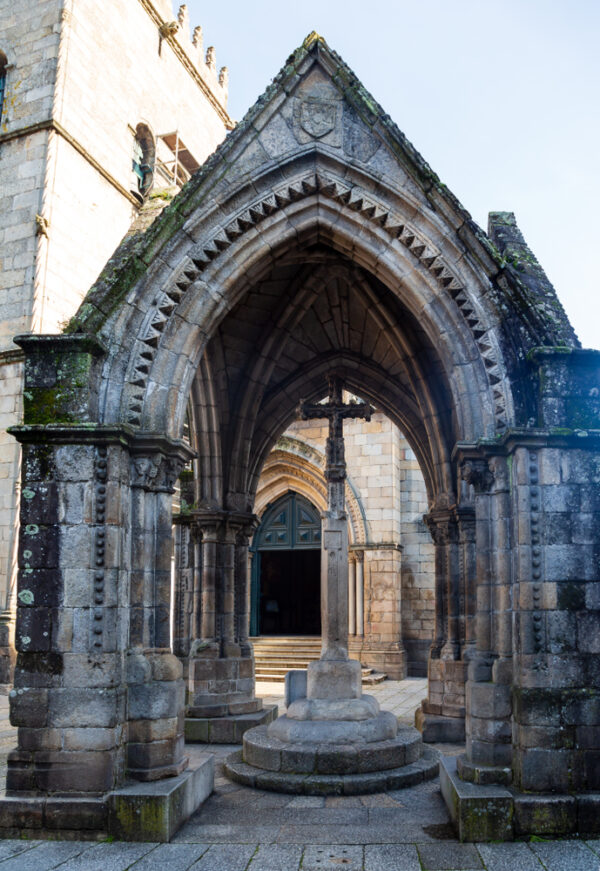 A Gothic shrine, the Padrão de Salado, was built during the reign of King Afonso IV to commemorate an important Portuguese victory, the 1340 Battle of Salado. The monument is said to have been built on the very spot where an olive tree had been transplanted, in the 13th century, to supply the altar lamp with oil.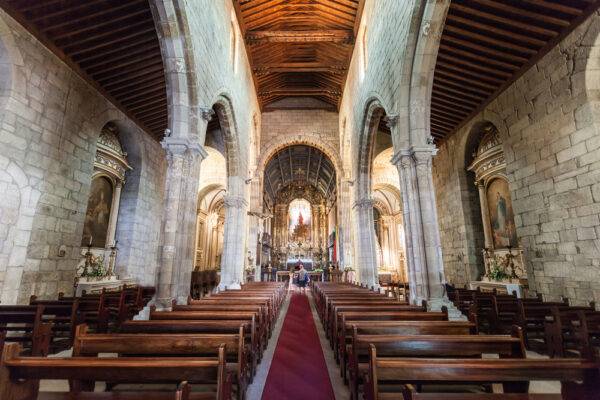 Just next to it, the gothic Church of Our Lady of the Olive Tree (Igreja de Nossa Senhora de Oliveira) stands on the very site of an earlier convent. Much of the church eventually fell into ruins, too, so what I was looking at had primarily been constructed in the 16th century. The Alberto Sampaio Museum is now housed inside the church's cloisters, with a great collection of medieval and Renaissance silver pieces, and gold and silver chalices. 
Near this central square, the 16th-century baroque convent of Santa Maria is home to City Hall.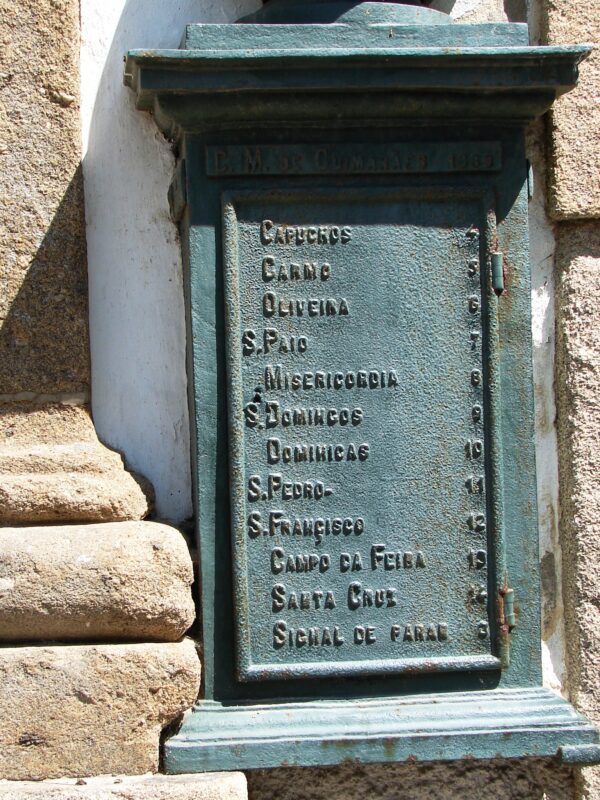 I also discovered a medieval fire alarm; the number of bell rings would indicate what area of the town was on fire, so that people could avoid or immediately evacuate that area. This gave me yet another, unique way to think about the title of Ernest Hemingway's novel, "For Whom the Bell Tolls."
I also explored sections of the old defensive wall that used to surround this ancient city. As I gazed at a particular section of the old city wall, I read: "Aqui nasceu Portugal," or "Portugal was born here." 

Guimarães Castle
After exploring the old city center, I exited via the Porta Nova gate in the city walls, and strolled up to Guimarães Castle. Indeed, no visit to the historic city would be complete without visiting this imposing 10th-century castle, perched high upon a hill. It has eight rectangular towers, a military square, and a central keep. This fortification has become a national symbol that's often referred to as the "Cradle of Portugal." It's believed to have been the birthplace of Portugal's first king, Afonso Henriques. 
Next to the castle is a small Romanesque chapel, Sao Miguel do Castelo, where he was baptized. To commemorate the historic event, Mass is celebrated here every year on the king's birthday. As I entered this small chapel of granite, I checked out the baptismal font, and I saw a stone indicating that Afonso Henriques was baptized here in 1106.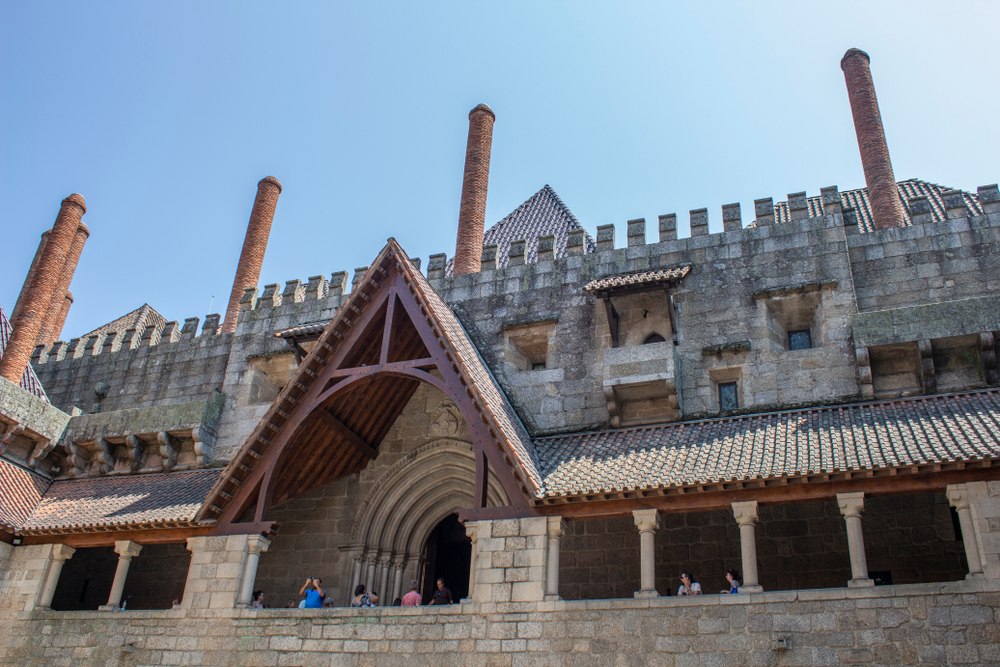 The Palace of the Dukes of Bragança
Very near the chapel is the Palace of the Dukes of Bragança (Paços dos Duques), a former royal residence that was built in the 15th century. It's primarily recognized by its 39 unusual brick chimneys. Inside this structure, I found an impressive banquet hall with a marvelous wooden ceiling, and an extensive collection of portraits, sculptures, furniture, tapestries, weapons, and porcelain.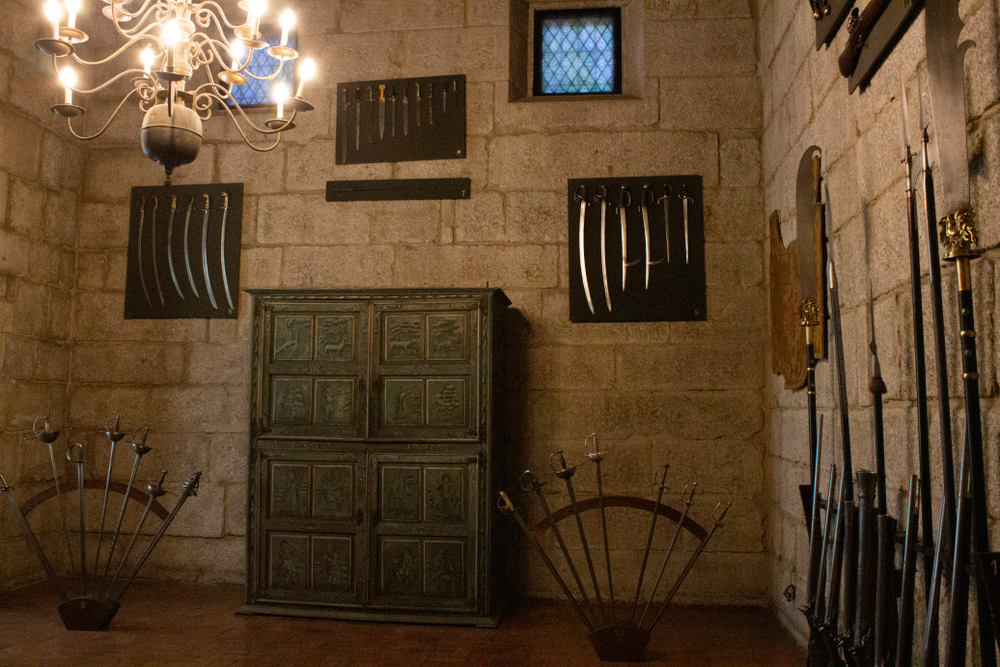 The King's Statue
Nearby, I also saw a large statue of Portugal's first king. Indeed, King Afonso Henriques is still a big deal in Guimarães. I also took some time to explore yet another city landmark, Santiago Square, with its intriguing arches and colonnaded buildings.
Visiting in August
After exploring Guimarães, I was told the city at its very best during the annual medieval festival held in early August. Apparently, this three-day festival dates from the middle of the 15th century—and includes a medieval parade and a torchlight procession. It might be the perfect time to plan a visit.

John M. Smith is a Canadian-based travel writer and photographer who enjoys traveling the world and writing about his adventures.
He was a guest of Viking River Cruises.