NEW YORK—'Tis the season, and many Americans are trying their best to look forward to Christmas. It's been a tumultuous year, and some festive cheer certainly is in order. Singer-songwriter Elizabeth Chan's latest Christmas album "Celebrate Me Home" is her ninth record, and will hopefully lift spirits this holiday season.
Ever since Chan was 7 years old, she has been obsessed with Christmas music. She vividly remembers listening to Christmas tunes in the backseat of her father's car or at home, and she told her parents that she wanted to write Christmas music when she grew up. They weren't terribly enthused and urged her to become a lawyer or doctor instead.
"I just knew from a very young age that I loved Christmas music, and that it was something that just brought me so much joy," Chan said.
Chan is the daughter of Filipino and Chinese immigrants, and it was her Filipino mother's side that celebrated Christmas. The holiday has never been about gifts for her; her favorite memories are from being with her extended family laughing and enjoying each other's company.
"That was the magic of Christmas. Just being together, and the closeness and the love and the family," Chan said.
Career and Family
Chan's childhood Christmas memories have heavily influenced her songwriting. Artists often produce Christmas albums, but she makes Christmas music exclusively. Her love for her family, home, and the spirit of the holidays are her muses. Her 3-year-old daughter has gotten involved in music, too, and wrote her own Christmas song, which is on this latest album.
Chan has been writing and producing Christmas music for nearly a decade, and her perspective on the holidays has evolved over time. When she first started, she had just gotten married. Now, she's a mother who just welcomed her second daughter into the world this fall.

"I think as I've grown my family, I've also grown as a composer and someone who writes about Christmas music because my family, my home, and my family life are really the inspiration," Chan said.
Early Beginnings
Early on, Chan had followed her parents' wishes, attending a competitive university and pursuing a traditional career. She worked diligently, but she reached a point in her career when she realized how unhappy she really was. She had a great office, received excellent compensation and benefits, but struggled to accept that this would be the rest of her life.
"I had zero passion for what I was doing, and I really had this kind of existential crisis," Chan said.
Chan wondered if the paycheck was worth her unhappiness. She thought about what made her happy, and Christmas music came to mind. She wanted to pursue writing and producing Christmas music, but she was unsure of how to embark on this new career.
"I had to give myself the opportunity to be the person I wanted to be, and figure it out," Chan said.
Christmas Year-Round
Chan took her career one day at a time, and nearly a decade later she's produced nine Christmas albums. She's found her calling and her passion, but not every day is easy. She's not only had to develop her musical talent but also learn how to be an entrepreneur in the entertainment business.
Writing during the pandemic has heavily influenced her latest album "Celebrate Me Home." March normally would have been the time to develop plans for recording and producing her next record, but the pandemic led to closed-down recording studios and prevented her from working closely with other musicians. In the middle of all of this, she also discovered that she was pregnant.
"I started to doubt whether I would be able to come up with a Christmas record this year, and that made me really sad," Chan said.
Tragically, some of Chan's relatives succumbed to the pandemic. She struggled to think about how she would write Christmas music while she was experiencing so much hopelessness in the world. Moreover, she had her pregnancy to think about. She had been accustomed to feeling joyful and writing music, but watching her family members fall ill presented a creative block.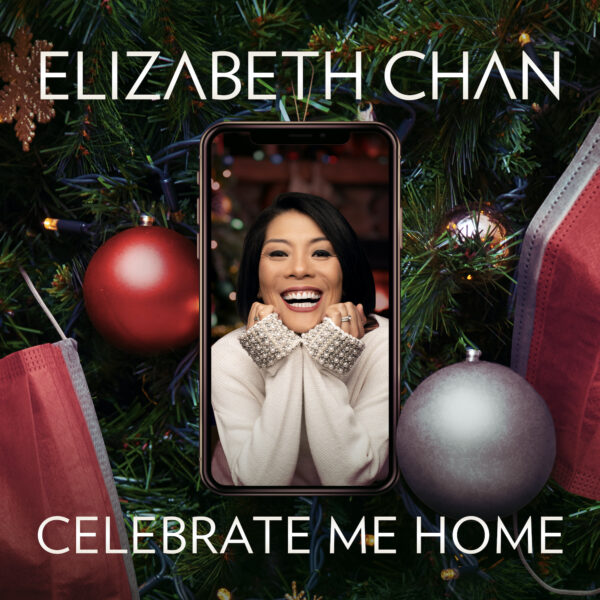 Chan came to change her perspective through her song "Celebrate Me Home," a reinterpretation of the Kenny Loggins classic. She had never produced and wrote in such a remote fashion, but was nevertheless determined.
"I just so wanted to get the song out in the way that I felt it, in the emotion that I felt it, that that's how I ended up cobbling together my album," Chan explained.
Chan looked at her pregnancy and unborn daughter as inspiration. She focused on her, and the fact her family was about to get bigger. Her family has always inspired her, but she didn't expect them to be so uplifting this year. The music video for the song, which captures some of the quarantined times at home, also features her pregnancy and her newborn daughter coming home.
Chan feels that a lot of Christmas music this year doesn't acknowledge the struggles we've all been through this year, and she wants her album to convey a sense of hope. She knows it's a lot to ask for people to be happy and forget that we're living in a time of pandemic, but she hopes that people are kind to themselves.
"Instead of Christmas being the things that we wish we had, how about we turn Christmas and the holiday season into being thankful for the things we've got, and that's love, and family, and home," Chan said.