It's likely more people know the debut album cover name that elevated rock legend Bruce Springsteen into public consciousness than the city "The Boss" played a key role in keeping alive. 
The rise, fall, and recent ascension of Asbury Park on the New Jersey coast is certainly a story of special note.
Visiting Asbury was an annual rite of passage for the Ward family when I was growing up. My parents, two brothers, and I would pile into our station wagon and head south from our home in North Jersey to this small seaside city.
Being roughly 50 miles from home, it provided an escape from daily living, with a wide array of attractions to hold our interest, including the beautiful sandy beach and a boardwalk lined with arcades, shops, and cafes.
Music has long been a big part of Asbury Park. Back in the day, a variety of headliners from New York City flocked to the Jersey Shore, with Asbury Park being ground zero. Big-time entertainers such as Lionel Hampton, Billy Holiday, and Count Basie often visited and performed at a variety of nightclubs on Asbury's west side. 
A hot spot was the Stone Pony, a starting point for numerous performers. As a college student I took in many bands and performers there, the most notable being Bruce Springsteen, who hailed from nearby Freehold, and N.J. native son Jon Bon Jovi—just two among a slew of emerging talent. Springsteen released his debut album "Greetings from Asbury Park, N.J." in 1973.

But Asbury's fortunes were doomed to fade. Due to a variety of factors, including the 1970 race riots that completely destroyed the west side neighbourhood, the city fell on hard times and stayed down for many years. The music scene, however, endured, and today Asbury is still considered a destination for musicians.
Resident historian Don Stein said it succinctly: "Music is what saved the city—then and now."
The Stone Pony also had its ups and downs and floundered for a while, but with support from the music community it rallied and today it continues to serve as a magnet for both veteran musicians and new talent. Nearby is the Wonder Bar, which features live music and even provides a dog-friendly patio for those inclined to bring their canine. The food is good and when the right band is on hand, the place rocks.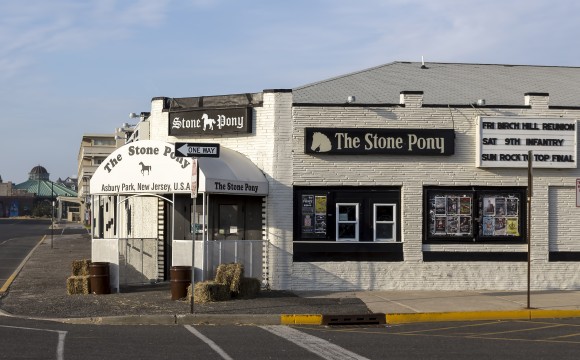 A City on the Rebound
In recent years Asbury Park has been gradually picking up the pieces due to some successful resurrection attempts. On my most recent visit I saw a city that is recognizing past stumbles while pushing ahead for a new 21st-century revival.
Asbury resonates an urban feel that's not scripted or pre-packaged, just real. There's a clear quirkiness that allows a broad range of elements and people to intersect, with the beach still serving as the powerful hook during the prime summer months.
Asbury resonates an urban feel that's not scripted or pre-packaged, just real.
As part of its revival strategy, the city has recruited two development companies: Madison Marquette from Washington, D.C., which assists with the efforts in revitalizing the boardwalk commercial area, and New York City-based iStar, which handles an adjacent waterfront redevelopment zone.
In June 2016, The Asbury, the first new large-scale hotel here in five decades, opened with 110 rooms. This has also given the city a boost.
The Asbury exudes an unmistakable vibrancy the minute one enters the main lobby. There's a rooftop bar area providing a panorama of the nearby ocean and a swimming pool sequestered away from the hustle and bustle. Nightly music is a regular feature just off the lobby area. The Asbury sends a clear signal it's not your grandfather's retreat.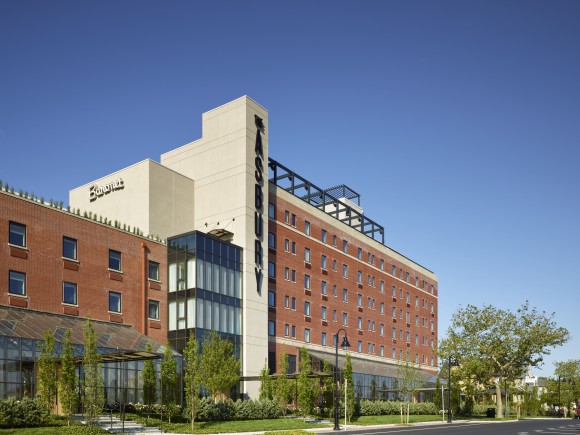 The former glory of Asbury Park comes alive with the refurbished Convention Hall. Built in the late 1920s, the Hall has been the host location for a wide range of events and performers. Adjacent is the Paramount Theatre, capable of holding 1,600 people. Both the Hall and Paramount are connected to the Grand Arcade, which offers a selection of different restaurants and shops and serves as a hub for people to gather. 
The main location for various top-quality restaurants is Cookman Avenue, a short walk from the beach. I started one of my days with breakfast at Toast, which serves mouth-watering pancakes. Just down the street is Talulas with its many combinations of scrumptious pizza creations. Be sure to try something from the drinks menu—the gin + jam is one you won't forget.
I've always enjoyed stopping at the Silverball Museum on Ocean Avenue with its wide variety of pinball machines, some dating back to the 1920s. The museum celebrates yesterday's memories and provides quality entertainment options for rookies and seasoned veterans.
Those venturing to Asbury Park should know the city is a work in progress. Steps forward are happening, but Asbury still needs additional quality lodging options capable of attracting more visitors.
Although Asbury Park is not well-coiffed like so many other tourist destinations, the vibe is authentic, with momentum growing. Given this, the rush to dub it with the tagline "RIP Asbury Park" was clearly premature.





New Jersey-based M. James Ward's strong sense of wanderlust has lured him to all corners of the world. He has written about his travels for a range of publications.