If you've been to a farmers market lately, you know that this is the peak time of the year for produce. It's the time of the year when if you don't have fresh produce as the star of your meal, you are missing out.
So, we turn our attention to vegetables and salads. Take salade Nicoise, a Provencal-style salad featuring bites of tuna (which can be fresh tuna, seared and sliced, or good old tuna from a can), hard-boiled eggs, green beans, black olives, tomatoes, onions, potatoes, and an olive oil-based vinaigrette, often involving capers.
It's bright and textural and beautiful, and it should be as much of a go-to main course salad as its American cousin, the Cobb salad.  
But say for a moment that you wanted the lively flavors of a Nicoise dressing, but only need a side dish. Green beans, essentially pulled from a Nicoise salad, perfectly dressed, are your answer. They make a delicious end-of-summer side dish, and will probably get you thinking about the full Nicoise salad possibilities in the coming months.
The Beans
First, you have a green beans choice to make: regular garden-variety (hah!) green beans, also known as string beans, or French green beans—haricots verts. Haricots verts are a bit slimmer and more tender than everyday green beans, and worth checking out for their elegant presentation. They will cook a little more quickly than their thicker cousins.
Whichever you choose, get the freshest green beans from the farmers market, the grocery store, or in a perfect world, your garden. (Or in my case, my neighbor's garden; I have given up on growing anything in my own.)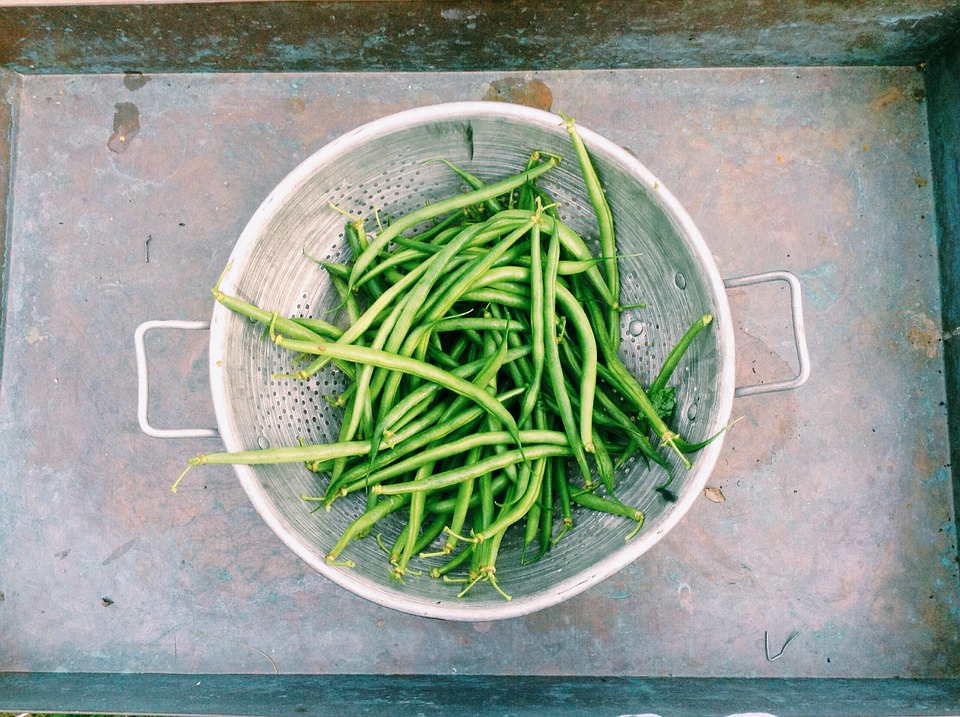 The Dressing
Then, it's all in the dressing, really. This vinaigrette on steroids includes some of my favorite flavors, bright and assertive: capers, shallots, Dijon, olives, sherry vinegar, and fresh herbs.  
Capers are pickled flower buds, often grown and packaged in Italy, although also available from other areas of the Mediterranean, Australia, and Asia. They may be packed in salt, or bottled with a brine. They are a magical little ingredient to keep in the door of the fridge, adding brininess and salinity to all kinds of dishes. Give them a rinse before using to reduce their saltiness.
I adore capers; I love them. My family is ambivalent: For the most part, they like them, as long as they don't see them or know that they are there. If you think your kid (or partner) might like the dressing, but might be thrown off by the capers, leave them whole. You can pretty easily pluck out whole capers, but once they are chopped up into the vinaigrette, they are quite hard to retrieve.
You could also add a minced anchovy to the dressing, if you are looking for an even more salty, briny flavor. Anchovy is a traditional Nicoise salad ingredient, but I left it out in this recipe to make it a vegetarian side.
While I have a huge arsenal of dried herbs that I use regularly, this is a case where you absolutely need to use fresh herbs. I love dill and basil in this recipe, but thyme or marjoram would also be good additions. The optional lemon zest at the end adds brightness both in color and flavor, but if you're in a rush, skip it.
Party Tricks
These green beans would be perfect to bring along on a picnic or to a potluck, or to someone's house for a dinner party when you've offered to contribute a side.  
As a bonus, this is a make-ahead dish. You could make this a day ahead of time and store it covered in the fridge, or toss the beans with the dressing and let them sit, covered, for a few hours at room temperature. Letting the beans marinate in the vinaigrette will allow them to pull in its flavors even more fully.
And while they are perfect at this time of year, remember them again when the holidays roll around. It seems—at least in my world—that almost every holiday feast involves some kind of green bean dish, and that oftentimes, it becomes kind of an afterthought—as in, boring. And there's no reason for that.
This cool, crisp salad would be a delightfully punchy sidekick to everything from a roast to a rich, cheesy lasagna to a Thanksgiving spread, instead of your usual warm green bean dish.  
What the Kids Can Do
The kids can trim the green beans, and measure the dressing ingredients and mix them up. They may be able to chop the olives and herbs with an age-appropriate knife, or little kids can tear the herbs into small pieces. They can help drain the beans and toss the salad together. Older kids who can handle a microplane or zester might be able to zest the lemon.
Green Bean Nicoise Salad
Serves 4 to 6
Kosher salt, to taste
1 pound haricots verts or green beans, trimmed
1/3 cup extra virgin olive oil
2 tablespoons minced shallots
2 tablespoons sherry vinegar
1 tablespoon Dijon mustard 
1 tablespoon capers, drained and chopped
1 teaspoon honey
Freshly ground pepper to taste
1/2 cup pitted black olives, roughly chopped
2 tablespoons thinly sliced fresh basil leaves
1 tablespoon chopped fresh dill 
Finely grated lemon zest, to serve (optional)
Bring a large saucepan of salted water to a boil. Have a large bowl of ice water nearby. Add the green beans to the pot and cook for 2 minutes for haricots verts, 3 minutes for regular green beans. Drain, then immediately plunge the beans into the bowl of ice water to stop the cooking. When cool, drain and shake off as much excess water as possible.
In a large bowl, combine the olive oil, shallots, sherry vinegar, Dijon, capers, honey, salt (go easy on the salt, because of the capers and olives) and pepper, olives, basil, and dill. Add the beans and toss to coat with the dressing. Taste and adjust seasonings as needed. Serve at room temperature, with lemon zest sprinkled on top, if desired.
Katie Workman is a food writer and recipe developer in New York City. She writes the popular blog TheMom100.com and contributes to many publications, and has written two cookbooks: "The Mom 100 Cookbook" and "Dinner Solved!"