Potatoes, milk, and cream. You need little more than that to make gratin dauphinois, proof that French cuisine doesn't have to be complicated, and often relies solely on simple ingredients to create a decadent dish. 
In this traditional French gratin, thinly sliced potatoes are baked slowly in creamy milk until fork tender. This is an easy, affordable, and oh so comforting dish that would make a perfect addition to your holiday table. 
History
As its name suggests, the gratin dauphinois was born in the Dauphiné, a former province of southeastern France. Straddling the mountain range of the Alps, the Dauphiné is a region of mountain-style cooking, based on produce that can grow at high altitudes, such as potatoes.
With the introduction of potatoes to France circa the 1500s, potato-focused dishes, like gratins, have likely been part of the local cuisine for centuries. But it wasn't until the 18th century, according to Dauphiné historian Claude Muller, that the "gratin dauphinois" was first officially mentioned. 
It is said that in 1788, the Lieutenant-general of the Dauphiné, the Duke of Clermont-Tonnerre, hosted a dinner for the municipal officers of the town of Gap. He served a gratin dauphinois to accompany a dish of orlotan birds (small, sparrow-sized birds), and wrote its name down for the first time on a menu. 
By the 19th century, the gratin dauphinois recipe had become a staple in local inns and restaurants. Now, it is a great classic of the French culinary repertoire, and one of the most beloved dishes to make in the winter. 
Potatoes, Milk, Cream
Gratin dauphinois was traditionally baked in a clay pot, but now, any clay, ceramic, or glass baking dish is acceptable; you can even use a Dutch oven. For this recipe, choose one that holds from 1 1/2 to 2 1/2 quarts, but not any bigger than that. The gratin needs to be at least three inches high, so it can be cut into hefty slices. 
Potatoes are the stars of the dish, so choosing the right ones is of utmost importance. Opt for starchy potatoes that will release a large amount of starch as they cook; this will bind all the ingredients together and make for the creamiest gratin.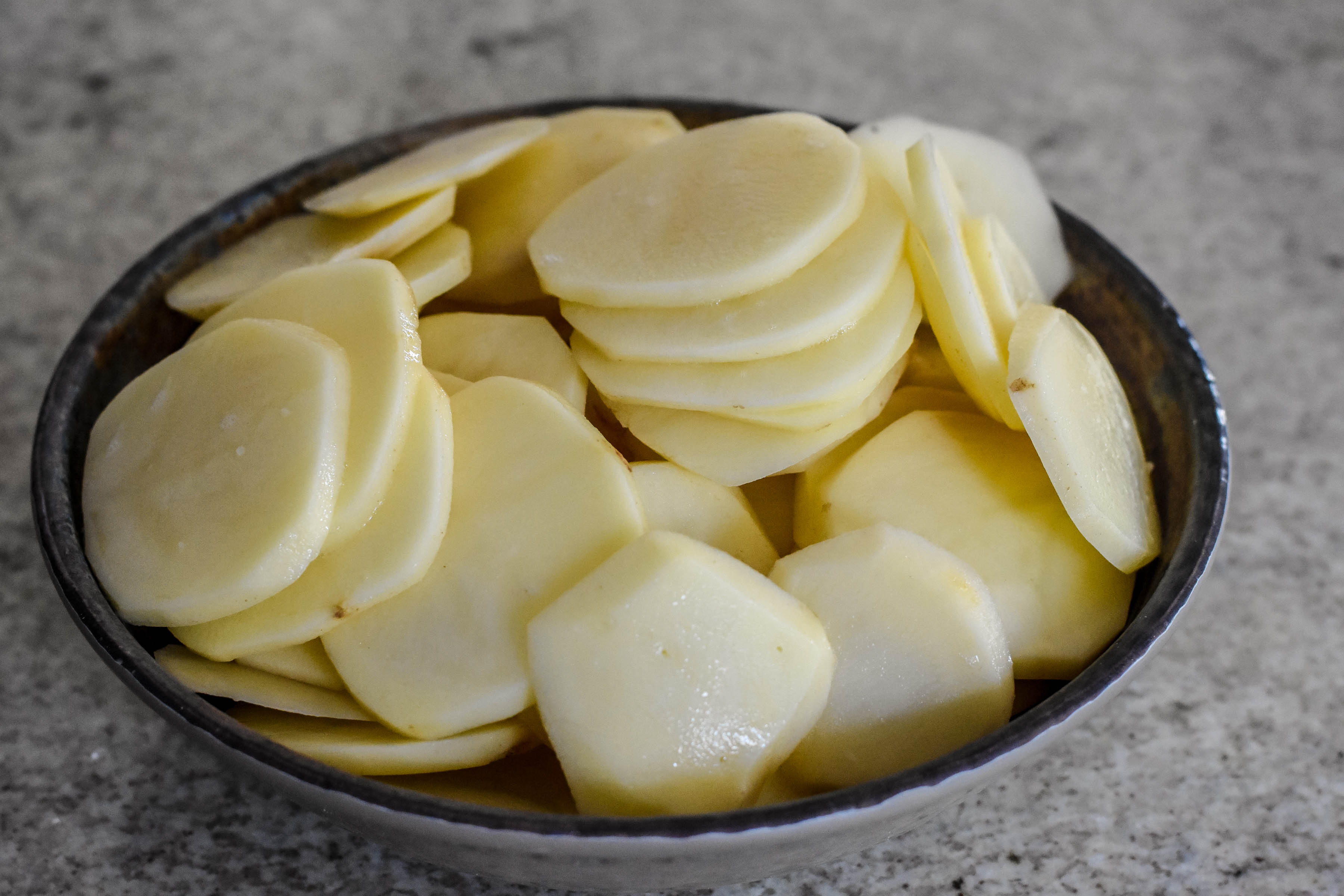 In France, gratin dauphinois traditionalists recommend using only specific potato varieties, such as the starchy Monalisa, the tender Nicola, or older heirloom varieties like the Belle de Fontenay or the Charlotte. 
In North America, you can also find great varieties to recreate this dish. Try fluffy Russets, which have the most starch, or Yukon Golds, which hold their shape especially well. 
For whichever variety you choose, one rule applies: Do not rinse the potato slices! You want to keep all that precious starch, so that it slowly releases into the milk and creates that signature consistency. 
When the gratin dauphinois became popular in the 19th century, milk wasn't exactly as we know it today. Often directly sourced from local farms, milk was unskimmed and thus much creamier, with a much higher fat content.
With today's generic supermarket milk, you'll need to use both whole milk and heavy cream—at least 35 percent milk fat—to achieve the same velvety texture. (Sure, it makes for an indulgent dish … but it's worth every calorie, if you ask me.)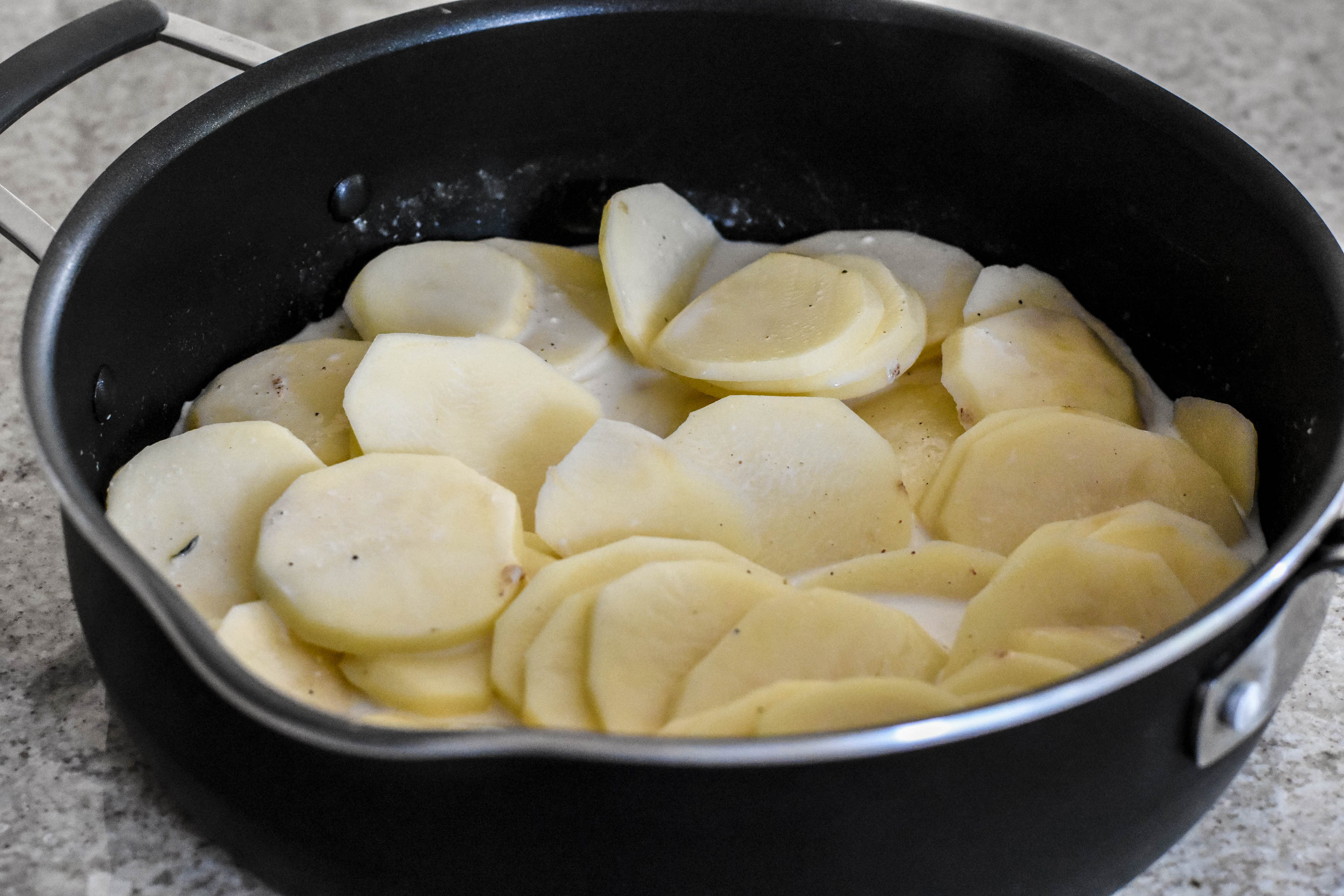 Hold the Eggs
As per tradition, only a few subtle additional flavors should be added to a gratin dauphinois. 
Garlic, instead of being minced and directly added with the other ingredients, is simply rubbed against the walls of the baking dish before it's filled with the potatoes, milk, and cream. This lends a very subtle garlic flavor to the gratin: just enough to be noticeable, but not so much that it's overwhelming. 
A pinch of nutmeg and black pepper are also acceptable, and fresh thyme, although a step away from the traditional recipe, is lovely, too. 
Some modern recipes by French authorities like Escoffier, Carrier, and De Croze call for the addition of cheese and eggs. I think eggs are de trop, giving the sauce an unpleasant, curdled texture, but I have to admit that I enjoy a light sprinkle of Alpine cheese, such as Swiss Gruyére or Emmental, on top.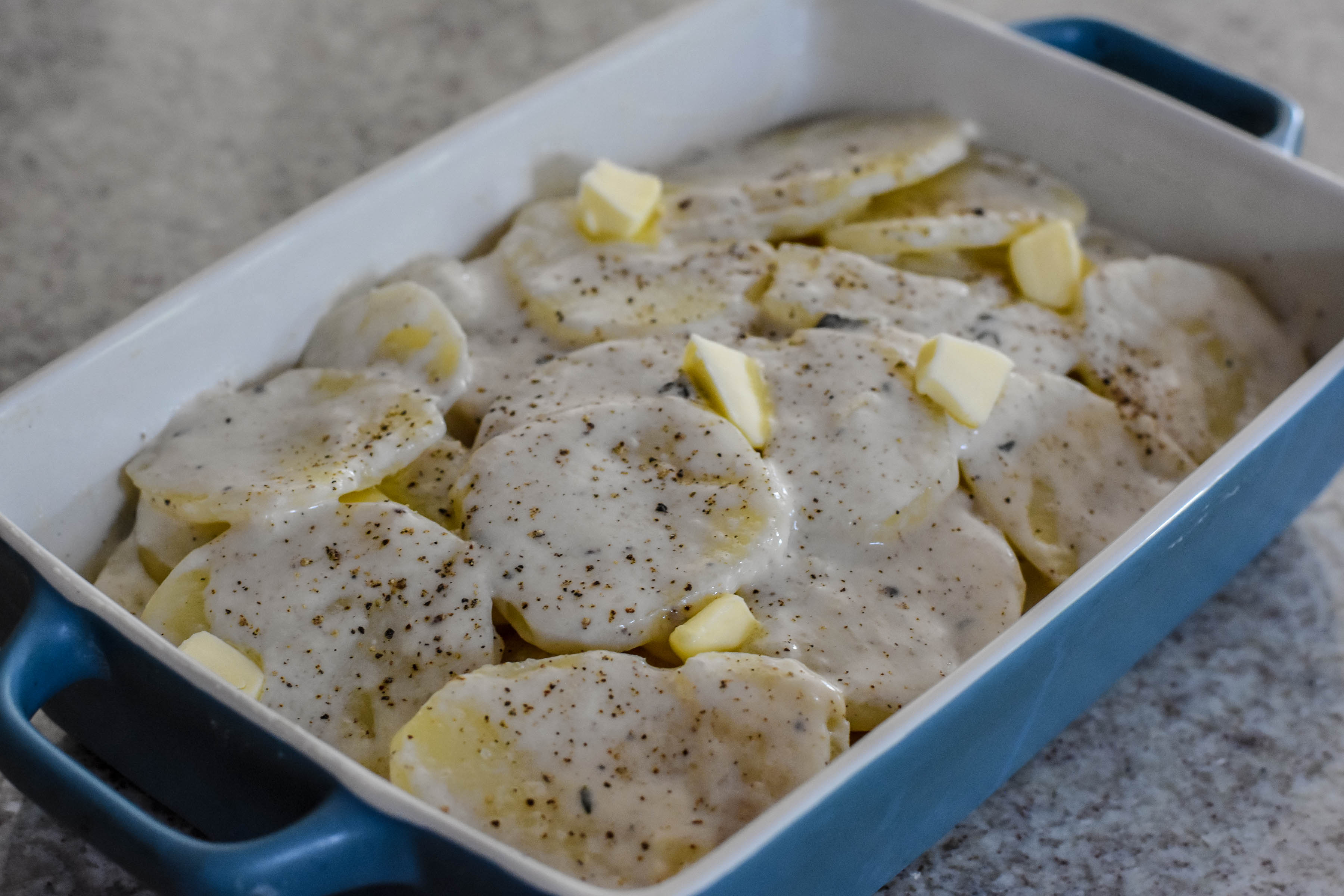 To Serve
There are two ways to serve a gratin dauphinois, both equally delicious, so you can decide which one you prefer. 
Home cooks, in general, prefer to serve the dish hot and by the heaping spoonful, for creamy and slightly messy platefuls. 
In restaurants, you will more likely find it served cut in clean, square slices. To achieve the same effect, let the gratin cool completely to room temperature and then pop it in the fridge for at least two hours before serving, or ideally overnight. When ready to serve, cut clean slices, wrap them individually in foil, and reheat them under a hot broiler. 
Gratin Dauphinois
Serves 4 to 6
1 cup heavy cream (35 percent milk fat) 
1/2 cup whole milk 
1 clove garlic, cut in half 
2 sprigs fresh thyme, de-stemmed 
1/2 teaspoon freshly grated nutmeg 
1/2 teaspoon freshly ground black pepper 
2 teaspoons salt
1 2/3 pounds baking potatoes, such as Russet or Yukon Gold
2 tablespoons butter (salted or unsalted), divided, at room temperature
Optional: 1/3 cup Gruyère cheese, grated 
Preheat the oven to 350 degrees F, with a rack in the middle.
In a large pot over medium heat, combine the cream, milk, thyme, nutmeg, pepper, and salt and bring to a simmer. 
While the milk mixture simmers, peel the potatoes and thinly slice them, ideally with a mandoline. Drop the potato slices immediately into the milk (to avoid browning). Cover the pot and continue to simmer for 10 minutes, until potatoes are just tender and can be easily pierced with a sharp knife. Remove from heat. 
Rub the inside of a 10 1/2 inch by 7 1/2 inch gratin dish with the cut side of a halved garlic clove. Then, grease the inside of the dish evenly with 1 tablespoon of butter. 
Transfer the potatoes and milk to the dish and spread them out in an even layer. Dot the top with the remaining 1 tablespoon of butter. 
Cover the dish with foil and bake for 30 minutes. 
Remove the foil and sprinkle the grated cheese evenly on top of the gratin. Bake for another 30 minutes, until the cheese turns golden. 
Let the gratin rest for at least 15 minutes before serving. 
Audrey Le Goff is a French food writer, photographer, and creator of the food blog Pardon Your French, where she shares recipes and stories from her beloved home country, France. She is the author of the cookbook "Rustic French Cooking Made Easy" (2019). She currently lives in Niagara, Canada. Follow her on Instagram @pardonyourfrench