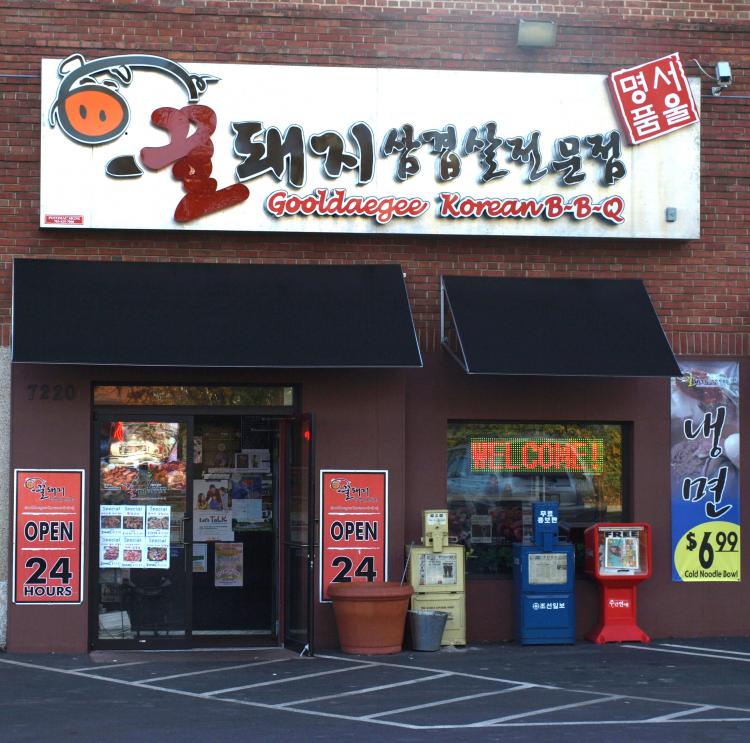 ANNANDALE, Va.—As consumer spending shrinks, many local restaurants have felt the impact. According to a local Chinese restaurant owner, he has seen 20 percent less traffic. The same pain is felt by others. Few have so far managed to rise above it. Gooldaegee (Honey Pig) Korean BBQ restaurant is one of them.
On Fridays, Saturdays, and Sundays, there is almost always a line at the restaurant entrance after 6 p.m. Without reservation, the wait is usually one hour. Owner Mickey Kim says, "Those who make a reservation have to arrive on time. Otherwise we cannot keep the table empty when so many others are waiting."
It took Mickey a year to get the restaurant ready. After living 20 years in Maryland, she moved to Los Angeles, where the rest of her family resides. However, she missed the four seasons in the Washington metro area. What's more, she found out that the east coast Korean restaurant market is relatively less developed than the west coast's.
She moved back to Washington metro with a new idea. Although she owns other brand name restaurant chains, she opened Gooldaegee with young people and people with tight budget as her target customers. Young people who enjoy hanging out and don't cook often appreciate the dynamic atmosphere of Gooldaegee. Unlike other Korean restaurants, which tend to be more formal, Gooldaegee provides an energetic but relaxing setting.
Within 9 months, Gooldaegee has grown to be an international and family restaurant. The core customers, the young people, brought their parents to enjoy the place. Being international and diversified already, young people bring more Korean, Vietnamese, Chinese, Philippine, and American customers to Gooldaegee.
Mickey's market position for Gooldaegee is to offer the best value. A Korean Galbi (pork rib BBQ) usually costs about $27.99, but Gooldaegee offers it at $21.99. Gooldaegee also has popular lunch special at $9.99 for BBQ plus one of the three: noodles, seafood tofu soup, and soybean soup (usually priced at $18.99).
In addition to hard work, Mickey credits her success to her belief. She says, "People ask, how Mickey did it? I think it's God's blessing." She foresaw the economic downturn and decided to serve people on tight budgets.
Mickey's partner, Mr. Choi, is a professional tenor. He reviews music notes when sitting at the front desk of the restaurant. He got to know Mickey many years ago when he went to the Peabody Conservatory of Music. Mickey owned a Korean restaurant in Ellicott City. She is a classic music lover and often provided poor students free food. She provides free food to beggars too at Gooldaegee.
Gooldaegee is scheduled to open its party room before Valentine's Day. After dining there, young people will be able to go to the new party room to drink and dance.
According to Mickey, Korean restaurants in the Washington metro area haven't changed much in the past decades. By coming back to the community, she has set a trend in pricing and style. "Everyone is copying me. But they cannot copy my secret BBQ sauce, the taste and the style." Mickey is competitive. She is also sweet and creative. Gooldaegee comes from her nickname. Her family used to call her "Gooldaegee" (honey pig).
Gooldaegee Korean BBQ restaurant has 2 stores in South Korea. The second one was opened in May this year in Seoul. The owners are now looking for a third location there.
The U.S. store is located at 7220-C Columbia Pike, Annandale, VA 22003. You can call 703-256-5229 for reservations or go to its web site www.411Q.us/koreanBBQ for menu details. Gooldaegee specializes in pork, beef and seafood Korean BBQ.