During Christmastime in 1980, Walt Brinker was driving when he saw a woman whose car had broken down on the side of the road. Her hood was popped open, and her engine had stalled. He pulled over and gave her a jumpstart with his jumper cables, and got her car running. Since then, he's provided over 2,000 roadside assists to complete strangers—at no charge.
"I was so inspired by her relief and how good I felt that I said, 'Wow, I've got to do more of this.' That's where it all started right there," Brinker said.
Helping people whose cars had broken down on the road became his hobby. Over time, Brinker, 76, acquired the knowledge, experience, and tools to address a variety of car problems.
Roadside Assistance
A West Point graduate with a 23-year Army career, Brinker resides in Eastover, North Carolina, about 60 miles south of Raleigh. He has four sons, two daughters, and eight grandchildren. Three of his sons are currently serving in active duty in the Army.
After the Army, Brinker lived in Texas, working as a project controls engineer and manager. He would pull over to help a motorist in distress whenever time allowed. He would patrol interstate 10 on his way to and from work and while running errands in the Houston area. The most assists he's had in one day was helping 11 motorists.
After he moved to North Carolina in 2010, he began patrolling Interstate 95, which is only about three miles from his home. He takes a 55-mile route and averages about one assist per trip. Now that he's retired, he goes on even more regular patrols—about three times a week. Whenever he's out running errands and isn't on a deliberate patrol, he still manages to find at least one "customer" to help—free of charge.

Memorable Assists
Out of the over 2,000 assists Brinker has performed, some memorable experiences have stuck with him. In 2008, he was driving from Texas to Virginia, and on the way home, he spotted a car on the side of the road at 9 p.m. The car had a flat tire, and Brinker turned around and pulled over to help.
The man's jack was broken, and Brinker used his own jack to help him change the tire. When they finished, he discovered the man was a Marine. The man was with his wife and small child, and said he was a little hesitant when Brinker pulled over in front of him. But as soon as he saw Brinker's Purple Heart license plate he felt at ease. They talked about the military for a few minutes, and Brinker gave him his card. He recommended they stop at a motel and get a new jack and spare tire before finishing their trip. About a half-hour later, he got a call from his wife, and she said, "I got a call from some Marine. He said to please tell you that he took your advice."
"The funny part of the story was I got a card in the mail a week or so later thanking me for stopping for him," Brinker said. "At the bottom of the card he said, 'I'd never thought I'd say this, but Go Army.' For a Marine to say 'Go Army,' that's a big deal," Brinker said.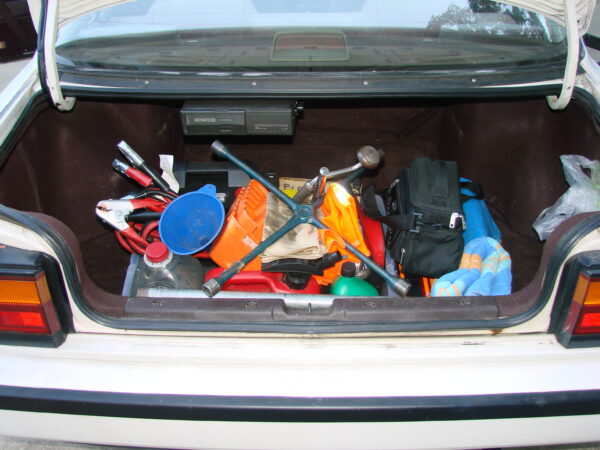 Brinker's most meaningful experience was in 2012. He was driving on Interstate 95 and pulled over for an African American preacher and his wife whose right rear tire was shredded. Initially, Brinker thought he would just change the tire. A highway patrolman pulled up offering to help, but Brinker said he'd take care of it. After he took off the tire, he realized the spare tire wouldn't fit on the car.
The three of them got into Brinker's car with the old tire, and they drove to a Walmart nearby, but it was closed. They continued to a Pep Boys that was open until 9 p.m., and it was their only chance to replace the tire that night. Fortunately, they were able to fix the tire and returned to the couple's car, and put the tire back on the car.
The experience stuck with Brinker because it occurred about a week after the George Zimmerman trial, which sparked many protests. But all they discussed during the three-hour trip was their families. When they were finished, the preacher told him he was going to share the experience with his church.
"That's probably the heaviest time I've ever had during an assist was when he told me that, and I realized, 'Hey, this is good stuff,'" Brinker said.
Road Advice
In Brinker's experience, the most common reason for car breakdowns is tire failures, mainly due to under-inflated or worn-out tires. When someone tries to change a tire, the lug nuts are often too tight to unscrew. That problem can be solved with a cheater bar, which gives one more leverage. The second most common problem is that the spare tire is too low on pressure to be used. Brinker carries a 12-volt compressor to reinflate the spare. If the tire has a puncture from a nail or other debris, he plugs the hole with a $10 kit.
"Seventy-five percent of all the people I meet out there have got a tire issue, and my advice is to practice it in your driveway," Brinker said. "That's the single thing, be sure that the tires on your car are in good shape, and that you know how to change a tire."
The other 25 percent of breakdowns are due to being out of gas, overheated engines, minor electrical issues, or being locked out of the car. Brinker recommends carrying an empty one-gallon gas can in the car to retrieve gas from the nearest station. If the car still won't start, it's normally because the gas has pooled in one part of the gas tank. Brinker will then employ his "rock the car method" by standing on the outside frame of the car and shaking the vehicle to distribute the gas in the tank.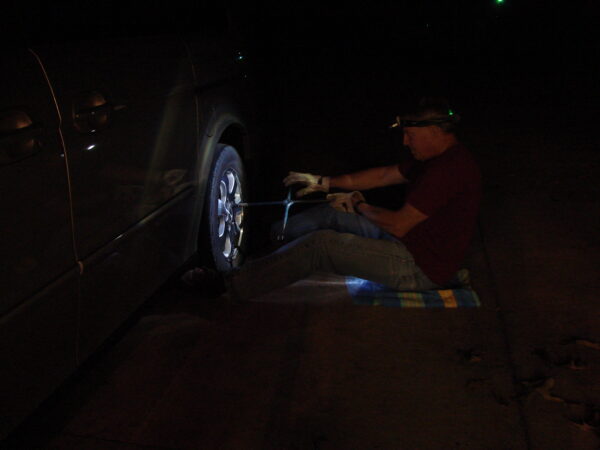 If the engine overheats, the best thing to do is to let it cool first to avoid burning oneself before adding room-temperature water to the radiator before taking the car to a mechanic. (Make sure to use a towel to remove the radiator cap in case it's hot.) For minor electrical issues when the car dies, half of the time it's due to a loose battery clamp. Tighten the clamp with a combination wrench, and you should be good to go. If you're unable to tighten the clamp, Brinker recommends using a paper clip between the clamp and the post to tighten everything up.
In order to get back into a locked car, Brinker recommends getting a non-chip copy of the key that will unlock the driver's door only, and keeping it in a magnetic box under the car. Once in the car, the driver can access a stashed spare key in the car that will start the vehicle.
Three Critical Items to Carry
When it comes to tools, Brinker stresses the importance of carrying three critical items: A lug wrench, a working jack, and a pair of jumper cables in addition to a viable spare tire. The magical fourth and fifth items are a towel to keep you clean and a tarp to keep you dry if it's wet outside. He also recommends leather work gloves to help protect your hands. If you have nothing else, he recommends carrying a tire pressure gauge to ensure the tires are properly inflated.
Brinker has included his insight and advice in his book "Roadside Survival: Low-Tech Solutions to Automobile Breakdowns," which was published in 2014. According to his own experience and research, he found that vehicle breakdowns are at least five times more likely to occur than car accidents. He believes breakdowns are actually closer to 20 times more likely to occur than crashes because the statistics for AAA don't account for all breakdowns.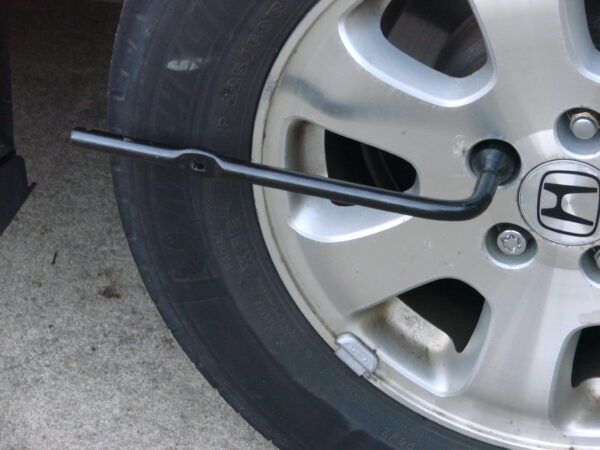 Brinker's website, RoadsideSurvival.com, has three categories for individual drivers, driver's education, and law enforcement. It also features vignettes about his experiences on the road, and lessons to take away from each.
The motorists Brinker has helped have responded with tremendous gratitude. Not only does Brinker relish helping others, but his roadside assists also help him with his own moderate PTSD and depression. He finds his work truly therapeutic.
"I feel like a king. I'm one of the happiest clams you'll see," Brinker said.