Pappa al pomodoro, a rustic tomato bread soup, is one of the many dishes from the days when everything had to be used. There is an old Italian saying: "cucina buona in tempi brutti"—good food in hard times. Since tomatoes first came to Europe, many variants of this dish have evolved as part of the repertoires of the cucina povera, literally the "poor kitchen."
Dishes that come from this tradition can be found all over the world. People had to make do with whatever could be found, and use up items such as old bread. In hard times—such as wartime or a deep recession in the United States—such meals become a lifesaver.
Summer will give us perfect tomatoes, and there is also always rustic bread leftover in the kitchen. Quality matters! Select good, fresh tomatoes from a farmers market—with a plentiful harvest, many farmers will sell bags of somewhat bruised tomatoes for an affordable price—fresh herbs such as basil, and rustic country bread with a crunchy crust. To prepare pappa al pomodoro takes time, but the results are well worth the effort.
The name of the dish includes the word "pappa," which is often associated with food for young children, but rest assured that it can be savored as a very adult meal.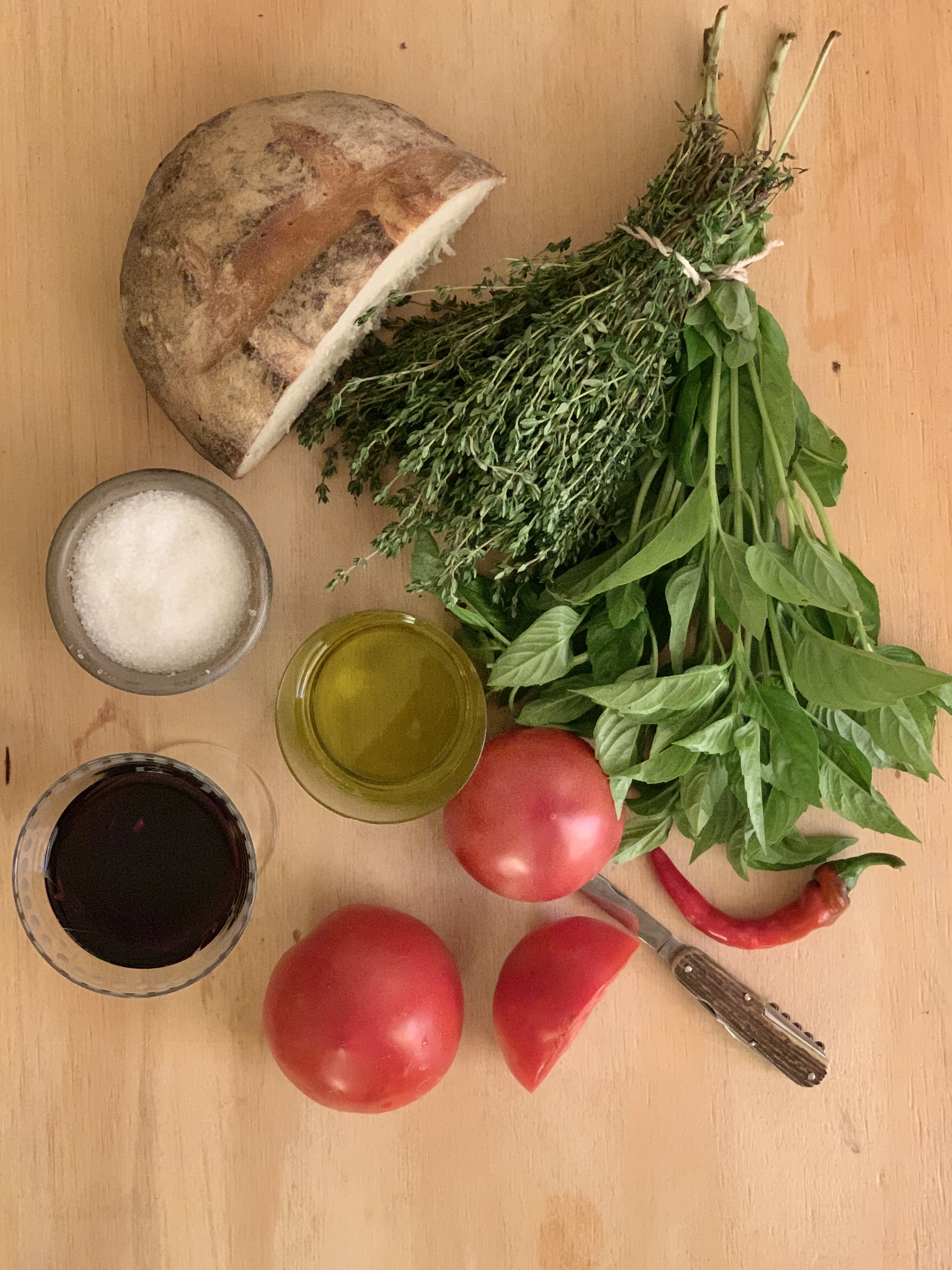 Pappa al Pomodoro
Savor summer with this classic Italian soup, made with just a handful of ingredients. This rustic dish can be enjoyed now when tomatoes are at their peak, and can also be frozen to keep as a taste of summer during the colder months.
The ingredients below are for four servings. If you want to freeze some for winter, do increase the quantities. There are no "correct" quantities. Feel free to use more or less of the ingredients as you wish.
Serves 4
10 ripe red tomatoes (for a stunning presentation, use also yellow tomatoes)
2 cloves garlic, minced
About 1 pound dried rustic bread, broken into small pieces
1 cup extra virgin olive oil
Sea salt
Coarse black pepper
1 small chili pepper, chopped, or dried red pepper flakes to taste (Calabrian peperoncini chili flakes are best)
Red wine (or white wine, if using yellow tomatoes)
About 18 leaves fresh basil, chopped (or use oregano or marjoram)
About 1/4 cup (or other small quantity) grated parmesan or Grana Padano
First, peel the tomatoes: Cut a cross into the bottom of each tomato and briefly dip them into boiling water for 30 seconds, then into icy or cold water. The skin will come off easily. Halve the tomatoes and scoop out the seeds, then very roughly chop the tomatoes.
In a heavy pot, add about one cup of water, the tomatoes, and the garlic, and bring to a boil. Then add the bread. 
Reduce the heat to low and let simmer for about 20 minutes, stirring frequently.
Add olive oil, some sea salt and black pepper, red pepper if using, and at least a glass of red wine. Taste and adjust seasonings as desired.
Let the soup sit for 45 minutes. Then, serve in bowls, garnished with fresh basil and cheese.
Agostino von Hassell is based in New York. In addition to corporate consulting, he also writes about food and military and political history. He recently co-authored "Caesar's Great Success: Sustaining the Roman Army on Campaign." See also the book's Facebook page, Julius Caesar's Recipes, and his website, AgostinoVonHassell.com