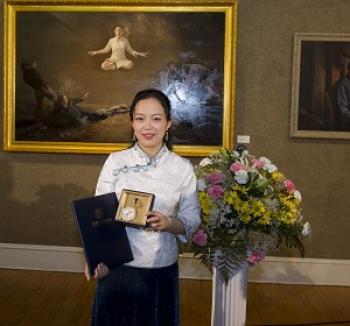 NEW YORK–Good art can inspire benevolent thoughts and uplift one's spirit, according to Michelle Chen, Gold Medal Winner in the 2009 Chinese International Figure Painting Competition hosted by New Tang Dynasty Television (NTDTV). Chen was honored for her painting Shock in a ceremony at the Salmagundi Art Club Dec. 4.
Chen had entered three paintings in the contest: Silent Night. The Call of Innocence, and Shock. She said she was inspired to paint Shock after reading a true story on the Clearwisdom web site.
The story is about a female Falun Gong practitioner who was persecuted in a prison in mainland China. In spite of the iron shackles guards had placed on her legs, she held no anger in her heart, and instead meditated peacefully. Suddenly, her body rose into the air. The guards were stunned—some of them still holding instruments of torture in their hands. Some were dumbfounded and some knelt on the floor to beg for mercy.
Chen felt painting the story would help more people learn about the persecution of Falun Gong. "I hope the persecution can be stopped as soon as possible," she said.

An artist's responsibility
Chen is from Canada has studied painting since childhood. She has held many personal exhibitions, and, in recent years, several of her paintings have toured the world as part of the international Truth-Compassion-Tolerance Art Exhibit .
Chen said that participating in such a competition was a rare opportunity for her. "It allows us Chinese artists to use the pure Western painting techniques to express ourselves."
Artists have a responsibility because the orthodox arts can have a positive and far-reaching impact on human thinking, according to Chen. "I believe those who won awards not only have superb skills but also high spiritual levels and character accomplishments."
Chen expressed gratitude to her teacher who has not only guided her painting skills, but at the same time held her to a high standard for her character and conduct. In the process of creating her artworks, Chen found that improvement in her spiritual level heightened her artistic accomplishments.
Chen thanked NTDTV for organizing the competition which provides a platform for cultural exchange. Winning the award is only the beginning. Chen believes this will enable even better works to be created in the future.
Read original Chinese article