Gold Coast Audience Mesmerised by Shen Yun
April 25, 2014 5:50 pm Last Updated: April 27, 2014 6:38 pm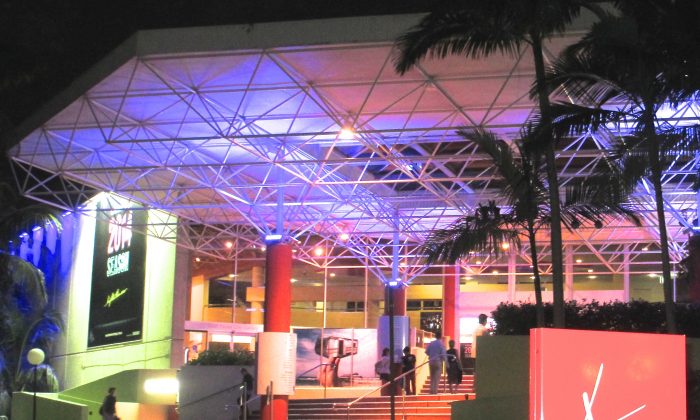 GOLD COAST, Australia—Shen Yun Performing Arts debuted at The Arts Theatre Gold Coast, April 24, a day before Australia celebrated Anzac Day.
In the audience was Nadia Duensing, who imports products for women's health. She loved the New York-based artists' performance, which features classical Chinese dance and music.
According to the company website, Shen Yun aspires to revive China's divinely inspired, 5,000-year-old culture, told through myths, legends and folk stories, using classical Chinese dance and music.
Ms. Duensing was mesmerised by the entire performance, and mentioned the state-of-the-art digital backdrops.
"It was just adorable … The colour, the dancing, the ribbons, everything. And the way that the performers jumped off the stage and then went out into the screen was just perfect. It was just lovely. I really, really enjoyed myself."
She commented on the different ethnic and folk dances. "Lovely, yes there was quite a variety of the cultures you showed, so yes it was very pretty, very lovely. The colours were beautiful," Mrs. Duensing said.
She said she would "absolutely" recommend Shen Yun to others.
"The performers were extremely talented. The colours, the costumes were just beautiful. The choreography was ten out of ten. Very top rated. It was just a wonderful show. I haven't seen anything like this for a long time. Just loved it."
"It all came from the heart."
'Remarkable! Absolutely remarkable!'
Also in the audience was retired engineer John Fallon, who said he had seen Shen Yun before in Brisbane.
"The Chinese culture is something that I'm fascinated with. I was so mesmerised by the presentation, I just had to come back and see it again," Mr. Fallon said.
He thought this year's presentation was fantastic. "I'd forgotten a lot so it's almost like it's all new again."
Mr. Fallon was also impressed with the animated digital screen.
"It's just so perfect and adds so much to a story, just amazing," he said. "It is just a remarkable presentation of an introduction to Chinese culture, and the fact that it is produced in America and not in China is quite amazing…remarkable, absolutely remarkable."
'I loved the tempo'
Mr. Ronnie Jones runs a not-for-profit foundation to help young women from Papua New Guinea become certified nannies.
As a former musician, he "absolutely adored" Shen Yun.
"I loved the music. I loved the tempo and the dancing was just stunning. How they can do all that circular work and then come off and do a dainty step is beyond me. I don't know how they do that, it must take a heck of a lot of training hours, I imagine."
Mr. Jones had lived in Asia for some years so he was attuned to Asian music, he said.
"I was very conscious of it and listening deeply … my ear was used to it and I thought they blended extremely well."
Mr. Jones paid homage to Anzac Day, saying he has noticed more of the younger generations attending ceremonies in recent years.
"What's amazing is the high number, 60 to 70 percent of young people who go there. I can see the same thing happening with this dance and a lot of other things. Art–I go to Asian art shows and I see the same thing–young people there finding who they really are, not being told who they are."
Mr. Jones also thanked the Shen Yun artists for making the journey down-under.
Reporting by NTD Television and Raiatea Tahana-Reese
New York-based Shen Yun Performing Arts has four touring companies that perform simultaneously around the world. For more information, visit Shen Yun Performing Arts.
The Epoch Times considers Shen Yun Performing Arts the significant cultural event of our time. We have proudly covered audience reactions since Shen Yun's inception in 2006.