MERIDA, Spain—We're not so far from the famed ruins of Mérida, the ancient capital of Lusitania, once one of the largest and most important cities in the Roman world—and we're all in togas. Reclining around a small pool. And in the pool, food is floating, on little boats, drifting slowly, but surely, toward hungry shores. None of us quite sure how to wear the long, ancient clothes, or consume the time-honored food, or even get those bites out of the water, and into our mouths. But the baths await, and some funny photos, plus a serious history lesson—and we're all very excited to be going Roman, here in Extremadura.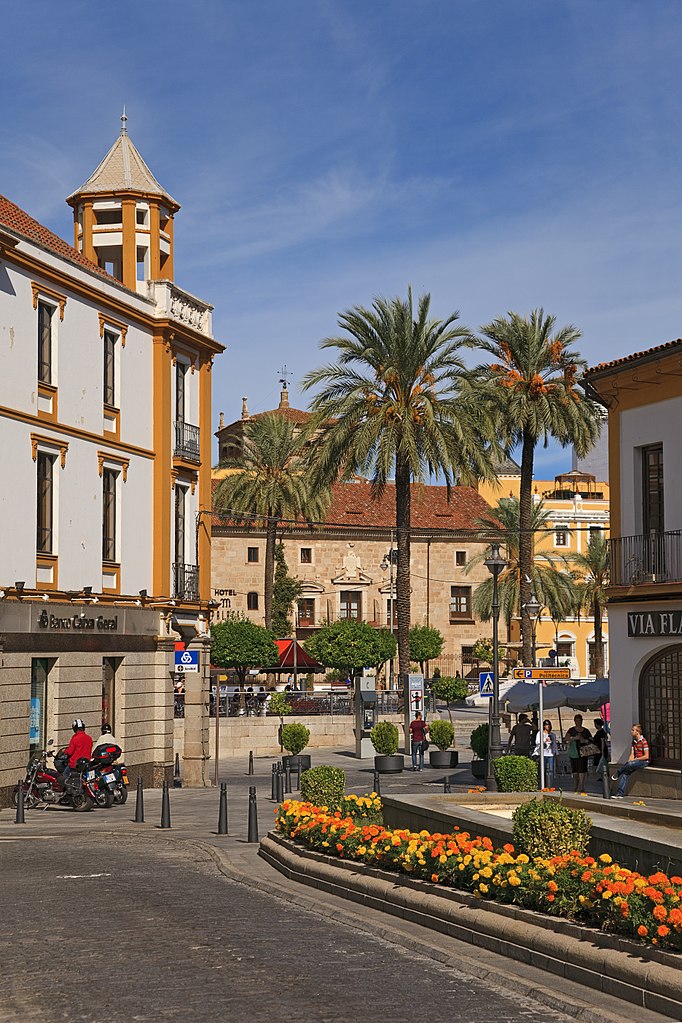 A region in western Spain sitting roughly between Seville and Madrid, this is a borderland, vulnerable and beautiful and hardened and tough, a place that's entertained many masters. "I'll give you the whole history in five seconds," guide Marco Mangut says, rather confidently, about all the sites we're seeing along the way. "These places, they were founded by the Romans, destroyed by the Visigoths, rebuilt by the Arabs, fortified by the Moors, and then re-conquered by the Christians," he explains. 
It gives each city we visit a depth, a layered quality—civilization upon civilization, a sense of going back in time, but seeing all the stages, at once—that's rare to witness, so exposed, in Europe. Joined by a small group, we embark on a sort of Roman road trip, riding from city to site around the region, which is home to rugged hills and wide horizons and vineyards and hilltop towns that seem to appear from nowhere, usually crowned with a turret and tower.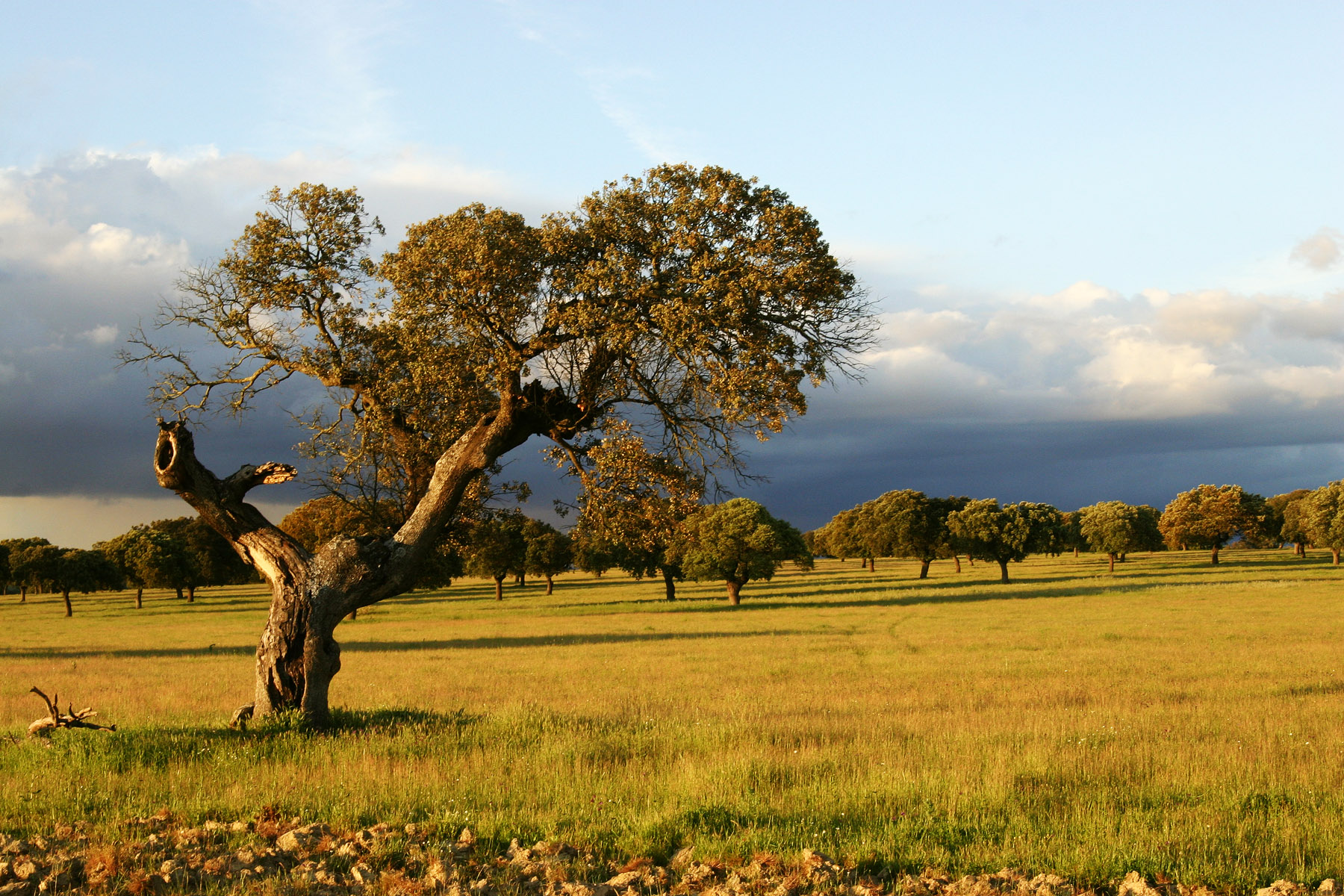 At Caparra, we make our way down a quiet, one-lane country road to a nearly empty parking lot, appearing to be the only people visiting this remarkable archaeological site. Once a significant city along a major arterial road, the site remains only partially excavated, something that Mangut explains as he shows us the streets, and archway, and columns, and what were once hot and cold baths.
"We should have houses under our feet, now," he observes, pointing to the ground, below our dusty shoes. Noting the complexity of the construction, surrounded by the foundations of many buildings and in the shadow of an imposing, four-faced archway, Mangut adds that the Romans fought long, and hard, to rule this place. "It took them 20 years to control France, but more than 200 to control modern-day Spain and Portugal," he says. "The local tribes, the Celts and the Iberians, were very tough." 
Back in the van, we spend a day in Plasencia, perched on the Ruta de la Plata—an ancient trade route. Making our way around the walled city, we make our way from a grand Plaza Mayor, filled with stylish couples sipping strong coffee, down a labyrinth of back lanes, to one of the most curious cathedrals in Europe. 
Only 40 percent finished, it's two churches in one, an older construction that melds into a new one, the latter built in late flamboyant gothic, and still showing damage from the massive earthquake that rocked Lisbon, not so far away, in 1755. Another place where you can mark time, in centuries, by just looking at the walls.
And in Cáceres, one of the largest cities in the region. We stand in the middle of a massive main square, one of the biggest in Spain, next to an old town ringed by a mostly intact Moorish wall. The main gate, a Christian reconstruction built later than the original wall, is rather grand, but Mangut says it enjoyed little fame, until a recent, runaway hit television show came to town to film. 
"It's King's Landing Gate from 'Game of Thrones,'" the guide explains, noting that a flood of tourists now flow through here just to take selfies in front of the stone gate. "Before that, nobody cared about it."
We proceed through the gate, climbing a tower for a view of the surrounding 48 palaces inside or near the wall, now recognized as a UNESCO World Heritage City, as well as other towns miles away. "You can see why they built the city here, on the hillside," Mangut explains.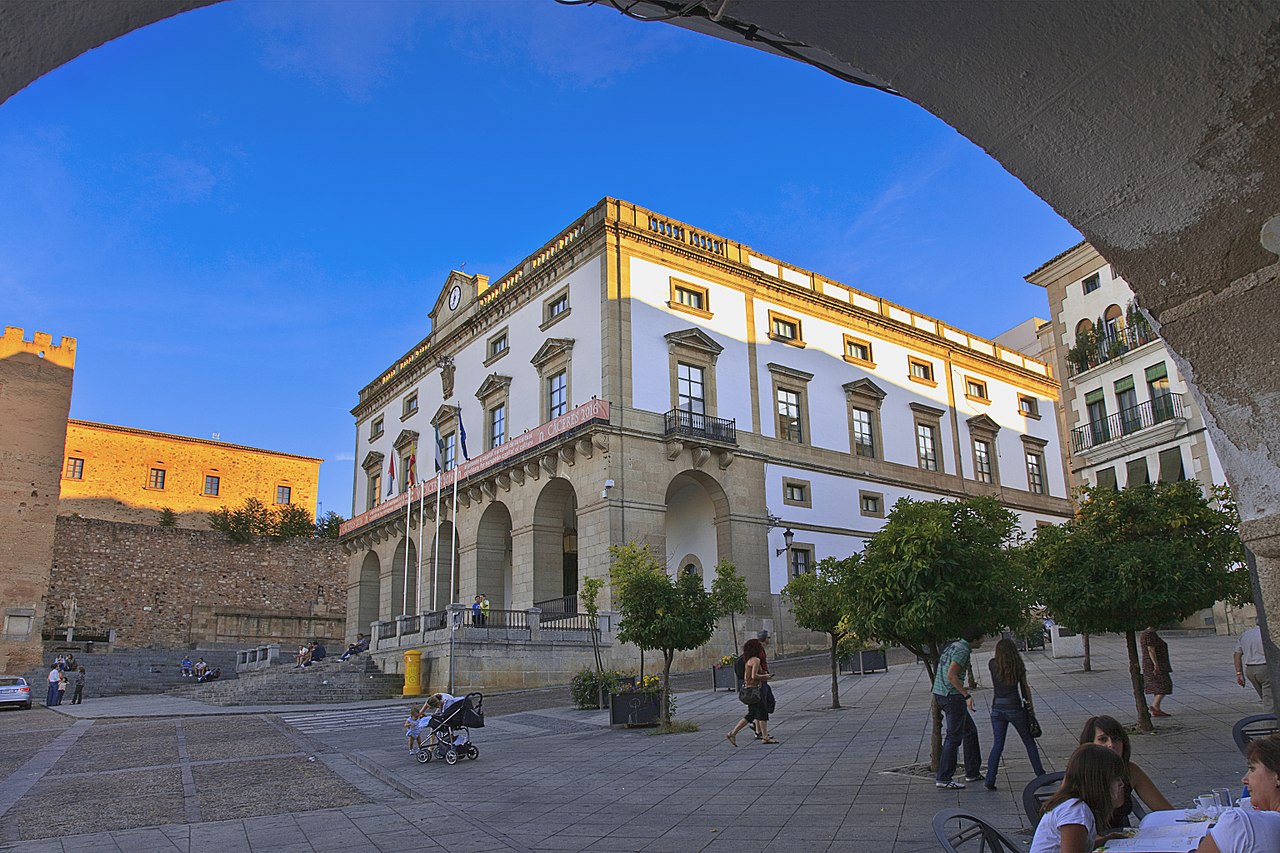 We disappear into the old city, spotting the official residence of Ferdinand and Isabella, and a monument to April 23, 1229, when the Christians re-conquered the city, and a cistern, still full, that supplied fresh water to the Alcázar. Only a few hundred people now live within the walls, and, if you squint your eyes and use just the tiniest bit of imagination, you could believe you're walking through another era. "There's very little here to show it's 2019," Mangut observes. 
After a couple of days walking the streets of magnificent Mérida, with its temples and archways and theater and amphitheater, a city that was once a major capital, the ruins here intertwined with the modern city—the columned Temple of Diana surrounded by bars and restaurants, excavated buildings sitting directly below modern apartments. We make a brief visit to the celebrated archaeological museum, then spend some time in the theater, which is still used for one of the largest and most famous summer festivals in Spain.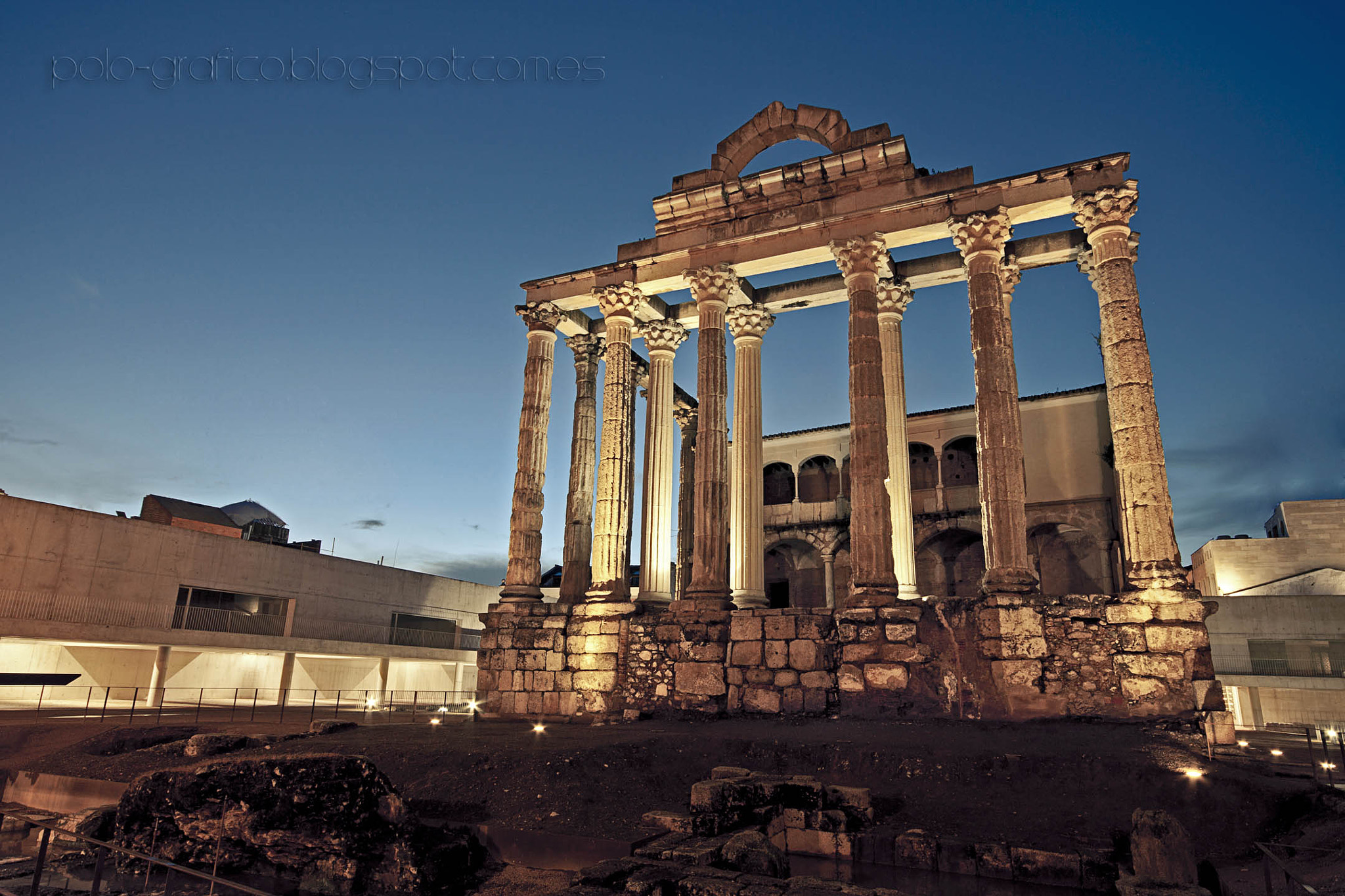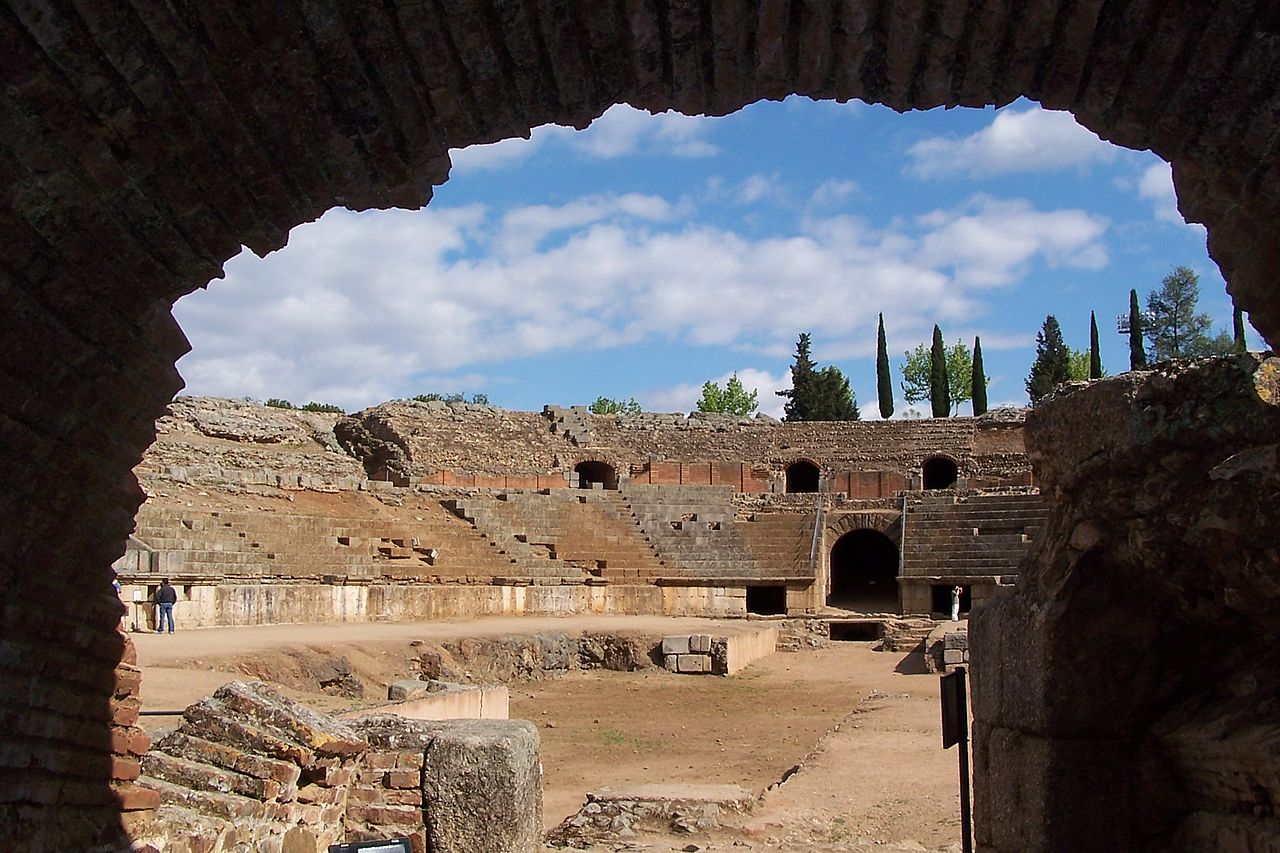 And about 20 minutes outside of town, rolling in the van through vineyards to a small village, we visit a recreated Roman house, called Aqua Libera, constructed and curated by an earnest group of staff intent to take us back in time. Constructed as a replica of a temple in Pompeii, it's built around a courtyard, with plenty of natural light. We don our togas, awkwardly adjusting the long robes, helping each other to make them look just right, shifting them on our shoulders, and pinning them in the right places, then take photos—by the pool, eating grapes, being Roman.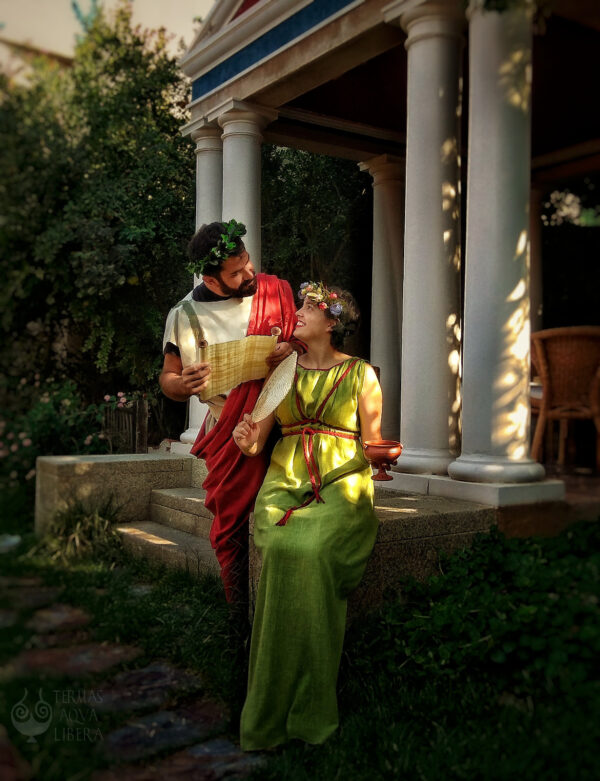 The lunch menu—served up in a traditional style, in those small boats—is derived from "Apicio," a period recipe book, translated from Latin. We drink honey wine, and eat hummus with cumin and sesame, and squid balls, and pork cheeks cooked in figs and bay leaf. 
Coming out at the end of the meal, all of us a bit drowsy from the big meal and sweet wine, Chef Alejandra Porro explains the challenges of using an ancient text as a cookbook. 
"You can't use sugar, or tomato, or potato, those all came later," she says. "And a lot of the ingredients in there, they don't exist anymore." 
Creating this modern adaptation, she says, has been a journey of discovery. 
"You think things won't mix, but then you try it, and it's amazing."
Ready for an old-school soak, we drop our togas and swap them for swimsuits, spending the rest of the afternoon in the recreated Roman baths. It wouldn't be long before we'd be back in the van, rolling back to Mérida. But for the moment, we're all Romans, soaking up the heat, imagining that we're all living a centuries-ago life, a time before Visigoths, locked in the past, at the height of the Pax Romana—happy, sleepy, and full from an ancient lunch.
If You Go
Most trips to the region will start and finish in Madrid. There, stay at the Hyatt Regency Hesperia. Newly renovated and set on the Gran Via, Madrid's main artery, the hotel is within walking distance of upscale shopping and a number of small, local restaurants. Grab a drink at the rooftop secret garden, El Jardín de Diana, before settling into your suite. 
To plan your Extremadura vacation, see Spain.Info/en/Que-Quieres/Ciudades-Pueblos/Comunidades-Autonomas/Extremadura.html
Toronto-based writer Tim Johnson is always traveling, in search of the next great story. Having visited 140 countries across all seven continents, he's tracked lions on foot in Botswana, dug for dinosaur bones in Mongolia, and walked among a half-million penguins on South Georgia Island. He contributes to some of North America's largest publications, including CNN Travel, Bloomberg, and The Globe and Mail.
The author was a guest of the Tourist Office of Spain.