Global Director Impressed With Shen Yun's Authenticity
April 5, 2014 10:24 am Last Updated: April 5, 2014 8:56 pm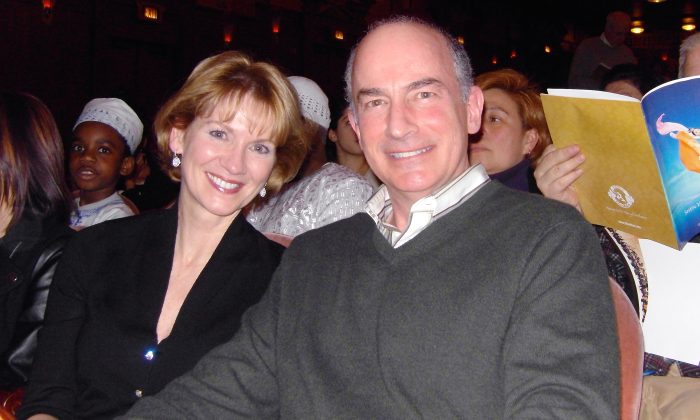 CHICAGO—Artist Robert Persichini enjoyed "the color of the display, and the costumes," of Shen Yun Performing Arts, after seeing the April 4 performance at the Civic Opera House with his wife, Cynthia.
"The dancing's exquisite," said Mrs. Persichini, the director of Global Procurement for The Pampered Chef, which sells high end cooking tools.
Through music and dance Shen Yun, brings 5,000 years of classical Chinese dance and music to the world.
What impressed Mrs. Persichini was the authenticity of the performance. "The historical authenticity of it is very interesting," she said, referring to the myths, legends and actual historical events enacted through dance and music.
Although the couple has traveled a great deal to Asia, Mr. Persichini said he wasn't aware of some of the mythology and folk stories before. "And I think to apply [those] with the choreography and the music, I think that's a great way of telling the stories," he said. Mr. Persichini paints, does product and graphic design, and "a little bit of everything."
"And the orchestra sounds wonderful," Mrs. Persichini said.
Supporting the short dance program is a full orchestra comprised of both Western and Chinese instruments.
The couple decided to see Shen Yun after seeing advertising. "We've noticed it over the last couple of years but just haven't had time to make it the previous times [where] they were touring through. So this year we decided to come and take a look."
Getting back to the visual elements, Mr. Persichini said, "I think it's interesting how they coordinate the video with the dancers at the front."
He was referring to the digitally animated backdrops that synchronizes action onstage with the environment behind.
"Mrs. Persichini agreed with that perspective: "I think it adds another dimension to the performance; it adds another dimension to the performance, having the backdrop, and intertwining the two."
According to the company's website, "The backdrops are magical windows to completely different realms. From vast open grasslands in one dance to the stately elegance of Tang Dynasty pavilions in another; from dusty yellow battlegrounds to tropical beaches to Himalayan peaks to picturesque scenery of the Yellow River Delta—the digital projection infinitely expands and transforms the stage."
Speaking of the whole performance, Mr. Persichini said, "It's beautifully done."
Reporting by Michelle Chen and Sharon Kilarski
New York-based Shen Yun Performing Arts has four touring companies that perform simultaneously around the world. For more information, visit Shen Yun Performing Arts.
The Epoch Times considers Shen Yun Performing Arts the significant cultural event of our time. We have proudly covered audience reactions since Shen Yun's inception in 2006