NEW YORK—Two men clad in leather and fur stand side by side with their legs wide and firmly planted on the ground, next to a Bactrian camel. All three stare straight at the camera. You meet their gaze, transcending time and place.
The world has changed so fast of late. We forget it was only about 150 years ago that photographers started to capture images, such as of these two tough and weathered men, traveling the Silk Road with a rather cheerful-looking, two-humped camel. You can start to imagine the trials and tribulations they must have faced carrying goods from perhaps as far as the Mediterranean.
The photograph was taken around 1890 by Sanshichiro Yamamoto, a Japanese photographer who established his second photographic studio in Beijing. It is one of 15,000 photographs in Stephan Loewentheil's private collection of early Chinese photography.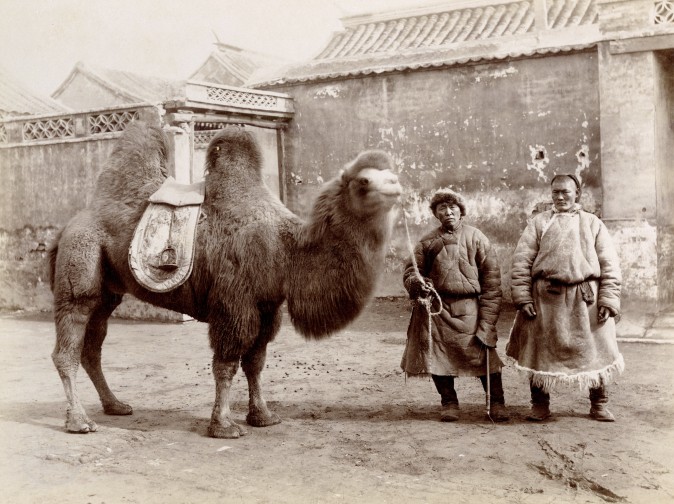 Loewentheil exhibited about 30 of his photographs, as part of Asia Week New York (March 9–18). That Asian art extravaganza included more than 50 galleries, five auction houses, and major museums, including The Metropolitan Museum of Art. "Masterpieces of Early Chinese Photography" was the only exhibition of rare photographs, and they were not for sale.
These photographs of exquisite taste and quality give you a glimpse of a lost world. The invention of photography at the time of the Qing Dynasty—the last imperial dynasty of China—allowed the depiction of traditional images of a country that looks dramatically different today. The photographs hold clues and remnants of a world we can still learn from and treasure.
Loewentheil chose to collect photographs in part because they communicate nonverbally. "It spans nations, it spans languages, and everyone can appreciate it. … They were made to speak without words," he said in the gallery exhibiting his collection, PRPH Books on East 64th Street.
Very few photographs showing remnants of China's ancient past have survived, rendering Loewentheil's collection invaluable.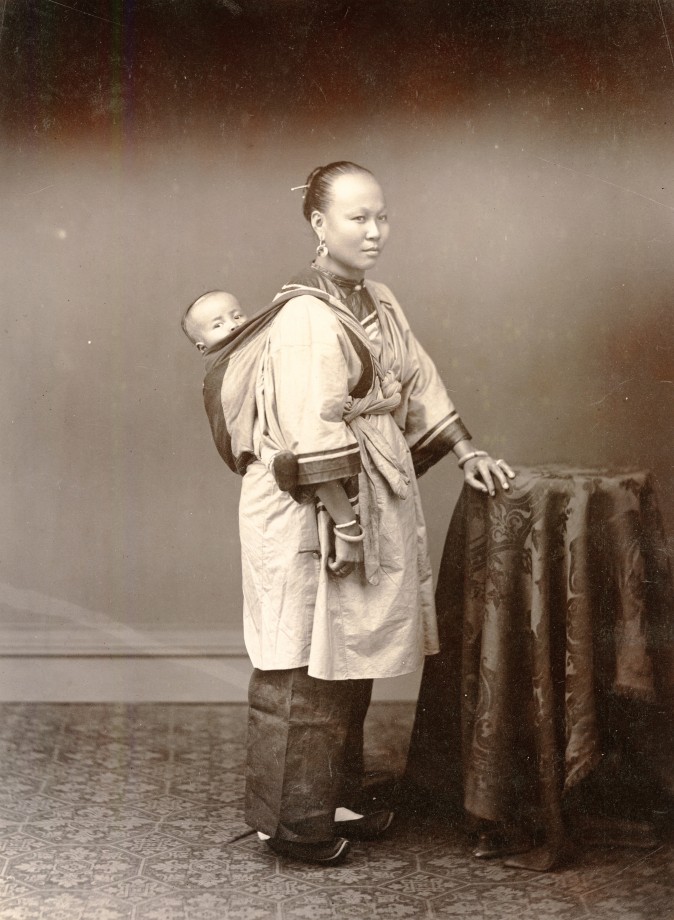 "Due to cultural phenomena inside of China, there was a long period in the 20th century when representations of prior cultural manifestations were deemed bourgeois and undesirable, and in many cases they were either ignored or sometimes destroyed," Loewentheil said.
As a professional book and manuscript dealer, Loewentheil often comes across photographic albums. He buys most of his photographs privately from dealers, and sometimes from major auction houses.
Almost all of his photographs of China were originally owned by travelers, merchants, missionaries, or delegates from other countries, among other kinds of visitors and migrants. "They wanted to bring home images of where they were—the wonders of China. So they bought these photographs and brought them out of the country. Those are the ones that survived," Loewentheil said.
Moments in Time
A photograph from the Chinese photography studio, A Chan (Ya Zhen), shows two men casually conversing in front of a small pagoda. A narrow bridge leads to the small structure, which has its entrance and windows wide open to the outside. The pagoda blends perfectly with the trees surrounding it, giving a sense of serenity. The photograph is beautifully composed and in incredibly good condition. The details of the image are very crisp, yet the photograph's artistic merit is even more commendable.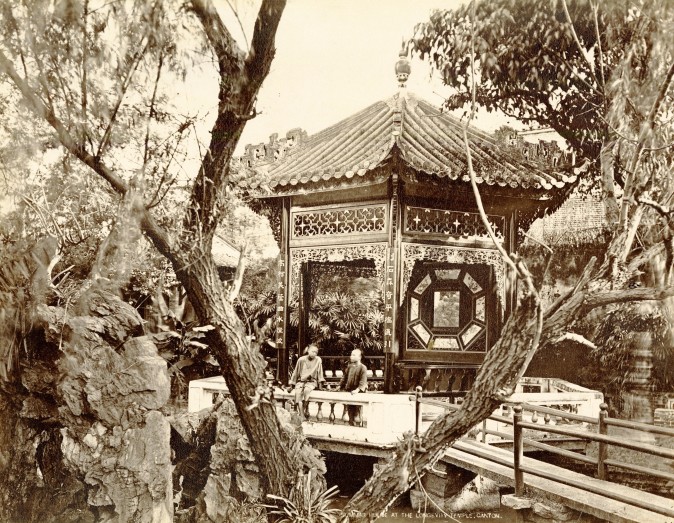 The A Chan photography studio operated in Canton (Guangzhou). Not much more is known about its photographer(s).
"This is an art that stands up to any photograph that was taken anywhere in Europe or America at a similar time," Loewentheil said of the A Chan photographs. "There were Chinese photographers who are as great as the great photographers in the West, and it's very important that we realize that." 
Scottish photographer John Thomson was the first to create serious photographic work in China's interior, traveling by boat up the river Min. He created a book of 80 prints titled "Foochow and the River Min" (1873). Only seven sets of his photographs have survived. Thomson was not a government official or missionary, but a professional photographer who used the collodion process, an early photographic technique using glass negatives and highly flammable chemicals. He, therefore, had to travel with many crates to carry his equipment, which included a portable darkroom tent.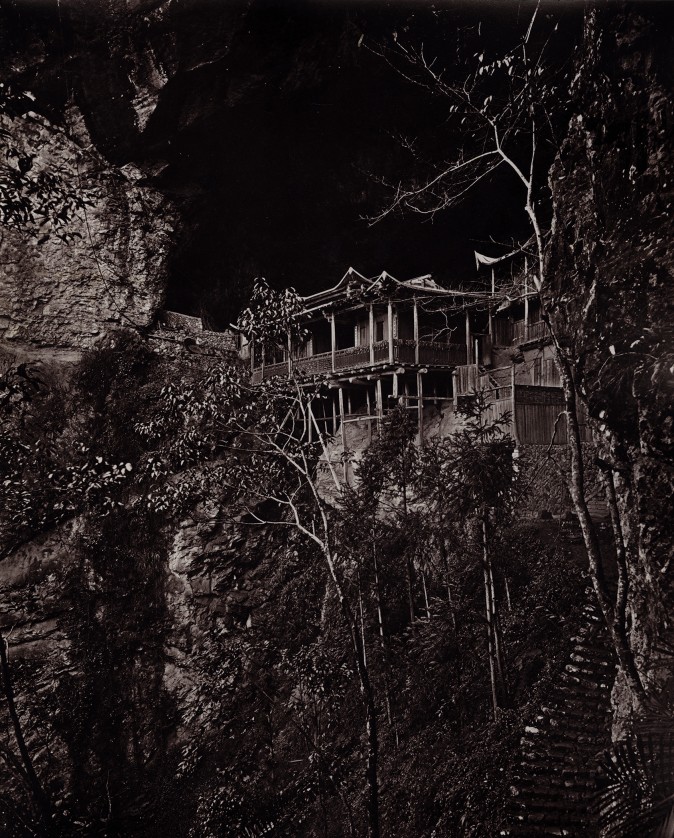 "Yuen-Fu Monastery Cave," the photograph by Thomson in Loewentheil's collection, looks rather eerie and mysterious. The monastery is perched on a cliff against a black sky. The details of the image are highly defined and crisp. It shows the sensitivity and skill of Thomson, who was known for his photojournalistic style of capturing the lives of people in an unassuming way.
Preserving a Legacy
Loewentheil's photographs of early China are rarely shown to the public and only on occasion to scholars. For preservation, the photographs are mostly kept shielded from the light in boxes, or behind UV plastic when displayed for short periods of time.
Loewentheil's son Jacob, with the help of Stacey Lambrow, is currently working on producing a book of the photographs of Thomas Child, who was the first to systematically photograph Peking (Beijing) in the 19th century.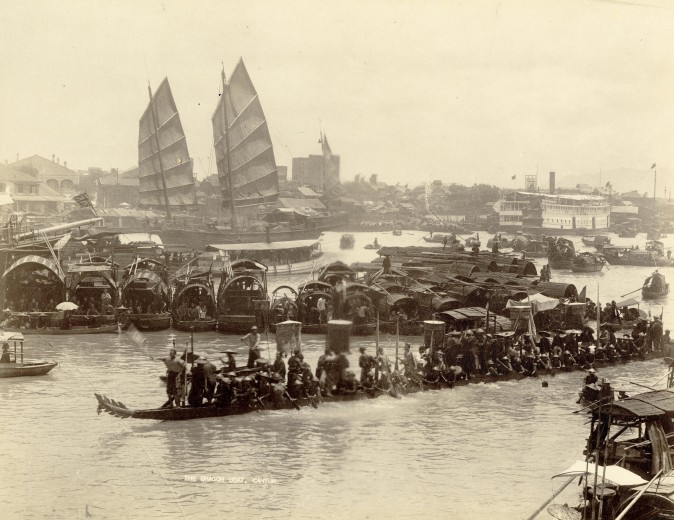 Beijing, like other major cities in the world, has undergone dramatic change, as seen in the growth of newer, bigger, and taller buildings. The growth resulted to a large extent in the disappearance of a way of life—the people, the architecture, the monuments, and the culture—that Child captured in 200 photographs in the 1870s.
Child lived in China for 20 years. He worked at the Imperial Maritime Customs Service as a gas engineer and practiced photography as both an amateur and professionally.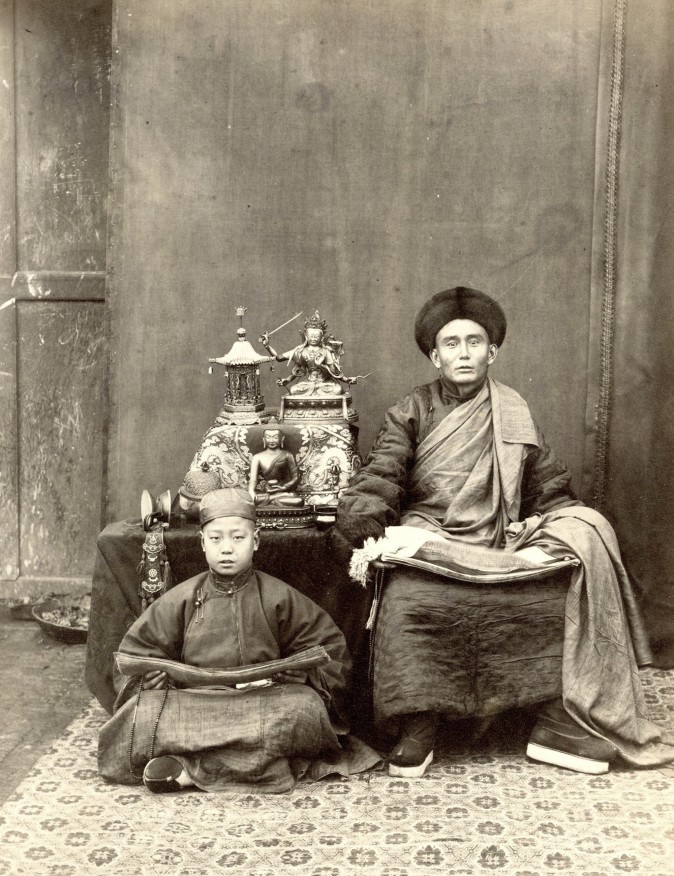 "Child learned the language, he loved the country. He was very good friends with many of the people in Beijing, which gave him exposure to places that he otherwise wouldn't have been able to see," Loewentheil said.
So far, they have acquired 150 of the 200 photographs by Child, and they expect to have the book published and available to the public for sale in a couple of years.
Stephan Loewentheil has been collecting photographs for over 30 years. His collection includes 7,000 albumen prints from before 1850 to 1912, and 8,000 photographs taken in the 1920s to the 1940s focusing on architecture in China, as well as an extensive collection of American photography of the 19th century.
"I felt that it would be interesting to preserve the photographic culture, in part, because I think those of us who love beauty and art and truth have an obligation to preserve that which is important," he said.
For more information, visit the 19th Century Rare Book & Photograph Shop's website: 19thshop.com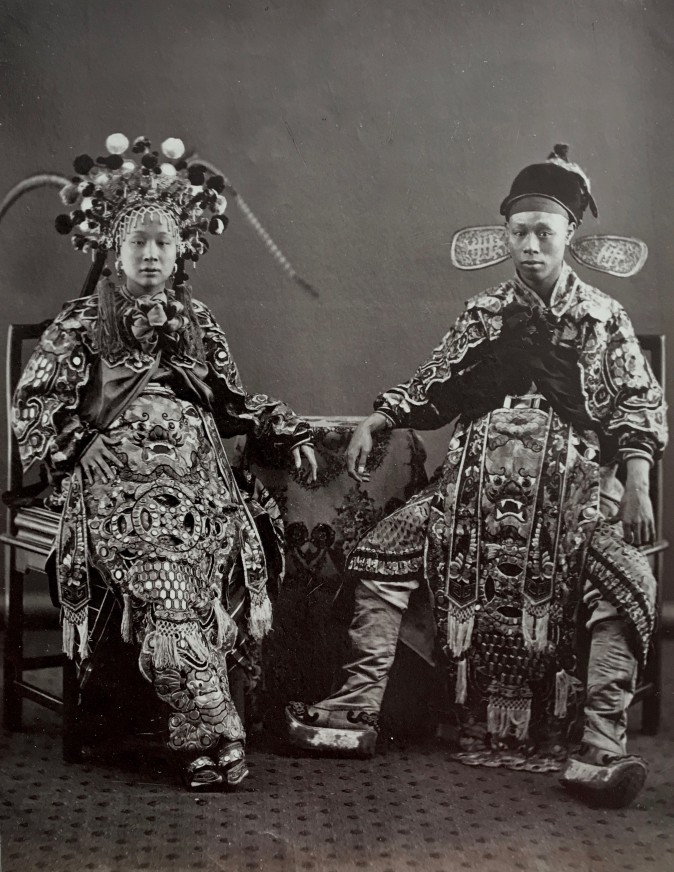 Follow @milenefernandez on Twitter @milenejf on Instagram