The holidays are a joyous time to gather with family and friends and reconnect to the most important aspects of life. It's festive. It's fun. It can even be magical.
These festivities don't just plan themselves, however. It takes organization to get through all of this fun and fancy without stress and anxiety. I asked online organizing coach and television personality Alejandra Costello for her advice about staying organized through the holidays. Here's what she said.
The Epoch Times: While the holidays are a joyous, family-oriented time, they can also be stressful—with lots of to-do's and at least one deadline that's non-negotiable. What are some organizational strategies you recommend to curb the stress and make space for the joys of the season?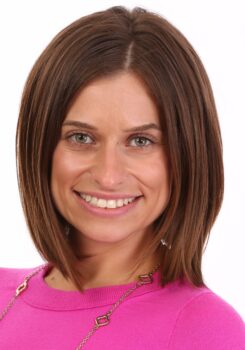 Alejandra Costello: Since the holidays can be so hectic, it's important to make lists and prioritize. This helps you quickly gain clarity and figure out what's most important.
Make separate lists of meals to prepare, cookies to bake, groceries to buy, gifts and stocking stuffers to shop for, holiday cards to send, thank you cards for after the holidays, things to do around the house before guests arrive. Add due dates to each list (or each task on each list) so you can prioritize and focus your energy on the timely tasks for each day.
If you begin to feel stressed by the volume of tasks on your to-do list, stop and ask yourself, "Does this really matter?" and "How can I make the task easier?" (If not, skip it or ask for help).
Maybe it's buying the pie instead of baking it from scratch. Or maybe it's handwriting your address labels on your holiday cards instead of typing up and printing fancy time-consuming labels. Or maybe it's skipping hanging the lights on the house and simply lighting one tree outside.
Whatever tasks are on your to-do list, getting into the habit of asking yourself these two questions can reduce stress levels so you can enjoy the holidays.
The Epoch Times: What are some common organizational mistakes people tend to make this time of year?
Ms. Costello: Lack of planning is a top mistake people make this time of year. If you're participating in the holidays, planning is crucial, whether you're the host or a guest. And doing so well in advance can ease the stress and eliminate overwhelm and confusion.
This includes planning and prepping meals, planning the order in which things will be cooked or baked, buying gifts and sending cards, cleaning and organizing the house, etc.
However, be mindful of over-planning (planning things down to the minute, being unrealistic), which can lead to high expectations and eventually disappointment. When we over-plan things, we leave little space for the joy of spontaneity.
Do enough planning so you don't feel frantic and instead can relax and enjoy. However, don't be so rigid that if something doesn't go as planned, you feel disappointed. Remembering what the holiday season means for you can bring things back into perspective.
The Epoch Times: Shopping for gifts takes time and energy. How can shoppers simplify their gift-giving and get it done without much stress?
Ms. Costello: Shopping online can save the time and energy of driving and shopping around town. However, the novelty of physical gifts fades over time. Instead, consider planning stress-free holiday experiences with loved ones, which gives both of you the anticipation of the event, the actual fun of participating in the event, and the lasting memory of the event to reminisce and share with others.
Ideas include holiday concerts and performances, volunteering to sort and wrap toys for a charitable organization, meeting for hot chocolate or sipping mulled wine, seeing festive light shows, going ice skating, making gingerbread houses, taking a class together, etc. Or, plan a winter event for after the busyness of the season.
The Epoch Times: Entertaining family and friends at home is another wonderful part of the season that can stress even the most organized of us. What simple things can be done to ready one's home for entertaining with ease?
Ms. Costello: Remove clutter and add holiday cheer!
At a minimum, clear the common areas of clutter to make space so guests can move around comfortably. This means putting items that are out of place back where they belong. For items you no longer need or use, consider donating them (the sooner the better before you change your mind!).
For items that don't have a dedicated home, put them in the space where they should go. For example, if you have a tall stack of mail piled on the kitchen countertop, yet you don't have a dedicated mail center anywhere in the house, move the mail to a visible spot in the office with the rest of your paperwork while making note to set up a mail center after the holidays.
However, if moving the clutter causes a bigger problem, then leave that particular pile of clutter as is and simply make it look neater.
Set the tone of the holidays by making your home feel warm and inviting! Diffuse holiday-scented essential oils or burn a candle such as cinnamon or pine to bring familiar aromas to guests. Just be sure not to mix too many scents, which can be overpowering.
Play holiday music from an already curated online playlist. Move board games, puzzles, cards, and photo albums to the coffee table to inspire guests to play, spark conversations, and have fun.
The Epoch Times: What's one key practice you employ to stay on top of your holiday to-do list?
Ms. Costello: I start with the easiest or most fun task first so I can build momentum! Once I accomplish one thing, it makes it easier to accomplish the next thing. If I feel resistance to doing a certain task afterward, I break it down into smaller bite-sized pieces that feel less daunting.
It also helps to get my body moving first thing in the morning before I start my day. Even if I don't feel like it, I still show up and do just five minutes. And five minutes always turns into 45 minutes. I never regret it and I always have more energy to seize the rest of the day.
The Epoch Times: What's your favorite part of the holiday season?
Ms. Costello: The loving energy! You can't go anywhere without experiencing some kind of holiday cheer. From smiling faces to kind gestures, to opportunities to give, to festive lights and decorations, to familiar music and people singing, to earthy scents, it all feels so nostalgic and brings back warm loving memories. This time of the year reminds you what's important—to love.