Cherries: The Ruby Fruit With Illustrious Beginnings
July 24, 2013 12:00 pm Last Updated: July 25, 2013 7:37 pm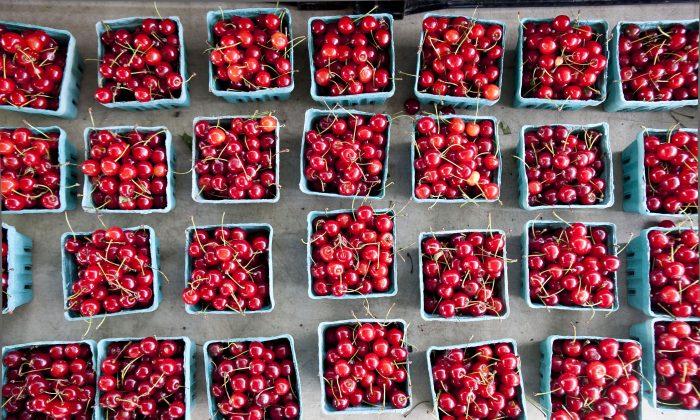 NEW YORK—Historically, cherries and their blossoms have symbolized profound cultural and metaphysical concepts—such as the soul of a samurai who lives without fear of death. 
Laura Gosalbo's and Gerard Solis' book, "Crazy about Cherries," expounds on the wonder of the cherry, including its seemingly protective ambience. According to Indian legends, Buddha's human mother, Mahamaya was protected and fed by a sacred cherry tree when she was pregnant with Siddhartha. 
The Greek word for cherry is "kerasos," which some linguists believe originates from the ancient Indian Sanskrit word "karazo," which roughly translates as "how sweet."
Cherries are prehistoric. Scientists have discovered fossilized cherry pits that date back as far back as the Stone Age, according to Gosalbo's and Solis.
As more research develops around the cherry, we find this sweet ruby fruit not only has a rich cultural history, but it has been a super fruit all along.
Health Benefits 
Cherries are a rich source of antioxidants and phytonutrients, and tart cherries are one of the rare food sources that contain melatonin, an antioxidant that helps regulate natural sleep patterns. 
According to a study by the School of Life Sciences in the U.K., where 20 subjects consumed either a placebo or tart cherry juice concentrate for seven days, people who drank the tart cherry juice had a significant increase in sleep duration and quality. 
Several reports say tart cherries are an emerging major super fruit. Researchers have also found a link between tart cherries and anti-inflammatory benefits, according to a 2001 study by Michigan State University. 
Twenty cherries are 10 times as potent as aspirin. Anthocyanins found in cherries block inflammatory enzymes, reducing pain, according to the California Cherry Board. They can reduce pain from gout and arthritis.
Recent studies also suggest that tart cherries can help reduce post-exercise muscle and joint pain, according to a study done by the Sports and Exercise Science Research Centre of London South Bank University. 
Tart cherries ranked number 14 in the top 50 antioxidant foods—beating out red wine, prunes, dark chocolate, and even orange juice, according to a study by the University of Oslo.
The Summer for Cherries
The United States is a large grower of cherries. Around 94 percent of cherries consumed in the country are grown here. 
"I generally don't like cherries, but this year I noticed that they are so juicy, so flavorful," said Sunchar Raymond, Union Square Cafe's pastry chef since 2011. 
"This year they're the perfect texture," Raymond said. "This is the best I've had in a while."
Raymond said she gets her cherries from the Union Square Greenmarket, where she can taste the freshness of the cherries before she buys. 
One of the stands selling cherries is Red Jacket Orchards, a family owned farm based in Geneva, N.Y.
"The farm did not receive as much flooding this year," said Weser Dorgee, who has worked for Red Jacket for eight years. "So the cherries are much sweeter this season."
Red Jacket has a plethora of darker colored cherries, which generally suggests a sweeter taste. Dorgee said they also sell special white cherries, which are known for their sweetness, and tart cherries, which are good for cooking. 
Red Jacket are only at Union Square on Mondays, but they sell cherry juice at the market four days a week. Cherry juice is a more concentrated form of the fruit, so people can take in more nutrients through the juice compared to just eating the cherries alone, according to Usgrowing.org.
Alan Troncillito, owner of the 75-acre Troncillito Farm in Marlboro, N.Y., said this season did not go as well for him due to storms. He lost about a third of his crop when it rained for 10 consecutive days.
Although his cherries are not abundant, they are still sweet. 
He offers four kinds: Scmhidt, Ulster, Cavalier, and the Hedelfinger Cherry. Hedelfingers ripen at a later time than the rest so they are extra sweet, noted Troncillito. 
His wonderful selection of tart cherries are recommended for turnovers, pies, and jam.
Troncillito Farm is a third generation farm, that sells a variety of vegetables and fruits. 
Summer Cherry Recipes
Cherry Frangipane 
Courtesy of Sunchar Raymond, Union Square Cafe pastry chef
Ingredients
2 sticks butter (softened)
¾ cup superfine sugar
3 eggs
1¼ cup almond flour
½ tsp salt
1 pint sour; 1 pint sweet cherries (pitted)
½ cup sliced almonds (coarsely crushed)
Method
1. In a large bowl whisk the butter and sugar for about 5 minutes or until slightly pale in color.
2. Slowly add the eggs one at a time and whisk until properly incorporated.
3. Now with a spatula in 3 parts fold in the almond flour and salt. It should be incorporated evenly throughout the batter.
Assembly
1. In a 9-inch store-bought pie/tart shell, spread or pipe the batter evenly. 
2. Then add your pitted cherries onto the batter. Spread it out so that with each cut or bite you take, you get a juicy bite of cherry flavor in there. 
3. Now, spread your coarsely crushed sliced almonds onto the cherries; evenly of course.
4. Bake at 325 degrees Fahrenheit for about 25 minutes or until golden brown on top.
Notes 
1. Do not over mix the batter as a frangipane should be dense and moist. You don't want to incorporate too much air in there.
2. This frangipane is gluten free if the pie/tart shell is not used. The batter can be baked in a well greased 9×2 cake pan. 
3. This batter will hold for a few days if kept in an airtight container in the refrigerator. 
Cherry Crumble with Salted Almond Ice Cream 
Courtesy of Michiko Cinar, Blue Smoke pastry chef 
Fruit Mixture
Ingredients
½ vanilla bean 
4 oz. sugar 
¼ tsp salt 
1 lb. sweet cherries; washed and pitted 
1 lb. sour cherries; washed and pitted 
½ tsp almond extract 
1 Tbsp + 1 tsp cornstarch 
Procedure
1. Scrape pulp of vanilla bean and add to sugar. Add salt to sugar.
2. Toss both types of cherries with sugar/salt/vanilla bean mixture plus the almond extract and let sit at room temperature for at least one hour or preferably overnight. If cherries are sitting overnight, they should be covered with plastic wrap and refrigerated.
3. The sugar mixture will draw liquid from the cherries. Strain liquid from the cherry mixture and save ¼ cup of the liquid. Add the cornstarch to the saved liquid and mix well.
4. Pour cherries into a 9"x 11" baking dish. Add the cornstarch liquid to the cherries.
5. Cover fruit with crumble topping and bake at 325° until crumble topping is golden and the juices are bubbling. (approximately 15-20 minutes). 
Crumble Topping
Ingredients
8 ½ oz. all purpose flour 
2½ oz. oats
½ tsp salt
½ tsp baking powder 
3 oz. slivered almonds
5 oz. butter, cubed
4 oz. light brown sugar
3 oz. granulated sugar
1 tsp vanilla extract
1 egg yolk
Procedure
1. In a bowl, combine all-purpose flour, oats, salt, baking powder and dry whisk together. Add slivered almonds and mix. Set aside.
2. Place the butter and both sugars in the bowl of an electric mixer fitted with a paddle attachment.
3. Cream the butter and sugar. Add vanilla extract. Add egg yolk.
4. Add flour mixture to butter/sugar mixture & paddle until mixture starts to form clusters. 
Salted Almond Ice Cream
Ingredients
1 oz. butter
2½ cups slivered almonds
¾ tsp salt
1 quart + 1 cup heavy cream
2½ cups milk
14 oz. sugar
15 egg yolks
Procedure
1. In a heavy bottom pot, heat butter until melted. Add slivered almonds and salt. Sauté almonds in butter until almonds are golden. 
2. Add heavy cream, milk and sugar to pot with the toasted almonds. Whisk to dissolve sugar. Once sugar has dissolved, take pot off the heat and let almonds steep in heavy cream & milk mixture for at least 2 hours. 
3. Once heavy cream/milk and almond mixture has steeped, reheat until just before boiling. 
4. Place egg yolks in a bowl. Whisk in the warmed cream/milk mixture to the egg yolks a little at a time. This will temper the egg yolks so that they will not scramble. Once the yolks have warmed, pour yolks into the pot with the remaining heavy cream/milk mixture. 
5. Cook over medium heat until the ice cream base begins to thicken. If the mixture is able to coat the back of a spoon, the ice cream base is ready to be strained. 
6. Chill ice cream base and place into an ice cream machine. Freeze according to manufacturers' directions.