NEW YORK—Every wall in every room, hallway, and stairwell of Frederick Ross's home is filled with stunning and captivating paintings, one right next to another, inviting deep contemplation. It would take at least two hours to take a quick glance at all of them. Ross has one of the largest private collections of 19th-century art in the country.
He founded the Art Renewal Center (ARC), a private, nonprofit educational foundation in 2000, after 23 years of collecting art that began with a small fortune he'd made in his food products company. His collection, which also includes living masters' works, has been growing steadily, mostly by trading up, costing him very little out of pocket.
Before buying a work of art, the first thing Ross considers is how he feels about it. "If I love it, then I take the next step," he said, giving a knowing chuckle.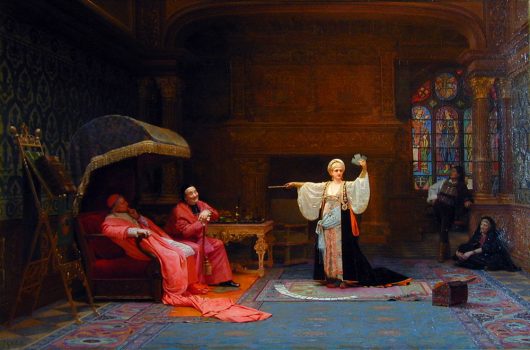 Even if a work is of historical interest, even if others might consider it a good investment because of its current social prestige, he may not consider it for purchase. "I only surround myself with works of art that I love, and I would recommend to any collector to do the same because the whole activity gains so much light and interest, value, and importance to you as an individual if you do that," he added.
When Ross started buying works by William-Adolphe Bouguereau for about $4,000, Willem de Kooning's paintings were probably already starting to sell for about $300,000, he estimated. 
If the artists of the 16th or 17th century could see Bouguereau's work they would want to take lessons from him.
Today 19th-century masterworks are still undervalued and can be bought at a bargain, for prices ranging from $5,000 to $1 million, compared with contemporary abstract works, like de Kooning's paintings that sell for about $10 million today or like the Barnett Newman painting, "Black Fire," which sold for $84 million a couple of years ago.
While Ross has been at times vexed or disgruntled and at other times bewildered about what that wide discrepancy in pricing signifies, he remains optimistic. He's optimistic not only because he has been actively contributing to changing the tide in the art world with the ARC, but also because he knows that the price of a work of art does not necessarily reflect its true value—especially in the long run.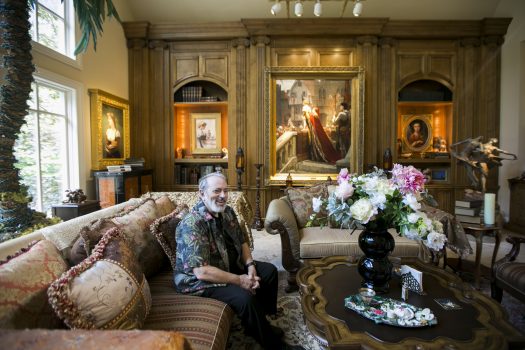 For decades, Ross has been speaking out against what he calls "the accepted gospels of modernist theory," uncovering and exposing layers and layers of hypocrisy in art history and in art criticism, and by implication, its effect on the art market.
He wrote a treatise on the value and importance of realist art titled "Why Realism?," which was his keynote address to the Connecticut Society of Portrait Artists in 2014. His main point is clear and simple: fine art is a universal language, with a recognizable set of standards, including visual vocabulary and grammar, that communicates across all continents and cultures. If a work of art cannot communicate visually—without a verbal description—then it is not successful and therefore not intrinsically valuable.
Awakened by a Bouguereau
The most prominently displayed and most expensive painting in Ross's house hangs in his oval-shaped foyer: "Jeunes Bohemiennes" ("Young Gypsies") by William Adolphe Bouguereau. He has been living with the painting for 37 years and says he never tires of it. It depicts a young woman holding a child in her arms, standing on a hilltop on a low horizon in the picture plane, silhouetted by the sky. They both look straight at the viewer.
"We are looking up at her and she's welcoming us into her world with the obvious intention that we should be welcoming them into ours," Ross said. "What better way to show the equality of all mankind than by raising the lowest of the low in society, gypsies and peasants, to the heavens."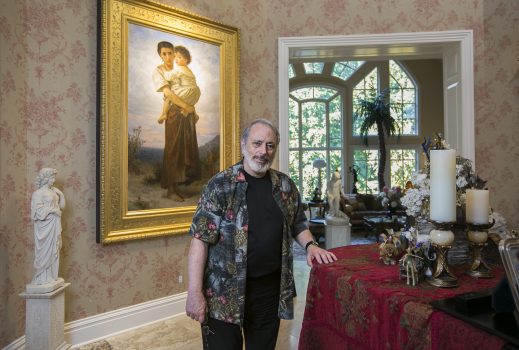 Ross favors 19th-century artists because they captured the ideas, concepts, and principles, such as life, liberty, and equality that emanated from the Age of the Enlightenment and that set the stage for the founding of the United States.
"The idea of modernists who like to say that these artists were irrelevant is preposterous. Not only were they relevant in the history of art, and in all of the actual social and political history, they were communicating the same things as the major writers of the 19th century, like Victor Hugo, Charles Dickens, and Mark Twain. Yet the writers are celebrated and these artists are denigrated?" Ross said.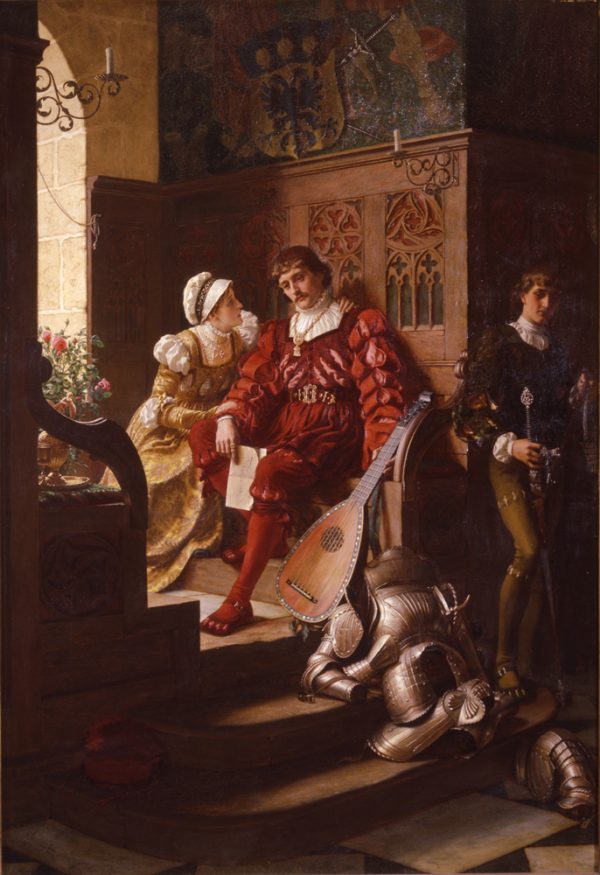 As he showed his collection, he would give interesting tidbits on paintings by Jehan Georges Vibert, Jules Breton, Lord Frederick Leighton, Edmund Blair Leighton, Gaston Bussière, and Sir Lawrence Alma-Tadema, among many others, but would pause longer in front of his Bouguereaus.
"Bouguereau managed to capture such an incredible sense of beauty, more than any other artist. … They say a picture is worth a thousand words, his paintings say so much more than my words can," Ross said looking up at a painting. That's a humbling comment given that he is the leading expert on Bouguereau, and has co-written the most comprehensive biography and catalog on the artist, "Catalog Raisonné on William Bouguereau," a two-volume work.
The first time Ross saw a Bouguereau was when he drove to Massachusetts in the fall of 1977 to see the leaves changing and to see a Renoir exhibition at The Clark museum.
"At the end of the hallway I saw this unbelievable painting in front of me. I just stood there spellbound by its magnificence," he said about Bouguereau's "Nymphes et Satyre." He hadn't felt such waves of artistic and spiritual ecstasy since he had stood in front of Michelangelo's sculpture of "David" in Florence, Italy.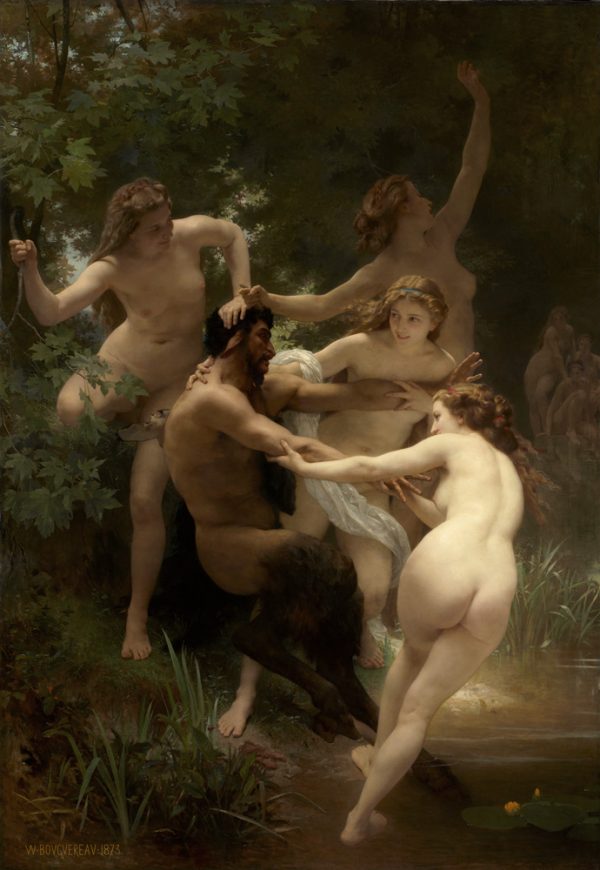 After he stood mesmerized by the painting for some time, his mind started racing with unanswered questions. He recalled thinking, "It must be of an old master, but I can't think of any old master that fits into the way this feels. It's nothing like 17th-century Dutch painting, either. It doesn't feel like anything like Botticelli, or high renaissance art," he said. He looked at the date—1873.
"I thought nothing this good could have been done in 1873, I thought the great artists, the old masters were long gone and the reason Impressionism was considered so great in the late 19th century was because that was the best anybody could do at that time," he said laughing.
Even though he had a master's degree in art education from Columbia University, he had never heard of Bouguereau before that fateful day in October 1977. "It seems bizarre that Bouguereau could have been eliminated from art education, but that's how modernism had the art world totally in its iron grip," he said.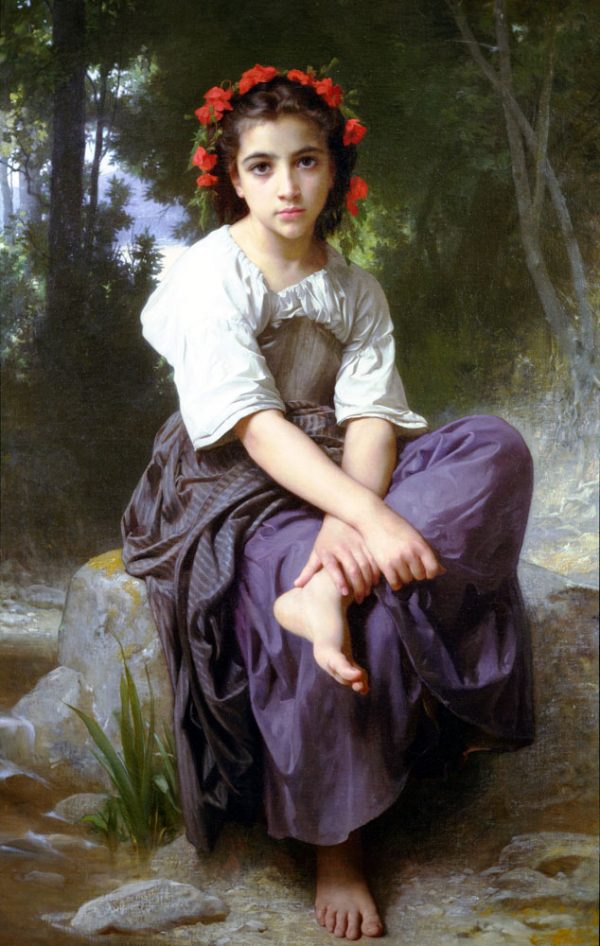 "The very same characteristics that art historians celebrated about Rembrandt or Michelangelo for being such great artists were the very same characteristics that were described to excoriate Bouguereau. It made absolutely no sense at all," he said. "Why is a work of art that was done in the 15th or 16th century considered beautiful, but one done in the 19th century with the same quality, or even better quality, denigrated with the excuse that it was not 'done in the right time in history?'" he added.
Despite the false narrative, the whole development of art techniques and education was developing and passed on from master to student, incrementally adding to the body of knowledge, generation after generation for hundreds of years, and hit its peak at the end of the 19th century.
"If the artists of the 16th or 17th century could see Bouguereau's work, they would want to take lessons from him. They would want to find out how he did it, because there's qualities that he achieved that they were not able to achieve at that time," Ross said.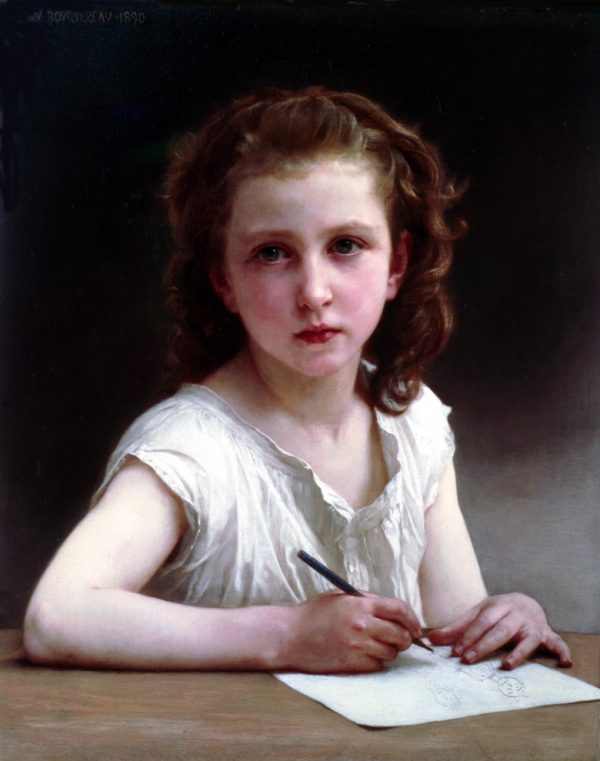 His first encounter with Bouguereau and realizing that huge gap in art education sent Ross on course to research the artist and 19th-century art as much as he could. Now he is working on the third edition of "Catalog Raisonné" with his daughter Kara Ross, who is also currently working on a catalog raisonné on Edmund Blair Leighton, a well-known 19th-century English artist.
Love of Fine Art Versus Money Worship
Ross attributes the rise of modernism, its rhetoric against realism, and a general atrophying of connoisseurship, to greed. At some point, the love for fine art was abandoned for money worshiping.
For example, Bouguereau was very prolific. He would finish a painting in two or three weeks; in a single year, sometimes he would even finish up to 25 paintings. Most realist artists are not that prolific. But Ross explained that even a Bouguereau art dealer would have a list of 50 to 100 people waiting to buy a Bouguereau and would have them all sold before the painting would come off the easel.
"So you had dealers of great artists biting their nails, waiting for each painting to be finished while thinking of all the money that could be made if only they had an endless supply. But now, if they could make people think that so-called works of art that are created in minutes or hours, instead of weeks or months, are fabulous for any reason you can think of, they could make a bigger profit," Ross explained.
I only surround myself with works of art that I love.
"And of course now there are very intelligent, articulate people who can come up with incredible, convoluted ideas and terms, 'artspeak,' to make people believe that black means white and up means down, to justify the price of works of [abstract] art that were really nothing more than meaningless dribbles and splats of paint," Ross said.
Ross reasons that for decades some contemporary abstract art collectors have been fooled by what he calls "prestige suggestion"—in other words, all smoke and mirrors. "Any time people or even product names hold the trappings and symbols of quality, value, or expert authority, then people tend to see quality, value, or importance due to those symbols," he wrote in his essay "Why Realism?"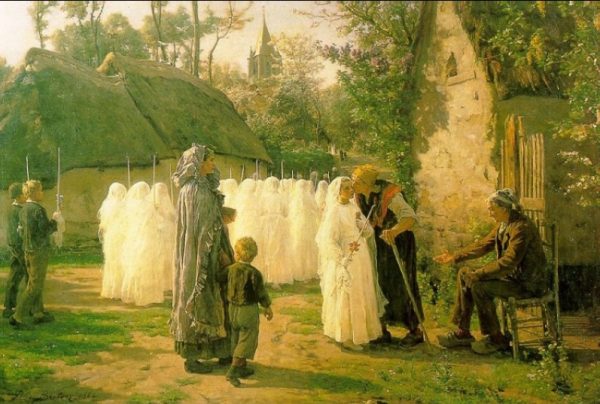 "You have people with Ph.D.s and master's degrees, curators and museum directors of important institutions, people who are supposedly in the know saying that this, that, and the other thing is important and valuable, can easily fool people who feel that they don't know anything about art. It's a case of the emperor's new clothes," he said.
When Ross looks at a de Kooning painting, he sees nothing of value. "There's nothing there, zero, absolutely nothing," he said.
He sees a huge disconnect between the true value of a work of fine art and how it is priced still going strong. "It's not going to stop any time soon, but I do predict that when it does stop, it will fall so fast and so furious that a $50 million Jackson Pollock won't be worth $5,000. The only value they will have is to tell the story of what happened at one point in history," Ross said.
He's confident the tide in the art market will change eventually, but he cannot predict when. "There's a lot of tide to move," he said, chuckling.
There's a major masterpiece of girls lining up for confirmation in white dresses, by the 19th-century painter Jules Breton, titled "The Communicants." It sold at auction at Sotheby's in May. "I was hoping to buy it, but it went for three times the estimate," Ross said, smiling.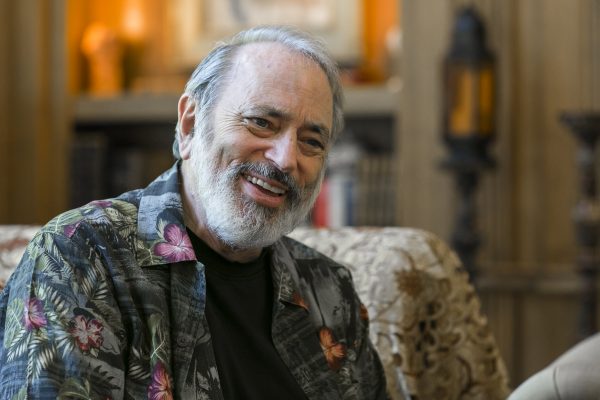 "This Is New York" is a feature series that delves into the lives of inspiring individuals in New York City. See all our TINYs here: epochtim.es/TINY or follow @milenefernandez on Twitter.
Primer for Fine Art Collectors—Advice from Frederick Ross
Consider how you feel. Consider buying a work of art only if it speaks to you, only if it has meaning, and only if you love it.
Consider who the artist was in history, or for living artists, who he or she is now. (There are different criteria for living artists.)
If the artist has very little importance historically and if you cannot find evidence that he or she has done many great works, then maybe it is just a one-off piece that appeals to you, but there's no reason to think that the artist has been a great artist in other ways. In that case, it's better not to purchase that work of art because there's an investment side to collecting.
Consider if the work of art is characteristic of what the artist is famous for, because in case you decide to sell that work later, other collectors are always going to want paintings with the subject matter the artist is known for depicting.
Consider the condition of the painting. Ideally, it should be in fabulous condition. If it is not, then determine how far off it is from mint condition. A black light (UV light) will show you any extra paint that has been put on the painting since it was finished by the artist. If there was damage and it was restored, and especially if it was restored really well, you might not spot the new paint on it unless you know how to read it through a black light.
Determine whether the painting has been relined for restoration (if the painting has been reinforced with a second canvas on the back of it) or not. If a painting is not relined, it is usually better, especially if the paint is firm. But if the paint starts to look like it's cracking off the canvas, it could be vulnerable to damage.
It is better to have a signature on the painting and the signature should match the way that artist signed paintings. There are a lot of fake signatures on real paintings, or the painting may have been authenticated but the signature has worn off. There are dealers who know that they can get twice the price if it has the signature on it, so they will have somebody add one, and that can be discovered with a black light.
Buying from dealers can be an expensive way to collect, if you are not careful to go to a reputable one. Like any vendor where you are buying at retail price versus wholesale price, dealers need to make a profit as well. With expertise you can sometimes get better prices buying at auction, but not necessarily. A good gallery can give you additional advice and expertise on the work you are interested in and sometimes great deals can also be found. Also, dealers have access to works that are not necessarily available for public sale and things that have never before been to public auction—something that is becoming more sought after by individuals worried about Artnet and other online sources of public auction information, which divulge purchase prices for an object. Sotheby's and Christie's are the top auction houses, so it can be harder to get better prices there because they get the top collectors in the world bidding on the works. But larger houses and most dealers also guarantee authenticity, so when buying at a small auction house, you need to have the expertise to know you are buying something legit.