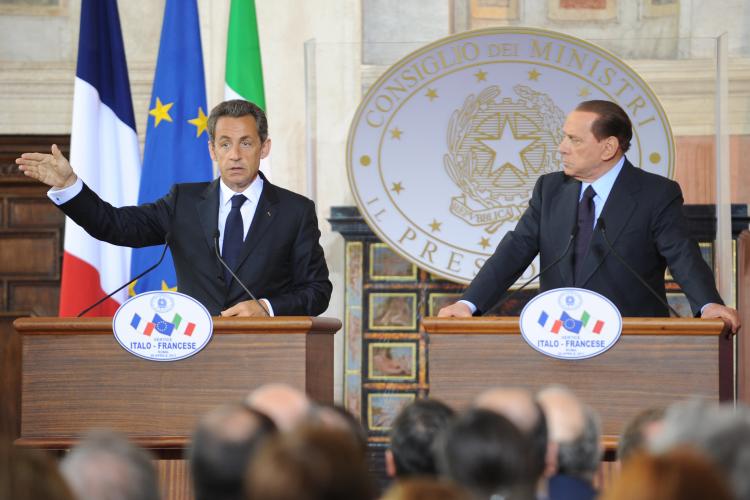 The Arab and North African revolts have sent a spike of emigrants fleeing to Europe, prompting French and Italian leaders to call for modifications to the open border policy between European countries on Tuesday.
Over the past weeks, some 25,000 Africans have crossed the Mediterranean to Europe, with the majority landing in Italy.
While Italy has grown used to being one of the main European entry points for African emigrants seeking better political and economic circumstances, the recent influx has put a heavy strain on its resources. Italy had hoped that other European countries would share in the immigrant burden, but to date, none have stepped forward.
Italy angered other European member states when it issued six-month residency permits to thousands of Tunisian migrants, allowing them to travel freely between 25 European countries, a zone known as the Schengen Area.
Many Tunisian migrants head to France after receiving their Italian paperwork, since they speak the language—as Tunisia is a former French colony.
In response, France stepped up its border patrols, sending the migrants back to Italy, despite their permits. In some cases, migrants were sent back multiple times.
At a summit in Rome on Tuesday, French President Nicolas Sarkozy and Italian Prime Minister Silvio Berlusconi, called for a review of the existing Schengen Zone, arguing that the free travel agreement, dating back to 1995, should be modified to fit current circumstances.
"We want Schengen to live, but for Schengen to live, it must be reformed," Sarkozy said, quoted by Le Monde.
According to Italian Foreign Minister Franco Frattini, Italy is only seeking a "check-up" for the treaty and has no intentions of changing the free travel agreement in Europe.
Sarkozy and Berlusconi sent a joint letter to Brussels, which hosts the EU's principal institutions, calling for an "in-depth revision" of the Schengen agreements.
The summit meetings appear to have smoothed out French-Italian relations that had become charged in recent weeks over the immigrant issue.
After the summit Berlusconi said it was "very positive" and Sarkozy said Italy was "a brother country," Le Monde reported.
Earlier this month, France angered Italy when it suspended train service to the northern Italian town of Ventimiglia, saying that activists on board a train with Tunisian immigrants, posed a threat to public order.