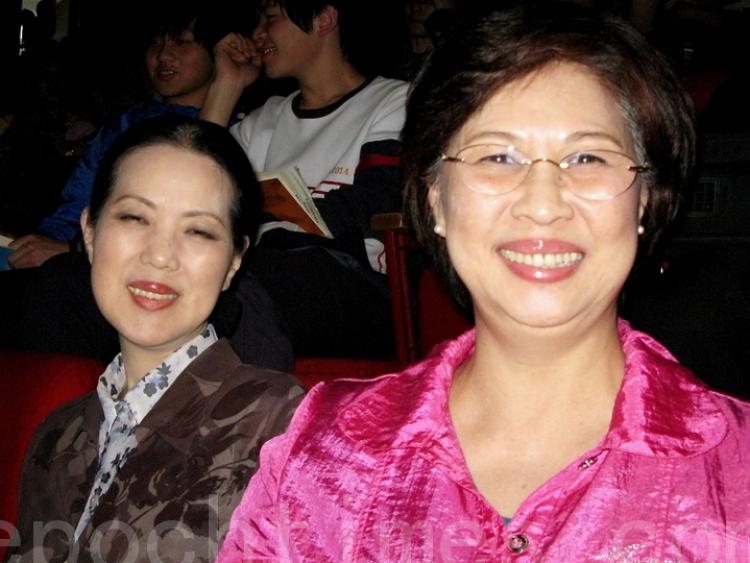 TAIPEI, Taiwan—In the past three years, whenever Shen Yun Performing Arts International Company staged their annual performance in Taiwan, Ms. Liao Zhaoxiang, founding president of Ba-de International Female Lions Club would invite her younger sister, Ms. Liao Zhaomei, chair of Gaia Power, to watch the show. This year was no exception. After the couple watched the first additional show on April 19, they agreed it was so good to see a world-class performance
"Shen Yun is an eminent show known to the entire world!" said Liao Zhaoxiang, the elder sister.
In trying to describe how Shen Yun was warmly welcome in Taiwan, she named the cities where Shen Yun staged their performances, "Taoyuan, Keelung, Changhua, Tainan, Kaohsiung … ."
She said the publication about artistic presentations by Dr. Sun Yat-sen Memorial Hall in recent years has provided her information about the New York-based Shen Yun performances. Therefore, she was aware of Shen Yun's performance schedules so couldn't miss the show.
"Fabulous! Every dancer's body movement is so elegant. It creates a sensation of extraordinary peacefulness," said Liao Zhaoxiang.
"The male performers dancing skill has reached an exceptional level. It is so vigorous that the audience was fully engrossed."
As the show proceeded, the audience might burst into laughter at times or stay in tranquil silence according to a scene.
"The live music accompaniment by Shen Yun Orchestra and the dancing artists' movements are so peaceful and collocate each other so well. Without a doubt, Shen Yun is the best performance in the world."
"The backdrop is fantastic!" praised Liao Zhoaxiang about Shen Yun's adoption of the high-tech dynamic backdrop.
As a former aesthetic instructor, she could not help but express her admiration for Shen Yun's costume design. "The color collocation is very exquisite and fully illustrates the beauty of Chinese classics."
"We enjoyed Shen Yun's majestic, world class performance. Every program wins high praise and warm applause from the audience."
Finding no way to hide her joy, Ms. Liao Zhoaxiang kept laughing and said, "We will come again next year!"
Ms. Liao Zhoumei, sitting beside her elder sister during the interview, nodded her head to indicate her assent, adding "Every aspect of Shen Yun performance has been excellent."
Reporting by Huang Caiwen.
New York-based Shen Yun Performing Arts has three touring companies that perform simultaneously around the world. For more information, visit ShenYunPerformingArts.org