Edward Bowen carried a .45-caliber pistol, pencils, a sketchpad, Kodak Instamatic camera, and compact Bible into Vietnam in January 1969 for an unusual mission—documenting the war as a combat artist.
A 24-year-old art teacher at Villa Park High School, Bowen was drafted into the U.S. Army, where he would spend 10 weeks at basic training and 10 weeks studying to be a transmission mechanic and door gunner for military helicopters.
In an interview 52 years later from his home in Newport Beach, California, Bowen, now 78 years old, said it was an intervention from God that saved him from a job in Vietnam his sergeant said he would likely kill him. It led him to become a military artist and art teacher, helped him start his own successful Christian jewelry company, and allowed him to teach people of all ages about his craft and war experience.
Bowen said he had "learning blocks" all his life, which made it difficult to do the task he was assigned during advanced individual training in 1968. He flunked all the helicopter mechanic tests and his superiors accused him of being a shirker. Things weren't looking good.
"I was in utter despair," Bowen said. "I cried out to God."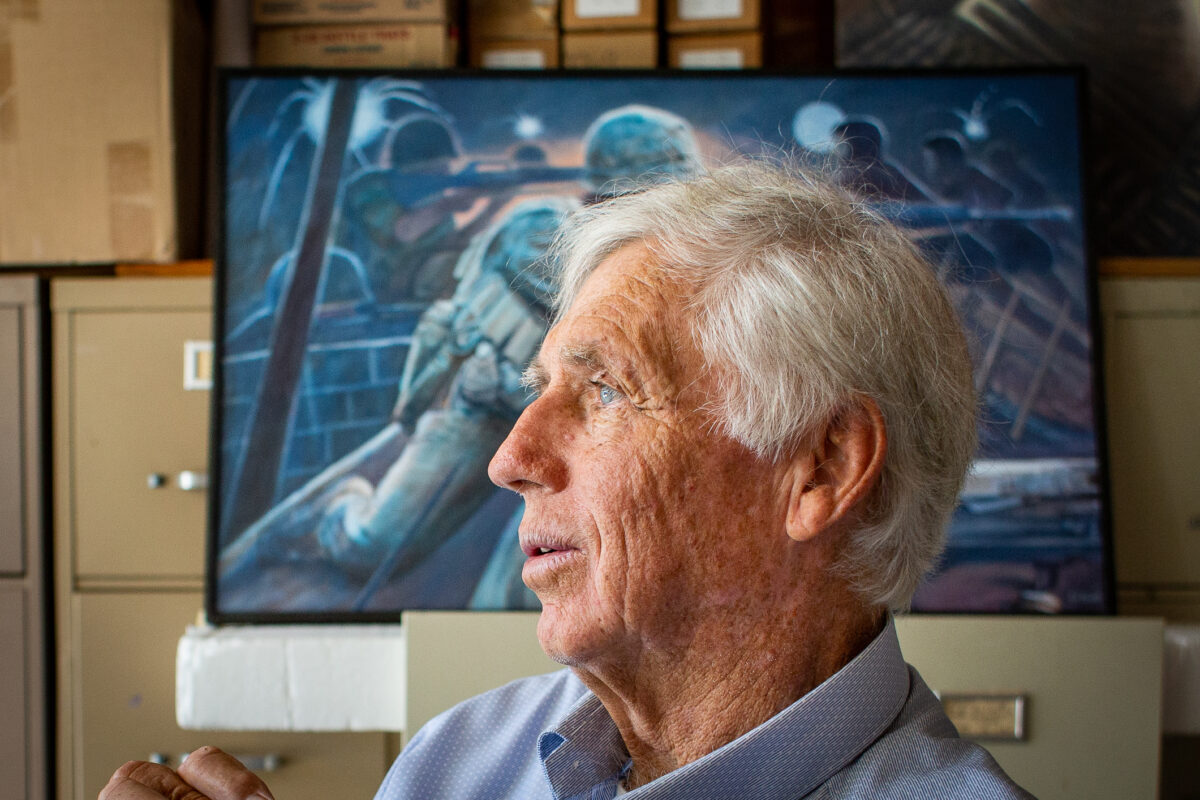 While marching in formation, he slipped away and found a quiet pond on the outskirts of Fort Eustis in Southeast Virginia. He pulled out his Bible and read, eventually falling asleep in the picturesque wilderness.
"That's when God began to intervene and He got me out," Bowen, a devout Christian, said. "He made me different and I need help. I want to be an artist."
Shortly after that encounter, he frantically went to track down the master sergeant, who was in charge of the helicopter mechanic school. Bowen told the front desk he needed to speak to the sergeant about personal business and was granted an immediate meeting with him, a rare occurrence in the military.
The two ended up talking about art for an hour, and Bowen was commissioned to paint a helicopter battle scene in the mess hall. That was the spark that led Bowen to become 1 of 46 combat artists who would help tell the story of the Vietnam War.
"Art is a gift from God. Mystery and beauty would sum it up," Bowen said. "In the mystery of war, you've got pain, you've got sorrow, you've got fear, you've got confusion, loneliness, emptiness. I can convey some of what they experienced and what I experienced in my art."
During the past four years, Bowen, typically accompanied by 6 to 15 other veterans, has spoken at 12 middle and high schools through the Freedom Committee of Orange County, an organization that allows veterans to share their stories from World War II, the Korea War, the Vietnam War, the Gulf War, Afghanistan, and Iraq. In his talk, he teaches the history of combat art, which has been around since the Civil War, and his personal, professional, and faith story interspersed with his military art. He's also presented at local homes, museums, and churches.
While Bowen was assigned as a combat artist, the choice to ultimately deploy to Vietnam and put his life in danger was his. He rarely was involved in front-line action, but there were plenty of times when he feared for his life.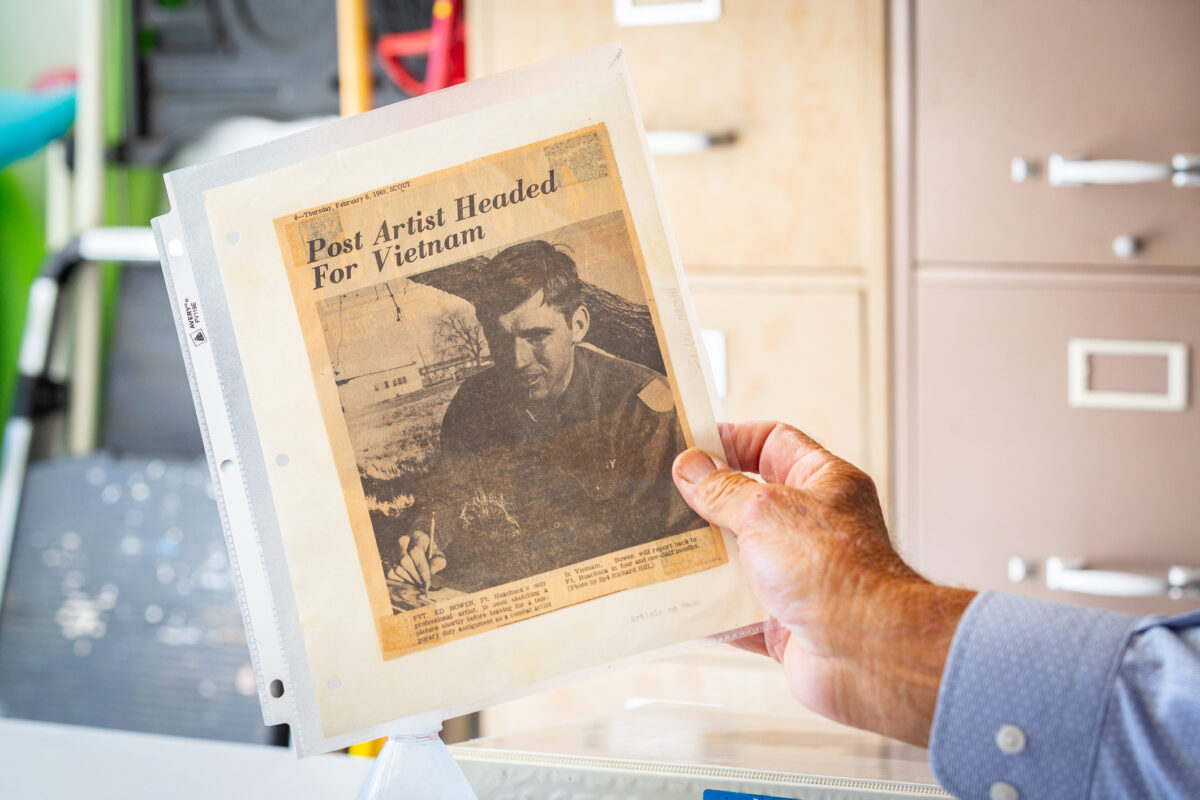 He joined a group of five artists operating out of Long Binh Post, the army's largest base in South Vietnam. They flew north to experience different parts of the war effort and draw inspiration for their art.
One of the bases Bowen visited was besieged by North Vietnamese forces, and no one was allowed in or out. He was told thousands of soldiers, many of them naked so they could feel the tripwires, were probing the perimeter for a weakness. If they found one, a soldier would signal and send in a wave of people to try to break through the defenses.
Even as the mortars fell from the Northern Vietnamese army, the bunkers were at capacity and Bowen had nowhere left to stay that night but tin shacks. He made a quick decision to move to an old abandoned swimming pool, a relic from Vietnam's colonial era, and the series of catacombs underneath. Every now and then the mortars would illuminate the cave and he could see water trickling down the stone walls.
"As a Christian, I'm not supposed to fear, but when that fear came on me, I couldn't ignore it," Bowen said of that attack. "I didn't understand what I do now that there's angelic protection. And I think there probably was that night."
The wall wasn't breached and Bowen lived another day. When he got out of the military, Bowen used the GI bill to get his master's degree in fine art. He went on to teach at Fountain Valley High School, get married, and have two kids.
While teaching jewelry, he decided to sell some rings on the side for a local Christian bookstore. When he started making more there than he did at his teaching job, he started his own company Ed Bowen Jewelry in 1975 and continued to run it until 2015.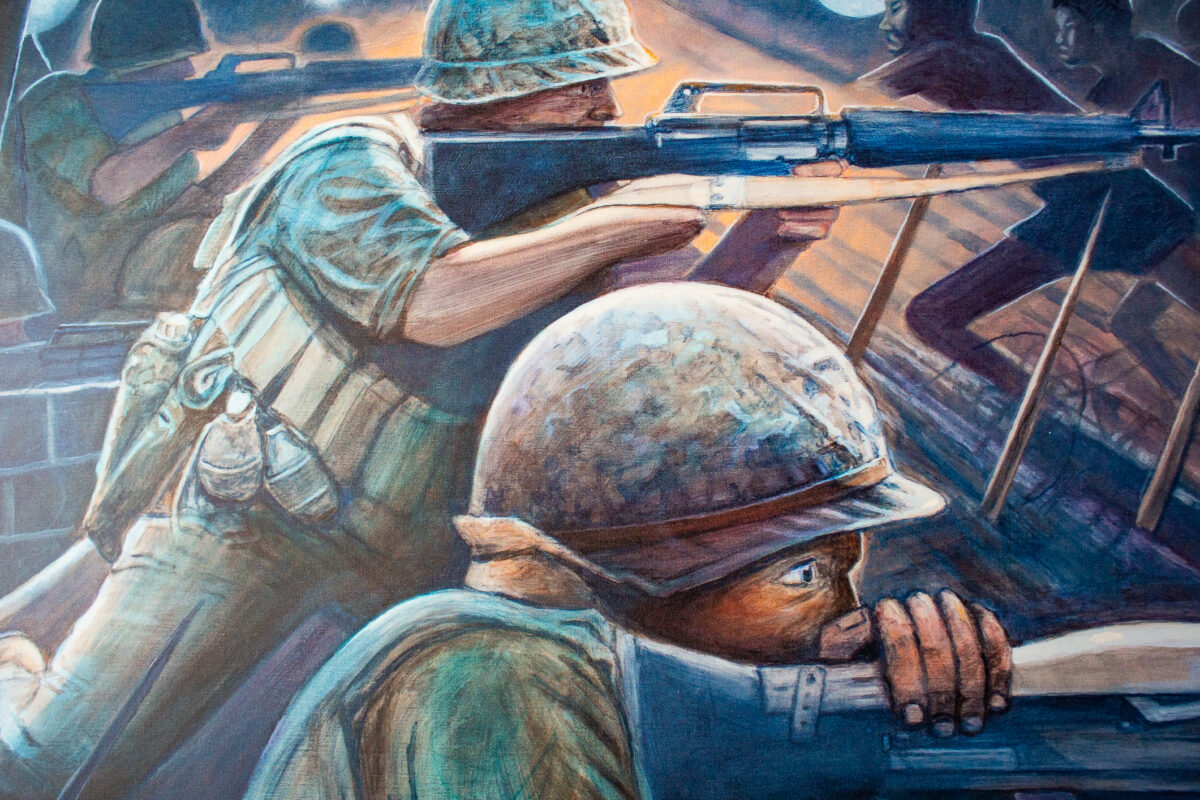 It wasn't until after 2015 that Bowen rediscovered his love for painting scenes from the Vietnam War. Talking to the younger generations about his story through the Freedom Committee has also multiplied his passion for military art.
Bowen recently had three of his paintings accepted for the "Through Their Eyes" exhibit, which will display art from veterans at Heroes Hall, refurbished military barracks honoring veterans, at the OC Fair and Event Center starting Oct. 13.
In his old age and battle with a rare lung disease called pulmonary sarcoidosis, Bowen is happy to be living for a purpose, continuing to explore the realities of war through art while informing younger generations about the sacrifice of their forefathers.
"I just thank the Lord for his goodness to give me the ability at my age to be able to get out and do something. And I'll say this, everybody needs a vision, something to shoot for, a dream," Bowen said.