Former Councillor Says Shen Yun 'Very uplifting'
'I wish every Australian could see that'
April 16, 2014 9:13 am Last Updated: April 16, 2014 10:27 pm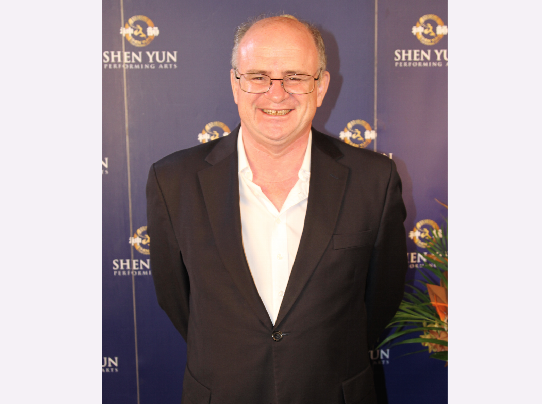 SYDNEY—"It's a very uplifting message," said Andrew Wilson, Parramatta City councillor when he saw Shen Yun Performing Arts International Company at the Sydney Theatre on April 16.
Mr. Wilson has served on the council for 12 years and with his last position being deputy mayor.
He was moved by the performance Buddha's Compassion Shines Forth. The program book explains "The curtain opens on a scene of Falun Dafa followers peacefully practicing their meditative exercises around the world. The scene turns to China, where a young couple suddenly faces persecution for doing the same."
He said, "The part where the red guards are attacking people in Shanghai, I thought was very moving, I wish every Australian could see that."
He found it difficult to understand why people would persecute other people and found in the end good conquers evil.
"A message of hope! So I think that that's good. … you realise that repression can't last for ever and you wonder what these people say to their mothers when they go home at night," he said.
He felt the message of tolerance, truthfulness and compassion was really positive and that anyone who practiced that must be a good person.
Shen Yun is based in up-state New York and according to their website "For 5,000 years divine culture flourished in the land of China. Humanity's treasure was nearly lost, but through breathtaking music and dance, Shen Yun is bringing back this glorious culture."
Mr. Wilson said, "It was very nice … to see the traditional stories of China it makes you realise what's been lost."
Shen Yun has classical Chinese dance at its heart but also includes folk and ethnic dance as well as mini-dramas and solo singing performances. Shen Yun uses a state-of-the-art digital backdrop, a unique feature.
The website explains, "Shen Yun's digital-backdrop team creates vividly animated settings, extending the stage and transporting the audience to a world where heaven and earth are one."
Mr. Wilson said, "I thought that was just terrific."
Many aspects of Shen Yun's dancing and music enthralled Mr. Wilson.
"The athleticism of the dancers was just absolutely marvellous."
Another hallmark of the company's productions is the vocal soloists' use of bel canto operatic technique to sing Chinese lyrics.
"The singers—right on the money," he said.
An integral part of the performances is the Shen Yun Orchestra, which has been highly praised by audience members world-wide.
He agreed that the blend of Western and Chinese instruments "was really wonderful."

Reporting by NTD Television and Leigh Smith
New York-based Shen Yun Performing Arts has four touring companies that perform simultaneously around the world. For more information, visit Shen Yun Performing Arts. 
The Epoch Times considers Shen Yun Performing Arts the significant cultural event of our time. We have proudly covered audience reactions since Shen Yun's inception in 2006.