Former Councillor Says Shen Yun 'Both Stunning and Amazing'
April 11, 2014 12:28 pm Last Updated: April 12, 2014 9:06 pm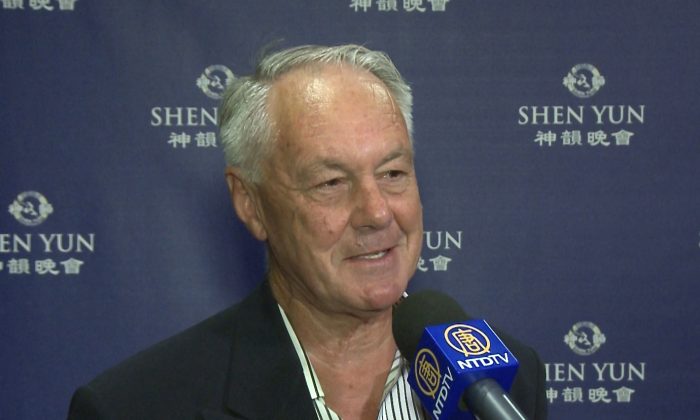 AUCKLAND, New Zealand—"Excellent! Amazing!" said Martin Lawes when he saw the first performance of the Shen Yun Performing Arts at the Aotea Centre, ASB Theatre with his wife, Manee, on April 11.
"I would call it both stunning and amazing," he said.
Mr. Lawes is a former city councillor, former chair of the Takapuna Community Board and has worked in the corporate sector for over 30 years. This is the fourth time Mr. and Mrs. Lawes have seen the New York based Shen Yun.
"We enjoy it every time," he said.
"It was great. That's why we keep coming back."
Shen Yun has classical Chinese dance at its heart but also incorporates folk and ethnic dance.
According to its website "Classical Chinese dance has its own set of training methods in basic skills and has strict training in both physical expression and specific postures. It also involves learning combinations of leaps, turns, flips, spins, and other aerial and tumbling techniques. It is a vast and independent system of dance."
"The props are amazing! The dancers! The choreography is stunning!" Mr. Lawes said.
"Everything was just fantastic and it was well worth coming to. I don't think you could see a better stage show."
He was very impressed with the ability and dedication of the dancer.
"Their commitment is reflected in the performance, which is just outstanding."
The Shen Yun orchestra has a blend of traditional Chinese and classical Western instruments playing original scores.
Mr. Lawes said "the orchestra of course, they are always stunning."
"Through the universal language of music and dance,Shen Yun weaves a wondrous tapestry of heavenly realms, ancient legends, and modern heroic tales, taking you on a journey through 5,000 years of Chinese culture. Its stunning beauty and tremendous energy leave audiences uplifted and inspired," explains the website.
Mr. Lawes felt there was a message in Shen Yun. He said, "I think the message is good. … It's about good living, having a belief and practicing a belief."
He said Shen Yun made him "feel warm, happy, and glad we came."
Mr. Lawes said he would recommend Shen Yun to everyone, adding that he and his wife had brought friends tonight.
He said, "we just told them it was something you can't miss."
Reporting by NTD Television and Leigh Smith
New York-based Shen Yun Performing Arts has four touring companies that perform simultaneously around the world. For more information, visit Shen Yun Performing Arts.
The Epoch Times considers Shen Yun Performing Arts the significant cultural event of our time. We have proudly covered audience reactions since Shen Yun's inception in 2006