Foreign Diplomat: 'Chinese culture is just wonderful!'
April 5, 2009 2:22 am Last Updated: October 1, 2015 9:58 pm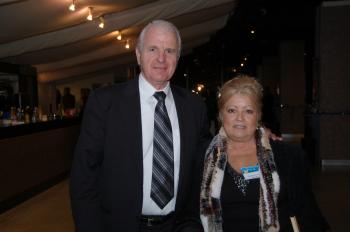 VANCOUVER, British Columbia—Tonight was not the first time Mrs. Butchart, a high-level foreign diplomat in Vancouver, has seen a show by Shen Yun Performing Arts. She was delighted and impressed.
"I've seen it before, and every time I see it, it's beautiful. It's very meaningful. It's nice that everyone had the opportunity to see it," Mrs. Butchart told The Epoch Times during the intermission at the Saturday evening show at Queen Elizabeth Theatre on April 4.
Shen Yun's repertoire includes classical Chinese dance and music, with an emphasis on the values, culture, stories, and mindsets of ancient China.
At heart are the traditional moral principles and the spiritual search for truth that have held profound meaning throughout ancient Chinese history.
"They express their feeling and their faith, which is very important for them. I wish them all the luck in the world. … The history of China is very important," said Mrs. Butchart.
"Wonderful, fantastic, unique.
"They are so artistic, and they are very beautiful. The uniformity that they have, it's unbelievable," she said.
Her husband agreed. Mr. Butchart, a semi-retired businessman who built and sold three companies in the metal industry, added that the music was fantastic, especially the "very, very good" performance of the erhu.
The traditional two-stringed Chinese instrument is melancholic, stirring, and powerful.
"The singers are just fabulous. The soprano was just unbelievable," added Mr. Butchart.
"Excellent musicians, the Chinese culture is just wonderful," Mrs. Butchart said.
Mr. Butchart praised all of the performers.
"A world-class performance, all of them, every one of them," he said.
After completing its seven-show run in Vancouver from April 3 to April 8, Shen Yun will perform in Calgary, Edmonton, and Regina.
For more information, please visit ShenYunPerformingArts.org