When I was a kid, my mom made a dish called Company Chicken, only when company came. It was a casserole of chicken breasts and dried beef smothered in creamy mushroom soup (canned, thank you). It was rich and filling, and not in the least bit beautiful, but no one minded. That was before Instagram. 
Her other go-to dish for guests was Cheesy Chicken Casserole: a tangled mass of angel hair pasta loaded with melted cheese. You knew it was good—and not just to us—because if Mom served buffet style, there was a pile-up of repeat guests at the front of the line. They knew: Cheesy Chicken Casserole went fast. 
She strayed from these classics rarely. One night, when I was in high school, my boyfriend, a towering pro-bound linebacker, came to dinner at our house for the first time. That night my mom served salmon loaf. 
"Mom, salmon loaf?" I remember my brother saying. My mom, ever gracious, just smiled, and heaped a generous portion on the boyfriend's plate. He claimed to love it. The rest of us spent 30 minutes scooching it around our plates with our forks. After that, Mom went straight back to Company Chicken, and we were glad. 
Later, as a freshly minted New Yorker, I befriended a charming woman famous for hosting a rotating cast of friends for frequent, intimate dinners. At my first one, she presented a steaming antique tureen, filled with creamed soup, and freshly baked bread. For the main course, she served bobotie—minced onions and lamb, buried in a rich custard coating—the signature dish of her native South Africa. Each time I returned, I sat down to the same meal, with a textbook exactness, footed tureen and all. But I'd come to expect and hope for it; just like Mom's Company Chicken, it was that delicious thing we could count on.
Somewhere in the business of writing hundreds of recipes, I'd forgotten about Company Chicken and bobotie. I've hardly had the luxury of a repeat performer. Most days, I'm testing new recipes—often on deadline—so when company comes, I improvise and throw a few wild cards into the mix. It always works, but, in retrospect, maybe it was missing something—something familiar. 
Eventually, we moved out of the city and my circle expanded again, this time to include my (now) dear friend Rebecca. A consummate host, Rebecca is an exacting user of recipes, noting any tweaks to perfect her successes again and again. When my son was born, she fed us often. She'd hold him (so I could eat two-handed!), refill my plate, and pour us tea. One memorable night, Rebecca made ricotta cake, casually streaked with raspberries and chocolate chips. It looked like art and tasted like heaven. We both ate two slices (as all best girlfriends do). 
After that night, she made that cake again and again. I think of that year in our friendship as the Year of the Raspberry Ricotta Cake. When it fell off her radar, I mourned its loss. But as her cake slipped away, new, comforting favorites emerged: Frida's chocolate-clad Sarah Bernhardt cookies, Tait's chewy sourdough, Kyle's heap of briny oysters, and Catherine's dense, chocolaty hedgehog cake (yes, hedgehog). 
Meanwhile, I found my own repeat performers. For my kids' birthdays, I make pork shoulder and spicy tomatillo-lime sauce. Everyone knows it will be there, along with warm tortillas, pickled onions, and soft, sweet plantains. For baby showers, I make a warm apple tart or cranberry bundt cake; both travel well and my girl posse loves them. For the intimates who help keep our two small businesses running during our busiest times, I make Sunday sauce and tiramisu, and send everyone home with enough for tomorrow, too. 
That's how I knew it was time to write my book, "Every Day Is Saturday": I found my Company Chicken—and I want to help you find yours, too. Whether it's spot-on chocolate chip cookies or a dead simple steak, forgive yourself for leaning on your go-to's when company comes. In fact, celebrate it. And ask your friends. They just might be hoping you bring out the same ol' cake (or cheesy casserole) when they sit down at your table again.
RECIPE: Magic Pork Shoulder and Spicy Tomatillo-Lime Sauce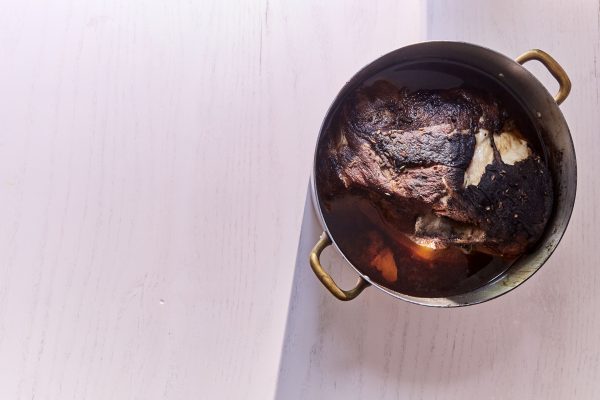 Reprinted from "Every Day Is Saturday" by Sarah Copeland with permission by Chronicle Books, 2019.