By Mary Ann Anderson
From Tribune News Service
Few things are more romantic than a road trip. It's just the two of you, with time alone on the open road, to discover together what's around the next curve. If you enjoy seafood, a dip in the Atlantic, astonishingly colorful sunrises, and a sense of old Florida, the way it was before the never-ending throngs of Disney and South Beach and Panama City tourists swarmed in, then take a drive down historic and scenic Highway A1A.
A1A meanders for about 340 miles along the entire length of the Atlantic coast of Florida, a spectacular ride past dunes of white sand and beaches whose colors run the gamut from steel gray to seashell pink to pure sugar. Almost always you can see the ocean as you drive A1A, and depending on the time of day and the weather, the sparkling water is deep blue or green or more often a mishmash of the two, with waves sometimes colossal from storms brewing off the coast. Expect to see plenty of shorebirds, lots and lots of them, from graceful herons and egrets to fat-beaked pelicans to the speedy little sandpiper.
While A1A begins at Amelia Island and Fernandina Beach near the Georgia state line, and then weaves through coastal towns including St. Augustine, Daytona Beach, Palm Beach, Boca Raton, and Miami before it runs out of asphalt in Key West at the southernmost point in the continental U.S., it is a 72-mile stretch of road known as the A1A Scenic and Historic Coastal Byway that is its showpiece.
You can easily drive those 72 miles in a couple of hours, but it is best enjoyed slowly, where you take your time and savor the Atlantic coast. The northern end of the byway is in St. Johns County near Ponte Vedra Beach, mostly known for its golf—PGA's national headquarters is here—and luxury resorts including Sawgrass Marriott Golf Resort and Spa. The byway's southern terminus is where the quiet, laid-back Flagler County ends and Volusia County and the more congested traffic of Daytona Beach begins. In between are quiet sweeps of road with nary a traffic light for some 20 miles, just you, your sweetie, the salt air, and the scenery.
Undoubtedly the most historic spot on the A1A Scenic Byway is St. Augustine, just a few minutes' drive southward from Ponte Vedra Beach. St. Augustine holds the distinction of being the oldest city in the nation. It was founded in the 16th century by the Spanish, so dive into its Old World charm with forts and museums and quiet streets punctuated with venerable spires, red brick, and wrought iron and arched by massive oaks drizzled with Spanish moss.
It is a culinary goldmine, probably because of its huge visitor base, so restaurants are abundant and diverse. Try Catch 27 for seafood, the Floridian for local and seasonal fare or the Columbia Restaurant for Spanish and Cuban flavors.
Puttering on from St. Augustine, the road hops and skips from St. Augustine Beach to Crescent Beach to Summer Haven before it reaches Marineland. Yes. That Marineland, from the way-back machine of summer road travel of the 1950s and '60s when just about everyone went to Florida for its nature-related if not quirky attractions. Also in that number are the now-vintage Silver Springs, Weeki Wachee, and Cypress Gardens.
At its heart, Marineland is an actual town that was incorporated in 1942. Its population ebbs and flows, peaking at 16 but now with maybe eight permanent residents. Marineland, the amusement park, first opened as Marine Studios in 1937 as an underwater movie studio, churning out corny 1950s fright-fest movies like "Creature from the Black Lagoon," but it has since metamorphosed into today's Marineland Dolphin Adventure, a dolphin conservation center. It's not kitschy at all, and, truthfully, you'll get quite the education about local marine life. Plus, if you're in a playful mood, you can, for a price of course, actually swim with the dolphins.
On my last journey down A1A—and there have been many of those with hubby—just south of Marineland, at Washington Oaks Gardens State Park, a small flock of wild turkeys were feeding along the roadside, their feathers glistening in the sun. It was an unexpected sight, but before we could stop and snap photos, they scurried back into the safe harbor of the woods. With the ocean and its dolphins, occasional right whales and sea turtles on one side of the highway and woods, blueways, estuaries, bays, state parks and wildlife management areas on the other, there's no telling what may come gobbling, hopping, bounding, crawling, slithering or snorting from the palmettos, palms, and pines of the roadside.
Flagler County marks the end of the A1A Scenic and Historic Coastal Byway. Its 19 miles of beachfront are amazingly undeveloped and uncrowded and the perfect place to stop for the night at one of its nostalgic roadside hotels or motels. The bright colors of Flagler Beach's Si Como No Inn, a 9-room inn built in 1947, entices with its bright colors and swaying palms, while the 10-room Golden Magnolia Resort includes a full breakfast and also has a small spa. The recently remodeled Suites on the Beach, decorated in pastels and watercolors, has only three rooms and is directly on the Atlantic.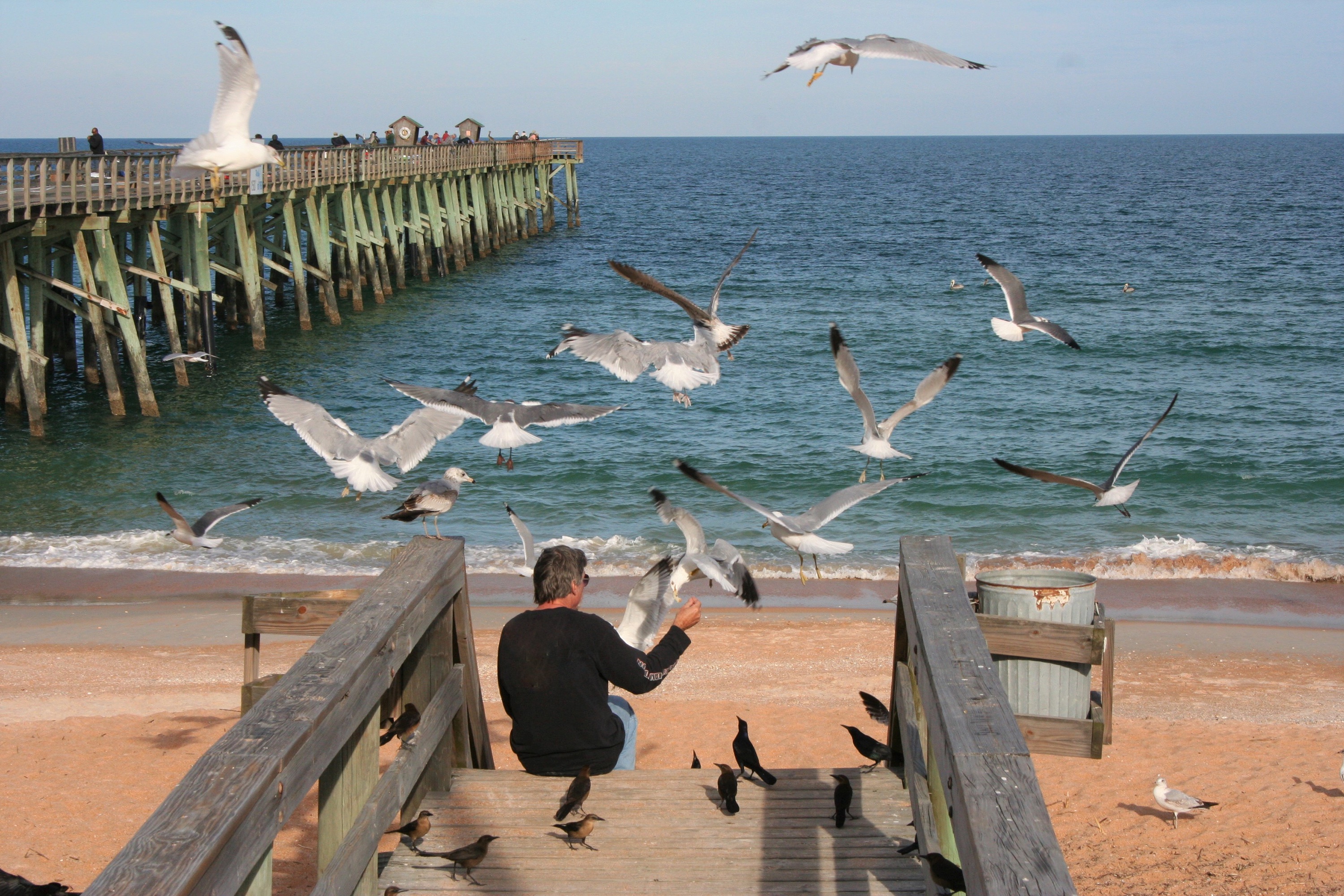 The entirety of A1A is a destination for seafood lovers, but if I had to pick just one quintessentially Florida restaurant out of hundreds, if not thousands, it would have to be High Tides at Snack Jacks, locally in Flagler Beach just Snack Jacks, a 1950s-style surf-in, surf-out, flip-flops-are-fine seafood shack right on the beach. Until Snack Jacks, I had never even heard of fish dip, much less tried it. Turns out, I love that stuff. The smoky, salty whipped concoction pairs extremely well with a basket of freshly steamed spiced shrimp, fried grouper, or a big platter of scallops.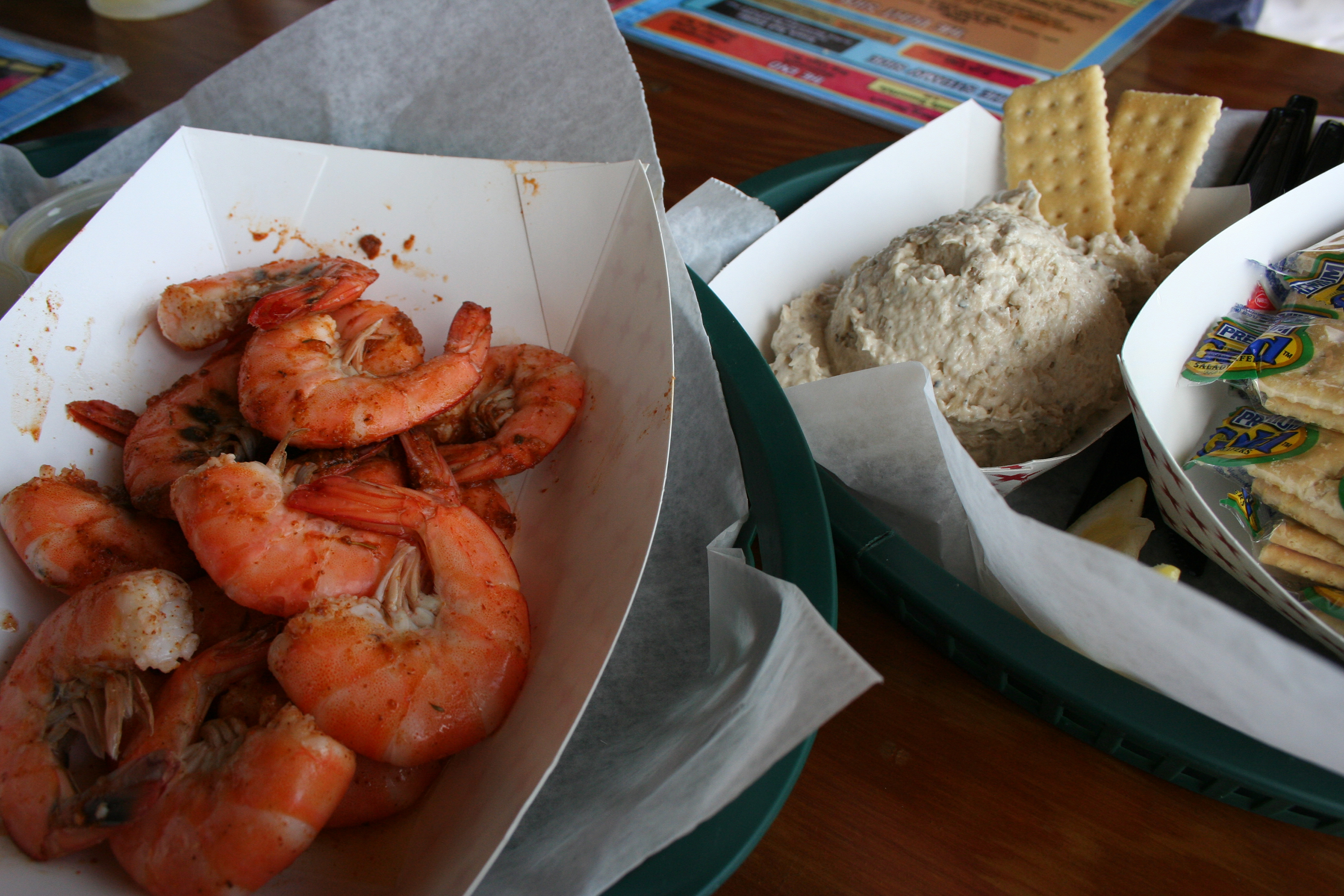 Traveling A1A, with its crazy amount of old-time neon signs, seafood shacks galore, bold-hued architecture everywhere, and endless views of the vast Atlantic, is the ideal trip for romancing the road. If ever there was a time to own or rent a convertible, driving A1A would be it. A1A isn't in any sense a backcountry road, but with its wide, quiet beaches and maritime kingdom of forests, wildlife and birdlife, it sure does act the part really well.
If You Go
For more information and an interactive map of A1A Scenic and Historic Coastal Byway, visit ScenicA1A.org. For details on the entire length of A1A, visit ExploreA1A.com. Visit Florida, the official tourism marketing corporation for Florida, is found at VisitFlorida.com. Type "A1A" into Visit Florida's search engine for tons of information. Jacksonville (JAX) is the closest major airport to the northern end of A1A, with Miami (MIA) the closest on the southern end. Both are served by all major carriers.
Travel for Two gives you inspiration for selecting the perfect destination for your romantic journey. Copyright 2022 TravelforTwo.org. Distributed by Tribune Content Agency, LLC.