A pair of children were quick to come to the rescue of a bald eagle they discovered tangled in fishing line in Florida. The line had tangled around the bird's wing, and a fishing hook was stuck in the eagle's beak.
The two children, from Pasco County, brought the bird to a fire station for help.
"[We] heard a knock on the station door around 4 PM this afternoon," the Pasco County Fire Rescue stated on Jan. 7. "When Driver Engineer Jerry Brown opened the door, he was greeted by two kids holding an injured bald eagle."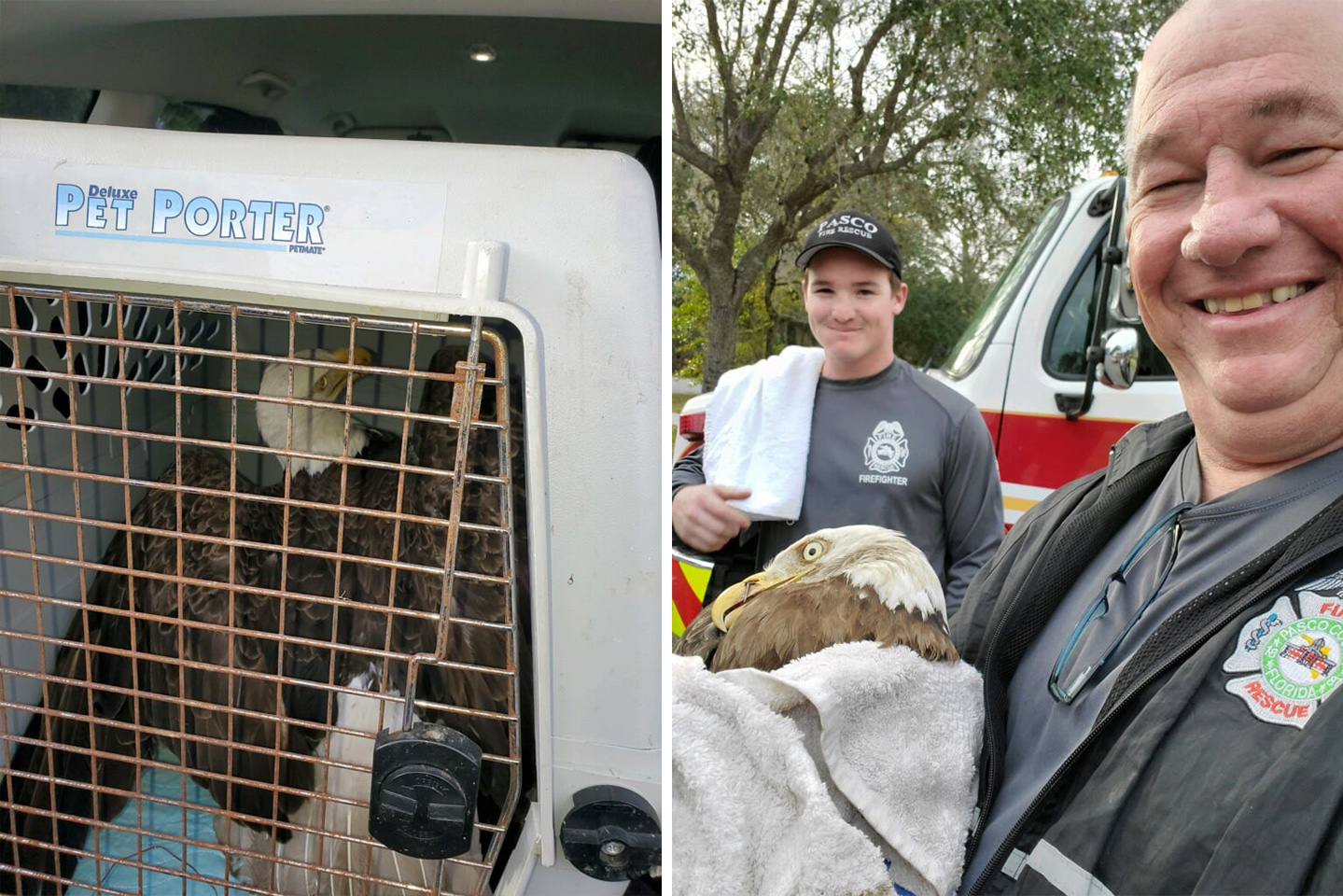 When firefighters took a closer look at the bird, they knew they needed the help of wildlife experts.
"The Eagle was tired, and its beak was wrapped in fishing line," the station wrote on Facebook. "After closer examination, firefighters realized that the Eagle was underweight, a fishing hook had penetrated right through its beak, and a fishing line was wrapped around its wing."
They called Owl's Nest Sanctuary for Wildlife, located in Odessa. A volunteer was dispatched to the fire station, and the eagle was transported to Owl's Nest for treatment.
There, the sanctuary's director was able to remove the hook from the eagle's beak. They estimated that the bird was unable to eat for about two days due to being trapped in the line.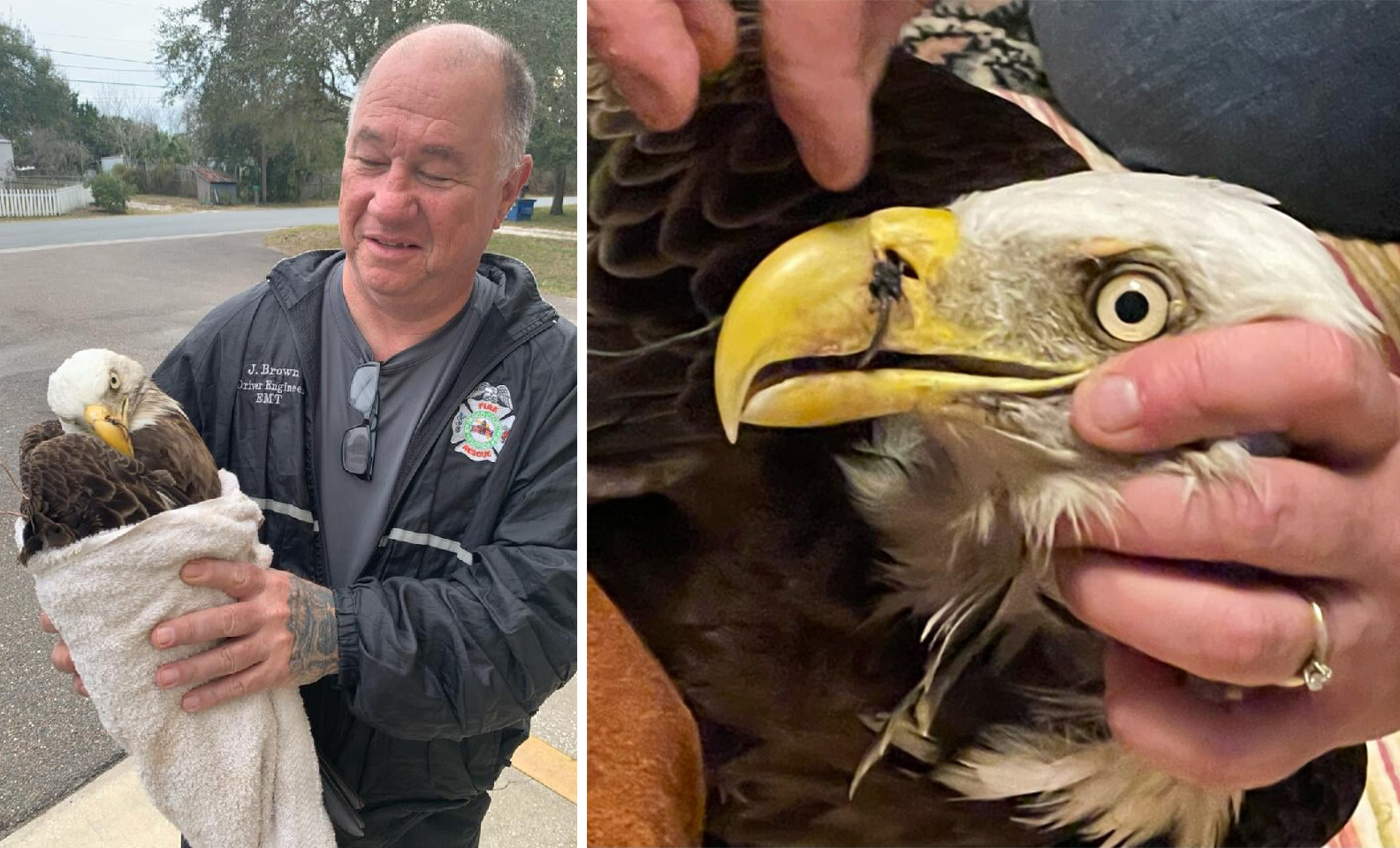 According to the fire rescue, the sanctuary plans to transport the eagle to Busch Gardens once it is deemed stable.
"Thankfully the Eagle appears in good health," the station wrote. "Veterinarians believe that the Eagle will fully recover."
According to The Raptor Resource Project, if you find an injured eagle or other wild bird, it's best to call the police or the Fish and Wildlife Service. In some cases, injured birds may not be in need of rescue, so unless the bird is in obvious danger, it's best to leave it alone.
If it is necessary to move an injured bird immediately, it's recommended to cover the bird with a blanket or towel to protect yourself from its talons and beak. Wear heavy work gloves and safety glasses, fold the bird's wings into its body, and gently but firmly place it into a transport container or crate.
Birds of prey can be very dangerous, and it's generally not advisable to move an unpredictable, injured wild animal without the help of an expert.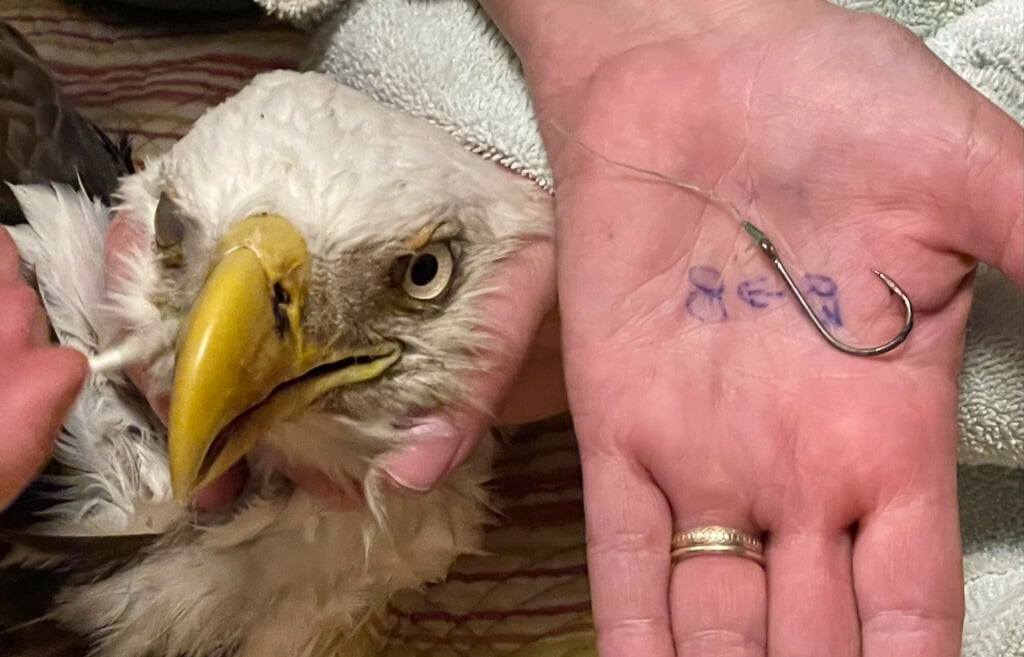 In this case, the eagle was clearly in need of immediate help. The fire rescue has praised the pair for their quick thinking, which likely saved the starved bird's life.
"A big thank you to everyone who helped save this bald Eagle's life," the fire rescue said. "We are #PascoProud and thankful for this happy outcome!"
Share your stories with us at emg.inspired@epochtimes.com, and continue to get your daily dose of inspiration by signing up for the Epoch Inspired Newsletter here: https://www.theepochtimes.com/newsletter