About an hour outside the Dallas Fort Worth International Airport lies the small town of Weatherford, Texas, population 25,000, which boasts some of the state's best peaches. Drive 10 miles north from the city center, and as parking lots start to give way to sprawling plains, you'll soon come across a striking image of Jesus, encircled by angels, and a large sign that reads "Capernaum" above some imagery of a first-century village.
These mark the entrance of Capernaum Studios, where a feature film trilogy is currently in production. "Washington's Armor" will chronicle the young adulthood of America's first president—and to do that convincingly, outside of a major Hollywood studio, series director Tammy Lane had to start from scratch. Capernaum Studios, which Lane owns and operates, was built from the ground up on what used to be a part of her father's ranch.
"My dad bought this ranch 26 years ago, and I knew when he bought it that there was something special that was going to happen here," Lane said. "My husband and I both felt it."
Capernaum Studios has come a long way from ranch land. The property, slightly larger than 40 acres, includes film sets, indoor sound stages, and a theater, along with housing and food service facilities for cast and crew. It has been the setting for many productions, including "The Chosen," and will be used by PAX TV for their weekly shows.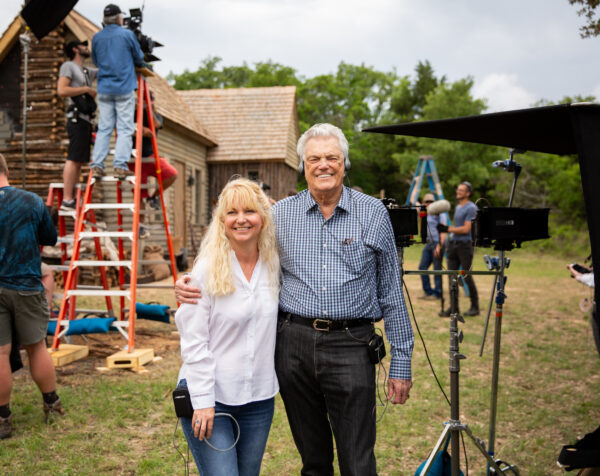 The sets within the studio come from different times and locations in history. The First Century Village and Garden Tomb depict biblical settings, while sets like the Fort represent scenes from colonial America. There are more contemporary sets, too, such as Main Street and Disaster Town.
These eclectic sets, tailor-made for her own productions over the years, are a reflection of Lane's own creative interests as a director and filmmaker.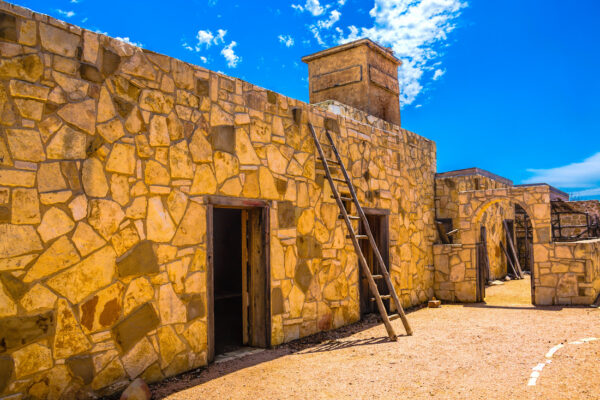 A Calling
However, for someone who's invested so much in her craft, it may be surprising that Lane never planned to make movies at all.
Lane, who got married at a young age, said she started praying and doing a Bible study with her best friend to seek guidance on the purpose of their lives. They held these sessions while their children were at school, and after about a school year's time, Lane began receiving images—"downloads," as she called them—in her head, paired with certain sounds and music. Most importantly, each of these visions came with a strong impulse to film.
"I had to get a camera and all that, which my husband was just like—'What are you doing?' He didn't get it at first," she said, laughing.
But that didn't stop her. Her first vision was soon realized in 2003, a music video starring her son in a cowboy outfit. From then on, she filmed and wrote compulsively, eventually moving on to direct drama classes at her church.
Around this time, a spacious house had opened up on her father's ranch. Lane began to use this house to host Christian retreats, which soon became her next creative outlet. She began to expand her repertoire to live productions and short films, as the retreats offered a steady audience, with each retreat bringing in anywhere from 50 to 100 people.
As her ventures picked up steam, Lane's father donated 40 acres of his ranch to support his daughter. This land would become Capernaum Studios, where Lane was free to build whatever she needed to make her visions a reality.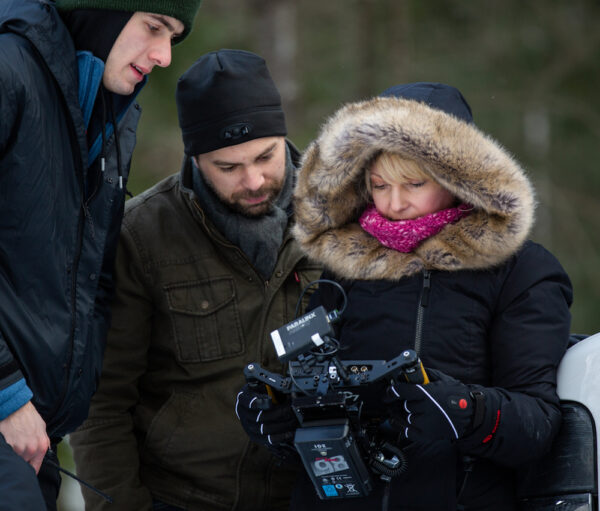 Today, "Washington's Armor" is Lane's largest project as director. Her best friend, who did the Bible study with her all those years ago, is now one of the project's producers.
"It's been a long journey, but I have a lot to learn still," said Lane. "God had a lot of work to do on me to get me to this point."
Going from stay-at-home mom to independent filmmaker was—and in some ways, still is—difficult, says Lane. Without the financial backing of a large studio, many of her earliest staff were volunteers. And whenever life got in the way for her volunteers, Lane often had to handle all the work for a production by herself, from scriptwriting to serving food. Other industry operations, such as distribution, marketing, and raising money for productions, still pose obstacles from time to time.
Aside from business challenges, Lane also had to get used to making public appearances as director, which she found uncomfortable at the beginning.
"I don't like any attention on me. I don't want to be in front of a camera, which now I have to be a lot, just doing interviews," she said. "I'm definitely an introvert."
Through making appearances over and over again, speaking and being interviewed gradually became more natural to Lane. But whenever she felt like she was finally done with one thing, it seemed that another would pop up right away to test her resolve, patience, or compassion—or any combination of the three.
"On our last shoot, we had a fire and it actually burned down one of our sets," Lane said. "Nobody got hurt, and thank the Lord they didn't."
The shoot had been for "Washington's Armor," where the crew had been filming a few scenes inside of a wooden cabin. One morning as the crew was setting up, the cabin's interior caught fire. Although the cast and crew were unharmed, the fire burned down a large portion of the set and forced Lane and her writers to rework their script.
"Now we've got some new scenes that we wrote in that [are] outside the cabin. And I think it's going to be better than it was. God turns things for good if we can just hold it together," she said.
For Lane, all of her trials were part of a divine training course, with each level she conquers pushing her to new heights.
"It was really difficult each time, each level, you know?" she said. "And I would think, 'Man, that was the hardest thing I've ever done!' And then I'd get the next one: 'Oh no, that was the hardest thing I've ever done!'"
Her journey also has its highlights, though, and it's these highlights that convince her that she's still walking her destined path in her work. For instance, when she started out, there were many times when she wouldn't have the money to hire staff for the entire term of a production.
"I remember trying to hire two people in 2005, and I had enough to pay them a few months and that was it," said Lane. "But I knew that God wanted me to do it. … So I just hired them, and then he provided. He provided every single time."
'A New Hollywood'
Another positive sign that Lane has seen is the growing number of creatives like her who are rolling up their sleeves to make what they want to watch. While they may not be featured on late-night talk shows or backed by billion-dollar budgets, they are incredibly passionate about what they do.
"Everybody is trying to find an avenue to create content that is really good quality content and that doesn't tear down our society. And so I think there is a new Hollywood, and there's a ton of filmmakers," she said.
Lane sits on the board of the CONTENT film festival, which focuses on fostering community among Christian creatives and others looking to bring back more traditional, values-based content. Recently, she and the board have been in discussion to host the festival twice a year instead of just once due to increased demand.
"I love to see other filmmakers do well. I love to see them be successful because I want to watch their shows!" she said. "So I think [our] film festival … cultivates that aspect of it so that we can all encourage each other and we can band together to get some great stuff out there."
'Washington's Armor'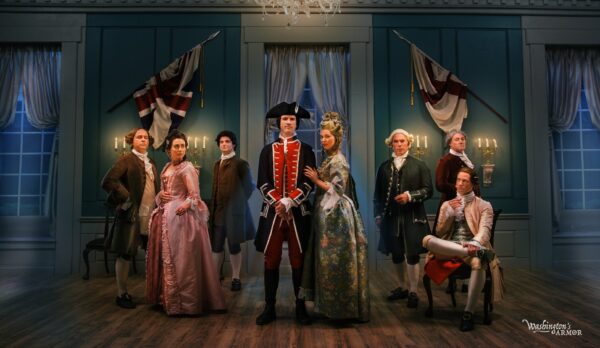 For "Washington's Armor," Lane wanted to look at the life of the United States' first president through a more introspective lens, focusing on his emotions, thoughts, and faith as he grew into the man from the history books.
"[For] the story that we're doing, [George Washington] had to have killed his first person, his first man in battle. What would that have been like? It's not something you want to do, but it's something you have to do," said Lane. "So I don't want to take that lightly."
To get a detailed look inside Washington's head, the "Washington's Armor" team centered their interpretation of the president around his personal journals. This was then supplemented with biography and research texts about colonial America to create a life-like version of the president in a believable setting.
Other characters in the show received the same treatment; their personal journals and writings were used as the main source for their interpretations wherever possible. And what these people wrote—or didn't write—gave Lane great insight as she constructed her characters.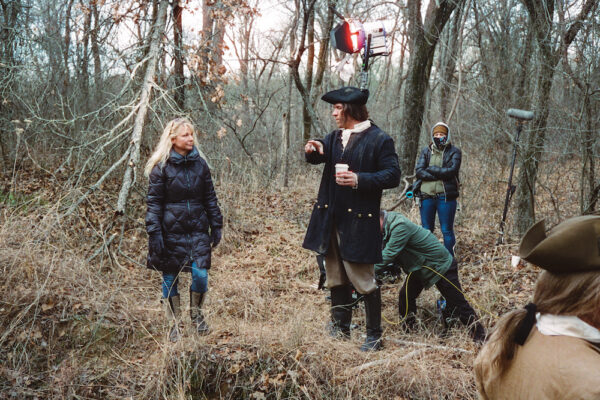 "Christopher Gist, who [was Washington's friend,] would write his journal, and he would say, 'Yeah, I killed three birds today,' and the next day, 'Yeah, I killed a deer today,'" said Lane. "He's very simple, and this very earthy guy."
One blind spot in the team's quest for primary sources, however, was the letters between George Washington and his wife, Martha Washington. Mrs. Washington burned all the letters between herself and her husband shortly after his death.
"That was super disappointing when we found that out," Lane said. "I can see why she did it, because she knew that he was [going to] be who he became, and she didn't want the whole world knowing all their personal stuff. But I really wanted to know!"
Lane first became interested in the life of George Washington through reading "The Bulletproof George Washington," a book by David Barton that examines the president's life through the prism of faith. What fascinated her most was not that Washington was some kind of spiritual paragon, but that he was able to achieve monumental feats despite his human flaws.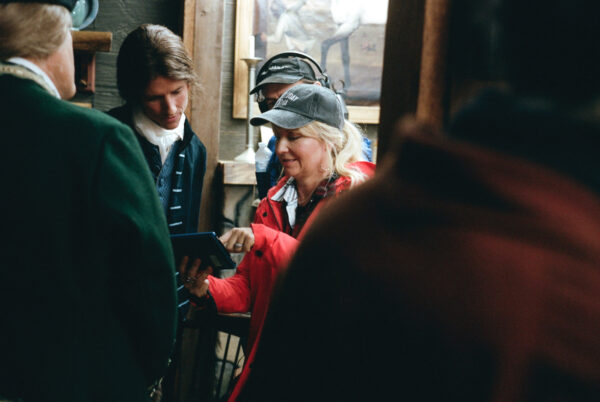 "I don't want [my interpretation] to be fluff, I want it to be him as a regular human being, which he was," said Lane. "He was a great man but he did make mistakes."
The first movie in the trilogy, which is currently in production, will be titled "The Journey" and follows Washington's life from ages 21 to 23. At the close of the trilogy, Washington is a 26-year-old man poised to become one of America's finest generals. She chose this period in his life to tell the story of how Washington grew into his own, and to share the lessons he had to learn as a young man before he could become a great one.
"You do things when you're young that you're not necessarily going to do when you get older. You grow, you learn, God works on you," said Lane. "If you have a calling and you're following the path, you're going to go through all these challenges that are going to prepare you for what your future holds."
What Lane admires the most about Washington is his sense of duty, both to his nation and to his faith. His duty to the nation was something he was widely known for, whether it was riding into battle while seriously ill or refusing to become king of the United States. His faith was lesser known, but something that was easy to see through the pages of his journal. The general made many references to providence and even wrote down his prayers.
"He would ask the Lord, and he would just make a decision and leave the consequences to the Lord, whatever that decision was. Sometimes it was right, sometimes it was wrong. He made some wrong decisions, but we learn from that as well," Lane said.
In creating "Washington's Armor," Lane hopes to make people more aware of the spiritual facet of Washington's life.
"It was necessary, he felt, for us to have the blessing of God and know what God wanted."
"I want [people] to know that God was active in his life, and I would love for this story to be told in the schools again. It was actually told in the schools," she said. "The 1920s was the last time it was told, so it's the untold story for our generation."
At the time of writing, "The Journey" was slated for a Thanksgiving 2021 release, with parts two and three—"The Battle" and "The Choice," respectively—still in queue for production. Currently, "Washington's Armor" has an ongoing Indiegogo campaign to raise money for the continued production of "The Journey" after the fire that burned down their cabin set.
To many independent filmmakers, a project of this size might be daunting. But Lane's words about the future of "Washington's Armor" exude steady confidence, rooted in the strength of her conviction.
"It just gives us an opportunity to trust the Lord," she said. "I really love to see the miraculous stories, like the story that we're telling, and how impossible it was for this story to happen—but it did, because God was in it."