R | 1h 58min | Documentary, Biography | 16 July 2021 (USA)
Opening with the 1972 in-your-face, retro-punk anthem of the same name by Jonathan Richman, "Roadrunner" moves through its nearly two-hour running time with the same level of fervor and immediacy.
If you're a regular consumer of non-fictional television programming, it's likely you're already aware of the plethora of cooking and travel shows. There are multiple channels dedicated solely to those two genres and, combined with other various outlets, well over 100 shows of these types are currently available.
Anthony Bourdain hosted four series from 2002 through 2018. While a handful of programs combine gastronomy and globetrotting, none remotely come close to Bourdain's in terms of quality, originality, popularity, or name recognition.
One of the facets that made his shows thoroughly unique and nearly impossible to duplicate was an almost lack of gourmet cooking and romanticized travel. Bourdain preferred sampling meals prepared by local or "dive" establishments or even those in private homes. There were token nods to some local landmarks and points of interest but the lion's share of attention was lavished upon the lives of a particular country's unassuming, random citizens.

The Creation of the Landmark Memoir 'Kitchen Confidential'
By all accounts, Bourdain became a public figure by accident. Often mistakenly labeled as a "celebrity chef," he was both a "celebrity" and a "chef" but never both at the same time. Bourdain stopped cooking professionally shortly before starting his TV career. He sent a series of emails to friend Joel Rose, which made their way into the hands of Rose's publisher wife Karen Rinaldi and the second phase of Bourdain's professional life took flight.
Those emails provided the springboard for Bourdain's memoir, "Kitchen Confidential." which immediately became a best-seller and confirmed what many patrons of fine dining establishments had long suspected: the back of the house was a jungle and what ended up on their plates wasn't always as advertised. Bradley Cooper starred as a fictionalized version of Bourdain in a 2005 comedy TV series based on the book. The show aired only four episodes before being cancelled, although all 13 episodes are available on DVD. Certainly not for all tastes, the show does—with stinging acerbic flourishes—accurately reflect its source material. Those only familiar with filmmaker Morgan Neville's two highest-profile past efforts ("20 Feet from Stardom," 2013, and the 2019 "Won't You Be My Neighbor?" about children's TV host Fred Rogers) will notice a sharp contrast in tone and approach. Truth be told, "Roadrunner" is another historical opus about a creative rebel/pioneer and is right at home alongside previous Neville subjects Brian Wilson, Johnny Cash, Keith Richards, Hank Williams, Muddy Waters, Iggy Pop, producer Sam Phillips, and Stax/Volt Records.
Neville assembles a fascinating mosaic, culling material from archival photos, home movies, snippets of the four shows, and recent interviews, Neville assembles a fascinating mosaic. His filmed tapestry progresses in a methodical, easy-to-follow manner. It helps if you're a foodie but, as with everything else in the film, the movie isn't so much about food or travel; it's about a personal journey.
The journey isn't all pretty. The filmmaker shot some episodes in Haiti where people are starving and in Lebanon during a war. This approach lends the production an air of unexpected, unglamorous realism and reinforces Bourdain's dedication to authenticity.
One of Bourdain's most desired destinations was the Republic of Congo where he recreated scenes from one of his favorite movies, "Apocalypse Now." Traveling on a pontoon boat, Bourdain slaughtered two animals while assuming the personality of a member of the fictional tribe commanded by Colonel Kurtz (Marlon Brando). Neville brilliantly juxtapositions cuts from this episode and those from Francis Ford Coppola's film.
While unable to include Bourdain's first wife Nancy Putkowski, Neville spends ample time with Ottavia Busia, Bourdain's second wife, mother to his only child, and the person who turned him on to martial arts. It speaks highly of her and of Bourdain that Ottavia has nothing but praise for her ex-husband.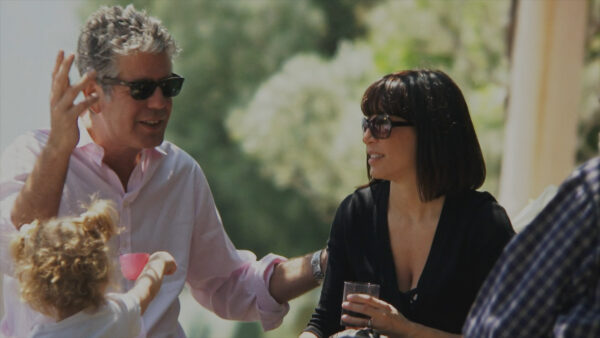 Perhaps the most telling portion dedicated to Bourdain's private life is the inclusion of his romance with controversial actress/filmmaker Asia Argento. Perhaps the only person to be on both sides of the #MeToo movement, Argento had the type of free-spirit demeanor which appealed to Bourdain but it came with the type of baggage he certainly didn't need but seemed to crave.
Fame Found Bourdain
It would be impossible to make an honest and complete documentary about someone as high-profile and influential as Bourdain without acknowledging his passing. In the last 10 minutes of the film Neville exhibits immense grace, restraint, and artistic deference.
If you're already aware of the details regarding Bourdain's passing you'll learn nothing new here and if you weren't, you'll be given what is only necessary. Codas from Bourdain's closest friends and Bourdain himself put the proper and poetic finishing touches on the celebration of a man who squeezed 10 lives into one.
Bourdain was cool because he didn't try to be cool. He didn't seek fame, fame found him and he viewed it as a required semi-evil component in the success of his mission. He wished to experience exotic cuisine and people in foreign lands, not to tell us about great oversees restaurants or to rub shoulders with celebrities and share war stories with egomaniacal chefs.
This guy was the genuine article, a man who inspired millions of people to stretch beyond their comfort zones and take chances, and not just with their food or travel options. He changed the way we look at the rest of the world.
'Roadrunner: A Film about Anthony Bourdain'
Director: Morgan Neville
Stars: Anthony Bourdain, Ottavia Bourdain, Josh Homme, Asia Argento, Iggy Pop, Éric Ripert
Running time: One hour, 58 minutes
MPAA rating: R
Release date: 16 July 2021
Rating: 4.5 out of 5
Originally from Washington, D.C., Michael Clark has written for over 30 local and national film industry media outlets and is based in the Atlanta Top 10 media marketplace. He co-founded the Atlanta Film Critics Circle in 2017 and is a regular contributor to the Shannon Burke Show on floridamanradio.com. Since 1995, Mr. Clark has written over 4,000 movie reviews and film-related articles.