PG-13 | 1h 51min | Drama, Crime, Mystery, Thriller | 20 January 2023 (USA)
The first-cousin-once-removed genre of "found footage," the "screenlife" storytelling technique has been around since 2000 ("Thomas in Love") and began growing in popularity a decade later.
In short, "screenlife" is a movie-telling device whereby no traditional cameras are used. In their stead are images from smartphones and all sorts of personal computing devices. To be sure, it's gimmicky and self-dating, but in the right hands with the right story, it can be quite effective.
Not so much a sequel, but more of a stand-alone, bookend-companion piece to "Searching" (2018), "Missing" employs the same premise: One family member attempts to find another who is missing via social media, search engines, and security cameras.
Better Than 'Searching'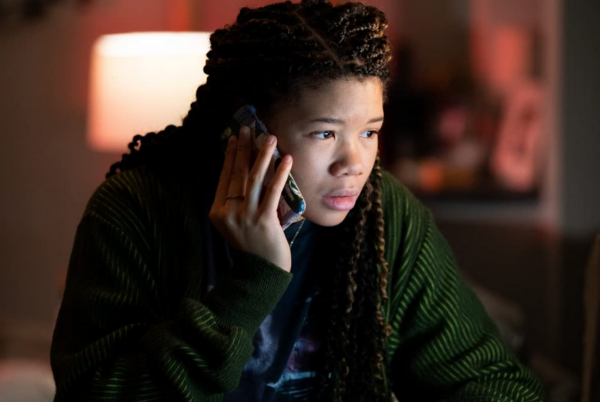 "Missing" is the feature debut for co-writers and co-directors Nick Johnson and Will Merrick, who collaborated as co-editors on "Searching." In addition to having already worked in this burgeoning micro-genre, the team created a better story than "Searching" and their screenplay is airtight, although maybe a tad too long.
After losing her husband, James (Tim Griffin), to cancer, single mother Grace (Nia Long) relocates with her daughter, June (Storm Reid), from Texas to Los Angeles.
A helicopter parent with all the best intentions, Grace is about to leave for a weeklong vacation to Colombia with her new boyfriend, Kevin (Ken Leung). This suits June just fine, as she plans on throwing a days-long blowout rave party to be financed by Grace's "emergency only" account.
Almost thwarted by Grace's attorney friend Heather (Amy Landecker), June's shindig is such a roaring success that she almost oversleeps on the day she is scheduled to pick up Grace and Ken at Los Angeles International Airport. After Grace and Ken fail to post and her mom makes no attempt at contact, June rightfully begins to panic.
Like most of her Gen-Z brethren, June can navigate the Internet, find backdoors into websites, and figure out passwords like baby boomers can recall obscure classic rock songs and 1970s sports stats.
In almost no time, she is able to track down where Grace and Ken stayed, when they left, and most importantly, how long (48 hours) before digital copies of security camera footage will automatically be erased.
June manages to buttonhole a Colombia-based American FBI agent who is more than willing to look into Grace's disappearance, but he warns her that any information she may find while hacking into other people's online accounts will be legally inadmissible. He also doesn't quite discourage her doing so.
With next to nothing left in the "emergency" account, June hires Javier (Joaquim de Almeida)—a low-priced, poorly rated Uber/Lyft-type delivery guy in Colombia—to do some snooping, which yields results but also opens up more rabbit holes in the process.
Superb Misdirection
At this point, we're about an hour into "Missing," and we get the first of what will eventually become dozens of plot misdirections and twists (which aren't the same thing as dubious and belabored time-wasting red herrings).
As with writing most well-crafted screenplays, Johnson and Merrick likely penned the ending halfway through the writing process and worked their way back to the middle of the story.
One of the more (favorably) striking aspects of the film is how it avoids politically correct virtue signaling. Although the cast is (mostly) non-Caucasian, race is never made an issue, which is a rarity in today's filmmaking climate.
The movie also assumes that the audience has more than half a brain and doesn't need to have the details of the plot overexplained or spoon-fed to them. This is not a movie that can be watched on autopilot. Not only can you not take a bathroom break without being left out in the cold upon return, you also literally can't blink at the wrong time.
A Showcase for Storm Reid
For Atlanta native Reid, who made her debut in the watershed Best Picture-winning "12 Years a Slave" (2013), "Missing" is a career-breakthrough performance. She is in 95 percent of "Missing" and is called on to display a plethora of emotions; she never once falters, even when her character is feigning disinterest.
We, as audience members (and, yes, critics are also members of the audience), need more movies like "Missing." Everyone likes to be entertained, but not everyone prefers to be challenged, to expand their gray matter, and to be put in the shoes of those they're watching.
It's refreshing to see a movie that doesn't take the easy route and actually avoids it.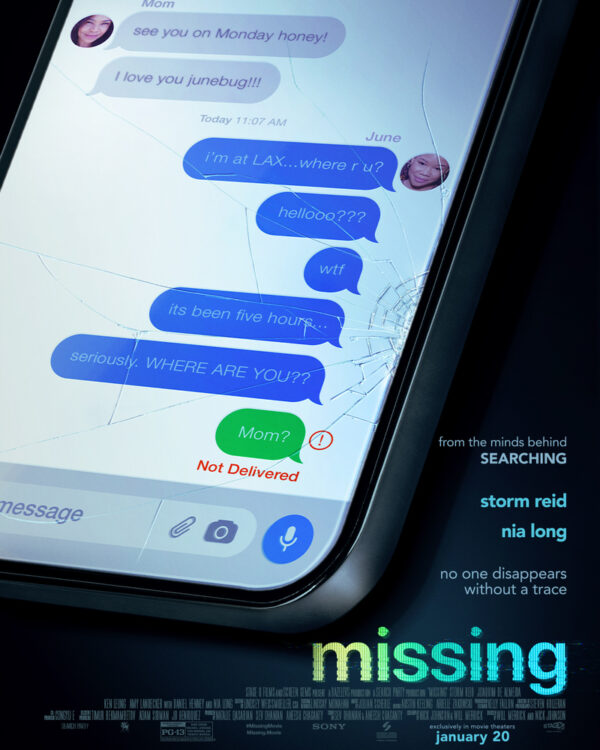 'Missing'
Directors: Nick Johnson, Will Merrick
Stars: Storm Reid, Nia Long, Ken Leung, Amy Landecker, Tim Griffin, Joaquim de Almeida
Running Time: 1 hour, 51 minutes
MPAA Rating: PG-13
Release Date: Jan. 20, 2023
Rating: 4.5 out of 5