Not rated | 2h 5min | Drama | 14 June 2019 (USA)
Director Thomas Stuber's slow-moving drama "In the Aisles" opens with a bizarre scene of forklifts dancing to the classic Austrian waltz "The Blue Danube," as the red and orange of dawn drifts into bright daylight. Ever-present florescent lights illuminate the wide aisles of a big box store, the kind that seem to permeate most developed countries these days, in a small town in Germany.
Later, when the store finally belches forth its last customers, a bedraggled-looking character named Rudi (Andreas Leupold, "Lola and Billy the Kid") says "Welcome to the night" (spoken in German with English subtitles). The music then switches over to something a little more melancholic: Samuel Barber's "Adagio for Strings."
The measured, surreal way in which these opening scenes are shot is indicative of how the rest of the movie flows. Stuber takes his time setting up not only the careful composition of the film's world (executed gracefully by cinematographer Peter Matjasko, "A Heavy Heart") but also the quirky characters who inhabit it.
One of those characters is Christian (deftly played by Franz Rogowski, "Transit" and soon in the upcoming Cannes contender: Terrence Malick's "A Hidden Life"). He gets up in the afternoons to head to his graveyard shift at a sprawling big box store. His rather dingy, cramped apartment, brooding affectations, and heavily tattooed body possibly allude to a bad-boy past and willingness to try for a better life.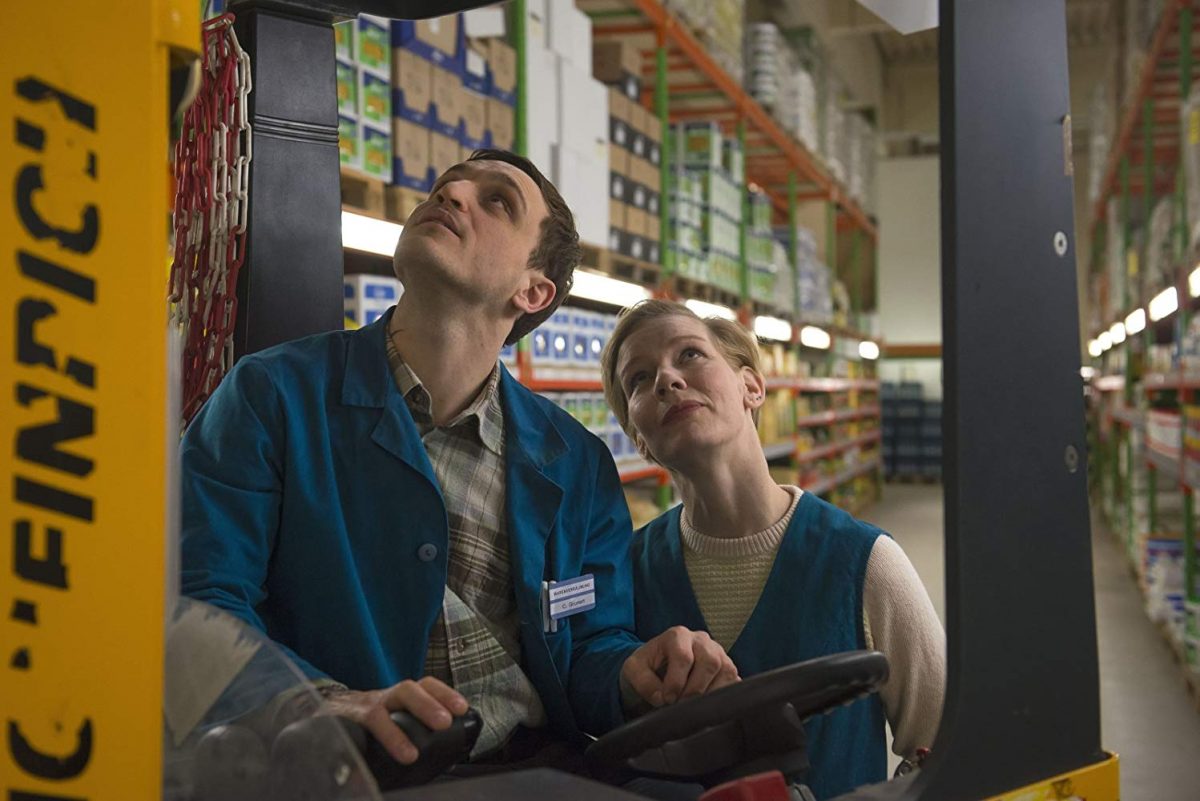 Christian is a newbie at the gigantic, now darkened store, and we are soon introduced to some of the other odd characters. The grumpy senior supervisor known simply as Bruno (Peter Kurth, "A Heavy Heart," "Babylon Berlin") who oversees the booze department, takes a liking to the quiet Christian and takes him under his wing.
However, just like at any workplace, the store has its own set of rules. Early on, Christian gets warned about his exposed tattoos. He is taken to the side and, in a hilarious scene reminiscent of a soldier being prepared for the battlefield, is issued a proper, long-sleeved work smock, official name tag, pens, and other equipment before being sent forth into the "hallowed halls" of the store.
These rules apply mainly to newbies like Christian, as we see such things as Bruno having extended breaks with the pharmacy director. As far as they see things, the older veterans just don't get paid enough to move too fast or work too hard, just hard enough to get the job done—at some point, that is.
There are also various factions within the place. As a stocker, Christian is guided down the superstore's dreary, generic aisles by Bruno, who, during Christian's probationary period, checks off various passing grades every time Christian performs his duties to his supervisor's satisfaction. These duties mainly consist of loading large containers of food and beverages and transporting them from one huge shelf to another.
During one such nocturnal sortie, Bruno explains to Christian how departments interrelate: "We don't get along with canned goods," Bruno says in a serious tone. "With sweets, we're fine."
Soon, Christian makes contact with the sweets aisle manager, fittingly named "Sweets Marion" (played by Sandra Hüller, "Finsterworld," "Requiem"). Whenever the two happen to stock shelves together, or their coffee breaks happen to coincide, they begin to reveal subtle clues into each other's private lives.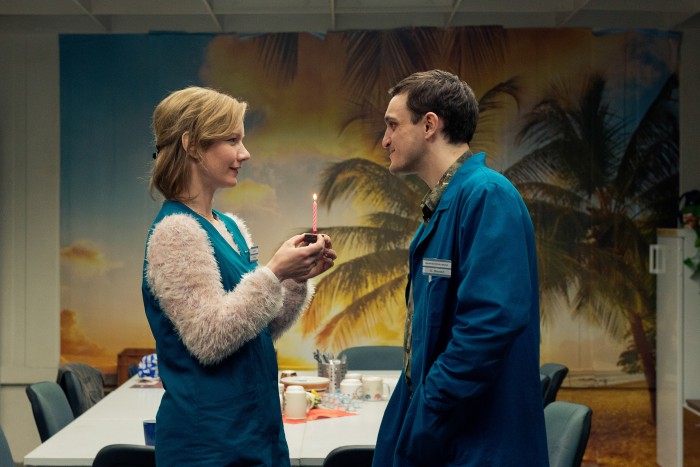 Soon, Marion is flirting with Christian, but Bruno believes that she will lead him astray from taking his job seriously and training for the all-important forklift driver certification.
Sincere Filmmaking
If this had been a large-budget Hollywood production, I suspect this film would have featured little animals being shot out of devices, fart jokes, and sappy, contrived romance scenes. Instead of focusing on Christian and Marion, though, we are treated to a masterclass in sincerity in filmmaking, as expressed through a plethora of performances that feel earnest and real.
In fact, the characters were so well wrought here and convincing that I would have loved to have seen them in some sort of recurring TV drama where we could get more insight into each of them.
There's a quiet sadness exhibited by the "semi-skilled" folks working "In the Aisles." However, this is underscored in the overarching message of having a simple sense of pride in performing a job—no matter how mundane and repetitive—to the best of one's ability.
It is a subtle celebration of the concept of the "work family," or the forming of meaningful bonds through the virtue of work, no matter how myopic that work may seem.
'In the Aisles'
Director: Thomas Stuber
Starring: Franz Rogowski, Sandra Hüller, Peter Kurth, Andreas Leupold, Michael Specht
Not Rated
Running Time: 2 hours, 5 minutes
Release Date: June 14
Rated: 4 stars out of 5
Ian Kane is a filmmaker and author based out of Los Angeles. To see more, visit DreamFlightEnt.com or contact him at Twitter.com/ImIanKane