PG-13 | 1h 55min | Action, Comedy, Sci-Fi, Fantasy | 13 August 2021 (USA)
Beginning in 1993 with "Super Mario Brothers," there have been 45 live-action and animated films based on video games released by U.S. studios with another 20 in some form of pre-production. For the most part, these movies do well at the box office thanks largely to the established fans of the games they're based on, but only seven have a rating higher than a 50 percent on the critic's Rotten Tomatoes site.
Faring far better at the box office and with critics are films about video games. These include the "Wreck-It-Ralph" and "Tron" franchises and "Ready Player One" (adapted from the novel of the same name). Incorporating elements from all of those titles (as well as "Groundhog Day," "The Truman Show," and "The Lego Movie"), "Free Guy" is admittedly derivative, but it also has a huge heart, a lot of soul and a sneakily sly, ingenious, and subversive plot which belies its day-glow, confectionary, high-gloss finish.
Although he doesn't realize it initially, bank teller Guy (Ryan Reynolds of "Deadpool") is just an algorithm—a "non-player character" in the fictional "Free City" video game. Bright-eyed, effervescent, and a tad clueless, Guy rises every day, dons the same bland outfit, orders generic coffee on the way to work, and shares idle vanilla chit-chat with his best friend, bank guard Buddy (Lil Rel Howery). Guy exists within a continuous loop.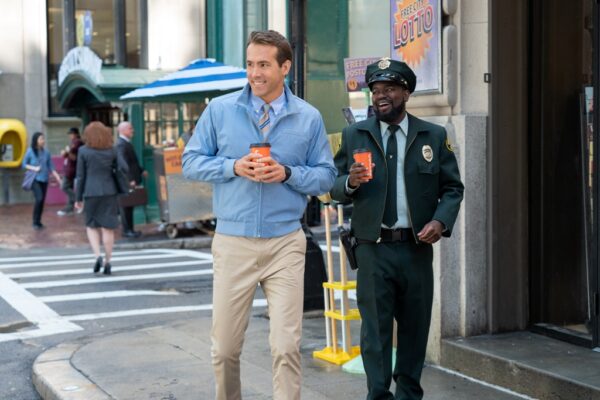 Period Pop Songs Become a Character
Guy's mundane day-to-day gets a welcomed jolt when he sees Molotov Girl (Jodie Comer), a gun-toting, raven-haired, no-nonsense woman obsessed with Mariah Carey's "Fantasy" who barely gives him the time of day. In the real world, Molotov is Millie, a spunky game designer looking for evidence that her invention—conceived in tandem with another designer, Keys (Joe Kerry)—was stolen by Antwan (Taika Waititi), a tyrannical CEO about to launch a sequel to "Free City." Waititi is best known for directing "Thor: Ragnarok" and the 2019 "Jojo Rabbit" for which he also won an Academy Award for Best Original Screenplay while co-starring as a "whimsical" apparition of Adolf Hitler.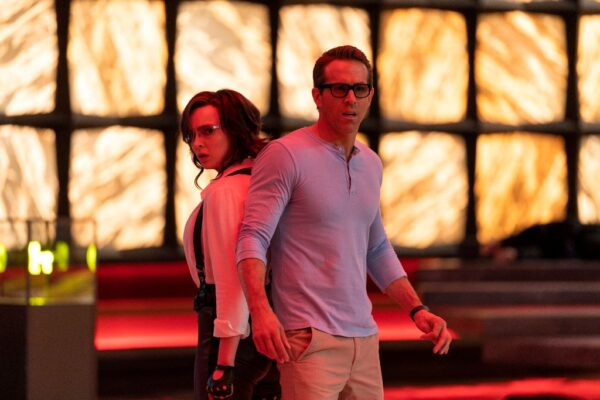 The first hint we get that screenwriters Matt Lieberman and Zak Penn plan on impugning the frequently-violent video game industry is by transforming Guy into a crime-fighter. For those unaware of the bulk of many video games, the main objective is to kill and/or maim as many people as possible. The design of "Free City" is closely modeled on "Grand Theft Auto," the granddaddy of all violent games where users in the real world (some of them adults living in their mom's basements) assume imposing and overbroad avatars which closely resemble characters in the "Suicide Squad" movies.
Director Shawn Levy (the "Night at the Museum" series) and the writers purposefully soften the edges of the potentially preachy, finger-wagging messaging by delivering it within a satirical, often breezy velvet glove. The filmmakers also make frequent cutaways to nerdy "Free City" players who, while dismayed with Guy's daring-doo exploits, can't take their eyes off of him. His popularity within the gaming community skyrockets, which in turn makes him much more alluring to Molotov Girl.
In addition to the oft-repeated "Fantasy," the film features an eclectic mix of period pop songs including but not limited to "Make Your Own Kind of Music" (Mama Cass Elliot), "Humpty Dance" (Digital Underground), "Cheek to Cheek" (Fred Astaire), "Theme From the Greatest American Hero" (Joey Scarbury), and the "Star Wars" main theme (John Williams). Instead of acting as background aural wallpaper, the songs actually serve as droll, comedic cues. Not since "Gooddfellas" and "Boogie Nights" have previously released songs played such prominent roles in non-musical live action movies.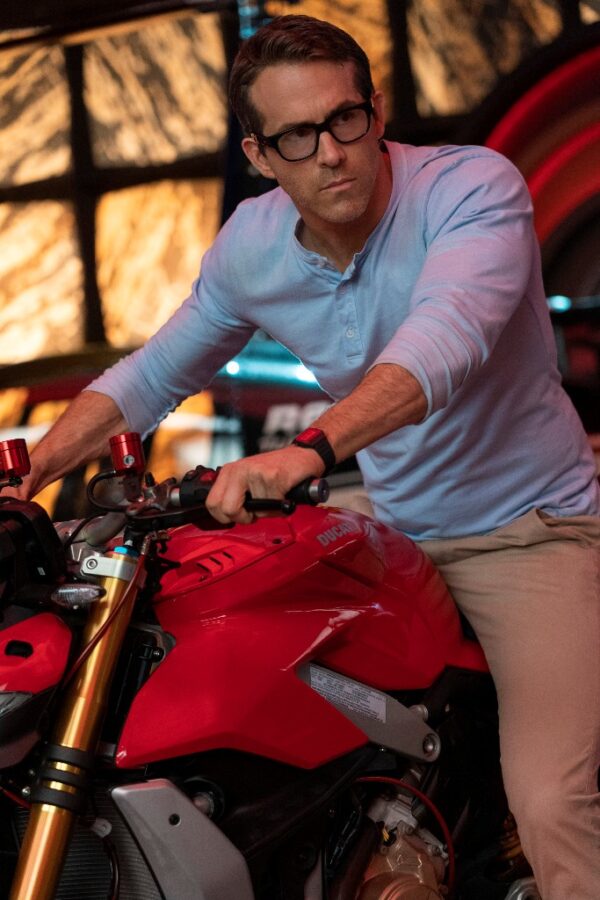 Reynolds in Top Form
Offering further evidence that he has second-to-none comedic chops, Reynolds turns in what could rightfully be labeled as the "anti-Deadpool" lead character; something of a riff on Clark Kent/Superman. Due to the restrictions of the "PG-13" rating, the profanity, bathroom humor and ultra-violence that proliferated "Deadpool" aren't viable options here. Reynolds instead relies on his endless charm and considerable physical comedy prowess, and he never misses a beat.
Perhaps understanding that most audiences probably won't recognize some or all of the supporting performers, the filmmakers (almost certainly with input from co-producer Reynolds) toss in close to a dozen cameos including both A-list actors and high-profile gamers. As with the songs, the cameos serve as humorous propellants and indicate that everyone involved is winking at the camera.
Arguably the film's crowning achievement is in making a video game movie which could be understood and appreciated by non-gamers while, at the same time, delivering a cautionary message that doesn't unfold like a lecture on ethics or morality. It doesn't tell you that overexposure to violent content is bad; it shows you. There's a big difference between the two approaches. The filmmakers also provide an ending which, unless you're clairvoyant, is almost impossible to figure out in advance.
If you're interested in other movies regarding the nasty ripple effects of electronic device overload, it's worth checking out two 2020 documentaries: "Screened Out" (on Tubi) and "The Social Dilemma" (on Netflix). They're both to-the-point and incredibly informative, especially for parents of preteen children.
In one of the most original, hilarious, and Meta examples of prerelease promotion, Reynolds and Waititi appear as their respective characters from the "Deadpool" and Marvel flicks to review the "Free Guy" trailer. As there are no spoilers included, it's safe to watch it before seeing the feature itself: "Deadpool and Korg React."
'Free Guy'
Director: Shawn Levy
Stars: Ryan Reynolds, Jodie Comer, Lil Rel Howery, Taika Waititi, Joe Kerry
Running Time: One hour, 55 minutes
MPAA Rating: PG-13
Release Date: Aug. 13, 2021
Rating: 4.5 out of 5
Originally from Washington, D.C., Michael Clark has written for over 30 local and national film industry media outlets and is based in the Atlanta Top 10 media marketplace. He co-founded the Atlanta Film Critics Circle in 2017 and is a regular contributor to the Shannon Burke Show on floridamanradio.com. Since 1995, Mr. Clark has written over 4,000 movie reviews and film-related articles.