PG-13 | 2h 11min | Drama, Romance, Biography | 25 December 2021 (USA)
In his first three features as a director, two-time Oscar-winning actor Denzel Washington chose to explore the (often difficult) experiences of Black Americans. "Antwone Fisher" (2002) and "The Great Debaters" (2007) were fact-based and "Fences" (2016) was an adaptation of the 1985 play by August Wilson. All low-budget affairs, each took in practically double their cost at the box office and received favorable reviews. Not huge cash cows, Washington's pet projects still left everyone involved relatively pleased.
The budget for Washington's latest project hasn't been made public yet, but based on the look of the final product, it's probably as modest as the others. Coupled with Washington's following and that of leading man Michael B. Jordan (along with a Christmas Day release) almost ensures it won't lose money.
Washington Backslides
Sporting the unfussy, unadorned, generic sheen of a high-end Hallmark production, "A Journal for Jordan" finds Washington backsliding artistically. This movie lacks his own stylistic stamp and could have been made by anyone. It's also something of a step-back for Jordan, who flexed his considerable acting chops by stealing every scene in which he appeared as the antagonist in "Black Panther" and as the title character in the "Rocky"-offshoot "Creed" franchise. (Jordan makes his directorial debut with "Creed III," scheduled for release on Nov. 23, 2022.)
Playing it almost too safe, Washington nonetheless delivers a rare end-of-the-year film that lacks the artsy or meaning-of-life subject matter aimed at capturing industry awards and critical accolades. This could be one of the reasons why it wasn't screened for the press prior to most Top 10 voting deadlines.
Adapted by Virgil Williams ("Mudbound") from the memoir "A Journal for Jordan: A Story of Love and Honor" (itself a collection of letters) by Dana Canedy, the movie takes nearly half of its 131 minutes before tackling anything resembling daring. For some audiences, this won't be a problem and in some ways it is actually a blessing.
Nonlinear Narrative
The story is uncomplicated (in theory) by anyone's standards, but Williams and Washington make their (and our) jobs harder by taking the unadvisable route of presenting the narrative wildly out-of-sequence. Had this been "Memento," "Mulholland Drive," "Citizen Kane," or any number of movies by Quentin Tarantino, this could be justified but, sadly, it is not.
Opening in 2018, it goes back to 2007, then 1998, then 2001, then 2009 and finally back to 2018; the film isn't as breezy and straightforward as it should have been. Giving away far too much in the opening title sequence alone, the filmmakers rob themselves of considerable thunder for most of the first act, rendering the rest of it anti-climactic. Strip away all of the fancy sleight-of-hand and time-shift hop-scotching and you're left with a boy-meets-girl love story that takes pride in its traditional, old-fashioned approach.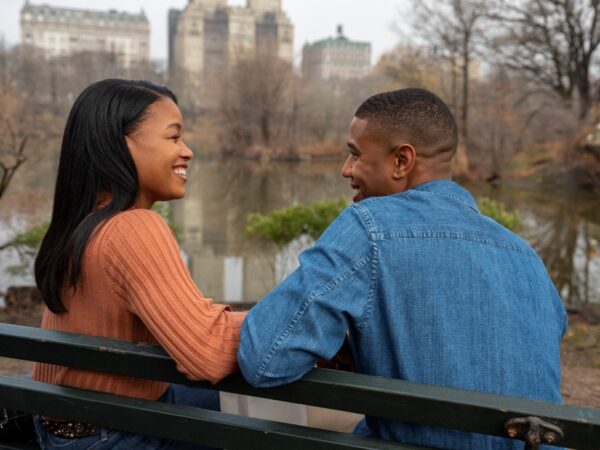 Boy Meets Girl
A stickler for routine and discipline, career army man Sgt. Charles King (Jordan) is visiting his former commander's (Robert Wisdom) home where he meets that man's daughter Dana (Chanté Adams). Somewhat stunned by his manners (Charles ends all answers of her questions with "ma'am"), she's also impressed that he has a creative side.
A big fan of French pointillist painter Georges Seurat, Charles uses the same style and has created an impressive work for Dana's dad. Ripped with a thousand-watt smile, Charles causes Dana to go weak in the knees but she hides it well. The only thing she finds fault with is Charles's total lack of fashion sense.
A budding investigative journalist who eventually lands a gig at a major U.S. daily newspaper, Dana wants to take it slow. Because she and Charles live far apart, though, she decides to somewhat quicken the pace. Due to deft story compression and narrative shorthand, the courtship of the leads never feels rushed or gets ahead of itself.
An event taking place early on chronologically forces the romance in a direction neither Charles or Dana anticipated or wanted, and it tosses them a challenge which tests their collective resolve. This is the point where the film hits its emotional high-water mark.
The Filmmakers Take a Neutral Position
Wanting to have a child together, Charles and Dana differ on opinions regarding marriage and service to one's country versus those of family. Whatever narrative and storytelling shortcomings the movie might have (and there are many), the message is clear. In order to preserve the family, individual sacrifices might have to be made, and it is possible for two people deeply in love to disagree on priorities.
It's obvious Washington had his heart in the right place, but he might have bitten off more artistic license than he could chew. He's a pretty good director who knows how to tell a simple story well, and he shouldn't have tried to make the process more intricate or difficult to navigate than the material demanded. He and Williams should have also eliminated the inclusion of three totally unnecessary racial epithets which added nothing positive to the story.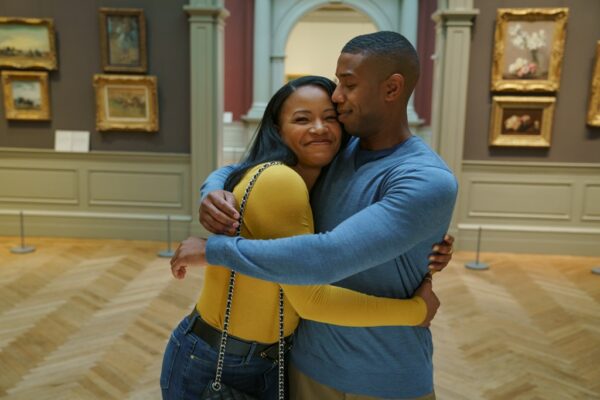 What Washington might want to consider for his next project is an adaptation of another Wilson play ("The Piano Lesson"). This may seem like a left-handed slam, but it's actually a compliment. Washington is better at interpreting difficult material than he is doing the simple stuff. He's an actor of complex depth and deep range and should seek out material which is in accordance with his strengths.
'A Journal For Jordan'
Director: Denzel Washington
Stars: Michael B. Jordan, Chante Adams, Jalon Christian, Johnny M. Wu
Running Time: 2 hours, 11 minutes
MPAA Rating: PG-13
Release Date: Dec. 25, 2021
Rating: 2.5 out of 5